Today it is my pleasure to Welcome author
Kym Roberts
to HJ!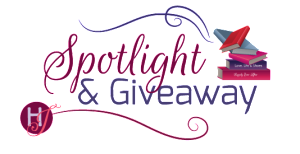 Hi Kym and welcome to HJ! We're so excited to chat with you about your new release, Flirting with the Devil (A Noble Pass Affaire Novella)!

Hi, Sara and HJ readers! Thank you for having me;)

Please summarize the book for the readers here: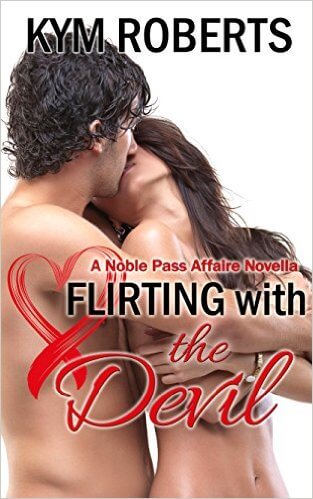 Prosecutor Samantha Bennett walked away from the love of her life when Wade Evan's betrayal left her shattered. Determined to find herself, she escapes to Noble Pass, Colorado on vacation and finds herself in the arms of her best friend, Ty Beckinsale. But suddenly Wade is there to protect her from a killer whose determined to make sure Samantha doesn't prosecute another case. Now Samantha must decide which man she can trust with her heart…and her life.

Please share the opening lines of this book:
Guilty.
It was a beautiful word. Especially when it had flowed off the forewoman's tongue with a strong ring of finality.
Please share a few Fun facts about this book…
It's one story in a series of stand-alone novellas that 5 authors from ChickSwagger.com got together to write.
It's a WINTER story! I never write about the cold;) Brrrrrrrr!
I'm writing a sequel, because one of the guys *bleeping* demanded it. Red Lace will release in 2016.
If your book was optioned for a movie, what scene would you use for the audition of the main characters and why?
When Wade finds Samantha in Ty's arms. The scene is all about the love triangle–displaying the hope for something new, the turmoil of wondering if the other person is ready to take the relationship to another level, and the heartache of finding the one you love with some else. It's the uncertainty of the future–who's right, who's wrong, what's the honorable thing to do, what the character's can live with and what will lead to their happily ever after.
Ty hesitated, and she wondered if she'd made a mistake…until something snapped within him. His tongue caressed hers, yet fought with it at the same time. There was fury and fire in his response as he began peeling off her coat. Untying the belt and working the buttons so fast, she fell against him as he shoved the wool jacket off her shoulders and forced her hands from his hair. It wasn't like kissing Wade. It was different—and that was a good thing.

"I guess I was wrong about the type of protection you needed. I should have saved myself a few bucks and sent a box of condoms."
What do you want people to take away from reading this book?
That sometimes the guilt you perceive isn't real. Communication is the key to creating a healthy relationship.
What are you currently working on? What other releases do you have planned for 2015?
I'm currently working on Dead Right There, A Malia Fern Mystery #2. Set on the island of Kaua'i, DRT is told with a flavor of Hawaiian folklore that touches on the paranormal. Malia is a young surf instructor who works part time at Private Kaua'EYES Investigations as a gofer, yet somehow she's always in the midst of a murder mystery. This time, she's trying to help a friend with a shady past, who's tied to the death of an unidentified victim Malia may know very well. Malia is also in a very personal struggle–she's in love with two guys, one her parents would love for her to marry, and his cousin whom she can't get enough of. She's torn between perfection and imperfection while trying to figure out where she belongs in the world.
I'm also working on the sequel novella to Flirting with the Devil, titled Red Lace
and a new cozy mystery series through Kensington's ebook publishing, Lyrical Press that will come out in late 2016.

Thanks for blogging at HJ!
Giveaway:

A signed copy of Handled By Officer for a U.S or Canada winner. An ebook copy of Handled by Officer if the winner is international.
To enter Giveaway: Please complete the Rafflecopter form and Post a comment to this Q:

Love triangles, love them or hate them? Should the 3rd wheel always get his/her own story?
Excerpt from Flirting with the Devil (A Noble Pass Affaire Novella):
She laughed and he kissed her again. Deeper. Not desperate like he had in the hotel room but with every bit of his love attached to it. So that she knew, beyond a shadow of a doubt, that his love was real. He wasn't some sort of devil there to deceive her and take away every hope and dream she ever had.
Their love would last longer than a lifetime, and nothing and no one could come between two people with that kind of love for each other.
He knew the moment she was convinced beyond a shadow of a doubt. Her arms wrapped around him, clung to him as if she never wanted to let go. Until she stopped him—again—and he'd thought he'd die a thousand deaths before Sam trusted him.
"I'm going to hold you to that." Her hands slipped under his shirt, and she pulled it up over his shoulders. He pulled away long enough for her to yank it over his head, but then he was back, kissing her full lips that tasted like pure Samantha.
He let his lips travel down her throat, running his tongue along the sensitive area at the base of her neck and she moaned. A vision of her tattoo flashed in his memory, and he had to see it.
He pulled her T-shirt and jacket off in one move, baring her olive-tone skin. Her chest was rising and falling with the passion he felt, showing off a dainty, black lace bra that was absolutely beautiful…but had to go. He spun her around, and she whimpered, not wanting to stop the work she'd done on his fly. He grabbed one hand at a time and spread them wide against the fireplace mantel, the heat of the fire rising up and making her skin glow.
"Don't move."
"But—"
"Trust me, Sam."
Excerpt. © Reprinted by permission. All rights reserved.

Book Info:
Flirting with the Devil (A Noble Pass Affaire Novella)
Sometimes the greatest sins…are born out of love.
Federal Prosecutor Samantha Bennett knows how to weed out the bad guys and put them in their place—behind bars and that's exactly what she did to the mob boss of Vendetti la Cosa Nostra. But her dedication cost her what she values most, her marriage, because she didn't see her husband's betrayal coming—at all.
Wade Evans will do anything to get Sam back—and a plot that enlists the people she relies on the most is his best chance of winning her heart a second time. But suddenly Wade's not sure he's the right man for his soon to be ex-wife, because he wasn't the one to save her from the violent mob hit. He failed and the man she trusts most, Ty Beckinsale, saved the day.
When Sam takes a vacation alone, both men arrive to keep her safe from a hitman determined to put her six feet under. And now Sam must decide if heaven on earth is possible, or if the devil who stole her heart will lead her straight to hell.
Book Links:

Meet the Author: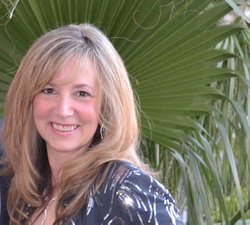 Three career paths resonated for Kym during her early childhood: a detective, an investigative reporter, and…a nun. Being a nun, however, dropped by the wayside when she became aware of boys—they were the spice of life she couldn't deny.
In high school her path was forged when she took her first job at a dry cleaners and met every cop in town, especially the lone female police officer in patrol. From that point on there was no stopping Kym's pursuit of a career in law enforcement—even if she had to duct tape rolls of coins to her waist to meet the weight requirements to be hired.
Kym followed her dream and became a detective that fulfilled her desire to be an investigative reporter, with one extra perk—a badge. Promoted to sergeant Kym spent the majority of her career in SVU. She retired from the job reluctantly when her husband drug her kicking and screaming to another state, but writing continued to call her name.
Website | Facebook | Twitter |