Today it is my pleasure to Welcome author
Katee Robert
to HJ!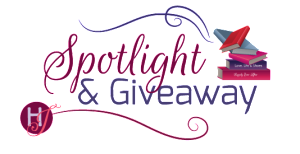 Hi Katee and welcome to HJ! We're so excited to chat with you about your new release, Fool Me Once!
Thank you so much for having me!

Please summarize the book a la Twitter style for the readers here: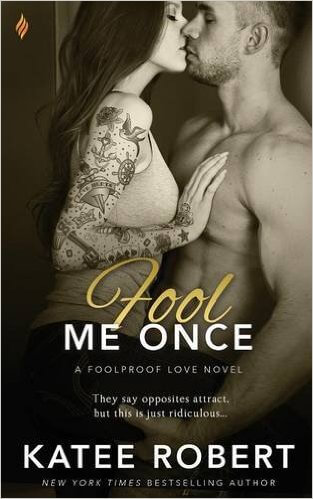 A neurotic gamer girl and a cowboy go on a road trip from hell together…

Please share the opening lines of this book:
A wedding? Might as well be a goddamn funeral for all I'm going to enjoy it.

Quinn Baldwyn grabbed three beers out of his fridge, very carefully not looking at the invitation he'd stuck to the front of it. It was a constant reminder of the sword hanging over his neck—one he couldn't avoid indefinitely.

His sister's wedding.
Please share a few Fun facts about this book…
The game Aubry plays, Deathmatch, is loosely based on Call of Duty.
Quinn was originally a chef in the first version of this book.
I laughed out loud during more of this book than any other I've written.
Aubry has a list of neurotic fears as long as her arm, including serial killers, mutant alligators, and zombies.
The epilogue in this book is possibly my favorite of all time.
What first attracts your Hero to the Heroine and vice versa?
They're both very smart and quick witted, so though they don't like each other much at first, the fact they've each met a person who can meet them snark for snark is the thing that keeps them coming back for more long enough to realize the spark between them.

Using just 5 words, how would you describe Hero and Heroine's love affair?
Witty, snarky, frenetic, sexy, outrageous.

The First Kiss…
"Deal." He ignored her hand and took a step closer, towering over her even though she was wearing thick-soled boots. "And, sweet cheeks, if you're going to pretend to be my girlfriend, you should know damn well that we seal this with a kiss."

"What are you, a demon from Supernatural? That's not how people seal bargains."

"It is when it's like ours."

Before she could do more than sputter, he hooked the back of her neck and kissed her.

Aubry hadn't been kissed in a truly embarrassing amount of time, which was why she froze and didn't immediately shove his larger-than-life ass away from her. Or that was what she told herself as her hands came to rest on his chest—his very nicely muscled chest. His hand was hot on her neck, his grip tight enough that she was fully aware of who was in control of this situation, but his mouth was light on hers.

She still hadn't figured out if she wanted to bite him or kiss him back when he lifted his head and said, "I knew you weren't all piss and vinegar."
Without revealing too much, what is your favorite scene in the book?
My favorite part of this series is probably Aubry and Jules. Always:
"Honey, I'm home." Jules sailed through the back door and smiled. "How are things?"

Jules's cousin, Jamie, shrugged. "The usual, though Loki is in as foul of a mood as this one." She jerked her thumb at Aubry.

"Hey!"

Jules pinned her with a searching look. "It must be the day for it."

"I can hear you." Aubry crossed her arms over her chest, doing her damnedest not to slouch down and glare harder. She knew she was the cranky one, the snarly one, the one everyone in Devil's Falls gave a wide berth.

Except that asshat Quinn.

Jamie took off like a little coward, leaving Jules standing there watching Aubry with a contemplative expression that she did not like.

"What?"

"Just thinking."

Aubry grimaced. "No, I know your thinking face. That's not your thinking face. That's your hatching plans face. Don't try to talk to me like I don't know the difference."

Jules dropped into the seat across from her. "I wouldn't dream of it."

"What are you planning?" Aubry asked. Ninja Kitteh rearranged himself, and she held still so he could get comfortable before she started petting him again. "You might as well just tell me so we can get this over with."
If your book was optioned for a movie, what scene would be absolutely crucial to include?
It turned out, he didn't have to go far to find his fiery redhead. Aubry sat on the top stair, three floors up, her head between her knees. As soon as he caught sight of her, he rushed up the remaining stairs to crouch before her. "What's wrong?"
"So. Many. Stairs."

He bit back a laugh. "We're on the fourth floor."

"I know." She raised her head. "I overestimated my cardio skills. Turns out, I have no cardio skills. DDR did not prepare me for eleventy billion stairs."

"I see." He adopted as serious an expression as he could manage. "Would you like me to carry you?"
For a second, it looked like she was actually considering it, but she ultimately shook her head. "How am I going to escape the zombies if I don't have sweet cardio skills? This is something I'm going to have to work on. I can't rely on a trusty steed to be in my vicinity at every hour of every day."

He wasn't sure if he should be insulted she'd just called him a trusty steed, but he couldn't resist such a perfect opening. "I have something in particular that you should be riding."

"Oh, for fuck's sake. I'm sitting here worrying about the inevitable zombie apocalypse and you're thinking with your dick."
Readers should read this book …
If they love their hot, sexy scene balanced with some laugh out loud shenanigans.
What are you currently working on? What other releases do you have planned for 2016?
I'm about to start writing the fifth O'Malley book, which is Aiden's book. The rest of this year will bring An Indecent Proposal out later this month, and then the final Foolproof Love book in October.
Thanks for blogging at HJ!
Giveaway:

$25 gift card to either Amazon or B&N
To enter Giveaway: Please complete the Rafflecopter form and Post a comment to this Q:

What's the last book you read that made you laugh out loud?
Excerpt from Fool Me Once:
"You know, I've been thinking—"

"Good God, don't strain yourself."

"—and I'm thinking that I need a better nickname for you. Sweet cheeks might be accurate, but no one in my family is going to believe I'd call the woman I'm in a relationship with something that…lowbrow."

She tilted her sunglasses down to stare at him over the top of them. It made her amber eyes stand out all the more. "How about you call me nothing at all? Because that sounds ideal from where I'm sitting."

"Nah. I've always been a fan of pet names."

"One—I can tell. Two—save your pet names for your actual animals."

She'd left that one wide open, but he chose to ignore it. Just this once. He twined her hair around his finger again. "I was thinking bunny."

"You can call me bunny if you want to provoke me to actual physical violence."

Yeah, it didn't fit, either. He relaxed back into his seat, starting to enjoy the idea of this. "Cherry."

"Hard pass."

"Cookie."

"No way."

He wondered when she'd noticed that he was still stroking her hair. He hadn't been lying when he said they would have to put on a good show for his family. That meant he had to get her used to him touching her, at least in these innocent ways. Or that was what he told himself as he kept playing with the ends of her hair.

And touching in the not-innocent ways?

To distract himself, he said, "Peaches. No, don't look at me like that. You got to pass on three—that's your limit. And you smell like peaches." He leaned a little closer, keeping one eye on the road, and adopted his best Nicholas Cage voice, "I love peaches. I could eat peaches for hours."

"Ew, gross."

He sat back and laughed. "You have a problem with a man worshiping you that way?"

"I have a problem with Nicholas Cage comparing my lady bits to a fruit and, frankly, the image of him down there is enough to kill any desire the act would cause."

She sounded so horrified that he laughed again. Or he started to. The problem with teasing her like this was he was now picturing himself between her thighs. Quinn shifted, trying to get his instant physical reaction under control. His cock wasn't in a cooperative mood, though, and his brain kept serving up images of Aubry's back arching, her fingers digging into his forearms, her head thrown back in ecstasy he was giving her.

Jesus Christ.
Excerpts. © Reprinted by permission. All rights reserved.

Book Info:
Aubry Kaiser doesn't like people—actually, that's not right. She loathes people. With her crippling anxiety, there's no way she can demo her favorite video game at a convention with five thousand other people. Maybe if she brings someone to act as a shield…
But the only person available is the sexy cowboy she can't stand.
Quinn Baldwyn is in a mess of his own. He's been dodging his wealthy family's matchmaking attempts—and life advice—for years, but with his sister's wedding on the horizon, he needs of a shield of his own.
He and Aubry can barely hold down a civil conversation, but in bed…fireworks. And the closer they get to Quinn's sister's wedding, the more he realizes that he might actually like Aubry.
Now it's up to him to convince her she might actually like him, too
Book Links:

Meet the Author: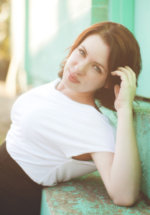 New York Times and USA TODAY bestselling author Katee Robert learned to tell her stories at her grandpa's knee. She found romance novels at age twelve and they changed her life. When not writing sexy contemporary and romantic suspense, she spends her time playing imaginary games with her children, driving her husband batty with what-if questions, and planning for the inevitable zombie apocalypse.
Website | Facebook | Twitter |