Today it is my pleasure to welcome romance author
Phillipa Fioretti
to HJ!

Hi Phillipa, welcome 🙂
For all of our readers who may not be familiar with your work, could you tell us a bit about yourself and your books?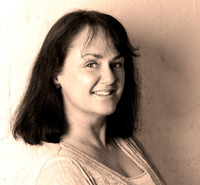 I have a background in visual art and archaeology but turned to writing fiction about seven years ago. My children were getting older and I wanted a change so I started to write. I enjoyed it so much I kept going and a couple of years later my third manuscript was picked up by Hachette Australia and published as The Book of Love in 2010. It went on to be translated into five languages. The sequel, The Fragment of Dreams was published in 2011 and my third book, For One Night Only is published this month.
I love to write romantic adventure with a sense of humour and a good dollop of interesting location – and an interesting location to me is Italy. My husband is Italian and so we've spent considerable time there with family, eating and generally enjoying Italian life. I also like to bring my other big love into my books, art and antiquities. Italy has a huge art heritage and one of the best police forces in the world for tracking stolen art and antiquities. But that doesn't stop the endless trade in stolen art. And invariably my heroes and heroines find themselves drawn into this murky world – a world where danger and love are a heady mix.
Are you a plotter or a pantser? Tell us a little bit about your writing process.
I'm right in the middle of the two extremes. I like to think about a story, the characters, the plot and the possibilities and then start writing with a fairly solid idea of the first twenty thousand words. Then it starts to get hazy as new ideas are generated or some ideas don't work as planned.
I know there will be a happy ending but I'm never sure how I'm going to get there. I plot and I worry and I try different approaches and finally pull it all together. It could never be either plotter or pantser, it's really whatever works at the time.
Let's talk about your new release For One Night Only
If you had to summarize the book for readers here …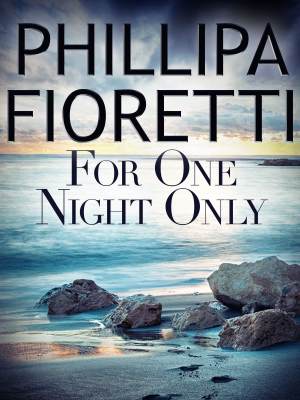 It's a pacy thriller, funny, sexy and scary, set in the glamorous Sicilian tourist town of Taormina and on the island of Stromboli which has one of the few live volcanoes in the world.
Please tell us about the characters in your book
Ornella is twenty six, an actress from Sicilian-Australian family in Sydney. She comes to Sicily with her parents for a family reunion then goes onto meet a girlfriend in Taormina. After visiting Taormina she intends to fly to Rome where her agent has a secured her a screen test for an Italian sword and sandals film. This is her big break, as she's mainly done commercials and stage work.
Ornella is petite with black ringlets and a sweet but feisty nature. She's been raised with strong Sicilian family values which underpin everything she does and gives her the moral compass she needs to cope with the entertainment business. She's passionate about acting, talented and focussed and thrown completely off balance when she meets Hugh.
Hugh is thirty, a ruggedly sexy young British archaeologist excavating a recently discovered Roman mosaic under a crumbling palazzo in Taormina. Hugh loves his job, it takes him all around the Mediterranean working on seasonal digs and having adventures. He's had casual girlfriends but never anyone who's been a serious threat to his freedom. Then he meets Ornella and the game changes.
As you wrote your protagonist was there anything that really surprised you?
Ornella surprises herself, and me, when she discovers just how fierce she can be when threatened. Her fury and refusal to give in when all appears lost has been really fun to write.
My other heroines have used their brains and imagination to get themselves and their loved ones out of danger. Ornella uses her imagination, but also taps into her deep Sicilian roots to find a dark tenacity she didn't realise she had.
What scene did you most enjoy writing and why?
Hugh and Ornella are playful and imaginative; it's what draws them to each other. I had enormous fun playing with them too and where I really let them loose was in the bedroom. Here's a little example –
Ornella was uninhibited, playful and passionate, giving herself completely to the role of barbarian. She refused to be captured and gave him a fight, one he never expected, taking him prisoner instead. She had him face down on the bed, hands tied with her bra while he panted and struggled to breathe through the bunched-up sheet.
The room was a mess, the bedside table on its side, clothes and towels tossed aside, sand, even the roll of toilet paper had been trailed out of the bathroom and festooned around the bedside lamp, which was now somewhere on the floor, along with her only pair of high heels. They both wore scarlet lipstick on their lips and nipples as earlier they had been reciting the lines from The Priapus Poems, ancient Roman smut that Hugh happened to know in both Latin and English, the result of a rigorous education, so he told her.
Ornella rolled her exhausted captive onto his back. He lay quiet, out of breath, chest heaving.
"Centurion, do you surrender?"
"I cannot surrender to a savage," he panted, the scarlet lipstick smeared across his chest like blood.
"I am no savage," she hissed, straddling his chest and gripping him with her kick-boxing-toned thighs.
"What are you then?" he asked, spluttering with exhausted laughter. "Are you a worthy opponent? One I may surrender to without losing my honor?"
"We dispensed with your honor an hour ago, centurion, along with your dignity, integrity, free will and all your property. You are my captive, to do with as I like."
He liked that idea. Erotic possibilities paraded through his imagination. Still straddling his chest, Ornella twisted around and saw his sword become rampant. He knew she'd want to get him secure before he unsheathed it and made a power bid, so he bucked hard.
What was the hardest scene to write and why?
The hardest scenes are always at the end where you have to get the emotional tone exactly right. There's no future scenes to rescue it so the final chapter is always finely crafted, written and rewritten until it works. But I don't want to give the ending away so here's a snippet of dialogue between Ornella and Hugh.
Hugh says …
"Yes. I saw you on the Corso Umberto the night before we actually met. Graceful and agonizingly sexy, curls everywhere—you looked like I imagined Dido would look. Probably because you have a few Carthaginian genes in that scrumptious genetic scramble of yours."
"So when you saw me with my stuck finger you'd already decided to make a move?"
"I was going to go back up to the corso that night, see if I could find you, maybe spill a coffee down your dress and get talking. But then I drove past you in the morning, so I ditched the car and ran back."
"You were stalking me."
"Like a lion," he said, giving her a playful, seriously overheated look.
"I wondered why you were panting that day," she said, touching his lips with her finger. "I thought I'd aroused you into a frenzy with my finger."
"It is a very pretty finger," he said taking it in his mouth.
Who would you cast in the roles if your book was optioned for a movie?
That is one tough question, and if the book was optioned I can tell you the author would get nowhere near a casting call! So if I could have whoever I wanted I would cast a younger Ewan Macgregor as Hugh, he has the looks, the sweetness and humour but can also deliver a solid punch and play the hard man. A young Gina Lollobrigida could play Ornella, she has the looks, the intelligence and the fiery refusal to give in.
If you could have given your characters one piece of advice what would it be and why?
I'd advise them to get off the ferry together at Lipari and take the Naples ferry to the mainland and then a high speed Eurostar train to Rome and then go directly to the British Embassy. I'd advise them to do this because it would have been a hell of a lot less risky than what they end up doing!
What are you currently working on? What other releases do you have planned for 2014?
At the moment I'm working on what feels to me like a real love story. It's more than a romance between these two characters. The story is set around an Italian restaurant in a premium wine growing district, and Sydney where my characters live. It's about families and the past, and about discovering the person beneath the professional facade, a person you never imagined was there. I'm deeply immersed in this one but it's nearly finished. As usual I'll be really sorry to say goodbye to my characters but I did bring them together and leave them happy. I may even write another story with them, who knows?
Which brings me to the second part of the question. At the moment I have nothing planned for the rest of this year, but with my current work ready for market in a month or so that may well change! I'm also working on a sequel to For One Night Only and having lots of fun at the idea stage.
Where can readers get in touch with you?
I love hearing from readers and they can contact me at the addresses below …
via my website, www.phillipafioretti.com.au
via Facebook www.facebook.com/PhillipaFioretti.Books
via Twitter @PipFioretti
GIVEAWAY: 

10 digital (ePUB) copies of FOR ONE NIGHT ONLY
Don't have an e-reader? Read it with Calibre (Calibre is a free and open source e-book library management application) ~ HJ Recommended!
To enter Giveaway: Please complete the Rafflecopter form and post a comment to this Q:
Ornella and Hugh share a love of Sword and Sandals movies. These movies are mostly set in the ancient Greek or Roman world and can be a little bit cheesy although lots of fun. Which Sword and Sandals actor do you love? From which film, and why?


It could be Richard Burton or Rex Harrison from Cleopatra, Charlton Heston or Jack Hawkins from Ben Hur, the young Tony Curtis or Kirk Douglas from Spartacus, Russel Crowe from Gladiator, Brad Pitt or Eric Bana from Troy, Marlon Brando as Julius Caesar or Michael Fassbender in Centurion or any other actor you care to nominate.
Excerpt
Ornella squirted lavish amounts of liquid antiseptic over her entire finger, covering it in a medicinal brown stain; when the instructions said two or three drops, she always assumed seven or eight were better. Then she wrapped the finger in a thick, snowy-white cocoon of gauze. Hugh returned to the office, flung himself in a chair, picked up a pencil from the desk in front of him and snapped it in two.
"Bad news?" Ornella calmly secured the bandage.
"Irritating and ominous is how I'd describe it," he sighed, tossing the broken pencil over his shoulder.
Messy office explained. Christy came in and perched on the other desk next to Ornella.
"Who was he?" she asked.
"Some lowlife. Walks in off the street and asks me to steal the mosaic for him."
"Cocky bastard," Christy said. "Then again, it's not like we haven't been approached before."
"Not here though. This guy knew my name, knew where my apartment is. What's that all about? Some sort of threat?"
Ornella nodded sympathetically but her focus lay in watching Hugh. She took in his long legs crossed at the ankle, his nice muscular shoulders and the chest hair that peeked above the buttons of his shirt. This man was at ease with himself, not a caveman, simply several degrees more natural than her male acting buddies who'd locked themselves into an endless quest to appear on trend.
"You know this rubbish goes on in all digs," Christy said. "Remember Jordan?"
"What happened in Jordan?" Ornella asked.
"In Jordan we excavated a temple site and as we wrapped up, these masked men, armed with Uzi submachine guns, marched in demanding all the artifacts."
"That was businesslike," Hugh said, stretching out and putting his hands behind his head. "This guy was way too personal. Actually offered to come to my apartment."
"It'll be pinched as soon as we pull out, probably," Christy said, fiddling with one of her piercings.
"As long as it's after we've signed off," Hugh said. "It's a bad look having antiquities nicked when you're in charge."
"How do you steal a mosaic?" Ornella asked. "I mean, it's hardly something you can put under your arm and walk off with."
"Oh, there's ways of doing it. A whole lot were recently dug up with crow bars from inside a church on Crete," Christy said. "Obviously we have better security here at the moment but nothing is foolproof. And if they're making themselves known then we'll have to circle the wagons."
"Do that—call Michael. Today if you can," Hugh said.
"I'll email him now," she said taking a seat at the other desk.
"You can't think about it too much," Hugh said to Ornella. "In fact, I'm going back to Jordan in November, to the same site. Hope over experience as usual. Would you like to see the mosaic? You may be one of the few to ever see it in once piece."