Today it is my pleasure to Welcome author
Sarah Ballance
to HJ!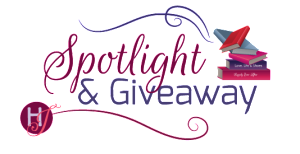 Hi Sarah and welcome to HJ! We're so excited to chat with you about your new release, For Seven Nights Only!
Tell us about the book with this fun little challenge using the title of the book:
What a cool idea! And yes, what a long title, LOL. Let's go for it!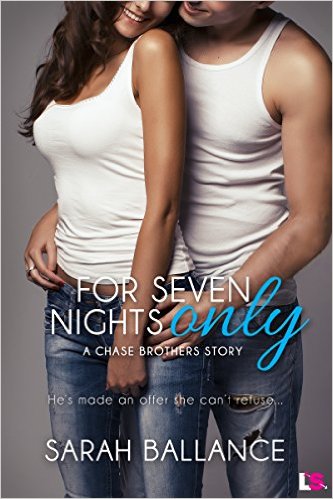 S is for Sawyer (I probably should have tried harder on that one, lol)
E is for edible…which Kelsie's cooking is not
V is for veto, because Sawyer is not going on that boat
E is for ego, because Sawyer's is both sexy and maddening
N is for nope…Kelsie is NOT interested in a playboy
N is for nope…Sawyer does NOT want a relationship
I is for indecent exposure
G is for gnawing, which Kelsie's dog does to Sawyer's ankle
H is for holy hotness on a stick (um, that's Sawyer again)
T is for taking chances
S is for steamy, sizzling sex
Please share the opening lines of this book:
Friday night. Alone. The situation went beyond an aberration and straight into rainbow-shitting unicorn territory, but it was what it was: Sawyer Chase was bored.
Please share a few Fun facts about this book…
The opening scene was inspired by a Lexus commercial Heather Howland saw while she and I were on the phone plot-hashing the book.
I mention two specific types of food in every Chase Brothers story, including this one. (Does anyone know what they are?)
Sawyer's fear of water was inspired by a real incident…sort of. The first time one of my kids tried wakeboarding, I felt sick as our boat took off, leaving her sitting there alone in the water. Then the rope caught and she started following us and I felt better, but that horror Sawyer felt was very much my own.
Sawyer was never supposed to have his own book. The series wasn't supposed to be about the Chase brothers, and I'm not sure Heather has ever forgiven me for derailing Plan A.
While writing the first draft, I got all the way to the wedding scene before I realized Kelsie, maid of honor, hadn't had a single conversation with her sister, the bride. Ooops!
Was there a scene in this book that was harder to write than others? 
The scene where Sawyer tries to teach Kelsie to dance was so hard for me. I don't dance and never have. I had to take bedroom moves vertical to connect with this moment, lol.
"Slow and sensual," Sawyer said. "Touch yourself."

Kelsie gaped at him. "I'm sorry?"

He spun her around so her back was to him and flattened his palms on her stomach, then slid them against the satiny fabric of her dress until his fingertips were dangerously close to the apex of her thighs.

Her breath caught and held. Eventually he'd have to move them and…oh God. He traced her hip, then lower, then dragged that slow, sensual touch—along with her hemline—to her waist. She watched, breathless, as he released the silky fabric and the exposed expanse of thigh disappeared.

"Now you try," he murmured into her ear.

"You want me to do that?" God, she'd never catch her breath again.

"Bonus points if you grind your ass against me while you do."

She glanced back at him, startled. But never more so than when her face actually touched his from where he'd been bent over her shoulder, whispering instructions. They were two inches from kissing, she a half second from a meltdown.

And it terrified her.
What do you want people to take away from reading this book?
Have sex at the opera. No, I'm kidding. I think most of us take ourselves too seriously, and this book is all about letting go of the fears and insecurities and, well, not quite having sex at the opera. Life's too short. Take chances. (Except that one, because that's going to be an awkward jail story.)
Thanks for blogging at HJ!
Giveaway:

One commenter will win an autographed paperback copy of FIVE THINGS I LOVE ABOUT YOU, the first book in the Chase Brothers series. ☺ (Open internationally, but if it's going to cost more than $20 USD to ship to you, I reserve the right to substitute a $20 Amazon gift card.)
To enter Giveaway: Please post a comment to this Q:

If an uber-sexy, sweet-talking playboy told you you'd changed him, would you believe him or assume it was another one of his lines? Tell me why you'd LOVE to get to know the Chase brothers.
This contest will close on Monday Feb 1, 2016 8:59 PM (PT) and the winners will be notified via email. Winner will have 48 hours to respond to my e-mail before a new winner is selected.
Book Info:
He's made an offer she can't refuse…
Kelsie Reed is over bad luck and bad men. Newly dumped, she's now the pathetically single maid of honor in her sister's wedding—and her ex is the best man. Her bad luck continues when a plumbing meltdown in her apartment sends her sexy neighbor running to her rescue. He's got "serial dater"written all over him, which is unfortunate because the man is hot.
Sawyer Chase loves women, but settling down? He'll leave that to his brothers. But when Kelsie confesses she's a dating disaster and is about to become the laughing stock of her family wedding, Sawyer takes control. He's got one week to teach her how to land the man of her dreams, and he'll do it on her terms: no touching, no kissing, and definitelynothing more. But some rules need to be broken, especially when, for once, there's something on the line worth fighting for…
Meet the Author:
Sarah and her husband of what he calls "many long, long years" live on the mid-Atlantic coast with their six young children, all of whom are perfectly adorable when they're asleep. She never dreamed of becoming an author, but as a homeschooling mom, she often jokes she writes fiction because if she wants anyone to listen to her, she has to make them up. As it turns out, her characters aren't much better than the kids, but nevertheless, you'll find her writing sexy contemporary romance for Entangled Publishing until they throw her out.
To learn more, visit http://sarahballance.com.
Author Blog: http://sarahballance.wordpress.com/
Author Twitter: https://twitter.com/SarahBallance
Author Facebook: http://facebook.com/sarah.ballance.author.news
Author Goodreads: http://www.goodreads.com/author/show/4103362.Sarah_Ballance
Newsletter: https://confirmsubscription.com/h/t/0B801D3AA4F986BF
==========