Today it is my pleasure to Welcome romance author
D. D. Ayres
to HJ!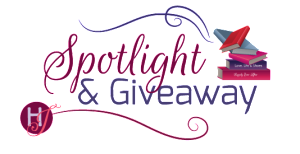 Hi D. D. Ayres and welcome to HJ! We're so excited to chat with you about your new release, Force of Attraction

!
Please summarize the book for the readers here: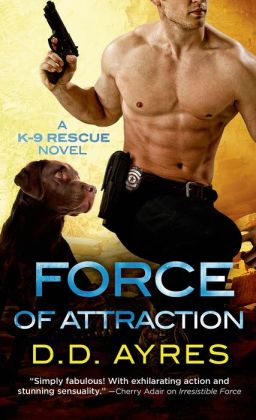 FORCE OF ATTRACTION
A seasoned K-9 officer with the police in Maryland, Cole Jamison has left her old life behind her. With a new home and a new partner–a protective canine named Hugo–Cole is ready for fresh challenges. A crucial position on an important drug task force is exactly what she wants…until she discovers her gorgeous, infuriating ex-husband will be the DEA agent in charge.
DEA K-9 Agent Scott Lucca may be a pro when it comes to undercover assignments with his narcotics dog, Izzy, but this job is different. Posing as a happy live-in couple on the dog competition circuit should seem like a walk in the park compared to tracking down drug traffickers, but suddenly nothing could be more dangerous than the fire they've rekindled…
Will they draw a truce when a larger danger looms, in the form of an outlaw biker from Scott's past?

Please share the opening lines of this book:
Scott Lucca fumbled in his pocket, looking for change for the pay phone as the twang of a guitar solo wailed through the hazy bar. He was a little buzzed. When liquor got between his head and his heart, he made stupid decisions.
Please share a few Random facts about this book…
The dog on the cover is Izzy, Scott's narcotics detection dog. But she's not the only K-9 in the book. There's Hugo, a Bouvier des Flandres who patrols with Officer Cole Jamison, Scott's ex-wife. Hugo's undercover, literally and figuratively.
There's debate in the K-9 law enforcement world about whether participating in dog competitions, like Agility, will turn a 'street dog' into a 'show dog.' Doesn't seem to take the edge off Hugo. He does everything full-tilt.
Going undercover requires a wide range of skills. Being good at UC often means behaving in ways one never would otherwise. Lines are blurred. The longer an agent is undercover, the more difficult the moral predicaments become.
Please tell us a little about the characters in your book. As you wrote your protagonist was there anything about them that surprised you?
Scott Lucca and Cole Jamison are my main characters. Scott's bad-boy DEA agent who let his undercover job implode their brief marriage two years earlier. Cole is a K-9 Police patrol officer who longs for a chance to show what she and her K-9 Hugo can do. They each have something to prove to themselves.
What surprised me most while writing Force Of Attraction? I didn't plan ahead that by going undercover Cole would experience firsthand the conflicts of conscience that had ruined her and Scott. I do lots of research but don't plot extensively. Just my way. So, this outcome was organic but completely believable for me when I got there. The expression, 'You had to be there,' is true for many experiences. Cole's new self-knowledge allows them to heal in a believable way, not just because there's romance in Romantic Suspense.
What, in your mind, distinguishes this book from other books out there in the same genre?
The stories in my K-9 Rescue Series maintain an equal balance between Suspense and Romance. The books combine heavy-duty sensuality and solidly researched K-9 operations. Also, each book focuses on a unique type of K-9 team. Doing that allows me to tailor my plots to make the K-9's skill set critical to the story. In NECESSARY FORCE, the K-9 team works Explosives Detection. In IRRESISTIBLE FORCE, the K-9 team works Duel-Purpose, Police Patrol-and-Apprehension. For the new book, FORCE OF ATTRACTION, I pull together a Police Patrol K-9 team and a DEA Narcotics Detection K-9 team to go after a puppy drug-mule operation.

Do you think there's a common trait or a je ne sais quoi that your heroes must have?
For the K-9 Rescue Series, my heroes are in law enforcement and/or first responders. So, he has to be an Alpha male, a stand up guy, and smart – I like smart. And what woman isn't going to be drawn to a man who is so openly adored by his canine, and sees that affection returned? Another way to put it is that my heroes are a lot like my canines. What they share in common is intelligence, athleticism, drive, persistence, and unwavering loyalty. Oh, and they are loveable! Once he's on the heroine's tail there's no shaking my hero until mission accomplished. SIGH.

Did any scene have you crying or laughing (or blushing) while writing it?
The one where Cole's been struggling with her undercover persona. The two weeks they are given to get into their roles of "Noel" and "Sam" are up. Desperate to make the team, Cole decides to try out being "Noel" on "Sam." She finds him taking a shower.

The sound of the shower curtain being pulled back was his first clue that he was no longer alone.

Cole stood there staring, taking in every wet inch of him.

"Cole?"

She cocked her head to one side, eyes sliding down from his face, pass his soapy chest and navel to where rivets of water snaked into dangerous territory. "Who's Cole?"

She sounded annoyed, yet there was also mischief and something like heat in her expression. Yes, definitely heat. His dick understood that before his brain did, rising proudly to the occasion he wasn't yet certain he was being invited to.

Smiling, he braced a hand flat against the tile beside the shower head and propped the other in a fist on his hip.

"Shut up."

He hadn't said anything.

She undressed quickly. First one boot and then the other kicked off in opposite directions. He watched her hand slide her zipper down as if she were reenacting his favorite wet dream. He must be dreaming. It couldn't be happening this fast, this easy.

Then she stood in only her bra and panties. "Like what you see, Sam?"

Sam? Who the hell– Oh, yeah.

"I like."

"It could get better."

She stepped one foot over the rim into the shower. They were just inches apart.

She lifted a hand and pressed it palm flat against the middle of his chest. "Did you miss me, Sam?"

"Uh huh." Geesh. Where was his brain? Oh, yeah.

He sucked in a breath as the flesh on flesh contact sent whatever remained of the blood flowing through his brain surging south to his groin. This was her game, for now.

"It's been a while." She added her other hand to the first, brushing her palms in outward circles over his dark flat nipples.

"Whatever you say, Noel." He let out his breath when she smiled. He'd guessed right. She was trying to find a way to be her alter ego. He liked this way just fine.

She moved in on him until they touched from chest to knee. Her leg slipped between his thighs, nudging them farther apart until her invasion pressed her hip against his erection. Then she did a little hip wiggle that wrung an involuntary sound of lust out of him.

"Now that I've got your attention, I need to know that I can trust you, Sam." She reached up a traced her finger across his damp lips. "Can I trust you?"

"With your life."
If your book was optioned for a movie, what scene would you use for the audition of the main characters?
I'd use the first time Scott and Cole meet one-on-one. You get a feel for both their personalities, and it introduces Hugo.

"How did you get my address?"

"You forgot this." Scott held up the deputy's hat she'd left behind in Baltimore.

Cole stared at him through storm door of her home that separated them. "Leave it by the door."

Instead, he twirled it around his finger.

Cole folded her arms, unimpressed by the smile beneath his shades. He had caught her just as she returned from night patrol or she wouldn't have bothered to open the door.

Scott whipped off his shades and pocketed them then reached for the storm door handle. "Don't you want to hear why you were chosen to be part of the task force?"

Cole didn't move to open it. There was something very intimidating about looking her ex in the eye, even with a locked door between them. Force of personality. Scott had it in spades.

"Why don't you just tell me?"

He slid a finger along the length of the door handle. "If you're nervous about being alone with me I can wait while you call a fellow officer for back up."

"That won't be necessary. Hugo. Hier!"

From deep within the house Scott heard guttural growls following by deep other-worldly barking that would not have been out of place in a horror movie. Two seconds later, a huge shaggy black canine appeared and struck fist-size paws on the glass of the storm door at chest level. Scott stepped back instinctively, despite the barrier between them. Crap. Nikki's K-9 partner looked like Batman in a bear suit.

"Hugo. Platz."

Hugo immediately dropped prone at her feet but his ears remained pricked forward, his doggy body trembling at full alert for her next command.

Cole smirked as she looked up. "You still think talking is a good idea?"
What do you hope readers will take away from reading this book?
Aside from a great read what I hope readers will take away from FORCE OF ATTRACTION is an appreciation for the wonderful amazing work K-9 teams do every day. These dogs are skilled specialists, a breed apart. Many breeds, actually, each having unique abilities. Of course, each book contains a hot, sensual and believable love story for readers to devour. Call me romantic.

What are you currently working on? What other releases do you have planned for 2015?
I recently completed book #3 in the series called PRIMAL FORCE. It will be out September 1, 2015. Blurb:
Jori Garrison trains dogs for Warriors Wolf Pack, which provides service animals for disabled veterans. Four years ago she was wrongly accused of a crime. Now she just wants to live her life in peace. But it's hard to play it cool when a lethally hot male is on her tail – and the attraction is fierce, mutual, and dangerous.
Lauray "Law" Battise is a Military Police veteran who was wounded in Afghanistan. Haunted by the loss of his hard-charging K-9 partner in combat, he's reluctant to accept a 'soft' golden doodle service dog named Samantha into his life. But once he meets Sam's trainer, he can't fight his primal instincts.
When unseen enemies start hunting them down, Law and his new K-9 partner might be Jori's only hope – to survive.
I'm thrill to add I've just begun working on Book #4 in the series, one of two out next year. It's tentatively titled Rival Forces. And there will be more.

Thanks for blogging at HJ!
Giveaway:

2 Print copies o FORCE OF ATTRACTION by D.D. Ayres
To enter Giveaway: Please complete the Rafflecopter form and Post a comment to this Q:

What is your favorite dog breed? Is your pet anything like the K-9s portrayed in my books?
Book Info:
The only thing more powerful than fear is desire…
A seasoned K-9 officer with the police in Maryland, Cole Jamison has left her old life behind her. With a new home and a new partner–a protective canine named Hugo–Cole is ready for fresh challenges. A crucial position on an important drug task force is exactly what she wants…until she discovers her gorgeous, infuriating ex-husband will be the DEA agent in charge.
FORCE OF ATTRACTION
Agent Scott Lucca may be a pro when it comes to undercover assignments, but this job is daunting even for him. Posing as a happy couple on the dog competition circuit means he and Cole need to get a lot closer than they've been in years. Playing a live-in couple should seem like a walk in the park compared to tracking a brutal criminal, but suddenly nothing could be more dangerous than the passionate fire they've rekindled…
Meet the Author:

D. D. Ayres loves men in uniforms and dogs, making the K-9 Rescue Novel Series with St. Martin's Press a dream come true. She currently lives in Texas where she's at work on her next novel.
Website: www.ddayres.com
Newsletter: http://www.ddayres.com/#!contact/c1kcz
Facebook: https://www.facebook.com/pages/D-D-Ayres/816950304998835
Twitter: @ddayresk9
Excerpts. © Reprinted by permission. All rights reserved.