Today it is my pleasure to Welcome author 
Erin Nicholas
 to HJ!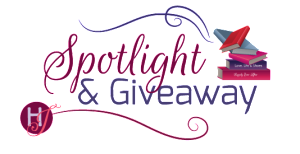 Hi Erin and welcome to HJ! We're so excited to chat with you about your new release, Forever Mine!
What is your favorite scene from Forever Mine and Why?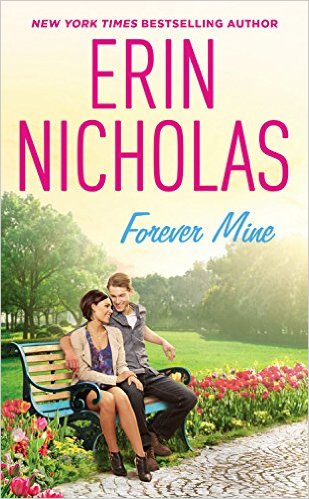 One of my favorite things about writing the Opposites Attract series is getting to explore what really draws people together.

Maya and Alex are not just different in personality and interests. Maya's favorite pastimes are actually dangerous for Alex. Maya is a go-getter who practices martial arts. In fact, it's how she makes her living. Alex, on the other hand, is a physician who works with genetic disorders and is living with hemophilia (a bleeding disorder) himself.

Obviously, it could be risky falling for a woman who punches and kicks for fun ☺ but even more of an issue is the fact that Maya is a protector. Once she lets Alex close, she's going to take care of him no matter what—even if the person she's protecting him from is him.

Maya and Alex have a lot to learn about each other—and themselves. And this scene is the start to some of that.
She was truly worried. Alex appreciated that and recognized that it was part of her caring about him. But it also proved, once again, that once people knew about his condition, they acted differently toward him. Frustration rolled through his gut.
Yes, he wanted to keep Charli safe and was pleased Maya understood that and was trying to help. But this was Maya. She didn't do things the safe way. She didn't hang out with people who did things the safe way.
That might not be entirely fair. He was sure they used precautions in their battles and sparring to keep everyone from any true injury. But she didn't hang back. She didn't worry and modify things before she went in.
He stared at Maya. He hadn't been riled up about his condition for a long time. Mostly he felt it was a huge waste of time. But Maya was making him face it. He didn't like it. He also didn't want Maya keeping him safe.
Of course that was ridiculous—that was what Maya did. She went out of her way to do it. Burning cars, malls, her studio—no matter where she was, she was taking care of others. Ironically, only a few days ago he'd decided she wasn't right for him because she was reckless and fearless and couldn't be intimidated.
He'd been wrong. She was a protector.
But he'd had eighteen years of being overprotected. He didn't need, or want, that anymore.
"More bo stuff," he said. "But not kid stuff. Let's do some grown-up bo stuff."
"Grown-up bo stuff?"
He picked his staff up again and tossed it back and forth between his hands. "Yeah. Grown-up. Stuff you and Ben do."
Maya's eyes narrowed. "Ben's been working with bo for years."
"I'll catch up." He started to spin the staff.
"Alex—"
"Maya, show me the stuff you do with Ben."
She didn't need to be gentle with him, and he was going to prove that to her.
She was watching him with a contemplative look. Finally she nodded. "Okay. You know the blocks I just taught you. Let's see what you can do with those techniques and some instinct."
Alex positioned himself and focused. Maya swung, not slowly but not as fast as she could have. He blocked three swings and then her staff hit his shoulder.
She hesitated, biting her lip, but she didn't say anything.
"Again," he said, resuming the starting position.
Maya did too and started swinging and advancing again. He blocked five swings before she caught him in the side of his thigh. She was swinging slowly.
She frowned and opened her mouth.
"Again," he said. "And stop holding back."
"You're new at this," she snapped, clearly irritated.
"I'm a big boy, Maya. Do it again and swing."
"Fine." She repositioned, and Alex faced her.
She came at him faster this time but with the same pattern of swings. He blocked them all.
"Again. More," he said.
"Alex, are you—"
"Dammit, Maya, more. Change it up. I know you're coming."
Her jaw tightened. "Okay. Let's go."
This time she swung harder and faster, and Alex got only two blocks in before she altered the routine. She struck him in his ribs. Hard.
He stopped, breathing fast. "Again."
"No." She tossed her staff to the side and faced him, hands on her hips. She looked angry and possibly on the verge of tears. "I'm not doing that anymore."
"Fine." He tossed his staff away. "Why don't you tell me what's wrong?"
"What's wrong?" she asked. "There's nothing you want to tell me, is there?"
He met her gaze and held it. He took in a deep breath that made his side twinge. "You figured it out," he said simply.
"That you have hemophilia and don't talk about it?" she asked. "Even in a situation where it's very pertinent? Like this one?"
Yeah, she was worried. And mad.
"I don't like you treating me carefully," he said. "I don't want that from you."
"No, you want me to hurt you. Because you have something to prove. And I'm not going to do that, Alex, so you can forget it."
"I don't want or need you to take care of me, Maya," he said firmly.
"Really? You say that you hate how I just jump in. Well, I hate how you're not even telling me that you have a condition that makes my favorite things a huge risk to you. It's like you don't think I'm capable of reeling it in and understanding precautions."
She was. Obviously. "I don't want you to reel it in." He planted his hands on his hips. "That's not you. And I like you exactly as you are."
"I don't want you to get hurt."
"I know what I can handle and what I can't."
She wet her lips. "How severe is yours?"
She'd definitely done her reading if she knew there was a spectrum. "Moderate."
That was the first time he'd truly acknowledged anything about his condition to anyone other than his doctor in years.
"So you will need treatment since I hit you?"
"Maya."
"Why don't you talk about it in any of your articles or interviews?" she asked. "You never give a perspective as a patient—only a physician."
"Maya—"
"I'm sure it helps Charli to know that you know what she's going through."
"If you don't stop talking, I'm going to kiss you to shut you up—and I'm not going to stop until you're naked this time."
That worked. Her eyes widened, but in the place of the worry was heat. That was so much better.
"I have a nice, big, soft bed at home," she said. "I'm sure I could ramble about something all the way there."
So the naked thing was on the table. But speaking of tables—
"A big, soft bed, you say?" he asked, moving in to tower over her intentionally. "You think I need a soft surface for this?"
She pressed her lips together as if hesitant to answer. But then she nodded. "You could strain something," she said quietly.
He wanted to laugh. He'd love to think that sex with her would be strain-worthy. But this was serious. Maya, who he suspected was a go-hard girl in the bedroom too, was worried about sex with him? Oh hell no.
Was it a stupid macho thing to want to prove her wrong? Of course.
But he was only human, and he definitely wanted the woman he was with to be thinking of nothing except how fast she could get undressed and where she wanted his mouth first.
"Maya," he said, low and firm. "What have you been reading?"
"Websites."
"Clearly I'm not the only one who needs a lesson here tonight," he told her.
"You have nothing to prove to me," she said quickly.
"That's obviously not true."
He pulled his T-shirt over his head. He appreciated her tiny indrawn breath as she took in his naked torso. He took one of her hands and pressed it to his chest. "Feel that? Solid, strong. I'm not going to break or crumble."
She ran her hand over his pecs, brushing a nipple and making him bite back a groan. Her hand slid down and over the spot where she'd struck him in the side. "But inside…"
He growled. "Stop being gentle with me, Maya. I'm tempted to put you up against the wall to show you just how not-gentle this can all be."
She lifted her eyes to his. There was heat along with a flicker of amusement. "You could do that?"
Jesus, had he thought she was too reckless and didn't think things through? He now needed her to stop thinking. "Damn right I could do that," he told her. Just before pulling her shirt over her head.
Excerpt. ©Erin Nicholas. Posted by arrangement with the publisher. All rights reserved.
***
My husband and I are a definite opposites attract story! And it's made for an interesting twenty-two years together 😉 Sure, we argue and don't always "get" the other person, but he really makes me see the whole picture and the other side of any issue. I'm more open-minded because of him, I think. But even after all this time, I still can't stand his taste in television and his aversion to country music is a definite problem! 😉 lol!

Giveaway:

Print copy of FOREVER MINE (Opposites Attract) by Erin Nicholas
To enter Giveaway: Please complete the Rafflecopter form and post a comment to this Q:

Have you ever been in an opposites attract relationship? What was the best and most challenging parts for you?
Book Info: 
Maya Goodwin doesn't believe in holding back. Ever. As a cop, she never hesitated to throw herself into harm's way to save someone. Even after an injury on the job forces her to retire, she's not afraid to keep risking it all to get the life she wants. With a new career teaching martial arts to kids already underway, she's looking forward to the future – and taking a chance on the unbelievably hot Dr. Alex Nolan.
Maya – daring and spontaneous – is the exact opposite of what Alex always thought he wanted. But when a nine-year-old daughter he never knew existed shows up on his doorstep, Maya is the one who helps them hold it together. With love on the line, will the guy who's always played it safe be willing to take the biggest risk of all?


Meet the Author: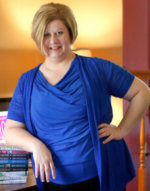 Erin Nicholas is the author of sexy contemporary romances. Her stories have been described as toe-curling, enchanting, steamy and fun. She loves to write about reluctant heroes, imperfect heroines and happily ever afters. She lives in the Midwest with her husband who only wants to read the sex scenes in her books, her kids who will never read the sex scenes in her books, and family and friends who say they're shocked by the sex scenes in her books (yeah, right!).
You can find Erin on the web at:
www.ErinNicholas.com
Twitter @ErinNicholas
Facebook.com/ErinNicholasBooks