Today it is my pleasure to welcome New York Times bestselling author 

H.P. Mallory

to HJ!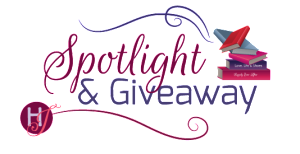 Hi HP, Welcome to HJ!
Hi! Thanks so much for having me!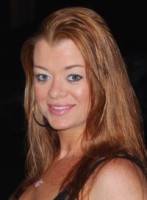 H. P. Mallory is a New York Times and USA Today bestselling author of the Jolie Wilkins series as well as the Dulcie O'Neil series. She began her writing career as a self-published author and after reaching a tremendous amount of success, decided to become a traditionally published author and hasn't looked back since. H. P. Mallory lives in Southern California with her husband and son, where she is at work on her next book.
Would you rather… visit the world 100 years into the past or 100 years into the future? Why?
100 years into the future because I'd love to see how different the world is from today.
Let's talk about your newest release: Ghouls Rush In
If you had to summarize the book for the readers here…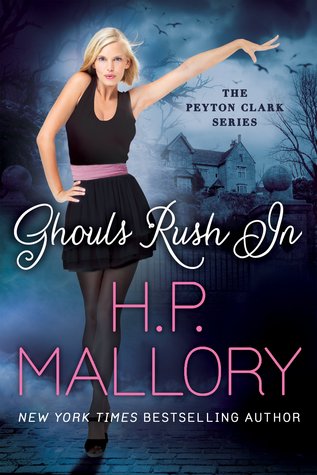 A spiritual love triangle with a murder mystery at its core
Please tell us about the characters in your book
Peyton Clark is the heroine who, after divorcing her attorney husband, moves to New Orleans after learning she's inherited a mansion. Peyton is quirky, funny and basically looking to fall in love with the right person. She meets her neighbor, Ryan Kelly, who is a hunky southerner who helps Peyton renovate her antebellum mansion. Ryan is loyal and loving but he has his own secrets that keep him from allowing himself to fall for Peyton. Drake Montague was a policeman in the early 20th century and he haunts Peyton's house. While he's an incorrigible flirt, he also acts as her ghostly protector.
As you wrote your protagonist was there anything about them that surprised you?
What surprised me was my friends who had read the book telling me how much Peyton resembled me.
What scene did you most enjoy writing? Why?
I really enjoyed writing the dialogue between Ryan and Peyton because it just seemed to roll right out of me and I loved how natural it felt upon looking back at it.
What scene was the hardest to write? Why?
The scenes involving the Axman of New Orleans were the hardest to write because they required so much research, owing to the fact that this part of the story is based on truth.
GIVEAWAY:
Winners choice of Print or e-book copy of Ghouls Rush In (US). E-book (International).
To enter Giveaway: Please complete the Rafflecopter form and post a comment to this Q:
My question for all the readers would be whether or not they have ever had any spiritual encounters and, if so, what those spiritual encounters were!
Excerpt:
Excerpt of Ryan and Peyton discussing her house:
"So what do you know about my house?" I asked Ryan, reaching for a French fry on his plate, before smiling apologetically for mooching it.
He cocked a single brow at me but smiled all the same. I thought lunch being on me meant that I'd buy all the guys lunch, but I'd come to find that Ryan had only meant him. It was just as well because I enjoyed any alone time I could get with him. I felt like there was definitely something between Ryan and me, but I wasn't sure exactly what "it" was—just casual, innocent flirtation or something more?
On Ryan's suggestion, we piled into the Scout and I drove us to the French Quarter where we tucked into a tiny, deli-like restaurant called Johnny's on St. Louis Street.
"Like I told you before when we were talking about your Great-Aunt Myra, I don't know much about her or your house," Ryan answered as he took an enormous bite of his catfish po'boy, chomping it for a few seconds before wiping his mouth with a napkin and taking a few sips of his Coke. He smiled and asked, "Are you gonna dive into that or what?" before motioning to the alligator sausage, triple-decker sandwich [MA1] I'd ordered.
"I'm still deciding," I answered honestly. I'd never had alligator before, but Ryan convinced me it was the be all and end all. As for a triple-decker on Texas Toast? Yep, that was his idea too—promising he'd finish whatever I didn't.
"Dive in, girl!" he said with a laugh, hiding his fries behind his gigantic hand. "Or else you're cut off from my fries."
I eyed my side salad forlornly before frowning at him. Then, taking a deep breath, I picked up my alligator sandwich. "Here goes!" I took a bite and after a few chews, realized it was actually pretty tasty. Heavier than chicken and more like the consistency of steak, it wasn't scummy or moldy at all, as one might expect of a swamp-dwelling creature.
"So?" Ryan asked, leaning toward me.
I finished my mouthful and sipped on my iced tea. "It's actually not bad."
"Not bad as in . . . good?"
"I don't know. Let me take another bite." I held the sandwich up to my lips, but before I took a bite, I added, "While I'm chewing, you can tell me what you do know about my house."
"So demanding!" he teased me with a laugh before taking a deep breath. "I've lived on Prytania Street for, oh, ten years now."
"You bought your house when you were twenty-six?" I asked, surprised.
"Peyton, your mouth is still full," he pointed out with a shake of his head and a put-on wince.
"Sorry," I managed with a sheepish smile, my mouth no less full.
He chuckled before remembering my question. "I've been doin' construction since I was twenty, an' luckily for me, I was good at it. So, yes, to answer your question, I bought my house when I was twenty-six."
I sipped the last of my iced tea through my straw until it snored when it encountered the ice cubes. Ryan raised his brows at me, but I just smiled and mooched another of his fries. "I'd love to see it sometime." I was suddenly struck with the notion of how completely refreshing it was to be able to be as candid as I was right now, to be able to be silly and flirty. They were feelings that had been foreign to me for years. And now, as I laughed and played with Ryan, I felt like I was coming into my own again, relearning what it felt like to be Peyton Clark.
"You always have an open invitation. You should know that."
"Why should I? It's not like you ever invited me . . ." I said with a shrug as I stole another fry and used the last of his ketchup. He smiled and, grabbing the bottle, squeezed out another red mound on the corner of his plate. I plopped the fry in my mouth and moaned with pleasure. "These fries are so good!"
"Mouth full!" Ryan chided me.
"Blah," I waved him away.
"Well, I apologize for not invitin' you," he started while intercepting my attempt to steal a long and especially doughy-looking fry, plopping it into his own mouth with a smug smile.
"Hey!" I swatted his upper arm, feigning offense as he finished his mouthful.
"It never actually crossed my mind that I hadn't invited you over," he continued. "But I would like it known that you, Peyton Clark, the most stubborn woman I've ever met, with the worst table manners I've ever seen, are always welcome at my home."
I laughed and couldn't stop the blush across my cheeks. Sometimes he just said things that made me melt. "Thanks, Ryan."