Today it is my pleasure to Welcome romance author
Cara McKenna
to HJ!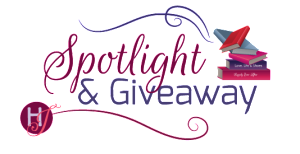 Hi Cara and welcome to HJ! We're so excited to chat with you about your new release, Give It All!
Please summarize the book for the readers here: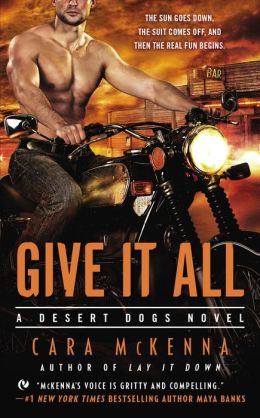 Fussy OCD British corporate prick gets framed, abuses his meds, gets dismantled by a wayward bar owner, gets laid, seeks justice. Plus cat.

What's your favorite line in this book and why?
Gosh, that's hard to say—both characters get their fair share of jabs in. But I believe there's a bit where Duncan says, "A ball gag wouldn't go astray." It's out of context here, but that line just about sums their courtship up, I'd say.

When you sat down to start the Desert Dogs series, what were you the most excited about? New setting that you get to explore so thoroughly? Being able to revisit characters?
The setting for sure, but even more so, writing an ensemble cast. I often write either shorter books (series romances) which simply don't have the page real estate for loads of characters, or such intimate erotica that not much happens outside the bedroom, so subplots and extra players would feel like a distraction. But I really adore writing a big cast for this series—love interests, siblings, friends, ex-lovers, bosses and partners and employees and customers, parents and kids, enemies, rivals. It's so much fun curating a big, diverse group like that and then watching them anger and delight and seduce and annoy and surprise and rescue and undermine one another.

Please tell us a little about the characters in your book. As you wrote your protagonist was there anything about them that surprised you?
They're very, very different in every superficial way. Duncan is a British ex-pat, a wealthy corporate lawyer who cares very much about his clothes and his car and his grooming and how people perceive him. Raina, on the other hand, is a foul-mouthed townie bartender and tattooer who wears tight jeans and a black tank top every day of the year, owns a pickup and a motorcycle, and doesn't care one bit what anyone thinks of her. But underneath they're both actually rather vulnerable. I knew that about Duncan before I began writing the book, but Raina surprised me a little. I thought she had it all figured out, but she has some deeper baggage of her own, I came to find out.

The First kiss…
A premeditated, whiskey-fueled collision.

Did any scene have you crying or laughing (or blushing) while writing it?
This is going to sound really weird, but there's a blow job scene in the book that was surprisingly emotional to write. I won't give too much away, but the whole situation makes one of them incredibly uncomfortable, in an essential sort of way. I'd like to think few BJ scenes offer as much character development as that one does.

What would you say is the overarching theme in this series?
That's quite a question, one I feel like maybe I should automatically know the answer to. But in truth, I'm having to think about it… I'd say that "loyalty" might be the strongest theme. Loyalty to a town, to friends, to places, to values (rough and grimy as the may come, in Fortuity.) Every single one of the Desert Dogs is fiercely loyal to what they hold dear. (Though Casey does take his sweet time in finding something worth manning up for.)

If a song played when Raina walks into a room, what would it be?
Gosh, that's a great question. It should be something vaguely predatory and just a little sleazy. Something old-school that you'd find on a juke box in a roadhouse bar. Maybe "Black Velvet". Or "Maneater"! Watch out, boy—she'll chew you up.

What are you currently working on? What other releases do you have planned for 2015?
I'm currently smack-dab in the middle of Burn It Up, which is Desert Dogs book three—Casey's story.

Thanks for blogging at HJ!
Giveaway:

2 Print copies of GIVE IT ALL by Cara McKenna
To enter Giveaway: Please complete the Rafflecopter form and Post a comment to this Q:

So Duncan starts the book out driving a gleaming, hundred-thousand-dollar Mercedes, and in the end winds up on a resuscitated touring motorcycle from the early seventies. What's sexier, do we think? The luxury ride or the tough old beater bike?
Excerpt
Slender fingers circled Duncan's empty glass, but she didn't take it away just yet. "Another?"

"Please."

"Two's usually your limit. Do I need to stage an intervention?" Raina was teasing—hers was a bar where men proudly boasted of downing a dozen shots just to celebrate the close of a workweek.

"I'm afraid all the recent inactivity doesn't suit me," Duncan returned.

"Poor baby. I'd kill for a night off. Don't think I've had one in three years. But even if I got one, I'd probably spend it tattooing."

Ah yes, her side gig. Duncan rankled inside his expensive suit jacket to imagine her hands inching over strange men's naked skin.

"At least you're still getting paid," she said. "Want to feel bad for somebody, save your sorrows for the dozens of construction guys who're twiddling their thumbs for nothing, waiting to find out if they'll ever get to go back to work at all."

She mixed his drink and he tipped her outrageously, then watched as she gathered the empties scattered around the counter. The vodka was working, now. He felt warm and loose, urges and emotions slipping out from under the cap he kept on his vulnerabilities, to flurry about in his blood. To make him hungry. The vodka, or the lust? In either case, he ought not to trust the way he'd recently begun gravitating toward both. Yet here he was. Night after night.

Raina had an ex, one she was still close with. Or at least Duncan thought Jeremiah Church was her ex…the way the man looked at Duncan sometimes, he had to wonder if there was still something simmering, there. Though apparently not anything strong enough to keep Raina from flirting with Duncan, the virtual friction between them so intense it was a wonder their clothes didn't catch fire. The question marks surrounding her and Church had gone from poking him to clawing at him as of late, however. The hazards of an idle brain. He was itchy for answers, wanted them even more than he wanted to maintain the flimsy illusion that he couldn't care less who warmed her sheets.

He made it ten minutes—half his drink and three laps of Raina around the bar—before he blurted, "So you and Jeremiah Church."

She batted her lashes, posture changing utterly. She cocked her hip and chin, subtle as a cat hunkering down to stalk a mouse hole. He could just about see her tail twitching. "Yes?" she asked sweetly.

"What exactly happened between you two, that he gives me a look most men would reserve for their mother's axe-murderer?"

She shrugged, graceful collarbone flashing beneath two layers of black lace—the straps of her top and the ink decorating her skin. "Guess my side effects include withdrawal or something."

"You turn a tame man feral."

She busied herself stacking nearby empties. "Don't all women?"

Not the ones I'm used to. "You dumped him, I take it?"

She smirked. "I like you drunk, Duncan. Makes me suspect you might even be half-human, under all that smooth, icy snakeskin."

A snake, am I? How terribly Edenic. Though Raina had clearly bitten into that apple ages ago, savored every scrap of its flesh and spit the seeds at her jilted lovers' feet.
Book Info:
A hot new Desert Dogs novel from the author of Lay It Down
Keep your friends close—and your enemies closer….
Bar owner Raina Harper can't say for sure what Duncan Welch is to her. With her small Nevada town under siege by a ruthless casino development and still reeling from a spate of murders, she knows that trusting the public face of the corporate invaders is risky to say the least. Though, damn, it's one fine-looking face.…
Duncan may be a mercenary when it comes to getting the job done, but he's no villain. In fact, the calculating fixer soon finds himself in the bad guys' crosshairs, framed and facing professional ruin. To clear his name, he'll need help from Raina and her roughneck motorcycle club, the Desert Dogs. Gaining their trust won't be easy, and the molten sexual tension between Raina and Duncan only makes things more complicated—especially since Miah Church, Raina's friend and ex-lover, would sooner strangle Duncan than shake his hand.
One thing's certain, though: If they don't deal with their incendiary attraction soon, the whole damn town might go up in flames.…
Give It All buy links: Barnes & Noble | Amazon | Kobo | iTunes | Books-A-Million | Powell's


Meet the Author: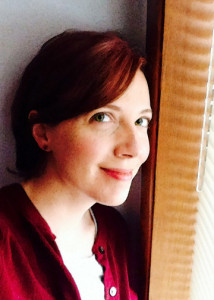 Cara McKenna writes contemporary romance and smart erotica, sometimes under the name Meg Maguire, and has sold more than thirty-five novels and novellas to a variety of publishers. She's known for writing no-nonsense, working-class heroes with capable hands and lousy grammar. Cara writes full-time and lives in the Pacific Northwest with her own bearded hero.
I poke my snoot into Twitter all through the day, and read all my @ replies, so that's a great way. There's also email—cara@caramckenna.com. I try to reply to all reader mail within twenty-four hours, travel and deadlines notwithstanding. And I keep my website up to date as well, for anyone looking for book info or the latest on what's coming next. That's www.caramckenna.com.