Today it is my pleasure to Welcome romance author
Erin Nicholas
to HJ!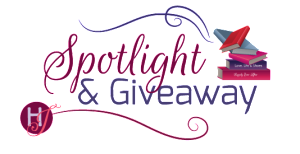 Hi Erin, welcome 🙂
If you were written about in the newspaper, on the front page what would the headline say? Why?
Local Author sets record for the use of the word "just" in one book!
Because I just LOVE that word! 🙂 I have to delete an embarrassing number of them with each and every book. That's just how it is!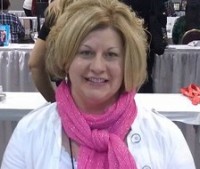 Would you rather…have 3 wishes in 10 years or 1 wish today? Why?
Three wishes, for sure! Because I'd probably end up using wish one for something like Ryan Gosling's total infatuation and undying love of me and then realize that I can't put up with the ego or the way he never puts his socks in the hamper after one long hot weekend. So I'd need that second wish to get him over me (hee hee) and then I'd want that final wish to do it right. You know, like with Ryan Reynolds.
Let's talk about your newest release: Going for Four
If you had to summarize the book for the readers here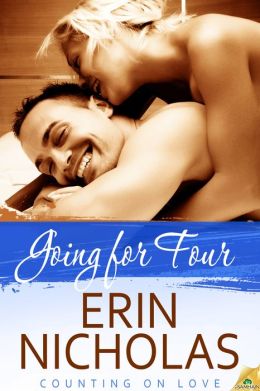 Lots of fun things come to mind here… friends to lovers, falling for your best friend's little sister, falling for your brother's best friend… Oh, and there are chocolate chip cookies! Lots of them! I love the friends to lovers trope. Love it! Cody and Olivia have been best friends for almost two years when the book starts. But they're wildly attracted. Always have been. They fight it because Olivia's older brother– Cody's best friend– has forbidden them from dating (for fairly good reasons, really, but he's kind of an ass about it). Anyway, when Olivia decides that the only way to really get over Cody is by finding her *true* love, she signs up on a matchmaking site. And that ends up throwing them all a pretty big curve ball!
Please tell us about the characters in your book?
Cody is a firefighting, football playing sexy, sweet nice guy who's head over heels for a woman he thinks he can't have. He's well known as the "nice guy" but he hasn't always been nice… which is why is best friend wants to keep him far away from his little sister!
Olivia is a romantic at heart. She's the baby of her family and has been pretty protected, but she's got a determination about her that surprises everyone– even her– when she decides she wants something… or someone.
As you wrote your protagonist was there anything about them that surprised you?
Yes! My heroine. I can't give too much away without it being a spoiler, but there is something I didn't know about her until I started writing and even then I didn't know for sure how she'd handle it.
What scene did you most enjoy writing? Why?
I loved writing the first scene. It came to me all at once and just flowed. These two characters already knew one another and I wanted to show their friendship as well as making it fun. But I wanted it to be sexy right away. I wanted everyone– including them– to feel their chemistry from the start.
*from that scene*
Cody Madsen had never seen Olivia Dixon naked. Until today.
And there was a very good reason for that.
Two, in fact.
She was his best friend. And her brother would kill him.
But damn, the sight was breathtaking.
What scene was the hardest to write? Why?
This was an easy answer too– the scene where Conner–the brother and best friend– finds out how Cody and Olivia feel about each other. Ugh. It was a really hard scene to write because Conner doesn't handle it well. In fact, he's a total ass about it. And it hurts both Cody and Olivia a lot. He redeems himself (I promise) but not for awhile…
*from that scene*
"Conner," Olivia started.
"Actually, Liv, I want to hear it from Cody."
Conner was staring at his best friend with a combination of hurt, anger and disbelief.
Cody moved in closer to Olivia and took her hand, slipping his fingers between hers. She held on to him tightly. This was it. No going back now.
Who would you cast in the role of your characters if your book was optioned for a movie?
Sometimes this is hard for me but not this time! For Cody, Zachary Levi and for Olivia, Kristen Bell
If you could have given your characters one piece of advice before the opening pages of the book, what would it be and why?
Trusting your heart is always the right thing to do. No regrets! Go for it!
What are you currently working on? What other releases so you have planned for 2014?
The final book in this series, Up By Five, will be out April 8th!! I'm very excited to tie this series up with this book. It's Conner's book… in the series we've seen all four of his little sisters fall in love (with four of his best friends!!!) so it's time for him to have HIS story! Then, this summer, I'm releasing three books in a new series called Sapphire Falls! Can't wait to have readers visit this quirky little town with me!
Thanks for blogging at HJ!
Giveaway: I'm giving away a set of the

first three Counting on Love books, winners choice of e-format!

She's the One, It Takes Two and Best of Three!

Open internationally.
To enter Giveaway: Please complete the Rafflecopter form and Post a comment to this Q:

Have you ever wanted something in spite of someone close to you insisting it was a bad idea? Did you go for it anyway? Were they right or wrong in the end?
Excerpt
"You look…weird."
"This is, apparently, how I look when I'm trying with every fiber of my being not to kiss you."
She made a soft choking noise and her hand grasped the towel tighter against her breasts.
"I've never seen that look before."
"Yeah. I saw a few things for the first time today too."
And she grinned.
That was one of the things he loved most about his "friend" Olivia. She had a fantastic sense of humor.
"What I mean is," she said, "I thought there have been times in the past when you've had to try not to kiss me. And I've never seen that face before."
There sure as hell had been times he'd had to resist grabbing her and pushing her up against the nearest wall. Or the nearest desk. Or the nearest copy machine, car door, refrigerator…
He cleared his throat. "Those times I was trying to resist kissing your lips."
"But wh—"
She broke off as understanding dawned. And her cheeks got pink.
"God," she finally breathed. "The not-talking-about-sex rule we have is a good one too."
So were the other three rules they'd established nineteen months, two weeks and three days ago.
First and foremost was no kissing.
Second was conservative clothing only when they were together. He didn't go shirtless, even when he was cleaning out her rain gutters in ninety-eight-degree weather. She didn't wear fitted tank tops or short skirts. He didn't wear fitted tank tops either—she'd added that to the list after the last time they'd gone to a baseball game together. If swimsuits were required, he wore baggy trunks that reached almost to his knees, and she had a two-piece with bottoms that looked like shorts and a top that covered her stomach and chest completely.
Third was no talking about sex—with anyone specifically or the overall topic in general. No innuendos either.
Fourth was no getting drunk together—they'd made that mistake once and would have made all kinds of horrible choices if Olivia's sisters hadn't come home early.
Fifth was no avoiding each other. That wasn't acceptable. They were friends. They enjoyed being together. They had an entire group of friends in common.
It didn't matter that they were more attracted to each other than they ever had been to anyone else. They weren't going to let it keep them from being friends, and they weren't going to let it make things awkward between them.
In fact, their friendship was one of the barriers they'd put up in hopes of fighting their attraction. They'd become even better friends, entirely on purpose, after the one and only time they'd kissed.
Nineteen months, two weeks and three days ago.
Book Info:
It's either true love…or the biggest mistake they've ever made.
Blurb:
Counting on Love, Book 4
Hot firefighter Cody Madsen has stayed away from Olivia Dixon for almost two years—technically. Even though he talks to her every day and sees her every weekend. But there's no kissing, touching, or telling her how he really feels. Because they're just friends. Anything more than that would mean crossing the line that Olivia's older brother has firmly drawn between them.
Olivia wants what her three sisters have—true love. She could almost believe she's found it with Cody, if it weren't for the fact that he's her older brother's best friend and her brother won't have it. And he's never steered her wrong before. Her head is telling her to trust her brother, but her heart won't let go of Cody.
Her solution? A dating site where she and Cody can each find their "Perfect Pick" once and for all.
But when the site yields some unexpected results, their real feelings come front and center. And they have to decide if it's worth the risk to cross the line from friendship to love after all.
Warning: Contains a starry-eyed romantic, a wannabe knight in shining armor, and chocolate chip cookies. A lot of chocolate chip cookies.
Book Links:
Author Bio
Erin Nicholas is the author of sexy contemporary romances. Her stories have been described as toe-curling, enchanting, steamy and fun. She loves to write about reluctant heroes, flawed heroines, sex with food and happily ever afters. She does not like to write dark moments, synopses or bios. You can find Erin on the web at Website | Facebook | Twitter |