Today it is my pleasure to Welcome author
Anna J Stewart
to HJ!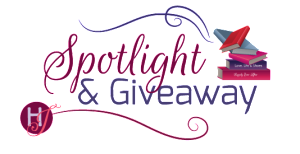 Hi Anna and welcome to HJ! We're so excited to chat with you about your new release, Gone in the Night!

HJ is beginning to feel like home, LOL. Thanks so much for having me back.

Tell us about the book with this fun little challenge using the title of the book: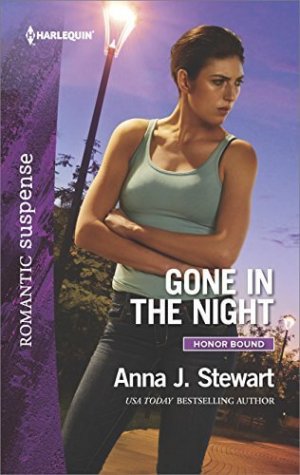 In GONE IN THE NIGHT, two nine-year old girls have gone missing…twenty years apart. The circumstances are almost identical. Each girl vanished during a sleepover with friends, only this time Dr. Allie Hollister isn't the missing girl's friend, she's this girl's therapist. To find Hope Kellan and bring her home safely, Allie has to find a way to meld her past with the present, work with her best friends, and resist her attraction to with Max Kellan, the missing girl's uncle who isn't about to let anyone, especially Allie, get in his way.
What's your favorite line(s) from the book?:
I have a number of them, but I think this one tops the list. Soon after Hope Kellan has gone missing, Allie is looking through the little girl's room and remembering when she first became friends with Simone and Eden…back in Kindergarten:
That day Simone had helped Allie straighten her new pink dress and sweater while Eden retrieved Allie's ball —before being sent to the principal's office for kicking the second grader somewhere Allie later learned was vastly inappropriate.

They'd been picking each other up off the ground ever since.
That last line completely exemplifies the unbreakable bond between these three women.
Please tell us a little about the characters in your book. What first attracts your Hero to the Heroine and vice versa?
Allie has always lived a bit in the shadows. She's quiet, introspective, logical, and determined. Simone and Eden are bigger personalities. You know when they walk into a room they're going to command attention. Allie is the type of woman who will stand in the corner, interact, sure, but she'll always be evaluating. Thinking. She's always searching for the whys in life.
Max, on the other hand, is pretty much a head-turning charmer. He can interact with anyone and is loyal to a fault (cliche, sure, but it works with him). He's a former firefighter and has come out to California to start over and help care for his niece whose parents are in the middle of a nasty divorce and custody battle. He is incredibly protective of those he cares about. And he's definitely not shy about letting people know what he thinks, where he stands, or what he believes should be done. These two are definitely opposites in a lot of ways (but not in every way).
This is one of the first books I've written where the hero and heroine really are at odds when they first meet. Allie has her mind set on one goal: finding Hope. Coming up against Hope's Uncle Max throws her for a loop and Allie is all about control; not controlling others, but staying in control. That's the last thing she feels around him. The attraction is instant, un-explainable (is that a word?) to her mind, which intrigues her all the more. He becomes a bit of a mystery to solve within the larger mystery of finding his niece. Emotions always get her into trouble and Max stirs all kinds of them inside her.
Max, on the other hand, doesn't trust Allie from the start. He has serious issues with therapists. He doesn't trust them, doesn't really believe they cause anything other than damage, so having his niece's life partially in the hands of one, no matter how appealing she might be, really sets him on edge. He needs convincing that Allie really has Hope's best interests at heart, which of course is why Allie doesn't feel as if she can tell him the truth: that this kidnapping may be more closely connected to her than anyone realizes.
Antagonism is usually a pretty good firestarter, but I think their feelings for one another grow as they realize their common concern is Hope and finding out who's responsible for her disappearance. They can disagree about a lot of things, but they both love that little girl and it's that bond that moves them forward.
When you sat down to start this book, what was the biggest challenge you faced? What were you most excited about?
While GONE IN THE NIGHT is definitely a stand-alone story, it also completes a sub-story arc that began in MORE THAN A LAWMAN and then continued with REUNITED WITH THE P.I.. Wrapping things up, figuring out who killed these three women's childhood friend (without being predictable), and giving each heroine her own identity both in their romance and in how they've dealt with the murder of their friend twenty years before was especially challenging. Keeping the mystery going through the three without overwhelming the other plot lines proved an interesting balancing act. I never want someone to come in to one of my books, whatever number of the series it might be, and be lost. That only causes a frustrated reader and none of us want that!
So giving the reader a satisfying read, whether they've read the other books or not, really was my main goal. My secret hope is that if they start with GONE IN THE NIGHT, they'll want to read Eden's and then Simone's story. My even bigger secret hope is that readers are chomping at the bit because they have read the previous ones…and they're dying to find out the answers! (that's the type of reader I am, anyway, LOL).
What, in your mind, makes this book stand out?
As much as these books, GONE IN THE NIGHT included, are romances and are about two couples finding their HEA, each is also about the unbreakable bonds of friendship. Tragedy, especially one that occurs early in childhood as it did for these three women, can result in so many things, most of them not particularly pleasant. Not a lot of friendships survive. I'd venture to guess most wouldn't. The aftershock either drives people apart or it draws them closer together. That's what's happened with Eden, Simone, and Allie. They are inseparable and I'll argue closer than blood could ever make them.
Finding three men who understand and accept that was very important. Never once did it occur to me to have a hero who tried to get between them. It wasn't feasible. If anything, the addition of the men into that tight circle, only strengthened the bonds. And these men create their own inner circle. I think watching their women interact with one another shows them how important relationships like that are. That's not to say they're all gushy and talkie because they're not, but going through life knowing the friends you've made will always, no matter what, have your back? Those are the types of heroes I want to write (and read) about.
It also allowed me to expand the friendship circle even larger. Meaning there will be more Honor Bound books (3 at least)…and we'll get to see where these three couples go once the mystery of the past has finally been resolved. I LOVE recurring characters!
The First Kiss…
"You feeling better?"

"I'm feeling functional." He pushed to his feet, reminding Allie just how much space he took up when he was around her. "In case I didn't say it before, thank you for standing in the way of my truck. I don't know that I could have dealt with Gemma without you. And because I've been wondering about something."

Before Allie realized what was happening, he reached out, caught the back of her neck in his hand and hauled her to him. He bent his head and covered her mouth with his in one fluid move, so fast, so effectively, her mind spun.

She gasped, her mouth opening under his as she reached up, hands poised to push him away as warnings of unprofessionalism and conflicts of interest reared up only to be vanquished by the urgent insistence of his lips on hers. He tasted of Scotch, warm and welcoming and, for
this moment, she couldn't get enough.

She moaned. Or was that him? She couldn't be sure, but she rose up on her toes, falling into him as she matched his kiss. Every synapse fired to life as the emotions of the day —terror, panic, uncertainty—melted under his igniting touch.

When he lifted his mouth, it wasn't by much. When she blinked open her eyes, it took a few seconds to focus, and when she looked at him, it wasn't humor she saw on his whisker-roughened face, in his curious brown eyes. It was her own confusion and uncertainty reflected back at her.

"That only raised more questions than it answered." He barely moved and the heat of his fingers brushing her neck may as well have branded her. "Suffice it to say this is something we might need to pursue once we work our way through this nightmare."

She swallowed hard, tasting him on her lips. "I've been known to be a fan of experimentation," she managed. "In theory," she added, "just so you know, you're totally not my type."

"Back at ya, Doc. But you know what they say. Opposites attract."

Attract? Allie stumbled as soon as he let go of her. She lifted trembling fingers to her lips, her half smile faded as she realized how far they had to go before Hope's kidnapping resolved itself.
One thing was certain as far as Max Kellan was concerned. Opposites didn't just attract.

They combusted.
If your book was optioned for a movie, what scene would you use for the audition of the main characters and why?
The scene where they first meet. They aren't alone–there are police around, but it shows Max at his most vulnerable while Allie is struggling to maintain an emotional distance and coming off…well, it isn't sunshine and roses.
"You'd be Max Kellan, then." The detective scanned the area as he approached. Between the steady hand on his badge and the serious tone in his voice, Max's skin prickled.

"That's what my driver's license says, Officer." Grudging respect didn't mean he didn't enjoy ribbing the boys in blue. He planted his hands on his hips and let his gaze return to the woman as she joined them. Any thoughts he might have had about aiming a smile at her faded as he
caught the uneasy glimmer in her eyes. Wow. Max took a sharp breath. He'd never seen such dark eyes before, eyes that reminded him of the deepest dives he'd taken in the Keys.

"I'm Detective Jack MacTavish. This is Officer Bowman and Dr. Allie Hollister. Do you mind if we go inside?"

Doctor? Max's smile vanished. "Not until you tell me why you're here." Cops and doctors on the doorstep first thing on a Sunday? Alarm bells Max hadn't heard in months, had hoped he'd never hear again, clanged in his head. "Is Joe in some kind of trouble? Did his plane—"

"As far as we know, your brother is fine," Detective MacTavish said. "We've been unable to get in touch with him or his wife. We've also been trying to reach you for the last few hours—"

"Yeah, my cell phone's charging. It's insi—" The words he planned to speak vanished from thought. "What is this about? Wait." He searched his memory, eyes pinned to the woman's face as she very lightly, almost imperceptibly, flinched. "Dr. Hollister. I know that name. You're Hope's shrink."

"I'm her therapist, yes." Dr. Hollister's eyes narrowed in a way that told him she didn't appreciate the moniker. "Please, Mr. Kellan—"

"Max. It's Max. Tell me what's going on." His heart picked up speed, racing faster than it had at any time during his jog. His entire body went cold. "Please." Dr. Hollister took a step toward him. "Let's go inside so we can talk. It's about Hope."

He dug in his pocket for the house key. Once inside, he managed to hold out until they had closed the door behind them. "Tell me."

He leaned against the wall and stared blankly at the three people in his brother's foyer. He focused on Dr. Hollister, daring her to blink, to look away. She didn't blink. Nor did he see anything other than cool detachment in her stoic expression.

"Your niece has been missing for at least four hours. The Vandermonts contacted us when they realized she was gone from their property. We've been searching ever since," Detective MacTavish said. "We still have people searching for her as we speak."

"How could she have disappeared?" He bent double, bracing his hands on his knees as his stomach rolled. "Are you sure? How can you be sure? The Vandermonts were home when I drove her up there last evening." Everything had been fine when he'd left. Hope had been so happy and
excited, she'd run off without even saying good-bye.

Good-bye.
If your hero had a sexy-times play list, what song(s) would have to be on it?
OMG, I could totally see Max pulling out a Barry White album. Or maybe Barry Manilow, LOL. He has such a quirky sense of humor and whenever you hear that music start to play, admit it, you start to smile because you know what's going to happen next. That's what Max would want. Laughter. He's one of those men whose filter isn't always on which made him really fun to write. He wouldn't want to do the expected all the time, and while that might be a predicable and easy answer, it's exactly why he'd hit play.
What do you want people to take away from reading this book?
First, that everyone deserves a happily ever after. Hey, it's a romance! Everyone wants that. 🙂 Second, that friendships can be the family of choice. Lastly, that while the past helps create who we are, we don't have to be defined by it. These three women each had problems and traumas growing up, some shared, some not. But each rose up, conquered their inner demons and doubts, moved beyond them and used the grief and sorrow of losing their friend all those years ago to making a difference in the world.
What are you currently working on? What other releases do you have planned for 2017?
I've just finished THE CHRISTMAS LIST, which is a new novella in the Christmas Town boxed set. HEARTWARMING HOLIDAY WISHES will be on sale October 10th (10 brand new sweet romances for $.99). I've also put the finishing touches on LOVE IN FOCUS (out November 15th), a new entry into Marina Adair's Kindle World offerings. This will be the second Lafferty sibling book and features possibly my most Alpha male to date, Dante Thanos (I LOVE that name). Next up is writing Calliope Jones's story for Butterfly Harbor. It'll be the first Christmas story for that series (Heartwarming, Harlequin's sweet romance line) and I can't wait to write it!

Thanks for blogging at HJ!
Giveaway:

2 E-copies of MORE THAN A LAWMAN and 2 E-Copies of REUNITED WITH THE P.I. (4 winners) Open Internationally.
To enter Giveaway: Please complete the Rafflecopter form and Post a comment to this Q:

As I mentioned above, I love continuing characters in books. What's your favorite romance series where the characters continue to appear in later novels? Me? I love the Nora Roberts trilogies or Sherrilyn Kenyon's Dark Hunters (might be time to start re-reading those again). Chime in below. I'd love to know!
Excerpt from Gone in the Night:
Seconds later, Max was in his truck, cell phone in hand and punching in the spa's name into the search engine app. Shifting into reverse, he gunned the engine and glanced up into the rearview mirror.

The truck jerked as he slammed his foot on the brake. "What do you think you're doing?" He shoved out of the car and circled around to where Allie Hollister stood, hands on her pink-encased hips, a glare of disapproval on her round face.

"I was about to ask you the same question. Where are you going?"

"To get my niece." Max slapped a hand against the tailgate. "Now get out of the way or get run over." He stepped forward, meaning to loom over her, but Allie inched that defiant chin of hers up even higher and poked a finger into his chest.

"You're only going to cause more chaos for your brother's marriage by going after her. Let the police and FBI handle this, Max. Let them do their jobs."

"They don't know this woman like I do." What would it take for her to understand? "Gemma will turn on the waterworks and she'll use whatever time it takes for them to bring her back here to perfect whatever lies she needs to tell. If she took Hope, if she had someone take her, I'll
know. Which means I need to be there when she's confronted."

"And if she's not involved? What are you going to do then? Drive all over Northern California banging on every house until you find Hope?"

"If I have to." Because that would constitute doing something. "I can't just sit in that house and wait, biding my time while Hope is out there somewhere. I can't stand around and watch my brother fall apart." He'd witnessed enough families disintegrate over the years. He wasn't
going to witness it happening to his own.

Allie's eyes narrowed. "We don't even know if Gemma's at that spa." She took a step to the side. The second her feet hit the front lawn and his path was clear, he took that as his sign to return to the truck. "It might be a wasted trip."

"How about you find out and call me," he yelled over the back of the truck, but she was gone. "Doc? Did you hear me? I said—"

"I heard you." Allie pulled open the passenger door and hopped in. She settled herself in the bucket seat and stuffed her bag between her feet on the floorboard. "You want to do this so badly? Fine. I wouldn't mind seeing Gemma's reaction myself. Let's go."

"You're not coming with me."
"Kinda looks like I am." She clicked her seat belt and gave him a look he thought for sure she reserved for her most trying patients. "You can either get in and drive, or we can both go back inside and wait this out."

"Don't you need to let your boyfriend know you're running out on him?"

"My boyfriend? What boy—" She went from complete confusion straight to amusement. "You mean Eamon? Oh,wow. I can't even fathom that." She actually shivered."He's a friend, nothing more. Same as Jack. In case you were wondering."

"I wasn't." But even to his own ears he protested too quickly. "Doesn't matter." And yet, he felt a surge of unexpected relief.

"Look, Max." She pushed her hand through that short crop of hair and let out a sigh he recognized as frustration. Finally, a sign the situation was actually having an effect on her. "I know you're angry and you want to blame someone, and striking out at anyone, especially me, feels pretty good. But going into an exclusive members-only spa full bore is only going to a) get you arrested, and b) create more problems for your brother and his marriage than you
realize. I can help. I'm going with you. Now get in and let's go. It's a long drive."

Because he didn't think she or her buddy the detective would appreciate Max hauling her out of his truck, he surrendered. Five seconds was all he needed to speak with Gemma. If she had any inkling as to where her daughter was, he'd know in that time. Soon he'd know for sure.

And it was that hope, and only that hope, that was keeping him sane.
Excerpts. © Reprinted by permission. All rights reserved.


Book Info:
A childhood terror rears its ugly head…
Psychologist Allie Hollister is still haunted by the unsolved death of her childhood best friend. She never expects her past to meet her present when a young patient is abducted and the cold case is reopened. Allie knows she shouldn't get involved, but the child's uncle, firefighter Max Kellan, needs her as much as she needs him.
Once, Max simply wanted to put his past to rest; now he demands nothing short of justice. As he and secretive, sexy Allie track a lethal criminal, their chemistry is an undeniable adrenaline rush. Their attraction will be put to the test when they confront their most dangerous threat yet: the truth.
Book Links:

Meet the Author: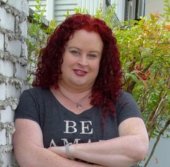 USA Today and national bestselling author Anna J. Stewart writes sweet to sexy romance for Harlequin's Heartwarming and Romantic Suspense lines. Early obsessions with Star Wars, Star Trek, and Wonder Woman set her on the path to creating fun, funny, and family-centric romances with happily ever afters for her independent heroines. Anna lives in Northern California where she deals with a serious Supernatural & Sherlock addiction, surrounds herself with friends and family and tolerates an overly affectionate cat named Snickers (or perhaps it's Snickers who tolerates her). When she's not writing, you can find her at fan conventions or at her local movie theater, or building her client list for her content editing services for writers.
Website | Facebook | Twitter |