Today it is my pleasure to Welcome romance author
Jenn Bennett
to HJ!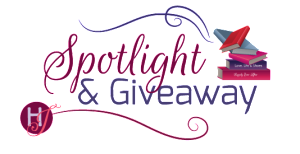 Hi Jenn, welcome 🙂
If you gave the characters from this book an opportunity to speak for themselves, what would they say about you?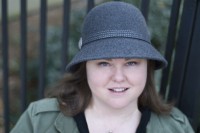 Thanks for having me on your blog again! Hmm…my characters would probably take one look at my finger hovering over the Delete key and say that I'm THE BEST AUTHOR, EVER.
Would you rather…be invisible or be able to read minds? Why?
Invisible, hands down. I really do not want to know other people's private thoughts.
Let's talk about your newest release: Grim Shadows
If you had to summarize the book for the readers here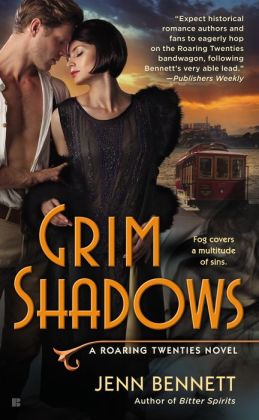 A charming archaeologist falls for an icy curator when they are thrown together on an urban treasure hunt in 1920s San Francisco. Supernatural mystery meets sexy historical romance meets The Mummy.
Please tell us about the characters in your book?
Lowe Magnusson is the younger brother of BITTER SPIRIT's bootlegging hero, Winter Magnusson. He's charming, handsome, and a total con artist who loves to make up stories and play games. He's just returned from Egypt, and has schemed up a way to get out of a con gone wrong (totally his fault). Hadley Bacall is a smart, hardworking museum curator cursed with deadly spirits that feed off her negative emotions. When she gets angry, they rise up and attack the object of her anger. And she's often very, very angry with Lowe…
As you wrote your protagonist was there anything about them that surprised you?
Hadley's loneliness surprised me at the beginning of the book. I think it's tough being a smart, independent woman, no matter the time period.
What scene did you most enjoy writing? Why?
Lowe talking cool, proper Hadley to ride on the back of his motorcycle:
"I'm not riding on that. Are you crazy?"

"Don't call her a 'that.' This is Lulu, and she's a custom-made Indian motorcycle. Goes ninety miles an hour on a straightaway. But no need to worry. I don't push her like that in the city. Besides, Astrid rides with me all the time on the second seat."

Lulu? How ridiculous. "My dress—"

"Will be protected by that million-dollar fur of yours. Just pull it tight around your legs so it doesn't get caught up in the wheel."

"There are several respectable cars here. Surely we can take one of them."

"Thought you wanted to be treated like a man, not a princess."

She stared at him for a long moment. Her emotions hovered between frustration and fear.

"Come on," he urged. "It's perfectly safe."

She highly doubted that.

A dangerous smile tugged at his mouth. "I'll go slow."
What scene was the hardest to write? Why?
Several scenes in this book gutted me, frankly. One of them came later in the book, when Lowe confesses something to Hadley, late at night in her kitchen:
As they dined on their impromptu meal, she fed scraps to Number Four under the table while asking Lowe about his family. He told her how his parents emigrated from Sweden and founded a small fishing company that grew into something successful. How his father decided to risk everything when he traded half his fishing fleet for rumrunners after Volstead. But when she asked him about his childhood, and then about Adam Goldberg and his daughter, something in his posture changed.

"I don't mean to pry," she said, sopping up orange egg yolk with a corner of toast.

He didn't reply for several seconds. "I think I need to tell you something. Well, I don't need to, but I want to."
Who would you cast in the role of your characters if your book was optioned for a movie?
One blogger suggested The English Patient-era Ralph Fiennes as Lowe, and I agree with that. For Hadley, I always think of as a somber Irene Dunne.
If you could have given your characters one piece of advice before the opening pages of the book, what would it be and why?
Don't blow this!
What are you currently working on? What other releases so you have planned for 2014?
Right now, I'm writing the third Roaring Twenties book, and in a week or so, I'll be putting that on hold so that I can work on revisions to my first young adult release, THE NIGHT OWLS (Fall 2015). Juggling several projects at once is a necessity in this business. This year, I've had three books published: BITTER SPIRITS (the first Roaring Twenties romance), BANISHING THE DARK (book #4 in my Arcadia Bell urban fantasy series), and GRIM SHADOWS (the 2nd Roaring Twenties romance). Whew!
Where can readers get in touch with you?  
I chat with readers on Twitter almost every day (@Jenn_Benn), I answer reader comments and questions on my Facebook page (http://www.facebook.com/JennBennettauthor), and I answer reader email sent through my website (http://www.jennbennett.net/contact).
Thanks for blogging at HJ!
Giveaway:

2 Print copies of GRIM SHADOWS
To enter Giveaway: Please complete the Rafflecopter form and Post a comment to this Q:

Which silver screen treasure hunter is sexier? Indiana Jones (played by Harrison Ford) or The Mummy's Rick O'Connell (played by Brendan Fraser)? Why?
Book Info:
Archaeologist Lowe Magnusson is packing something everyone wants. The djed amulet, a priceless Egyptian artifact, will fetch Lowe a hefty paycheck from one of San Francisco's wealthiest. But when the handsome Swede runs into his patron's uptight daughter, what he once considered easy money becomes maddeningly complicated.
Cursed with deadly spirits as her constant companions, curator Hadley Bacall must keep calm to hold her dangerous specters at bay and prevent them from lashing out at anything—or anyone. Trouble is, Lowe is driving her crazy, but her father needs the artifact he's transporting. While Hadley can feel the amulet's power, she can't fathom the destruction—or the desire—it's about to stir up.