Today it is my pleasure to Welcome author
April Hunt
to HJ!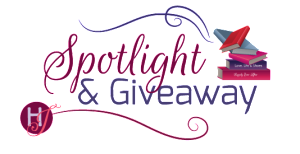 Hi April and welcome to HJ! We're so excited to chat with you about your new release, Hard Justice!
Please summarize the book for the readers here: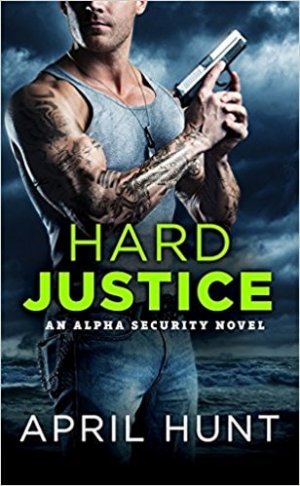 Charlie Sparks can handle anything that comes her way—except maybe her past. And it comes back to haunt her in a big way when Alpha Security is approached to help squelch a human trafficking ring in Charlie's old hometown of Miami. At sixteen, she'd barely left with her life, but if it means saving innocent young women from a fate that had almost been her own, she can't say no.
Not only does Violet have to return to the city that took nearly everything from her, but she has to do it while playing one-half of a happily engaged couple—with broody, by-the-book Vince Franklin making the other fifty percent.
It isn't long before their fake engagement starts generating some all too-real heat, but Charlie isn't the only one with a past. In order to save the innocents, they need to confront their darkness—and trust in their love to pull them back out.

Please share the opening lines of this book:
Clutching her semiautomatic to her chest, Charlotte "Charlie" Sparks crouched behind a decapitated tree. Rivulets of sweat dripped into her eyes, and any pink-tinted locks of hair not glued to her head whipped across her face. She blinked through the sharp sting, slowly wrangling both her vision and her concentration back into focus.
Please share a few Fun facts about this book…
Charlie' wasn't Charlie's FIRST name. In the beginning stages of Heated Pursuit, it was actually Lenny (short for Eleanor). But whenever I mentioned the character name to my husband, he'd cringe. When I finally asked him why, he said that every time he heard the name, he pictured a chain-smoking cabbie with a bad toupee (among other characteristics). It all sounded SO specific. I ended up changing the name to Charlie, but it wasn't until later that I found out that indeed, there HAD been a chain-smoking cabbie with a bad toupee. So, sorry, Lenny, that you didn't get that character named after you!
Charlie's obviously English, and to get into her character a bit more, I walked around the house and spoke to my family in an English accent—even when I took the kids to the bus stop. Nothing embarrasses my 9 year old, so when I actually got her to blush and try to shush me, I felt accomplished.
There's a certain scene in Hard Justice that may—or may not—(but probably was) taken from a real life experience. I'm just going to leave that there so you'll be left wondering WHICH one. For now, my lips are sealed. What happens on spring break, STAYS on spring break.
Please tell us a little about the characters in your book. As you wrote your protagonist was there anything about them that surprised you?
I've adored Charlie since she first popped into my head. The snark. The smarts. The way she can get grown, trained alpha men to shake in their combat boots. But when you have a super strong heroine, it's really important to balance her out, to show the vulnerability inside that no one else gets to see. That's why I threw her back into her past life, to give readers a sense of where she came from and why she became the strong, independent and resourceful woman she is today.
Vince went through a bit of a metamorphosis through the Alpha Security series. He's very protective of those he cares about, but he's also a by-the-book kind of man—at least now. I knew from Heated Pursuit, that he was the type of man to give Charlie a run for her money, and vice-versa. And what better kind of man to pit against a woman who lives life to the fullest, than one who tries to work around it.
If your book was optioned for a movie, what scene would you use for the audition of the main characters and why?
Because I have a wicked sense of humor sometimes, I'd probably make the audition scene the first time they make an appearance at Sinful Delights, one of the clubs that's suspected to be a hunting ground for the human traffickers. It's not just any run-of-the-mill Miami nightclub and it caters to a very select population. 😉
Vince's specialty on his SEAL team had been blowing shit up—a little putty, a timer, and you sat back and watched the show. The closer they got to Sinful Delights, the clearer it became that this time around, he was show—a freak one, dressed up in matching leather pants and vest.
Wrapping his arm around Charlie's waist, he anchored her close to his side. "You seriously think people are going to be having sex in there?"
Charlie's wicked smirk and eyebrow lift alerted him to the coming smart-ass comment. "No. I think they're playing cards."
"You're making fun of me now?"
"Making fun of you would be saying that they're playing Old Maid and the first loser takes a flog to the arse. Maybe that would be the winner. I don't know, with this being my first sex club appearance, all the particulars are still a little fuzzy."
What do you want people to take away from reading this book?
This book is really about pasts and how what happens and the way we react to it, can change our future. Both Charlie and Vince suffer from PTSD—in their own ways, and in different forms. Vince's originates from his time with the SEAL and the loss of his best friend, and while Charlie never served in the military, she suffers just the same. Two different pasts. Two different lives. The same daily struggles. They're both productive, high-functioning people, but it isn't until they each confront their pasts that they can clearly see their futures—in one another.
What are you currently working on? What other releases do you have planned for 2017?
I have to stay a little hush-hush about what's in the works right now, but one thing you can put money on is that the men are growly, the women are kick-ass, and there's a whole lotta heat.

Thanks for blogging at HJ!
Giveaway:

Print copy of HARD JUSTICE (Alpha Security) by April Hunt
To enter Giveaway: Please complete the Rafflecopter form and Post a comment to this Q:

Charlie & Vince have pet names for one another, "Navy" & "English", and although they start as ways to get under the other's skin, they end up serving as a term of endearment just like 'honey' or 'sweetheart'…. Do YOU have a special nickname, or have you given one to someone else?
Excerpt from Hard Justice:
Everyone had lost their damn minds—including Vince. That was the only excuse for what had happened at the paintball range earlier in the day. But in the light of a full moon, the crazy started spreading like the fire he'd put out in Alpha's men's bathroom two hours into his shift at the bar—and the fuckery hadn't stopped there.
So far, he'd broken up three fights—one which resulted in a phone call to the local sheriff's department, fished a drunk coed out of their Dumpster—don't ask—and dodged no less than a dozen ass-grab attempts by Bea Nicholas and her quilting circle.
Vince filled one order after another, slowly making his way to the end of the bar where the head Grabby Hands herself waited, more mischief sparking in her eyes the closer he got. He reached beneath the counter for a crate of clean mugs and received a sharp sting on his left ass-cheek.
This night couldn't end any fucking sooner.
Forcing a deep breath, Vince slowly stood and locked the older woman in his sights.
"Behave, Bea." He pointed a warning finger at the eighty-some-year-old.
"Oh, honey. I've spent most of my life misbehaving. I can't change now," she teased, not a speck of remorse anywhere to be seen. Her crew of ladies howled in laughter behind her. "Besides, it was an accident. My hand slipped."
Her friends continued their hyena-type laughter. Jesus. Octogenarian misfits, the entire damn lot of them.
"When your hands start developing a mind of their own, it's time to water down the drinks," Vince said dryly.
"Now, there's no need to get hasty." Bea looked appalled at the idea of being cut off. "I'll tell you what, hon…agree to be the male model for our senior art class, and I bet you'll find my hands will keep to themselves."
He didn't want to fucking ask, but the words left his lips anyway. "Don't people pose naked for those kinds of classes?"
"Your point?" Bea wiggled her eyebrows suggestively.
"What's wrong, Navy? Afraid to shed your skivvies for a roomful of art enthusiasts?" came Charlie's sultry, English-accented voice. Goddamn, it was the voice of a phone sex operator—not that he knew what one of those sounded like.
Charlie, taking a break from her girls' night across the room, whipped up two simultaneous batches of frozen margaritas and slid one pitcher Bea's way along with a saucy wink. "You're way too adventurous for Navy, Bea. You'd run circles around him."
Vince shot the pink-haired thorn in his side a glare. "Because I don't want to pose naked in front of a group of women with a fondness for pinching my ass? Like you'd do it?"
"I did. Last week."
The mug in his hands slipped, splashing beer all over his jeans and shoes. Charlie. Naked. No clothes. His dick twitched at the mental image, one he should be familiar with by now considering he'd pictured it at least twice a fucking week. Hell, more.
"Dropped something there." Charlie grinned. After lifting his jaw back into position, she hopped over the counter again, taking a full tray of drinks with her across the room.
Vince forced his eyes off the sway of her ass and turned to a smirking Bea. "She didn't seriously pose for you all, did she?"
The older woman sipped her margarita. "She sure did. She even promised to come back for couples' week. I'd ask if you wanted to volunteer, but when I told him we'd already secured our lovely Charlie, that ridiculously handsome Beau brother, from the construction company in town, immediately offered his services. Maybe you could be his under-study…if he calls in sick."
Excerpt. © Reprinted by permission. All rights reserved.


Book Info:
A DATE WITH DANGER
As the first female operative at Alpha Security, Charlotte "Charlie" Sparks has her work cut out for her. Sure, she can wrestle a man to the ground and hit a target at 200 yards with the best of them. But sometimes, being surrounded by all that testosterone can drive a woman to distraction-especially when that distraction is six-and-a-half feet of cocky, confident, Alpha-trained muscle.
Ex-SEAL commander Vince Franklin has been on some of the most dangerous missions in the world. But pretending to be Charlie's fiancé on their latest assignment in Miami is his toughest challenge yet. Vince and Charlie are like oil and water; they just don't mix. And when their fake romance generates some all-too-real heat, Vince learns that Charlie is more than just arm candy. She's the real deal-and she's ready for some serious action.


Meet the Author: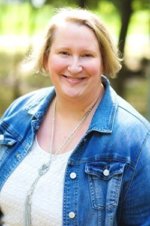 April blames her incurable chocolate addiction on growing up in rural Pennsylvania, way too close to America's chocolate capital, Hershey. She now lives in Virginia with her college sweetheart husband, two young children, and a cat who thinks she's a human-dog hybrid. On those rare occasions she's not donning the cape of her children's personal chauffer, April's either planning, plotting, or writing about her next alpha hero and the woman he never knew he needed, but now can't live without.
To learn more, visit:
AprilHuntBooks.com
Twitter @AprilHuntBooks
Facebook.com/April-Hunt-Books-312919952245260