Today it is my pleasure to welcome New York Times bestselling author

Jennifer Estep

to HJ!
Hi Jennifer! Welcome to HJ
JE: Thanks for hosting me on your blog. I appreciate it.
Jennifer, what would you say are the defining characteristic of your novels?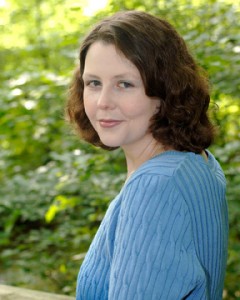 JE: I would say that my books have a little bit of everything in them – action, adventure, magic, fight scenes, and romance.
5 best things about being a writer?
JE: Here are some of the things that I enjoy about being a writer, in no particular order: 1) Getting nice e-mails/comments from folks saying that they enjoyed one of my books; 2) Meeting readers/bloggers in person; 3) Meeting other authors in person; 4) Talking to folks about books; 5) Going to book conferences.
If you were a heroine in a book, your character would be – The girl next door, the damsel in distress, Kick-butt take charge heroine or the aloof ice queen and why?
JE: I'd like to think that I would be the kick-butt heroine, but really, I'd probably be the girl next door because I'm pretty low-key and quiet. LOL.
What are you currently working on? What other releases do you have planned for 2013 into 2014?
JE: I'm currently working on THE SPIDER, which will be the 10th book in my Elemental Assassin urban fantasy series. THE SPIDER will be out on Dec. 24.
After that, KILLER FROST, the sixth book in my Mythos Academy young adult urban fantasy series, is set to be released on Feb. 25, 2014.
Let's talk about your newest release: HEART OF VENOM
If you had to summarize HEART OF VENOM for the readers here…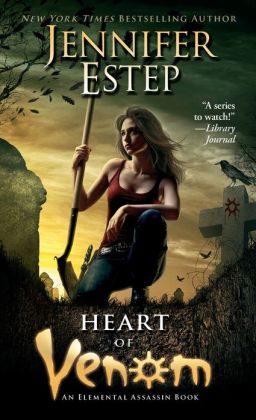 JE: HEART OF VENOM is about Gin, an assassin who will do anything to protect the people she cares about. When Jo-Jo, one of her friends, is injured and Sophia, another friend, is kidnapped, it's up to Gin to rescue Sophia and keep her safe from a dangerous enemy.
Please tell us about the characters in your book
JE: My Elemental Assassin urban fantasy series focuses on Gin Blanco, an assassin codenamed the Spider who can control the elements of Ice and Stone. When she's not busy killing people and righting wrongs, Gin runs a barbecue restaurant called the Pork Pit in the fictional Southern metropolis of Ashland. The city is also home to giants, dwarves, vampires, and elementals – Air, Fire, Ice, and Stone.
Other characters in the series include Finnegan Lane, Gin's foster brother; Owen Grayson, her love interest; Sophia Deveraux, a dwarf who disposes of bodies for Gin; and Jo-Jo Deveraux, Sophia's sister and an Air elemental who heals Gin whenever she needs it.
What scene did you have the most fun writing? Why?
JE: I always have fun writing the first chapter of my books because I try to make it like a mini-adventure that kicks off the action for the rest of the book. In HEART OF VENOM, Gin and Finn are trying to get rid of a body, but they run into some trouble doing that.
What scene was the hardest to write? Why?
JE: HEART OF VENOM really gets into Sophia's backstory, including why and how her voice was ruined years ago. Without giving out spoilers, there are some scenes with Sophia and the villains that really became darker than what I had first imagined them to be.
Who would you cast in the role of your characters if your book was optioned for a movie?
JE: I think Jennifer Garner would be good as Gin. For Finn, I'd probably suggest someone like Bradley Cooper. Hugh Jackman might be a good choice for Owen.
Where can readers get in touch with you?
JE: Readers can find me on the following sites:
Website: http://www.jenniferestep.com/
Blog: http://www.jenniferestep.com/blog/
Facebook: http://www.facebook.com/JenniferEstepAuthor?fref=ts
Twitter: http://www.twitter.com/Jennifer_Estep (@Jennifer_Estep)
Goodreads: http://www.goodreads.com/author/show/580315.Jennifer_Estep
Thank you for stopping by HJ!
JE: Thanks for hosting me. Happy reading, everyone!
Giveaway:

2 print copies of Heart of Venom
To enter Giveaway: Please complete the Rafflecopter form and post a comment to this Q:

Who would you guys cast in the movie roles? What are some of your favorite books that have been turned into movies, and which do you think was better – the book or the movie?