Today it is my pleasure to Welcome author
Elle Katharine White
to HJ!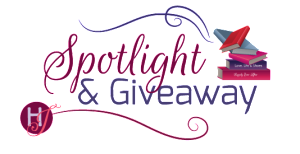 Hi Elle and welcome to HJ! We're so excited to chat with you about your new release, Heartstone!
Please summarize the book for the readers here: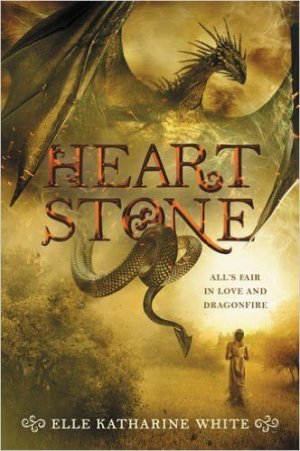 What would Pride & Prejudice look like in a fantasy world where Darcy was a dragon-riding monster hunter and Elizabeth was a healer who was too nosy for her own good?

Please share the opening lines of this book:
"I'd never seen an angry hobgoblin before. If this one wasn't my friend, it might've been funny. Tobble was red in the face before I noticed him in the grass by the garden wall, and since hobgoblins have green skin, that in itself was quite a feat."
Please share a few Fun facts about this book…
It all started with a Hiccup. Hiccup and Toothless, to be precise. I got the idea for the story while my housemate was watching How to Train Your Dragon and I was rereading Pride & Prejudice. About halfway through the movie I suddenly had the image of Mr. Darcy riding on a dragon and all I could think was "Epic fantasy Pride & Prejudice with dragons? This has to exist." I wrote the first version of the first chapter that night.
The initial story took shape over several years in serial on FanFiction.net.
Tobble the Hobgoblin is my favorite character.
Please tell us a little about the characters in your book. As you wrote your protagonist was there anything about them that surprised you?
Aliza's insatiable curiosity. We're very different in that respect. She'd insist on poking her nose in other people's business at the worst possible moments. Her bravery surprised me too; she's the type that makes her decision and then goes all in, never mind the consequences.
If your book was optioned for a movie, what scene would you use for the audition of the main characters and why?
The first proposal scene. When I think of Pride & Prejudice that's the scene that comes to mind, and I'd love to see the actors' take on this version.
I set my charcoals aside, leaned back against the trunk, and closed my eyes, stretching my hand and taking pleasure in the play of shadows and sunlight that danced across my face. A robin chirped. The breeze rustled the boughs over my head. From somewhere nearby came a soft metallic clink.
My eyes flew open. Daired stood at the edge of the clearing. "Miss Bentaine?"
"Master Daired! Wh-what are you doing here?"
"Your friend told me you'd come up this way."
I scrambled to my feet. "Is something wrong at the house? Is Gwyn all right?"
"What?" he said, as if he'd forgotten who Gwyn was. "Yes, of course. Everyone's fine."
"Oh. Um, good."
He came forward and stopped in front of me, resting one hand on the hilt of his sword. Awkward silence stretched between us, giving me time to notice that he'd shaved, and the surcoat he wore over his armor was more richly embroidered than any I'd ever seen. In the dappled light, the silk shimmered crimson and copper. A golden dragon clasp secured his high collar at the throat, and draped across his shoulders was a magnificent direwolf pelt, blacker than a starless night.
He looked profoundly uncomfortable in it.
"Is there, ah, anything I can do for you?" I said at last.
What do you want people to take away from reading this book?
I want readers to take away a sense of wonder, to see the fantastic hidden beneath the mundane, and to realize that while our world, like Arle, can be a dangerous place, there is always something worth fighting for.
What are you currently working on? What other releases do you have planned for 2017?
I just finished the second book in the HEARTSTONE saga (Aliza and Alastair's honeymoon, anyone?) I'm also working on a reimagining of Rapunzel as a cyberpunk heist novel.

Thanks for blogging at HJ!
Giveaway:

Print copy of HEARTSTONE by Elle Katharine White
To enter Giveaway: Please complete the Rafflecopter form and Post a comment to this Q:

If you were a Rider, what creature would you want as your companion-in-arms?
Excerpt from Heartstone:
As a rule, mornings and I barely tolerated each other, and with my brain still fuzzy from sleep, I was happy to eat my breakfast in silence. Daired came in just before we started our second pot of tea, his hair damp and his boots spattered with mud, which he tried scraping off on the doorjamb before giving up, spearing a slice of cold pheasant from the sideboard, and sitting next to me. I smelled grass, wet leather, and a rich, smoky scent that reminded me of Akarra.
"Where have you been, Alastair?" Charis asked. "You missed our debate. Nerissa thinks Elsian steel performs better in battle, but I know I've heard you swear by that forge-wight Orordrin's work."
"Akarra and I've been scouting the nearby woods," he said. "And yes, I stand by that. Forgemaster Orordrin's are the only blades I'll carry."
Nerissa added another lump of sugar to her tea. "Elsian steel is lighter."
His mouth full of pheasant, Daired only shrugged.
"How's your arm, Miss Anjey?" Charis asked.
"Much better, thank you."
"I hope Cedric managed to stitch straight this time."
Brysney looked up. "I always stitch straight!"
"Didn't even give you a decent scar, I expect. Alastair should've offered to help. No one can stitch up wounds like he can." As if it were the most casual thing imaginable, Charis lifted up the corner of her tunic to show a fine white line running across her stomach. "Remember our battle with the troll troop of Selkie's Keep?" she asked Daired.
"That's not something you forget," he said, still intent on his breakfast.
She pulled her tunic down. "A troll took a swipe at me with his tusk. I took his head, but he left his mark. Alastair sewed it up, and now you'd hardly know anything happened."
"Don't praise him too quickly," Brysney said. He unbuckled the leather band he wore around his wrist and slid up the sleeve of his tunic to show a ragged scar slanting down the inside of his forearm. "You forgot this."
Anjey stared at it. "What happened?"
"This, Miss Anjey, is how the Daireds and the Brysneys first met. It was a long time ago. We were still Riders-in-training, without wyverns or dragons to our names. Our family was making a tour of Arle, and we decided to spend Saint Ellia's Day at a town on the outskirts of Dragonsmoor, near House Pendragon. The country around there is—"
"Wild as winter and just as unforgiving," Charis said.
"Well, yes, but that's what makes it breathtaking. When the sun rises you can see the dragon's eyries on the peaks, and at night the summit fires shine for miles—"
"Until a blizzard blows in from the moors and you freeze to death," she said.
"We'd just settled in at Lambsley when that almost happened. Charis and I wanted a glimpse of House Pendragon before the others, so we snuck out and headed for the hills as a storm blew in. And who do you think we found as we were climbing the crags near the house?"
Daired wiped his mouth and set his mug down hard on the table. "They found me."
Brysney grinned. "Doing what?"
"Battling a pack of direwolves."
The image of any Rider, even a Daired, standing alone against a whole pack of Tekari was enough to rouse me from my morning stupor. "By yourself?" I asked.
His dark look couldn't disguise the touch of color that came into his cheeks. "A Rider must trust their own fighting skills before they can rely on their mount's. It was just an exercise."
Brysney laughed. "Say what you like, Alastair. You're grateful Charis and I found you when we did. When our parents sent us on our solitary runs they only had us face a gryphon each, like all sensible Riders do. You don't take on a direwolf pack by yourself."
Daired shrugged and returned to his plate, cleaning up the last bits of pheasant with the air of a man who hoped the conversation would take another turn. Brysney, however, wasn't satisfied. He had my sister engrossed in the story, and I doubted he could deny Anjey anything when she looked at him like that.
"The pack was a half dozen strong. Alastair had his back to the cliff face, one blade against six beasts the size of mules, each with fangs longer than my finger. The snow was coming on hard too, and the wind was rising—that stinging, biting kind of wind that makes you think you'll never be warm again."
"Until you drive your sword through a direwolf 's heart," Charis said. "Then the blood flows and you're fighting for every breath and each second is its own adventure, and you don't have time to worry about things like the cold."
"How poetic," Brysney said. "And that's all fine until somebody misses their stroke and a direwolf gets a mouthful of me."
She grimaced. "You were out of position."
"You misread my signal."
"I couldn't see through the snow!"
"Suffice to say," Daired spoke over them, "we fought, Cedric got bitten, I beheaded the alpha, and the rest of the pack scattered." He pushed his empty plate away. "I tried to return the favor by stitching up Cedric's arm. For some reason he didn't appreciate that."
"Because it got infected! Alastair's father had to call for the physician from Lambsley." Brysney flexed his arm, pulling the scar tight against his shifting muscles. "Left me with this."
"Don't pretend you don't like telling the story," Daired said. "You tell everyone you meet about that scar."
"That's not true." Brysney looked at Anjey. "I don't tell everyone."
"Edel, Nerissa, how long did it take him when he first met you?" Daired asked.
"I heard Cedric tell that story at a banquet at our first muster in Edonarle," Nerissa said. "We'd known him for an hour."
"Half an hour," Ruthven grunted.
Excerpt. © Reprinted by permission. All rights reserved.
Book Info:
A debut historical fantasy that recasts Jane Austen's beloved Pride & Prejudice in an imaginative world of wyverns, dragons, and the warriors who fight alongside them against the monsters that threaten the kingdom: gryphons, direwolves, lamias, banshees, and lindworms.
They say a Rider in possession of a good blade must be in want of a monster to slay—and Merybourne Manor has plenty of monsters.
Passionate, headstrong Aliza Bentaine knows this all too well; she's already lost one sister to the invading gryphons. So when Lord Merybourne hires a band of Riders to hunt down the horde, Aliza is relieved her home will soon be safe again.
Her relief is short-lived. With the arrival of the haughty and handsome dragonrider, Alastair Daired, Aliza expects a battle; what she doesn't expect is a romantic clash of wills, pitting words and wit against the pride of an ancient house. Nor does she anticipate the mystery that follows them from Merybourne Manor, its roots running deep as the foundations of the kingdom itself, where something old and dreadful slumbers . . . something far more sinister than gryphons.
It's a war Aliza is ill-prepared to wage, on a battlefield she's never known before: one spanning kingdoms, class lines, and the curious nature of her own heart.
Elle Katharine White infuses elements of Austen's beloved novel with her own brand of magic, crafting a modern epic fantasy that conjures a familiar yet wondrously unique new world.
BUY LINKS: HarperCollins, Amazon, B&N, Books-a-Million, and IndieBound


Meet the Author: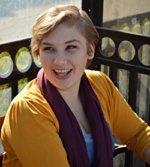 A textbook introvert who likes to throw out the textbook every once in a while just to see what happens, Elle grew up in Buffalo, NY, where she learned valuable life skills like how to clear a snowy driveway in under twenty minutes and how to cheer for the perennial underdog. When she's not writing, she spends her time drinking tea, loitering in libraries and secondhand bookshops, and dreaming of world travel.
SOCIAL: Facebook, Twitter, Goodreads, Pinterest, and Tumblr