Today it is my pleasure to Welcome author
Stina Lindenblatt
to HJ!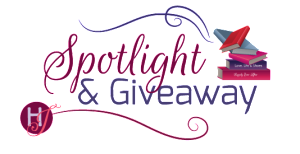 Hi Stina and welcome to HJ! We're so excited to chat with you about your new release, Heat it Up!
Please summarize the book for the readers here: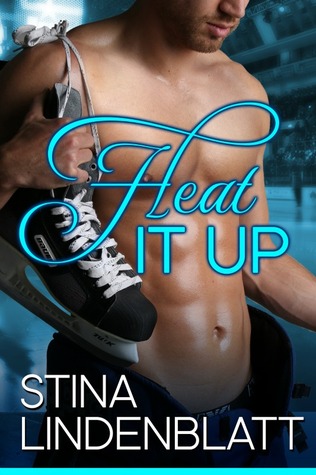 A summer work-exchange program in Finland seemed like the perfect escape. Until Sofia meets Kyle Bennett, the former star NHL right wing. In the sauna. Naked.

Please share the opening lines of this book:
Forgiveness. It doesn't matter how many times you say it, or if you say it five times fast, or even if you sing it in the shower to the beat of your favorite pop song. The meaning never changes. It's that word most of us don't even think about as we go through our day-to-day life.
Please share a few Fun facts about this book…
I spent a summer during university working in Finland as a work-exchange student. That was the inspiration behind the story.
I was cleaning the sauna one day in the recreation center where I was working when some naked men entered. I tried to tell them in Finnish that the sauna was closed. My Finnish sucks and they thought I was an Estonian refugee. And no, they weren't hot hockey players. That part I made up in Heat It Up. You're welcome!
The cottage on the island where Kyle and Sofia get stuck during the storm is where my family used to stay when we spent our summers in Finland (when I was a kid). It wasn't until recently that my mom admitted that people have drowned in that lake during storms.
Please tell us a little about the characters in your book. As you wrote your protagonist was there anything about them that surprised you?
Sofia Philips is more like me. Her Finnish sucks and she has trouble communicating with her grandmother because of that. She's funny, but she's also sweet.
Kyle started out as a former NHL hockey player who then developed into a hero who was a bit of a physics nerd (that was a big surprise). Who doesn't like a sexy nerdy hockey player?
If your book was optioned for a movie, what scene would you use for the audition of the main characters and why?
I would pick the scene when Sofia and Kyle first meet. She's cleaning the sauna as part of her job…and he enters with his friend (former teammate and the hero of the next book in the series). Both guys are naked. It's a humorous scene that would require three actors who can do humor well. Plus it's one of my favorite scenes.
Sofia

At the sound of laughter, I whip around in time to see two guys step into the sauna. Both are tall and covered in muscles, except the blond guy is much bulkier than his friend.
Both are naked.
Yikes! Without realizing what I'm doing, I shoot a blast of water at the dark-haired guy's leg, barely missing his man parts.
"Fuck," he says, echoing my sentiments, and jumps back. His friend bursts out laughing.
Fortunately, wooden railings separate me from the blond guy, and a two-by-four cuts across where his man parts are located. Thank you, pine-tree gods, for your much-appreciated sacrifice! I owe you one.
With mortification laughing at me in the corner, I jerk the hose in that direction and fumble to turn off the water. My face heats up more, which is hard to believe given where I'm standing. The blond continues laughing and I keep my gaze locked on the nozzle. It's not like I haven't seen a naked guy before. I have. My ex-boyfriend. And…well, that's it.
I finally manage to twist the traitor of a nozzle. If it had been on my side, it would've already cooperated and let me bail a minute ago. The water transforms from a blast to a spray. My breath comes out hard, almost a grunt.
The blond guy says something in Finnish.
"Sauna is closed," I say in their language. Or at least that's what I'm aiming for. God, what's wrong with this stupid thing?
The dark-haired guy takes the nozzle out of my hand, unconcerned by his nakedness—not that I'm looking. "Newton's third law of physics states that an object in motion will stay in motion if nothing acts against it."
I startle at his American accent, but don't wait to hear what else Newton has to say.
I bolt.
Excerpt. © Reprinted by permission. All rights reserved.

What do you want people to take away from reading this book?
I want readers to fall in love with Sofia, Kyle, and Finland, laugh with them, empathize with their past heartbreaks, and realize that running away from your past never solves anything.

What are you currently working on? What other releases do you have planned for 2016?
I'm currently working on the third book of my Pushing Limits series and the third book of the Off the Ice series. Book 2 of the Pushing Limits series (My Song For You) comes out Sept 6th.

Thanks for blogging at HJ!
Giveaway:

Print copy of Heat it Up: Off the Ice by Stina Lindenblatt
To enter Giveaway: Please complete the Rafflecopter form and Post a comment to this Q:

If you could spend the summer working in a foreign country, where would it be? Why?
Book Info:
Sofia Phillips feels cursed. Her father cheated on her mother, her boyfriend cheated on her—she's done with dating. A summer work-exchange program in Finland is the perfect escape. But instead of gaining experience as an athletic trainer, she's cleaning toilets. Awesome. The trip is a disaster, and even better, she meets Kyle Bennett. In the sauna. Naked.
Sexy hockey player Kyle was the star right wing for an NHL team. But after an accident killed his wife and left him injured, Kyle has appreciated the "therapeutic" benefits of booze and puck bunnies. Now in Finland for the summer, he's coaching in an elite hockey-training camp for teens. When Sofia's grandmother decides to set her up with a nice Finnish man, Sofia recruits Kyle as her make-believe boyfriend. Neither expects their first kiss to sizzle. And neither expects, while stranded on an island during a storm, to have a scorching night of passion.
But as their charade, and then their attraction, develops into something deeper, the past comes back, threatening to destroy them. They must decide if their feelings for each other are strong enough to survive—or it will be game over.
Book Links:

Meet the Author: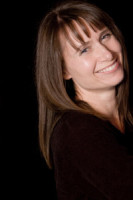 Born in Brighton England, Stina Lindenblatt has lived in a number of countries, including England, the U.S, Finland, and Canada. This would explain her mixed up accent. In addition to writing fiction, she loves photography, especially the close-up variety, and currently lives in Calgary, Canada, with her husband, three kids, and a cat.
Website | Facebook | Twitter |