Today it is my pleasure to welcome USA Today best selling author

Maisey Yates

to HJ!
Maisey, please introduce to HJ readers your character

Alik Vasin

 from your novel

Heir to a Dark Inheritance
What does your character look like?
Alik is your typical sexy Russian hero…with lots of hot ink! He's my first tattooed hero and I just LOVED writing him! Here's a link to his board: http://pinterest.com/maiseyyates/heir-to-a-dark-inheritance-aka-bad-boy-russian/
What does your character do for a living?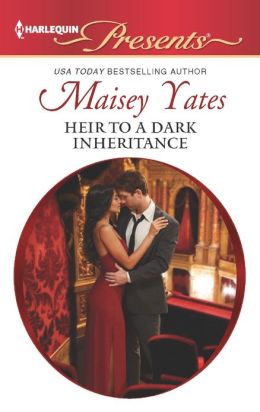 He's an ex-actual-mercenary turned corporate mercenary. He gets hired to get rid of the opposition, and he does.
Is your character ruled by emotion or logic or some combination thereof?
Alik is very detached from his emotions, but he would really like to capture an emotion. He tries, via adrenaline, alcohol, sex…fleeting things that give a temporary sensation of happiness.
Who is your character's Love interest in the book?
Alik's love interest is Jada Patel, a young widow who is in the process of adopting the daughter he didn't know he had!
Was it love at first sight for your character? If not what was the pivotal moment of change?
I think for Alik, it grew steadily. He had to learn what love was and I think Jada demonstrated it to him via her love for his daughter.
If you character could go back in time and change one thing what would it be? Why?
He would want to be there from the beginning for Leena, his daughter. But then, if he had been…he never would have met Jada, so I suppose he really wouldn't change anything!
How has your character evolved from when the novel began to when it ended?
Alik started as a reckless, wild bad boy who didn't care about his life at all, and he ended it is a man who found substance. True happiness, true emotion, true love.
How did your character spend the week just before the story starts?
Oh boy…Alik was up to no good. He'd been clubbing as per usual. He hooked up with a couple of different women. He got very drunk. It was the last week he ever did anything like that. Because when the story starts…his life changes forever!
What are you currently working on? What other releases so you have planned for 2013?
I'm currently working on my 23rd Presents (yikes!) and it features a heroine with a slightly younger hero, which has been really fun. And as for 2013…Ready? In May I have Heir to a Dark Inheritance, June – His Pregnant Princess, Imagine Me and You (in the Animal Attraction anthology) and Unbuttoned (A Silver Creek Novella) in July – The Couple Who Fooled the World, August – Unexpected (Silver Creek Romance #1) October – His Ring is Not Enough, December – A Hunger For the Forbidden and The Highest Price to Pay in a 2-in-1 Presents. 😀
Where can readers get in touch with you?
I'm on twitter @maiseyyates, Facebook https://www.facebook.com/pages/Maisey-Yates-Romance-Author/291445138063 and you can email me Maisey@maiseyyates.com
Giveaway: 

e-copy of Heir to a Dark Inheritance
To enter giveaway please complete the Rafflecopter form below and post a comment to this Q:

Alik has a lot of tattoos. Do you have one? And if not…what tattoo would you get if you weren't so afraid of how permanent they are? (at least, that's why *I* don't have one!!)
Excerpt:
Alik Vasin downed the last of the vodka in his glass and waited for the buzz to make it to his brain. Nothing. It was going to take a lot more alcohol tonight. To have some fun. To feel something.
Either that, or it was going to take a woman. And since that was next on his agenda, he figured he might as well skip the alcohol.
Alik pushed away from the bar and wove through the crush of bodies on the dance floor. The music was so loud there, the bass so heavy he could feel it in his blood. There would be no way to have a conversation with anyone in here. Which was fine by him. He wasn't looking for a talk.
It didn't take long for him to spot a woman who wasn't looking to talk either.
He approached the blonde skirting the edges of the dance floor. She smiled. Ah yes, he'd found the evening's entertainment. No doubt about it.
He moved closer and she extended her hand, her fingers brushing his chest. Forward. He liked that. She might even be the kind who wouldn't want to wait to get to the hotel room.
His pocket buzzed and he reached inside and wrapped his hand around his phone. In his experience, women didn't like being thrown over for a phone call, but if his checking it chased her off, another one would come along in just a few moments. If he didn't want to go to bed alone tonight, he wouldn't.
He took the phone from his pocket and saw a number he didn't recognize. In his experience, anyone who managed to contact him from a number he didn't know, was important.
He held his finger up, an indicator he wanted the woman to wait. She might. She might not. He didn't really care.
He answered the called just before pushing the door open and put the phone up to his ear as he stepped out onto crowded, street in downtown Brussels. A group of women walked by and offered him inviting looks. He might keep an eye out for which club they went to, rather than going back to the blonde waiting for him inside.
He put the phone up to his ear. "Vasin."
And suddenly the cobble stones didn't feel so steady under his feet. He had to wonder if the vodka had suddenly started working. If it was the cause of the buildings appearing to close in around him. Of the tightness in his chest. If it was making him hear things. If he was hallucinating what the woman on the other end of the line was saying.
But no. He wasn't. Yes, he was Alik Vasin. Yes, he had been in that region of the United States more than a year earlier.
He stood still for a moment, waited for the earth to right itself beneath his feet. Everything fell away in pieces. The clubs. The women. And he could no longer remember why he was there, on a dark street in Brussels.
There was only the phone call.
Adrenaline shot through his veins. The jolt he'd been missing all night. He would not freeze up. He was not that kind of man. He acted.
Alik hung up and stuffed his hands in his pockets, walking quickly away from the club, his steps heavy and loud on the cobblestone. He had to get to the airport. Had to get to a lab so he could get confirmation.
He took his phone out of his pocket, searching for Sayid's number. His friend would know what to say. Would know what to tell him.
Because it wasn't the vodka. It was just the truth. He knew it, deep in his bones.
He was a father.