Today, HJ is pleased to share with you Paige Tyler's new release: 

Her Fierce Protector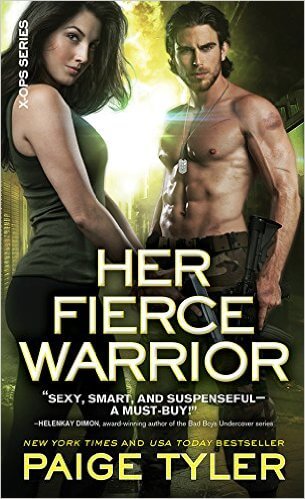 The woman tensed. As anger and fear ricocheted across her face, her eyes changed from red to green to brown in a dizzying display like nothing he'd ever seen.

Every instinct in Angelo's body screamed at him to lunge for his weapon. Instead he set his feet for impact, blocking her slashing claws. Unbelievably, after a few moments of struggling, she went still, all the fight gone…

Minka isn't sure she should trust the sexy Special Forces soldier who found her. Subjected to horrors, on the run from scientists set on locking her in a cage, Minka is terrified of the monster she's becoming…and somehow, Angelo is the only one who can calm the beast inside her and make her feel safe.

But can she trust the way he makes her feel when she's not even sure she can trust herself?

Enjoy an exclusive excerpt from Her Fierce Protector: 
This scene takes place in the apartment Minka and Angelo are staying in while the Department of Covert Operations (DCO) is "helping" Minka come to grips with the hybrid creature she's been turned into. She just had an episode where the monster inside her slipped out, and she's feeling scared and confused. Angelo is in taking a shower, and—like a lot of people—Minka decides that some music would help make this crappy day a little better. Things get very…heated…when Angelo catches her dancing around the apartment.
Minka frowned at the iPod sitting in the docking station in Landon's apartment. It shouldn't have been so difficult to figure out how to turn it on. She'd seen American soldiers use them before at the base where she worked. She would have asked Angelo how to do it, but he was already in the bathroom, taking a shower, and she wasn't going to get anywhere near that door until he was finished and fully dressed. She had almost walked in on him the past two nights, and she didn't want to risk it happening again. Just thinking about it made her mind go places it shouldn't, like wondering what would happen if she slipped into the shower with him.
Feeling her face heat up, she returned her attention to the iPod. After the day she'd been through, listening to music would be nice—if she could turn it on. She moved the button on the side back and forth, but nothing happened. Maybe the thing was broken.
She stared at it, replaying the day's events as she tried to figure out how to make the iPod work. She and Angelo had been in Zarina's office the whole day, with them trying to convince her that she wasn't a rabid animal who belonged in a cage. She wasn't so sure. If Angelo hadn't been there, she wasn't sure what would have happened.
"Minka, I'm not going to sit here and let you beat yourself up over this," Angelo had told her firmly.
"You didn't hurt anyone, even though Coleman gave you every excuse in the world to do it. The animal inside you was more interested in running away than hurting them. You wouldn't have done that a few days ago."
Part of Minka knew he was right, but that didn't keep her from worrying anyway. "If I continue to have these violent outbursts, sooner or later, someone like Dick will lock me away," she'd told him. The thought had broken her heart. "I couldn't live like that, especially if it means being kept away from you."
Angelo had cupped her face in his big hand, his dark eyes fierce. "That is never going to happen. I won't let anyone do that to you. I promise."
Minka wasn't sure if that was a promise Angelo could even keep, but it had made her feel better anyway.
"Angelo is right," Zarina had added. "I've been helping Tanner for almost a year now, and he still has bad days, when he loses control, too. And nobody is trying to lock him in a cage. You're doing much better than he did when he first got here, but you have to accept that this is going to be a long process. Learning to control the animal inside you is kind of like eating an elephant—you have to do it one little bite at a time."
Minka was laughing to herself at the idea of eating a whole elephant as she ran her thumb over the front of the iPod. Music suddenly filled the apartment, making her jump.
It was American music, of course, but even though she'd never heard the song before, she decided she liked the beat. It was very rhythmic and made her want to move her feet. That was exactly what she'd been looking for—something to help put this bad day completely behind her.
She spun in a circle, lifting her hands to the side and clapping lightly before spinning back in the other direction. She hadn't danced since she was a teen back in Dushanbe, but as she started moving around the room, she found herself naturally falling into the traditional Tajik dance steps and combining them with the more modern movements she'd picked up while living in Tajikistan's capital.
Suddenly remembering where she was, she glanced over her shoulder at the bathroom, to make sure Angelo was still in the shower. She liked dancing, but she'd be embarrassed if he saw her. Just because she enjoyed dancing didn't mean she was good at it.
But the water was still running, so he would probably be a few more minutes. She would hear him long before he came out. She made a circuit around the couch, spinning and twirling, clapping her hands and even putting a little wiggle into her hips as she went. She laughed. It was impossible to dance and not be happy.
She was just starting her third lap around the living room when a tingling sensation along the back of her neck made her whirl around. Angelo was standing right behind her wearing a fresh pair of jeans and a black T-shirt, a big smile on his face.
Minka stopped so suddenly she almost fell over. She was considering making a dash for the bedroom when Angelo took her hands in his.
"Why'd you stop?" he asked, tugging her a little closer. "You looked like you were having fun."
Before she realized what he was doing, Angelo started moving in time to the music. She automatically moved with him. She wasn't feeling nearly as embarrassed to have him see her dance as she'd expected. In fact, being this close to his big, muscular body made her almost completely forget about everything except how amazing he was.
She laughed as he spun her in a circle, then wrapped one arm around her waist and moved her around the floor in a dance step that she'd never seen before but picked up quickly. He was very graceful for such a big man.
"I love your laugh," he said softly. "It's very beautiful—like you."
She ducked her head at that, not necessarily embarrassed by his compliment, but definitely feeling her face grow warmer. "Thank you."
She glanced up at him from under her lashes and felt her tummy flutter at the way he was looking at her—as if he were seeing her for the first time and liking what he saw.
Minka moved a little closer to him. While she was having a hard time paying attention to anything but the way Angelo was looking at her, some part of her realized that the music had changed. The rhythm was noticeably slower, deeper, more insistent, and her movements became less playful and more suggestive. She'd never danced with a man like this before, but with Angelo, it felt…right.
He spun her in another circle, but this time he stopped her before she came all the way around, and she found herself with her back to him, looking at him over her shoulder as he slid his hands down to her hips and danced behind her. She instinctively moved in time with him, almost moaning at how the heat of his body felt against her back.
She took a step closer, seeking more of that warmth. That was when her bottom brushed up against him. She should have moved away, but she couldn't. It felt too good. She could hear his heartbeat quicken as the thin material of her yoga pants came into contact with something very firm under his jeans. She was inexperienced, but not naive. She knew exactly what that bulge was. The thought that she aroused Angelo made her feel very…powerful.
Minka realized that her heart was beating just as fast as his. She tried to tell herself it was simply because she was dancing, but that was silly. She'd been dancing much faster earlier and her heart hadn't been racing anything like it was now. No, her heart was pounding because she was so close to Angelo. She'd never felt arousal like that, and for a moment, she wondered if it was the animal inside her that was making her feel it.
Then Angelo spun her around and pulled her into his arms, and she stopped caring why she felt it. It felt good. That was all that mattered. Smiling, she wrapped one arm around him. She wanted to feel his body pressed against hers, wanted to touch all of him.
Excerpt. ©Paige Tyler. Posted by arrangement with the publisher. All rights reserved.


Giveaway:

Print copy of Her Fierce Warrior (X-Ops)
To enter Giveaway: Please complete the Rafflecopter form and post a comment to this Q:

What did you think of the excerpt spotlighted here? Leave a comment with your thoughts on the book…
Book Info: 
Title: Her Fierce Warrior
Author: Paige Tyler
Series: X-Ops, #4
Pubdate: March 1st, 2016
ISBN: 9781492625865
Buy Links:
Amazon: http://amzn.to/1TXnzGb
Apple: http://apple.co/1QcqsTP
BAM: http://bit.ly/1TXnHph
B&N: http://bit.ly/1oxN3Ou
Chapters: http://bit.ly/1KfVg3I
Kobo: http://bit.ly/20ZIiuZ


Meet the Author: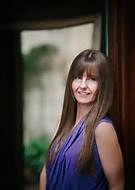 Paige Tyler is a New York Times and USA Today bestselling author of sexy, romantic fiction. Paige writes books about hunky alpha males and the kick-butt heroines they fall in love with. She lives with her very own military hero (a.k.a. her husband) and their adorable dog on the beautiful Florida coast. Visit www.paigetylertheauthor.com.