Today it is my pleasure to Welcome romance author
Susan Meier
to HJ!

Hi Susan, welcome 🙂
If you were written about in the newspaper, on the front page what would the headline say? Why?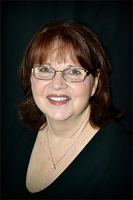 Local Author Spices Up Her Books…
After fifty "sweet" romances, HER SUMMER WITH THE MARINE is a fun, steamy read!
Would you rather…have 3 wishes in 10 years or 1 wish today? Why?
3 wishes in ten years. Not only is more better, but you never know what's ahead down the road!
Let's talk about your newest release: HER SUMMER WITH THE MARINE
If you had to summarize the book for the readers here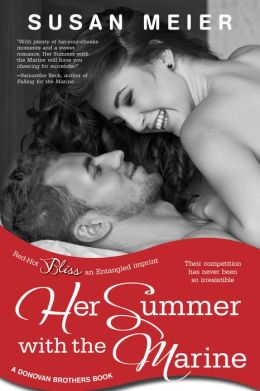 HER SUMMER WITH THE MARINE is the story of high school competitors who are really very much alike. So much a like that when they grow up and find themselves competing in the real world, sparks fly. Both professional and personal. They've always been just a little bit hot for each other and now, as adults, they really can't think of a reason not to act on it. But as frequently happens in real life, they aren't just competing for awards or prizes this time. Finn needs to save his mom from his abusive dad and Ellie needs to care for her dad when he gets Alzheimer's. There's a lot more at stake than either one of them can afford to risk.
Please tell us about the characters in your book?
Ellie McDermott is a good girl. All she really wanted out of life was to find a career and be happy. Finn spent his childhood afraid of his father until he finally grew strong enough to fight back when his father hit him. They're real, warm, wonderful people who need a break from life!
As you wrote your protagonist was there anything about them that surprised you?
That Finn wasn't just books smart. He had a good deal of common sense. For his age, maybe because he's an abuse survivor, he's very savvy and smart…Wise.
What scene did you most enjoy writing? Why?
I loved the scene at Debbi Martin's wedding. It's the first time Finn and Ellie decide to be themselves. The first time they don't pretend they aren't attracted.
With one last peek at her makeup, she headed out. She didn't drive. The fire hall was just up the street. Wedding card in hand, she made her way to Main and crossed at the light. As promised, Tom and Ashley—looking amazing in the frilly red dress she'd bought on their shopping trip—had found their seats at one of the round tables set up in the big echoing area of the hall that usually housed the fire trucks.
The scents of chicken and rigatoni filled the air as ladies in white blouses and dark dress pants prepared the long buffet. Aqua and white streamers looped across the ceiling. A DJ had set up in the corner of the room, and the sounds of soft rock "dinner music" drifted around them.
"Holy cow."
Ashley spun around once, showing off the frilly skirt of her short dress. "Don't you love it?"
"I do. You look amazing."
"And you look amazing yourself."
Ellie smiled. "I'd forgotten how much I liked to dress up."
Pulling out Ashley's chair, Tom said, "It seems weird to dress up to go to the fire hall."
Ashley gasped. "Hey, the bride will be dressed up. In a gown. So will the bridesmaids." She laughed and gave him a quick kiss. "Don't spoil our fun."
Feeling foolish now that Tom had mentioned it, Ellie looked around as she seated herself. What was she doing trying to entice Finn?
She said, "It seems like everybody's dressed up," but the chair beside her moved.
She glanced up to see Finn, pulling it out from under the table. "We don't get a lot of chances to dress up around here." He sat beside her. "So we take them when we get them." He paused to smile at Ellie. "You're beautiful tonight."
Two things hit her at once. First, he looked so great in a light-colored suit, white shirt, and aqua tie that brought out the blue in his eyes that her mouth watered.
Second, memories of kissing him, touching him, being touched by him, blazed through her, telling her that he was right. It almost seemed nature had created them to be lovers.
He slid his arms across the back of her chair, skimming his fingers along the bare skin at her nape. "I understand you have my trophy."
Her tongue stuck to the roof of her mouth.
"I won." He smiled. "You can't keep it."
Little tingles bubbled through her. "I was going to bring it to you, but—"
"But you wanted it for yourself. I get it." He glanced across the table. "Hello, Tom." -He moved his gaze from Tom to his wife "Ashley."
Tom nodded. "Hey, Finn. How's it going?"
"Same old same old."
Ellie held back a shiver. Her life had boiled down to a routine of talking to her Tidy Whitiez team, visiting a dad who didn't even wake up most days, and selling funeral packages. She needed fun more than anyone could guess. If he made a pass at her tonight, she knew she'd melt. But she also knew it would be the right thing. No hiding. No puritanical pretense. Just the truth.
What scene was the hardest to write? Why?
Oh! The scene where I have to explain why his brother has been out of town for years! LOL Hard to condense somebody's conflict to a few sentences.
The incessant ringing of his doorbell woke Finn. He yelled for his mother to answer it, but there was no reply. Looking at his bedside clock, he saw it was after two. The bright light pouring in through his bedroom window told him that was two o'clock in the afternoon. Which meant his mother was at work. She'd gotten up, dressed, and driven away without him even stirring. The painkillers he'd taken the night before must have been doozies.
The bell rang again. "I'm coming!"
He stumbled out of bed and slid into blue jeans. He had no idea who was at his door, but he wasn't going to cower in his house. The news was out. His father was an abuser. If anybody wanted to confront him, or talk about it, he would be more than happy to oblige.
Running down the stairs, he said, "I'm coming! I'm coming!"
Finally in the foyer, he yanked open the door and there stood his brother Cade.
With dark hair and brown eyes like their mother's, Cade was Finn's polar opposite. Especially given the black Stetson on Cade's head. Both might have joined the marines—the muscles beneath the sleeves of his T-shirt were a lot like the muscles beneath Finn's sleeves—but Cade wanted to be a cattleman now.
The second Cade saw him, he laughed. "Well, look at your nose."
Finn sighed, but inside something cracked and shattered. He hadn't seen his brother since he'd left home. He and Devon saw each other, but living in Montana, Cade wasn't around for a beer or a quick dinner.
Still, Finn had decided the day before he wasn't ever again being sappy, vulnerable, emotional. That's what nearly got him in trouble with Ellie. He knew better now.
"What are you doing here?"
Carrying a big black duffel bag, Cade ambled into the foyer and glanced around. "Mom called me. Devon, too."
He stiffened. "I don't need you guys. I'm handling this."
Cade faced him. "That's where I think you're wrong. Or maybe Mom thinks you're wrong. You're the youngest, yet you've taken this whole mess on yourself. Devon and I agree. It's not right. Plus, she told us you don't have time for this. Your business is on shaky ground from competition."
"Donovan's is fine. It's a start-up. Every start-up takes time to get off the ground."
"Good. Then you won't care if Devon and I take over the situation with Dad."
"The situation with Dad is done. He agreed to file for divorce in exchange for me not filing charges for this." He pointed at his nose.
Cade laughed again. Shaking his head, he said, "You have better restraint than I do. I'd've killed him."
"We were at the park, in the middle of a Dinner Belles' fund-raiser. I didn't want to do anything to make any more of a scene than I had to. Plus, I was winning in the competition."
Cade laughed. "You and your competitions. Mom said that McDermott girl is running the funeral home that's taking half your business."
"Yeah, she's back. Taking some business, but I can handle her."
"Good. You stick with that. Devon and I will deal with dad."
"I don't know what you guys think you're going to do."
Cade shrugged before he tossed his duffel bag across the kitchen floor and ambled to the family room, where he plopped down on the sofa. "If the situation with Dad's really handled, maybe we'll just provide moral support in your competition."
Who would you cast in the role of your characters if your book was optioned for a movie?
Let's see…
I love Chirs Pine but I really think this guy is Josh Holloway. And Ellie…Emma Stone. 🙂
If you could have given your characters one piece of advice before the opening pages of the book, what would it be and why?
Just relax! They both have big troubles, but nobody ever solved anything by worrying!
What are you currently working on? What other releases so you have planned for 2014?
I have a wonderful Christmas book coming out from Harlequin…THE TWELVE DATES OF CHRISTMAS! It's a fabulous story. I loved writing it. The second Donovan Brother, Cade, also get his book this year. But we're not quite sure of the title.
Thanks for blogging at HJ!
Giveaway: I'm giving away

three copies of HER SUMMER WITH THE MARINE

…Since these must be gifted you must have an ereader and be in the US. …Sorry…
To enter Giveaway: Please complete the Rafflecopter form and Post a comment to this Q:

In a way, Ellie and Finn are both victims of living in a small town. Both grow to love their small town. Do you think living in a small town is better or worse than a city? Why?
Excerpt
Chapter One

"Golden Years Inc. just called the partners."
"And?" Ellie McDermott's grip on her smartphone tightened as she got out of her little red car and stood on the sidewalk.
"They loved your ad campaign for Tidy Whitiez adult diapers." The voice of her boss, Nicole Levine, vibrated with excitement. "You're their choice to head up the campaign."
She closed her eyes, savoring the sweetness of the win. Who would have ever guessed she could get so excited over adult diapers? And who would have guessed that when the account she wanted was finally hers, she wouldn't be able to take it?
"There's a six-figure bonus attached."
Her eyes popped open. "Six figures?"
"Not high six figures, but close to mid."
"Wow."
"Can I tell them you'll do it?"
Her head spun. She'd gotten a call in the middle of the night from Red Garmin, the chief of police for Harmony Hills, Pennsylvania. Her dad had been found sitting naked in the park and hadn't recognized the officers who'd come to offer assistance. For two-plus hours, she'd driven through the early May fog on the mountain to get to her hometown, where she'd spent another eight hours intermittently talking to doctors and sitting beside the bed of a man who sometimes knew who she was, sometimes didn't. As tempting as taking this campaign sounded, every decision she made from now until the day her father died revolved around assuring he would be properly cared for. And right now she didn't have enough information about his condition to even know what "properly cared for" entailed.
"I wish I could say yes."
"Just use your mouth to form the word. Jeez, I thought you'd be jumping for joy right now. You're leading the campaign. Getting a bonus. At least a little 'yippee' is in order."
"Nicole, I'm home."
"Of course you're home. It's Saturday. You have no life. You're always home on Saturday night."
"No, I mean I'm back in Harmony Hills. My dad—" She paused as her throat closed, and grief, confusion, and guilt overwhelmed her. She had to swallow hard and take a deep breath before she could say, "My dad has Alzheimer's."
"I'm so sorry." Nicole's voice softened.
"Apparently he's had it for a while and it's progressing rapidly. They found him in the park last night, naked, thinking he was at home watching TV."
"Your dad watches TV naked?"
"He does live alone." A fact that haunted her. If she'd been in Harmony Hills, she would have found him, not a bunch of kids. If she'd been here, maybe he wouldn't even have left the house at all. If she'd been here, she might have noticed as soon as he started getting sick and gotten him treatment so that his disease wouldn't be as far along as it was now.
She swallowed again. "He's going to need to go into a personal care facility."
"And a six-figure bonus would go a long way toward making that happen."
"After taxes, even six figures would last only a few years. And my dad's sixty-seven. He could live another ten, maybe even twenty years. I need a real, permanent solution."
She looked up at the stately yellow Victorian house and the MCDERMOTT FUNERAL HOME sign. "The only way I can get enough money every month is to run the family business."
"The funeral home? Can you even run a funeral home?"
She sighed. "I remember some things."
"Don't you need a license?"
"I don't know. I'll have to check."
"Wouldn't it be easier to just sell Tidy Whitiez?"
"In the short-term. But at ten thousand dollars a month, three hundred thousand dollars would only be thirty months. Not even three years. I need a solid, dependable income."
A motorcycle roared into the funeral home's side driveway. The engine hummed to a stop. The driver took off his shiny black helmet.
Ellie's breathing stopped. "Oh, no."
"What?"
"It's Finn Donovan."
"The guy who stole valedictorian from you?"
"Yep."
"The same guy who took your virginity and then asked somebody else to the graduation party?"
"Yes, again."
"Oh my God! Skype me in!"
Wearing jeans and a sleeveless white T-shirt that showed off bulging biceps and a skull-and-crossbones Semper Fi tattoo, Finn got off the sleek bike and strolled up the sidewalk toward her. Taller than he had been in high school and broader in the shoulders, with a lazy gait that spoke of the insolent way he looked at life, he set every nerve ending in her body on fire.
He reached her, smiled. "Ellie."
How could the slight lift of a man's lips make her breathless?
"Finn."
The fire nibbling her nerve endings spiked. Her chest pinched and her gut tightened as another regret filled her. If she'd stayed in Harmony Hills, she probably wouldn't swoon every time she saw this blue-eyed, blond-haired dingbat.
"At least put me on speaker!"
"Actually, Nic, I'll call you later."
"No!"
Click.
"I heard about your dad."
His low, smooth voice slid over her like warm velvet. Something soft and hot curled low in her belly. It hadn't always been this way. From the time she'd beaten him in the first grade spelling bee through twelve years of public school, they'd been competitors. They'd battled in every contest, for every prize, every award. Half the time he'd won, but the other half, she had.
Then the night before their last final exam senior year, he'd come to her with a story about his father beating him and kicking him out of the house. She'd confessed her hatred of being the daughter of the town's scarlet woman, and somehow or another they'd ended up kissing. Then touching…
Then having sex.
Ignoring the shiver that stole through her, she shoved her phone into her jacket pocket. "I'm sure everybody's heard about my dad by now. It isn't every day a guy is found naked in the park."
"People are sympathetic, not unkind."
"Right. I remember how kind they were about my mother."
"This is different. You know it's different. Everybody loves your dad."
"Everybody supposedly loved my mom, too."
He sucked in a breath. "Look, can we talk inside?"
She fingered the keys in her other pocket. Two for the house, one for the mortuary. Unless she took Finn upstairs into the residence—which she didn't want to do, since she didn't know the condition of the place—she was forced to go into the bowels of the family business.
The day could not get any worse—
Actually, the day really couldn't get any worse. Might as well just be neighborly, accept his condolences while standing by the embalming tables, and get on with the rest of her life.
Book Info:
Their competition has never been so irresistible
The last person Ellie McDermott wanted to run into after returning to her hometown is Finn Donovan, her high school nemesis and the guy she crossed the line from enemies to lovers with one night years ago. Now ex-military, tattooed, and still sexy as hell, Finn is a complication Ellie doesn't need—she needs to concentrate on saving her family business.
Finn's entire life, Ellie was there, going head-to-head with him in every class, bee, and test. So it's no surprise she'd show up just as he was about to take over her father's struggling business. It is a surprise, though, that his attraction to her is even more explosive than it had been. Acting on their attraction is one thing, but Finn has to turn a profit to save his own family, and nothing—not even love—will get in his way.
Book Links:
Author Bio
Susan Meier is the author of almost 60 books for Entangled, Harlequin, Silhouette and Guideposts' Grace Chapel Inn series. Her books have been finalists for Reviewers Choice Awards, National Reader's Choice Awards and Cataromance.com Reviewer's Choice Awards. In 2013, her book THE TYCOON'S SECRET DAUGHTER was a finalist for RWA's coveted Rita award, and NANNY FOR THE MILLIONAIRE'S TWINS won the Book Buyer's Best Award.
One of eleven children, Susan was born and raised in Western Pennsylvania and continues to live there with her husband, son and two very personable cats. A one-time legal secretary and former regional director for a charitable organization, Susan found her bliss when she became a published novelist. She's visited ski lodges and candy factories for "research" and works in her pajamas.
But the real joy of her job is creating stories about women for women. She's tackled issues like infertility, losing a child and becoming widowed. Her favorite stories are those that inspire laughter through tears.
Susan is an avid, but terrible golfer, and a woman who desperately wants to lean to cook without having to involve the fire department.
Website | Facebook | Twitter |