Today it is my pleasure to Welcome author
Ashlee Mallory
to HJ!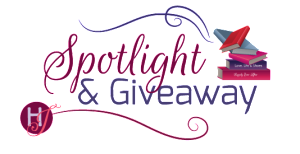 Hi Ashlee and welcome to HJ! We're so excited to chat with you about your new release, Her Surprise Engagement!
Tell us about the book with this fun little challenge using the title of the book: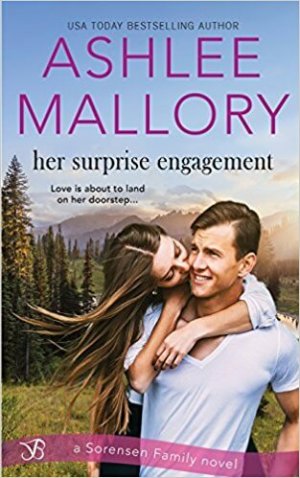 H is for Harrison, as in Jack Harrison, the hero of the book and future governor!
E is for Engaged, what Jack and Daisy have to pretend to be after the ill-timed arrival of reporters at their summer vacation house.
R if for Rumors that threaten their reputations and leads to their agreement to a fake engagement.
S is for Summer and the last minute summer vacation these two took with their kids that threw them into each other's path.
U is for Unexpected, which was what the other was when they arrived at their vacation home only to find a mix-up had them sharing the same house.
R is for Roasting marshmallows on the campfire after a long day on the lake.
P is for the Puppy that Jack and his daughter Lily bring with them on the trip.
R is for Romance that inevitably blooms between these two love-weary characters.
I is for Independence Day and the fireworks that happen between Jack & Daisy.
S is for Skunk and the one that they had the misfortune of discovering while hiking with the kids.
E is for Entourage and the security entourage that descends on them once news breaks Jack will be governor.
E is for the Empanadas that Daisy is perfecting for her new bakery.
N is for Negotiations that brought them to reach the fake engagement deal
G is for Glenda, Daisy's aunt who tries to push the two together
A is for…the Agreement to pretend to be together that turns all too real.
G is for the Garage where Daisy's car gets towed, without an escape from her predicament.
E is for my Excitement at sharing this story with you all!
M is for the Mix-up that landed them together
E is for the Eggs that Jack unsuccessfully makes her.
N is for Night-time shenanigans.
T is for Tahoe, where they vacation!

Please share the opening lines of this book:
Squeak. Squeak. Squeak.
Daisy Sorensen would have thought the buckets of rain lashing against the windshield of Skippy's tow truck for the past twenty minutes would have lubricated the wiper blades enough to dull the incessant squeaking refrain by now. But as the last week had proven, she wasn't so lucky.
Please share a few Fun facts about this book…
I've never been to Tahoe…yet! Had to rely on the magic of the Internet AND Pinterest! (You can check out the board for Her Surprise Engagement here: http://bit.ly/2sfl1NH)
Since starting the series, I've become a pro at making homemade tortillas. They're so worth making from scratch!
I used a number of names from people in my life for this one, particularly my daughter's and son's names (Lily and Harrison).
Trying to capture the essence of independent single-mom Daisy Sorensen was important to get just right—and finding the perfect match for her took a lot of casting calls to finally get right.☺ In the end, although sometimes hair-pulling to get there, it was one of my most rewarding books I've written.
I hate writing break-up scenes but when they finally get to the end, I might have been a little misty-eyed.
Was there a scene in this book that was harder to write than others?  
All of them, LOL! But they were all worth it when I got them just right. Here's one that, in contrast, was actually a lot of fun to write.
Before she could guess what he was about to do, his fingers were at her hips—in the exact spot he knew was intensely ticklish. She tried to fend him off, laughing as she did, but he squeezed again before catching her against him and planting a warm, poblano-infused kiss on her lips.
It wasn't anything overtly sexual, and if there was a rating, it would have been G-rated by the big mouse himself—even if it sent the world around her spinning.
But it was also in front of their kids. And Aunt Glenda.
She looked over and found all five sets of eyes glued to them, Paul's mouth wide open. Glenda's, however, seemed a little more pleased as she smiled almost knowingly at them. Quickly, Daisy slid away from Jack and started placing the chocolate salted caramel empanadas on a plate for dessert.
"Why were you two kissing?" Natalie asked first in puzzlement. "Do you like each other?"
"Of course they don't," Jenna said, glancing a little uncertainly at Daisy.
"And what's wrong with my liking your mom?" Jack asked in a playful tone. "Don't you like your mom?"
Natalie giggled. "Yes."
"And because you like her, don't you want to kiss her, too?" he continued.
"I suppose so," she admitted. "But Daddy didn't ever kiss her. Not that I can remember anyway."
Daisy felt color suffuse her face and there was a moment's pause as Jack seemed to process that before he continued. "Then he didn't know what he was missing. So. Now that my mouth is on fire, do you think that maybe I've earned one of those chocolate empanadas? And then I thought we could take the sailboat out for a last trip before dinner and the firework show."
This earned the kids' shouts of excitement as they all quickly finished their lunch, chatting about the rework show later that night.
Daisy met Jack's gaze, his eyes sparkling with mischief.
Smooth. Very smooth.
And despite being a bit annoyed with his maneuver in front of everyone, she couldn't help but touch her lips, briefly wondering if they were tingling because of the peppers…or Jack's electrifying kiss.
Excerpt. © Reprinted by permission. All rights reserved.

What do you want people to take away from reading this book?
Not just the book, but the whole series, really, I've wanted to highlight the love and support that can be found in family—whether you were lucky enough to be born in a big loving family or you create one all your own.

Thanks for blogging at HJ!
Giveaway:

$10 Amazon gift card
To enter Giveaway: Please complete the Rafflecopter form and Post a comment to this Q:

If you could go anywhere for a summer vacation, where would it be?
Book Info:
Single mom Daisy Sorensen doesn't believe in fairytale endings—at least not for her. All she wants is to enjoy a much-needed, stress-free family vacation at a friend's Lake Tahoe home. So of course everything that can go wrong does. Including a gorgeous man and his daughter showing up in the middle of the night.
Soon-to-be Governor Jack Harrison has had a crazy week, but he's sure nothing can top arriving to find a bathrobe-clad, beautiful stranger in the home he's staying in for the week. He's wrong. When things spiral out of control the next morning, Jack makes Daisy an offer she can't refuse. She'll pretend to be his fiancée and he'll help her open the bakery she's been dreaming about.
But in between late-night campfires and days on the lake, Jack finds himself falling for the strong, stubborn woman for real.
Book Links:

Meet the Author: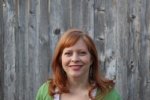 Ashlee Mallory is a USA Today Bestselling author of contemporary romance, romantic suspense, and thrillers. She currently resides in Utah with her husband and two kids. She aspires to one day include running, hiking and traveling to exotic destinations in her list of things she enjoys, but currently settles for enjoying a good book and a glass of wine from the comfort of her couch.
Author Website: AshleeMallory.com
Author Twitter: @ashleemallory
Author Facebook: https://www.facebook.com/AshleeMalloryAuthor/
Author Goodreads: https://www.goodreads.com/author/show/7912393.Ashlee_Mallory