Today it is my pleasure to Welcome author
Kyra Jacobs
to HJ!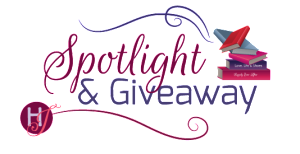 Hi Kyra and welcome to HJ! We're so excited to chat with you about your new release, Her Unexpected Engagement!
Tell us about the book with this fun little challenge using the title of the book: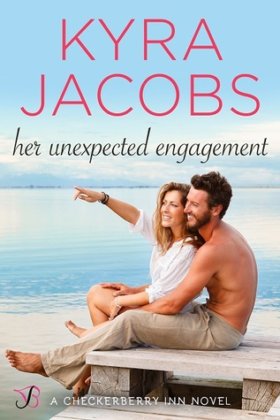 Okay, my title is rather long, so I'm going to fudge a bit and just use the HER for this game. Otherwise, you all will still be reading an hour from now!
H is for: Happily Ever Afters…the second time around.
E is for: Engagement. A little white lie told by Stephanie's sister has her scrambling to find a fake fiancé…and Miles just happens to be the perfect fit.

R is for: Return. Stephanie Fitzpatrick left Michigan with her golf protégé hubby a decade ago without a second glance back. But after hubby got caught kissing another golfer's wife on camera, Steph is back looking for a fresh start.

Please share the opening lines of this book:
Stephanie Fitzpatrick eased her rental car onto I-94 and
headed due west. Hot weather be damned, all four windows
were down in anticipation of the one thing that always
reminded her of home—the scent of Michigan pines.
Please share a few Fun facts about this book…
The Checkerberry Inn was a real bed-and-breakfast in Northern Indiana, and inspired the b-n-b in this series. Sadly, it closed a number of years ago.
Miles Masterson, HUE's hero, missed his chance with Stephanie at the end of college due to an accounting exam running longer than expected. Math-induced drama—whodathunkit?
Stephanie Fitzpatrick, HUE's heroine, will be the first to admit she's a terrible cook…but not until after she's talked you into trying her latest concoction.
The book's first draft ended with a tornado damaging the inn. I decided Brent Masterson (Miles's cousin and hero from book 1) had enough work on his hands and spared him the cleanup. lol
There was no mention of mating alpacas in this story (thankfully, the destruction caused by the horny beasts was contained to book 1)
Was there a scene in this book that was harder to write than others? (Please include an expert of this scene)
That's a tough question! There were a few that were emotionally difficult, but I think the scene with Miles alone on his back porch, debating what to do about his job opportunity and trying not to think too much about Stephanie's reappearance was a bit harder to write than the others. Miles is the playboy, the chipper one, and I had to peel back the cover and reveal some of his regrets and disappointments. Hopefully, I made it up to him in the end. 😉
Here's an excerpt:
He downed the rest of his beer and headed toward the garage, intending to chuck the bottle into his recycling bin and be done for the night. But his brain was working faster than the alcohol, and the thoughts he was trying to numb were surfacing whether he wanted them to or not. So he grabbed beer number three and detoured out the back door to settle into his favorite seat, propping both legs up on the deck's wooden rails. Rails he and Brent had measured, cut, built, and stained by hand. Rails he'd propped his feet on countless times before.

Rails that, tonight, felt less like home and more like those belonging to a jail cell. If he chose to keep the rails, the house, his current job, that's exactly what he would be doing to his career, to his future—locking them up and throwing away the key.
Excerpt. © Reprinted by permission. All rights reserved.

What do you want people to take away from reading this book?
I'd love for the readers to find hope in this book. Not every relationship is all rainbows and butterflies. Some have ups and downs and survive, others don't. But love is out there for all of us, if only we open our hearts and minds to the possibility. We can be down and broken, but also resilient…if that's what we choose to be.
Thanks for blogging at HJ!
Giveaway:

2 Digital copies of HER UNEXPECTED DETOUR by Kyra Jacobs (Gifted via Amazon)
To enter Giveaway: Please complete the Rafflecopter form and Post a comment to this Q:

For those of you who have stayed at a bed-n-breakfast before, what's been your favorite? For those who haven't, are there any on your bucket list?
Book Info:
Stephanie Fitzpatrick wanted out of the spotlight after her pro-golfer husband was caught on camera cheating. But when she returns to Michigan for a job interview and some much-needed R&R, a fib told by her well-meaning sister has her looking for a temporary fiancé, or she can kiss her new start good-bye.  Desperate to hide the truth, she goes to the one man who can help—her former best friend.
Miles Masterson is relieved to see the Checkerberry Inn beginning to thrive once more. Not only does it ease his mind about his grandmother's financial future, but also about his decision to finally escape town. But then one all grown up and sexy as hell friend from the past shows up needing to be rescued. Now the temptation to change the "temporary" arrangement into something more is making it harder to think about leaving.
Buy: http://entangledpublishing.com/her-unexpected-engagement/


Meet the Author: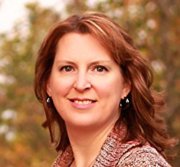 Kyra Jacobs is an extroverted introvert who writes of love, humor and mystery in the Midwest and beyond. Her romance novels range from sweet contemporaries to romantic suspense and paranormal/fantasy. No matter the setting, Kyra employs both humor and chaos to help her characters find inspiration and/or redemption on their way to happily ever after.
When the Hoosier native isn't pounding out scenes for her next book, she's likely outside, elbow-deep in snapdragons or spending quality time with her sports-loving family. Kyra also loves to read, tries to golf, and is an avid college football fan.
Be sure to stop by her website www.KyraJacobs.wordpress.com to learn more about her novels and ways to connect with her on social media.
Website | Facebook | Twitter | GoodReads |