Today it is my pleasure to welcome USA Today Bestselling author

Melanie Milburne

to HJ!
Hi Melanie, welcome to HJ! Please introduce your character

Leo Valente

&

Eliza Lincoln

 from your novel

His Final Bargain

 to HJ readers here!
What does your character do for a living?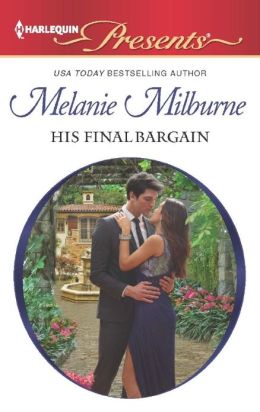 Leo is an engineer and has his own global Engineering Company.
Is your character ruled by emotion or logic or some combination thereof?
The engineering career sort of answers that! He's very logical sequential but his emotions get a bit of a shakeup once Eliza comes into his life.
Who is your character's Love interest in the book?
Eliza Lincoln is a kindergarten teacher at a small community school in London.
Was it love at first sight for your character? If not what was the pivotal moment of change?
Leo took a while to admit to his feelings but he knew from the moment he met Eliza that she was the woman he wanted to marry.
Eliza fell in love with Leo at their first meeting four years ago but she couldn't do anything about it as she was trapped in an engagement she couldn't get out of.
If your character could go back in time and change one thing what would it be?
In Leo's case – he would have not stormed out of the restaurant when Eliza told him she couldn't marry him because she was already engaged. Why? Because he would have been able to understand why she had made the choice she had made.
Eliza would have told someone she had broken off her engagement to Ewan. Why? Because after his accident he couldn't tell anyone so she was trapped by her guilt and sense of responsibility to him and his mother.
How have your characters evolved from when the novel began to when it ended?
Leo had to learn to let go of the past and open his heart to love without fear of abandonment.
Eliza had to learn to let go of her guilt over what happened to her fiancé so she could embrace life fully.
How did your characters spend the week just before the story starts?
Eliza spent it chewing her nails in panic over the threat of her school closing down due to a lack of funds.
Leo spent it rushing around trying to find a stand-in nanny for his little daughter.
About the Author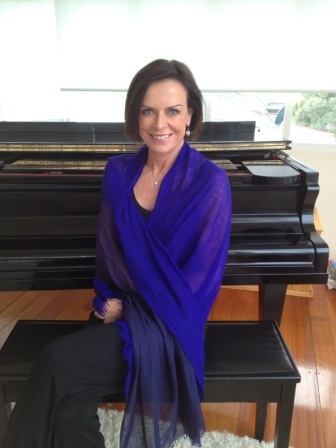 Melanie Milburne loves reading romance almost as much as she loves writing it. She grew up with a love of reading and reading her first romance book at age seventeen heavily influenced her decision to become a romance author.
She has won several awards for her fast-paced, passionate stories, including Australian Romance Writers Romantic Book of the Year in 2011 and Australian Romance Readers in 2008 and RT top pick and Cataromance Reviewer's Choice Awards. For more information about Melanie go to www.melaniemilburne.com.au
What are you currently working on?
I am working on an exciting Presents continuity called The Chatsfields. I'm writing Book Two of the eight in the series. My hero is a notorious, loose living playboy who locks horns with a starchy, sharp-tongued princess.
What other releases so you have planned for 2013?
My first ever sheik novel- Yay! Only took me 53 books to get there! Sheik's Baby Bombshell is out now in digital only at this point. My Presents trilogy- The Scandalous Caffarellis is out later this year: Book One – Never Say No to a Caffarelli in September, Book Two –Never Underestimate a Caffarelli in October and Book Three- Never Gamble With a Caffarelli in November.
Where can readers get in touch with you?
On Facebook either on my profile page http://www.facebook.com/melanie.milburne or author page http://www.facebook.com/pages/Melanie-Milburne/351594482609?ref=ts&fref=ts
And on Twitter @MelanieMilburn1 or via my website – www.melaniemilburne.com.au
Giveaway-
A signed copy of His Final Bargain as well as my latest Medical romance Their Most Forbidden Fling and a surprise gift!
To enter Giveaway: Please complete the Rafflecopter form and post a comment to this Q:
Have you ever been loyal to someone to the point where it came back to bite/hurt you?
About the Book:
A beautiful love affair and a burning betrayal…
Eliza Lincoln is stunned to find Leo Valente at her door; four years ago his passionate embrace was a brief taste of freedom from her suffocating engagement. Until Leo discovered her secret…
Yet he hasn't come to rekindle their affair. He has a proposition he knows Eliza can't refuse: she's the only person who can help his small, motherless daughter.
Torn, Eliza can't ignore a vulnerable child, but the last time she was near Leo her desire nearly consumed her. Is she willing to take that risk again now that the stakes are even higher?