Today it is my pleasure to Welcome author
Virginia Heath
to HJ!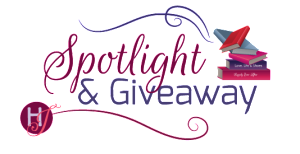 Hi Virginia and welcome to HJ! We're so excited to chat with you about your new release, His Mistletoe Wager!

It's a pleasure to be here again.

Please summarize the book for the readers here: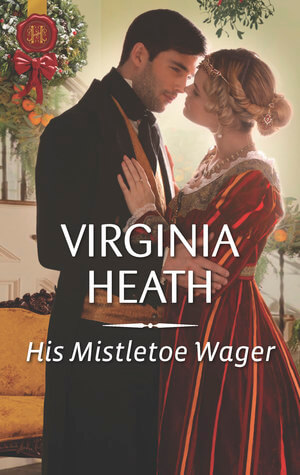 Hal Stuart is bored of his life. Everything, women included, come too easy to him now that he has inherited an earldom and a fortune, and he finds himself constantly surrounded by a sea of eager hordes who are desperate to become his wife. Sensing he needs a challenge, his brother-in-law proposes a wager. He has to kiss devoted spinster Sullen Lizzie five separate times over the Christmas season. It is a bet the rakishly charming Hal happily accepts. After all, what woman could resist him?
Lady Elizabeth Wilding has sworn off men for life after being jilted at the altar. But what the world doesn't know is that Lizzie was also carrying her erstwhile fiancé's baby. A baby she and her family had successfully hidden for five long years. The very last thing she needs is another handsome rake in her life…

Please share the opening lines of this book:
Every pew was taken. No mean feat in a church as large and grand as this one, yet hardly a surprise when this was the wedding of the Season: the day when the darling of society, the beautiful only daughter of the Earl of Upminster, married her handsome peer. Even the sun had come out to celebrate, and was cheerfully streaming through the imposing stained- glass windows in an exceedingly pleasing fashion and causing a kaleidoscope of colours to decorate the floor.
Please share a few Fun facts about this book…
Although it can be read as a standalone, Hal Stuart first appears in my second novel, Her Enemy at the Altar.
Because it amuses me, I've peppered this book with place names from where I live in Essex, England.
The premise for the story came after I read that traditionally, the a berry was plucked off of a sprig of mistletoe each time someone kissed under it.
I named the heroine after one of my best friends.
The mistletoe wager is just one in a long line of foolhardy wagers my hero has undertaken. The Serpentine Swim and the Naked Night in Norfolk also feature.
Please tell us a little about the characters in your book. As you wrote your protagonist was there anything about them that surprised you?
Hal Stuart is a shocking rake, yet from the moment he meets Lizzie he surprises himself by becoming instantly noble. So noble he proposed much sooner than I- or he- had intended! We were both so shocked by his outburst, we both needed to go and lie down afterwards.
If your book was optioned for a movie, what scene would you use for the audition of the main characters and why?
Obviously, I would chose their first meeting…
'A penny for your thoughts?'
The deep male voice from behind startled her, yet Lizzie hid it instinctively. Sometimes, particularly arrogant young bucks still attempted to flirt with her for sport. Something which was always ruthlessly nipped in the bud. A slow, calculated glance to the side revealed Henry Stuart, the newly minted Earl of Redbridge. Handsome as sin and with a sinful reputation to match. She did not bother hiding her irritation at recognising him.
'Do not trouble yourself, my lord. I can assure you that whatever misguided impulse sent you my way, it was most assuredly futile. I am in no mood to engage in polite conversation or anything else this evening.' She flicked her eyes back towards the dance floor and turned her body away from his, allowing the uncomfortable seconds to tick by. Men were like wasps. If you ignored them, they eventually went away.
She heard the slight creaking protest of wood and realised he had eased his big body into the chair alongside. She gave him her best unwelcoming frown and curtest tone. 'I do not recall inviting you to sit.' This insect clearly needed swatting.
Looking decidedly bored, the Earl glanced at the rows of empty chairs around them and shrugged. 'These seats have been expressly placed here by our hostess to rest upon. I do not recall being told I needed anyone's permission to sit in them. Please ignore me, Lady Elizabeth and, in turn, I shall ignore you as you have made it quite plain you would prefer me to. Believe me, there are a million places I would rather be as well.'
As she could think of no immediate retort to such blatant indifference, Lizzie stared resolutely at the dance floor and her unwelcome companion did the same. Neither spoke. After a full five minutes, she actively considered standing and moving to the opposite side of the room. His continued presence rattled her, although she could not say why. Men did not linger when they had been rejected. As a rule. But moving would alert him to her discomfort and that would never do. 'You can sit there all night. I still will not talk to you.'
'Yet here you are, talking regardless.' He stifled a yawn. 'Fear not, fair maiden, like you, I am hiding. I find these events tiresome.'
'There are many other places to hide, my lord, perhaps you should retire to one of those and leave me in peace. I was here first and, in case I have not made it obvious enough, I am not desirous of either your company or your attentions.'
Only his eyes turned to look at her and they were inscrutable. Very green. Very bored. 'Clearly you have an inflated sense of your own appeal if you have construed my sitting as evidence of my interest in you.'
What do you want people to take away from reading this book?
This is an unashamedly festive romantic comedy, so I hope first of all readers are entertained and charmed in equal measure. However, there are many layers to the story. It is also about responsibilities and second chances, so I hope they also sigh and weep happy tears of joy by the end.
What are you currently working on? What other releases do you have planned for 2017?
2017 is shaping up to be another busy year. The third and fourth instalments of my Wild Warriners series- A Warriner to Tempt her & A Warriner to Seduce Her are published in January and May respectively. Then you will be introduced to my new series later in the year- The Kings Elite- is set amongst the dangerous world smuggling and espionage.

Thanks for blogging at HJ!
Giveaway:

3 signed paperback copies of His Mistletoe Wager. This giveaway is open internationally.
To enter Giveaway: Please complete the Rafflecopter form and Post a comment to this Q:

Both my hero and heroine find the Christmas season irritating. What do you find most irritating about the Holidays?
Excerpt from His Mistletoe Wager:
The following evening, within half an hour of their arrival at the Benfleet soiréee, Lizzie's resolve not to argue with her father lifted surprisingly swiftly and was soon replaced with raging, clawing anger. Because this time, her dear, meddling papa had gone too far.
'I have taken the liberty of filling your dance card for you.'
He had said this so blithely, in the midst of a crowd, which made calling him on it impossible. He had also made sure her partner for the next dance was stood right next to him as well, effectively trapping her because the calculated old politician knew full well she would rather not cause a scene. The 'lucky' gentleman, a slightly rotund fellow with no discernible chin, appeared terrified as he held out his hand, making it obvious to one and all he had been press-ganged into service and was there only on sufferance. She was tempted to feel sorry for him.
With gritted teeth, she allowed him to lead her to the dance floor, all the while shooting daggers at her father. Once this dance was done, they would be having words, and when those words were said she fully intended to go home.

However, being skilled in the art of diplomacy, her dear papa had already anticipated her intent and had successfully managed to render himself invisible. For over an hour she danced stiffly with man after man, trying to catch a glimpse of him, her mood deteriorating significantly every time he failed to materialise. To make matters worse, he had apparently found the dullest men in the whole of Christendom to saddle her with. All so crushingly safe and dependable they blended into the wallpaper. All depressingly in want of a wife with a substantial dowry. When the ancient Earl of Ockendon came to claim her, Lizzie pretended to need to visit the retiring room, and fled ontoon to the terrace and shivered behind a statue. Freezing to death was infinitely preferable to dancing with him.
'Isn't it a little cold to be stood out here without a shawl?'
Lizzie spun around and saw the Earl of Redbridge lounging against the balustrade, smiling smugly and looking effortlessly gorgeous. 'Where have you been!' Instantly, she clamped her silly jaws shut. He did not need to know she had been frantically looking out for him.
'Be still my beating heart. You sound astoundingly pleased to see me.' His words grated. 'In fairness,' he said as he shrugged out of his coat, 'I only arrived a few minutes ago. I saw you dancing with someone, looking more sullen than usual, and had been waiting for the opportune moment to rescue you because I am a charitable soul, by and large. But you disappeared out here at speed. At one point, I was certain you were going to break into a run.' He solicitously placed the warm garment over her shivering shoulders. It smelled of him and, despite her better judgement, Lizzie snuggled into it gratefully. He might well be an irritant and a rake to boot, but his thoughtful gesture was kind and not at all what she would have expected from a man like him.
'My father has filled my dance card and I blame you for it!'
'How can I be to blame? I wasn't even here.'
'I chatted with you last night. Then you sent me flowers. It set a precedent and it has given him ideas. He has lined up every dullard from here to Land's End, hoping I will take to one of them.' She tried, and failed, not to notice the way the soft linen of his shirt clung to his upper arms or the way his waistcoat emphasised his broad chest and shoulders. He reached out and plucked the ribbon of her dance card from her wrist and scanned the names.
'Good grief! What a shockingly dour bunch.' To her consternation he then picked up her hand and gently threaded the ribbon back over it. His fingers were warm. Too warm. They were giving her skin ideas.
Excerpt. © Reprinted by permission. All rights reserved.


Book Info:
'Five berries equal the five separate kisses I challenge you to steal.'
Notorious rake Henry Stuart, Earl of Redbridge is certain he'll win his Christmas bet – until he learns he'll be stealing Lady Elizabeth Wilding's kisses. A woman who refuses to be charmed!
Once jilted, Lizzie must guard her heart because the ton is unaware of her scandalous secret – her son! Despite their increasing attraction, she can't risk the persistent Hal bringing down her defences. But, when her former fiancé returns Lizzie realises that perhaps Hal's the one man she can trust – with her heart and her son…
Book Links:

Meet the Author: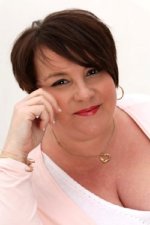 When Virginia Heath was a little girl it took her ages to fall asleep, so she made up stories in her head to help pass the time while she was staring at the ceiling. As she got older, the stories became more complicated, sometimes taking weeks to get to the happy ending. Then one day, she decided to embrace the insomnia and start writing them down. Fortunately, the lovely people at Harlequin Mills & Boon took pity on her and decided to publish her romances, but it still takes her forever to fall asleep.
Website | Facebook | Twitter | GoodReads |