Today it is my pleasure to Welcome romance author
Maya Blake
to HJ!

 Hi Maya, Welcome to HJ!
What is your favorite trope to read, one you will never get tired of?
I love a good revenge trope because inevitably you know the hero is going to get undone by his neferious plans once he falls for the heroine!
Let's talk about your newest release: HIS ULTIMATE PRIZE
If you had to summarize the book for the readers here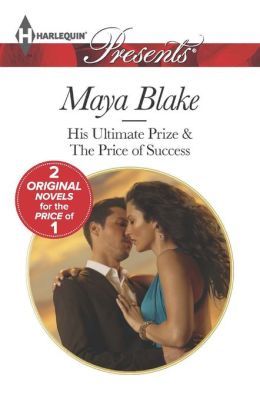 HIS ULTIMATE PRIZE is the second book about the de Cervantes brothers. We live through Rafael de Cervantes crashing his racing car in the very first paragraph of THE PRICE OF SUCCESS after which he falls into a coma until the end of Marco's book. Rafael's story is about his painful recovery from his accident and laying to rest the demons that haunt him! We also discover why he crashed his car and Raven (his heroine's) part in that accident.
Please tell us about the characters in your book?
Hero – Rafael de Cervantes. Irreverent Playboy. Race Car Driver. Younger Brother to Marco de Cervantes and best friends with Sasha, my heroine of THE PRICE OF SUCCESS. I loved writing Rafael's character because he was all round cheeky but with loads of demons to overcome!
Heroine – Raven Blass. Physiotherapist. Hates playboys due to her estranged father's lifestyle but inexplicably drawn to Rafael. She's wrought with guilt because she feels she had a hand to play in Rafael's crash and wants to make amends. I loved her fiestiness and how she managed to see beneath Rafael's facade.
Was it love at first sight for your characters? If not what was the pivotal moment of change?
Nope. It was definitely lust at first sight for Rafael, as it is with most of his playthings. With Raven it was more "what-the heck-is-going-on-here" at first sight, lol. Once they let each other see beneath their beautiful, it progressed to the beautiful conclusion 🙂
If your characters could go back in time and change one thing what would it be? Why?
They would probably change the few minutes before Rafael got into his racing car and crashed because I don't think either of them believes the road to love should be that painful and heart-wrenching!
What scene did you have the most fun writing? Why?
I can honestly I enjoyed every bit of writing this book, but the first line and what followed is probably my favourite 🙂
"Put your arms around me and hold on tight."
The deep, rich chuckle that greeted her request sent a hot shiver down Raven Blass's spine. The same deep chuckle she continually prayed she would grow immune to. So far, her prayers had gone stubbornly unanswered.
"Trust me, bonita, I don't need guidance on how to hold a woman in my arms. I give instructions. I don't take them," Rafael de Cervantes's drawled response was accompanied by a lazy drift of his finger down her bare arm and a latent heat in ice blue eyes that constantly unnerved her with their sharp, unwavering focus.
With gritted teeth, she forced herself not to react to his touch. It was a test, another in a long line of tests he'd had tried to unsettle her with in the five weeks since he'd finally called her and offered her this job.
Maintaining a neutral expression, she stood her ground. "Well, you can do what I say, or you can stay in the car and miss your nephew's christening altogether. After agreeing to be his godfather, I'm sure you not turning up in church will go down well with your brother and Sasha."
As she'd known it would, the mention of Sasha Fleming's name caused the atmosphere to shift from toying-with-danger sexual banter to watch-it iciness. Rafael's hand dropped from her arm to grip the titanium-tipped walking stick tucked between his legs, his square jaw tightening as his gaze cooled.
Deep inside, in the other place where she refused to let anyone in, something clenched hard. Ignoring it, she patted herself on the back for the hollow victory. Rafael not touching her in any way but professionally was a good thing.
Recite. Repeat. Recite. Repeat—
"I didn't agree…exactly."
Her snort slipped out before she could stop it. "Yeah, right. The likelihood of you agreeing to something you're not one hundred percent content with was virtually nil. Unless…"
His eyes narrowed. "Unless what?"
Unless Sasha had done the asking. "Nothing. Shall we try again? Put your arms—"
"Unless you want me to kiss that mouth shut, I suggest you can the instructions and move closer. For a start, you're too far away for this to work. If I move the wrong way and land on top of you, I'll crush you, you being such a tiny thing and all."
"I'm not tiny." She moved a step closer to the open doorway of the sleek black SUV, stubbornly refusing to breathe in too much of his disconcertingly heady masculine scent. "I'm five foot nine of solid muscle and bone and I can drop kick you in two moves. Think about that before you try anything remotely iffy on me."
The lethal grin returned. "Dios, I love it when you talk dirty to me. Although my moves have never been described as iffy before. What does that even mean?"
"It means concentrate or this will never work."
Rafael, damn him, gave a low laugh, unsnapped his seatbelt, and slid one arm around her shoulders. "Fine. Do with me what you will, Raven. I'm putty in your hands."
What scene was the hardest to write? Why?
The scene where Rafael finally admits there's something wrong with him and he needs to deal with his past is quite tear-jerking for me.
"Tell me what's wrong."
Rafael glanced down at his hands and realised they were shaking. The realisation stunned him so completely, his whole body shuddering before he could control himself. The idea that he was losing control so completely, to unstoppably made irrational anger whip up inside him.
"Stop it, Raven. Stop trying to save me. You've done your penance."
"Excuse me?" her voice was hushed but strong.
"That's what you've wanted since you phoned me up two months ago, isn't it. That I forgive you for what you think you did to cause my accident?"
"What I think…" She sucked in a sharp breath. "Are you saying you remember why you crashed?"
He firmed his lips. Brava, Rafael. "Perhaps I do. Or perhaps I'm just tired of watching you fall on your sword over and over again. I wouldn't be surprised if that was why you gave me your virginity, considering you didn't like me much before then."
He felt like the lowest form of animal when her colour receded completely. But, dios, admiringly she rallied.
"You're trying to push me away by being hateful. But I won't leave until you tell me what happened out there today."
"What do you mean what happened? I raced. I came second. Considering I've been out of the game for nearly a year, I think that's a commendable start, don't you?"
He shucked his suit off and peeled off the fire-retardant long sleeved gear. Her eyes darkened but she didn't lose her determination.
"Aside from the fact that you didn't hydrate nearly enough why did you not pass Matteo the half a dozen times you had the chance?"
"What are you talking about? After he recovered his mistake in Sector 4 there was never a chance to pass Matteo…"
"Of course there was. He damaged his front wing when he went too close to the pit wall on his exit but you stayed behind him when you could've passed. And many times you came close to passing him but you pulled back every time. Your race engineer tried to talk to you but you didn't respond."
He froze, scrambled around to supply the adequate information to refute her words and came up blank. Panic cloaked his skin, sank its claws deeper into him.
"Are you saying you don't remember?" she almost whispered, her voice thick with emotion.
Rafael couldn't breathe. "I…no, I don't remember."
How did your character spend the week just before the story starts?
They were Leon, Spain, where Rafael was making Raven's life hell after finally hiring her to be his physiotherapist 🙂
Who would you cast in the role of your characters if your book was optioned for a movie?
On my Pinterest Board, I have Jason Behr and Gina Carano as my character inspiration. I think they'll totally rock together!
What are you currently working on? What other releases so you have planned for 2013 into 2014?
I'm writing the third of my Greek Trilogy about the Pantelides Brothers. The first book – What The Greek's Money Can't Buy comes out in April, followed by What The Greek Can't Resist in June. I have another project which I can't talk about just yet but that should also be released sometime in the summer next year, with the third trilogy sometime after that. So exciting times ahead!
Thanks for blogging at HJ!
Giveaway:

I'm giving away a signed print copy of the 2-in-1 featuring THE PRICE OF SUCCESS and HIS ULTIMATE PRIZE

to a lucky commenter. Good luck everyone.
To enter Giveaway: Please complete the Rafflecopter form and Post a comment to this Q:

Thanks for stopping by. Here's my question for you – Christmas is just around the corner. What special stocking filler do you wish Santa to deliver to you this year, besides books, of course?
Except
The intrusion of light behind her eyelids came with firm, warm lips brushing her jaw.
"Wake up, querida…"
"Hmmm, no…don't want to…"
A soft deep laugh. "Come on, wake up or you'll miss the sunrise."
"Sun…no…" She wanted to stay just as she was, suspended between dream and reality, entranced by the sultry air on her face and hard, firm…aroused male curved around her.
"Open your eyes. I promise you, it's spectacular."
She opened her eyes, simply because she couldn't resist him, and found herself gazing into deep blue eyes. Eyes she'd looked into many times. But still her heart caught like it'd been tugged by a powerful string.
"Buenas dias," Rafael murmured. "Look." He nodded beyond the canopy to the east. She followed his gaze and froze at the sheer beauty of the gathering sunrise. Orange, yellow and blue where the light was fading, it was nature at its most spectacular, and she lay there, enfolded in Rafael's arms, silent and in complete awe as the sun spread its stunning rays across the sky.
"Wow," she whispered.
"Indeed. Does that win me brownie points?" he whispered hotly into her ear.
Turning from the sight, she looked again into mesmerising eyes. And once again she felt her heart stutter in awe.
"It depends what you intend to use the points for."
"To get you to come yachting with me today. My yacht is moored at the Marina. We can take her out for the day."
More alone time with Rafael. Too much…too much…
She should've heeded the screeching voice of caution. But Raven had a feeling she was already too far gone. "I'd love to. On one condition."
He mock frowned. "Condition…my second least favourite word."
"What's your least favourite?"
"No."
She laughed. "That figures. Well, I need to exercise. Then you need to have your session. Then we'll go yachting."
With a quick, hard kiss, he released her and sat back. "You can do your exercise right here on the beach."
She felt heat rise. "While you watch?"
"I'm a harmless audience. Besides, I want to see if this krav maga is worth all the hype."
She bit her lip and hesitated.
"What?" he demanded.
"I…I'm not wearing any knickers, remember?"
His laugh was shameless and filled with predatory anticipation. "Kinky krav maga…sounds even better." He lounged back against the plump pillows, folded golden, muscled arms and waited.
Book Info:
Racing driver Rafael is a devil behind the wheel and in the bedroom until a major crash puts him out of action. Rafael masks his crippling pain the only way he knows how… by seducing his beautiful physio, Raven Blass! Raven is in hell…literally. Resisting Rafael is hard enough without knowing she was responsible for the scars on his sculpted body. Once he discovers the truth, he'll walk away. But will virgin Raven risk a night in Rafael's bed?
Book Links:
Author Bio
Website | Facebook | Twitter |