Today it is my pleasure to Welcome author
Lily Everett
to HJ!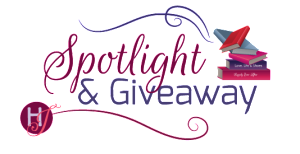 Hi Lily and welcome to HJ! We're so excited to chat with you about your new release, Home for Christmas!

I'm always thrilled to come to one of my favorite romance blogs! Thanks for having me.

Please summarize the book for the readers here: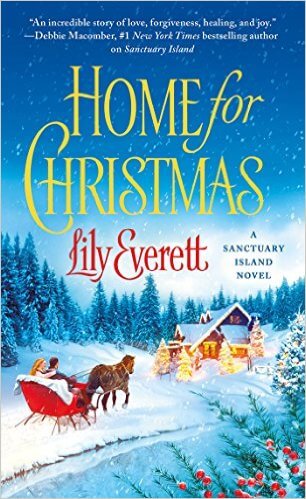 Home for Christmas is an updated modern twist on one of my favorite holiday movies: Christmas in Connecticut. If you love that old, black and white Barbara Stanwyck film, you'll recognize a few things about Libby Leeds and the mess she gets herself into by writing a blog about her imaginary home and husband! When a wounded Army Ranger publicly wishes for the perfect Christmas for his daughter on Sanctuary Island, Libby's boss forces her to go back to the hometown she hasn't seen since she was a child. She has to reconnect with family, pretend to be married to her cousin, and put on a fabulous Christmas feast! Except she can't cook. And the more time she spends with Sgt. Owen Shepard and his motherless daughter, the harder it is for Libby to remember she's supposedly already married. It takes a true Christmas miracle to sort everything out and give these three the loving family they deserve!

Please share the opening lines of this book:
Libby sat with her fingers poised over her laptop keyboard, her deadline looming over her shoulder like a stern, demanding schoolteacher.
'You could excel if you'd work a little harder,' she imagined Mrs. Deadline saying. 'Are you stupid or just lazy, Ms. Leeds? Why don't you apply yourself?'
Please share a few Fun facts about this book…
As I said, Home for Christmas is my take on Christmas in Connecticut. That's why the heroine is named Libby, short for Elizabeth which is the name of the Stanwyck character in the movie.
Readers who enjoyed wise-cracking, stylish Ivy Dawson in Heartbreak Cove will hopefully enjoy getting to see her fall in love in Home for Christmas! She's the star of the subplot romance with Libby's cousin (and fake husband) Nash Tucker.
As you might guess, Libby suffers a number of culinary mishaps in her quest to cook the perfect holiday meal. A few are my own invention, but several of them are borrowed from readers who sent in a ton of hilarious, awful, heartwarming stories about their own past cooking disasters! Huge thanks to every reader who contributed a story, I wish I could have used them all.
If your book was optioned for a movie, what scene would you use for the audition of the main characters and why?
I'd probably choose the very first scene where Owen and Libby meet face to face, because their chemistry would need to be so instantaneous and irresistible. Also, I'd like to see how the actress would handle the way Libby has to keep her secrets, and the way the actor auditioning for Owen would deal with the limitations of his injury.
Here's a snippet from the scene:
Why? Why here, why now, like this? It had to be punishment for living a lie—a punishment she probably deserved, but that didn't make it any easier to look up and meet Sergeant Owen Shepard's amused gaze.

"Don't worry," he told her with a hint of a smile. "It looks worse than it is."

Libby didn't think that was true. From the news reports she'd read, he'd been seriously wounded in the explosion that took out half his team. But the locked-down control he exhibited in every efficient movement as he pulled her carefully to her feet told Libby that he was not a man who wanted or needed coddling.

Which didn't mean she could stop herself from apologizing. "Oh my gosh, I'm so sorry. I feel awful. Your leg . . . it's amazing you're up and about, Sergeant Shepard! They said on the Good Morning Show that you wouldn't be released from the hospital for another couple of weeks. Are you sure you're okay to be out already?"

Until his eyes went cool, she hadn't been aware of how warmly he'd been regarding her. "I'm fine. I heal fast. And believe me, if you were trying to finish me off, you'd have to come at me with something more dangerous than a rolling suitcase."

Libby realized he was still holding her wrist. She felt her cheeks go hot at the same moment he let go and took a hitching step back. "I'm sorry. Should I not have mentioned the Good Morning video? But I recognized you from it. I mean, I saw it."

"You and four million other people," he muttered, jaw clenching before he shook his head. "Don't worry about it, ma'am. Have a safe trip."

Panic clutched at her throat. This whole first meeting hadn't gone at all the way she'd imagined.
"Do you want to sit down? You must be tired. There's an empty seat next to me."

He looked almost as taken aback by her boldness as she was, but he recovered quickly. "I was looking to get out of the wind, but I guess everyone else had the same idea."

The lower deck was full of people in thick coats and hats with earflaps. The two rows of chairs running along the center of the ferry were all taken, as were the two-person tables set by the windows. As Libby glanced around, she noticed that most of them were openly watching her exchange with Sergeant Shepard. Cheeks and ears burning, she ducked her head again. At least they were all undoubtedly looking at him. Handsome and soft-spoken, he nevertheless had a presence that commanded attention. He made you want to lean in to catch every word he said.

"Please," Libby mumbled, gesturing at the table behind her. "It's no trouble. I mean, I'd love to share my table with you. I promise I won't talk about the video—or anything! We can sit in silence if you want. That's probably best."

Making a face at her own rambling, Libby almost missed the slight twist of humor that warmed Owen's face. "Something tells me that might be a problem for you."

"No, it won't!" Libby tried to project earnestness. "I promise. I spend most of my time not talking to people. I'm great at not talking to people. Sorry."

Owen laughed. He actually laughed, rusty but appreciative, and Libby felt her insides melt like marshmallows in a cup of hot cocoa.

"What if I want to hear you talk?"
What do you want people to take away from reading this book?
I hope it gets readers in the mood for the holidays, festive and warm and maybe a little sentimental. If this book reminds people to be thankful for their families and friends, and for all the love in their lives, I'll be very happy.
What are you currently working on? What other releases do you have planned for 2015?
This is it for me in 2015! 2016 is going to be exciting, though. I've got a collection of three novellas that were previously only available digitally going into paperback. That's Three Promises (including the three Billionaire Bachelors stories plus a brand new epilogue) and it'll be out in February. Then in the summer, I'm hoping to introduce a whole bunch of new readers to the Sanctuary Island series with reissues of the first three books in the series! They'll have brand new covers and a brand new low price, so I'm looking forward to seeing them on book shelves everywhere.

Thanks for blogging at HJ!
Giveaway:

A signed copy of Heartbreak Cove, the book that introduces Sgt. Owen Shepard, and a custom Sanctuary Island tote bag! US Only.
To enter Giveaway: Please complete the Rafflecopter form and Post a comment to this Q:

What's your favorite holiday movie and why?
Excerpt from Home for Christmas:
Here's a bit from a later chapter, after Owen has finally met the daughter he only recently learned existed. They're at Sanctuary Island's Christmas Village, a town-wide festival to benefit the wild horse sanctuary.
Libby followed the signs for the Nativity, hoping she'd find one of the vendors she passed in adorably decorated stalls selling local hand-crafted goods. There were people dressed as Santa's helpers selling everything from embroidered tree ornaments to homemade marshmallows, but when she finally found the Nativity stall tucked away at the far end of the town square, it was . . . an actual stall. Like, a barn stall with live animals, all gathered around an empty manger. A low wooden fence encircled the enclosure.

Instead of porcelain figurines of sheep and camels, there were actual sheep munching patiently on the hay littering the floor of the stall. A bored-looking llama smacked its lips in the shadows behind the unlit manger.

Libby blinked. She didn't remember a goat—not to mention a llama–in the original nativity story, but tethered to the manger stood a black-and-white spotted goat with only three legs.

"Looks like we're a little early. Or everyone else is late."

The deep voice from behind her should have made Libby jump in startlement, but her body recognized Owen Shepard's rough rasp before her mind did. Whirling around, she realized there was no one else nearby. "Hello again," she stammered, cheeks heating even in the cold night air.

Owen smiled, but it didn't reach his eyes and faded fast, leaving him looking troubled. He checked his watch, and, afraid he might be about to make his excuses and run off, Libby blurted,
"I thought they might be selling nativity sets. I didn't realize they'd set up a live one."

"Apparently it's also a petting zoo. My sister's boyfriend, Sam, is working with the local veterinarian to pull it off. They told me to meet them here, but I guess they're running behind."

"A petting zoo," Libby repeated, charmed. "What a great idea."

"I guess the kids are putting on a little pageant too," Owen told her. "My daughter is in it, supposedly. So it's good we're early, we should have the best seats in the house. I don't want to miss any more than I already have."

Heart clenching, Libby searched his shadowed face. She didn't want to pry, but curiosity and concern pricked at her more sharply than the frosty breeze off the nearby ocean. "What part is your daughter playing in the pageant?"

Owen blew out a breath and scrubbed one big hand over his face. Libby could hear the rasp of his leather glove against his stubbled jaw. "I don't know. She wouldn't even talk to me. Not that I blame her."

Libby's chest hurt at the resignation and pain in Owen's tone. "Give her time. I'm sure she'll come around."

"I've got until this leg heals and I can convince the army to take me back." Owen stared off into the darkness beyond the lights of the Holiday Village. "I don't know if that's enough time to make up for nine years of abandonment."

"Probably not," Libby said without thinking, "if you're planning to abandon her all over again as soon as you're fit for duty."

"I have to go back," he grated out. "My men depend on me. And it's not only that—we started something over there. We need to see it through."

Filled with remorse for her knee-jerk response, Libby put an impulsive hand on Owen's arm, feeling the flex of muscle beneath the layers of clothing. "I get that. And I can't begin to understand what it must be like for you, torn between family and duty. I don't know what choice I'd make, in your shoes. Well, actually, I do—I never would've had the guts to join the army in the first place, so that would eliminate that option."

"I don't buy that." Owen pinned her with an intense stare that felt as if it stripped away every secret Libby had. "You're stronger than you know. And courage comes in many forms. For instance, you were brave enough to take the plunge and get married. That's something I've never had the guts to do."

Libby's stomach twisted, but Owen's eyes were so serious and intent, studying her as if he knew there was more to the story of her "marriage." Trying not to squirm, she waved a vague hand in the air and peered down at the toes of her boots. "Oh, you know. Marriage isn't so bad."

She could practically feel Owen's interest sharpening, but at that moment the lights began to buzz, warming up and illuminating the quiet manger scene. Townspeople and visitors began to drift toward them, filling in the gaps around the fenced enclosure as a hush fell over the audience.

The crush of people pressed her close to Owen, and when someone on her other side jostled against her shoulder, Owen wrapped his free arm around her back and pulled her into the shelter of his large frame.
Excerpt. © Reprinted by permission. All rights reserved.

Book Info:
Celebrate Christmas on Sanctuary Island, where the love light gleams. There will be snow and mistletoe…and two lonely hearts yearning for love, family, and above all, home.
Magazine columnist Libby Leeds has made a name for herself sharing heartwarming stories from her perfect life on Sanctuary Island. There's just one minor detail she's left out: she hasn't set foot on the island since her childhood. Orphaned and heartbroken, she departed years ago and never looked back-except in her fictional columns. Now a wounded war hero is returning to Sanctuary Island, and Libby's editor insists she cover the story by taking the long road back…
Army Ranger Owen Shepard is a tall, handsome single father, and now a media sensation. He wants to reconnect with his daughter, Caitlin, and make up for lost time by giving her a Christmas to remember. When "America's Favorite Homemaker" Libby Leeds offers her help, he jumps at the chance. But the sweet, reclusive writer is more intriguing, and more tempting, than Owen could have imagined. Soon, Owen and Caitlin are spending their holiday with Libby, decorating trees, making gingerbread houses, and warming up by the fire. It's the closest Libby has come to love and family since she was a child-but until she and Owen admit what is in their hearts, the home they are creating together will be only in their dreams.
Book Links:

Meet the Author: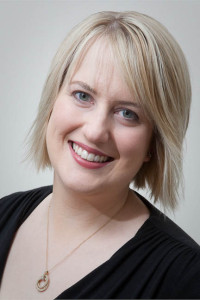 Lily Everett grew up in a small town in central Virginia, in the foothills of the Blue Ridge Mountains. Although she's lived many other places since, from college in Philadelphia to her first publishing job in New York City and her current home in Austin, Texas, she never forgot the beauty and warmth of her little hometown. She is thrilled to be writing the Sanctuary Island series full time because it allows her to combine her longstanding love of romance with the memories of her childhood home.
Lily's alter ego is Louisa Edwards. Under that name, she is the author of the Recipe for Love series, sexy contemporary romances with hot chef heroes set in the high-stakes, fast-paced world of professional restaurants.
She currently lives in Austin, TX with her husband and two terrible terriers.
Website | Facebook | Twitter |