Today it is my pleasure to Welcome romance author

Terri Reed

 to HJ!

Hi Terri and welcome to HJ! We're so excited to chat with you about your new release, Home for Good!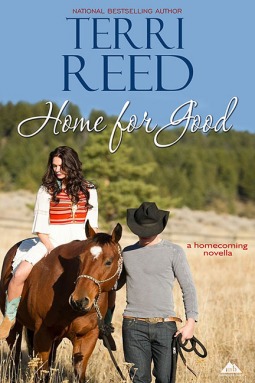 After making a deathbed promise to her father, Joelle Winslow is ready to seize the NYC business opportunity to take her jewelry designs global. All she needs to do is cash out her inherited half of the family ranch in Montana—which means convincing her childhood rival, and now co-heir, to sell or buy her out. Sparks fly when Matt, no longer a gangly, solemn teenager, but a tall, handsome cowboy with work-hewn muscles, is unwilling to give up on the legacy he's worked so hard to keep without a fight. And part of his bargain includes Joelle staying at the ranch with him through Homecoming Weekend.
The son her father never had…
The Winslow ranch rescued Matt Locke from a life in the foster-care system. As an orphan boy adopted by Clark Winslow and groomed to take over the ranch, he wants nothing more than to marry, raise a family, and continue the legacy of the man who became a father to him after his parents' tragic deaths. Matt can't imagine a life anywhere else, and he definitely can't afford to buy Joelle out. Can he convince the dark haired beauty to not walk out on him and her home a second time?
Fun Facts about Home for Good:
· My heroine makes fun jewelry out of silver and gems/glass beads.
· She rides a horse named Star.
· She a plays a mean game of billiards.
Excerpt:
"I want to sell the ranch."
Matt's chest constricted so tight, he thought he might suffer a heart attack. The horse beneath him shifted as if sensing his upset.
Sell? Joelle wanted to sell the ranch? What would he have if they sold? Nothing. And he'd have no one. Pain knifed through him. Pain mixed with anger. His fist tightened on the smooth-edged pummel of his saddle.
Now her impromptu visit made sense. She had an agenda. One that would rip the rug out from under him and everyone else who called the ranch home.
He clamped his teeth together to keep from saying something he might regret. He needed a moment to gather his thoughts as Clark had taught him.
Never react until you take a moment to think, he'd say.
Taking a deep breath, Matt surveyed the home he'd come to love since arriving seventeen years ago. The land of rolling hills, wide-open spaces, and the buildings that held treasured memories. The only place he'd felt like he belonged since a drunk driver killed his parents.
Three months after that fateful, tragic night, Clark Winslow showed up at the fourth foster care home and whisked twelve-year-old Matt away to live with him on his ranch. Clark and Matt's dad had been best pals as kids and Clark had fought the courts to gain custody of his best friend's orphaned son.
To Matt, who'd spent the first twelve years of his life in Montana's largest city of Billings, the ranch was an adventure. And a healing place for a traumatized kid whose whole world had been turned upside down in the blink of an eye.
Clark had taken Matt under his wing, helped him to process his parents death, to come to terms with the anger and unfairness of life. Learning from Clark all there was to know about breeding and rehabilitating horses had given Matt purpose, focus. He'd devoted every moment to the ranch since the day he'd stepped on to the property. He had grown to love Clark like a second father. And had mourned Clark's death eight months ago.
For the second time in his life, Matt had buried a parent.
And now Clark's only daughter wanted to destroy his legacy.
One last slap in the face for the man who'd provided for her, loved her and cherished her, despite her wild and unruly ways. As her father's right hand man, Matt knew the relationship between father and daughter had been a difficult one. Sometimes down right testy. He wouldn't let her sell the ranch. He couldn't.
Matt slid his gaze to the beautiful woman sitting on the back of the big roan, a horse nearly as unruly and wild as the rider. He didn't want to, but he couldn't ignore the fact she'd grown into a beauty that had only been hinted at during her gangly teen years. She'd filled out in all the right places and her face was fuller, softer. Dark lashes trimmed her pretty blue eyes and a rosy hue from the cool air brightened her cheeks. Her thick dark hair hung loose down her back and shone in the bright morning sun.
She watched him with a wary and expectant look, which made his stomach burn.
Joelle had been a burr under Matt's saddle since the moment they'd met.
Four months after Matt came to live on the ranch, this little girl with long dark pigtails, arrived in a blur of pink bows and ribbons.
Clark's ex-wife had sent Joelle back to live with him. For good.
And Joelle had not taken kindly to finding an intruder in her home. Matt didn't need a degree in psychology to know she viewed him as competition for her father's affection. At first, she'd followed Matt around like a lost puppy. He couldn't go anywhere or do anything without her tagging along, getting in the way. His shadow, he'd call her. She'd done everything she could to make Matt's life miserable. No doubt in the hope he'd go away.
He'd learned quickly to stay out of her way. To engage as little as possible and to turn the other cheek as the Good Book advised. Which, on occasion, had been difficult. Especially when she messed with his things or told potential dates he had a disease.
He couldn't say he'd been sorry to see her go off to college. Life on the ranch had settled into a calm and peaceful place. Her infrequent visits, though welcome by everyone on the ranch, caused a whirlwind of chaos.
"I'm sorry to spring this on you so sudden, but this opportunity came up so quickly and I need to move on it," she said.
"This is a big decision, Joelle," he managed to reply in a relatively civil tone. 
"One that can't be made lightly."
"I know that."
Her tight tone was tinged with something else. Desperation? What did she
have to feel desperate about? Joelle always succeeded at everything she attempted. She was smart and talented.
"It is a big decision," she went on. "My decision. I'm doing what I promised
Dad I would."
No way would Clark have told her to sell. "And what exactly is that?"
"Follow my dream. He made me promise before…" She looked away, blinking
rapidly.
A piercing ache throbbed in Matt's chest. He rubbed a hand over his jaw.
Joelle had been the last one to talk to Clark before his heart gave out. In some ways, Matt suspected Clark had hung on to life long enough to see her before passing on. Matt had a hard time believing Clark had meant for her to sell her half of the ranch to fulfill her dreams.
"I'm only telling you first as a courtesy," Joelle pressed, having regain her
composure. "I could have gone straight to Dad's lawyer."
He arched a brow and held onto his temper with both reins. "We'll need to talk to Ren Fletcher. Find out the exact terms of your father's will."
Matt had been honored and humbled to find out he'd been gifted with half of the estate. Never in his imagining had he considered Joelle wouldn't want the ranch. Or rather that she would want to take her half their inheritance out in cash.
"You could buy me out," she said. "Then nothing changes. "
Like he had that kind of money on hand. Not.
"You'll own everything and I can buy into my new business. My new life. Please, don't fight me on this. Promise, you won't fight me."
Her words hurt like the sharp tips of a dart. He didn't understand her. Why would anyone want to live anywhere else except here if they could? This was their home. One day she might want to come back. He had to preserve Clark's legacy. He'd also promised Clark he'd watch out for Joelle. Make sure she never wanted for anything. Clark had loved his daughter, he just hadn't known how to relate to her.
"I can't make you that promise." He nudged Amber and started her walking back to the stables. Behind him he knew Joelle and Star followed.
After settling Amber back in her paddock, Matt stalked to the house, stripped off his boots and went to Clark's office, now Matt's domain. He sat in the large captains chair behind the mahogany desk and grabbed the landline phone to dial Clark's lawyer, Ren Fletcher.
Fifteen minutes later, Matt hung up. With a heavy heart, he ran his fingers through his hair. According to Ren the law would stand behind Joelle if she insisted on selling. She'd need to file a property partition with the courts and the court would then require the estate to be sold and the proceeds divided. Unless Matt could buy out her interest or talk her out of selling. The latter wouldn't be easy, but he didn't have the kind of money necessary to buy her share.
"Was that Ren?"
Matt jerked his gaze to where Joelle hovered inside the office door. She'd shed her barn coat and boots. She'd plaited her hair into two braids. For a moment he was transported back to their youth. Sadness whispered through him.
How many times had she entered the office while Matt and Clark sat at the desk, Clark teaching Matt the ins and outs of running the ranch's books? Matt would look up to see Joelle hovering, witness the wistful look on her face until she realized he was watching her. Then her eyes would darken and her chin would jut out. She would stomp in demanding something or other. A new doll, a new dress and new car. Anything to make Clark take notice of her.
But Clark was gone now. And Joelle was ready to leave the ranch behind for good. Matt couldn't let that happen. For better or worse, this was her home. His home. He nodded.
"What did he say?" she asked.
"We have a meeting with him in two hours."
Her eyebrows twitched. "Okay. I need to shower and change. I'll meet you there."
"We can ride together."
"I'll be leaving straight from there for Bozeman. My flight leaves at six p.m."
So typical of Joelle. Drop a bomb then flee. "This isn't going to be resolved in one afternoon. Ren said the first step is to have the property appraised."
"How long will that take?"
"Days, weeks." He shrugged. "I don't know. Then you'll have to file something called a partition lawsuit."
Her eyes widened. "A lawsuit? Come on, can't we handle this between the two of us like rational adults."
He pressed his lips together to keep from smiling. Rational and adult were two words he wouldn't normally use when describing her. Some part of him knew that wasn't fair. She'd grown up. She was a college graduate with a degree and a career. "How much money do you need to invest into this business and by when?"
"Five hundred thousand up front by next Tuesday or they'll look for another investor." Her blue eyes bore into him. "I want this, Matt. You of all people should understand the importance of honoring the promise I made to my dad."
"I do understand." Clark had been the kind of man that inspired loyalty. Matt was glad to know Joelle felt some sense of allegiance to her father. But was selling the ranch the only way? "We could pull that much out of the equity."
Her unwavering stare sent unease creeping down his spine. He had a feeling that wasn't a solution she agreed with.
"I want to sell my half interest."
His throat closed. The knife in his chest twisted. He swallowed several times before he managed to speak. "Why? This is your home. One day you may want to return for good."
She shook her head, her chin jutting up in that stubborn way he remember all too well.
Irritation itched through him like a burlap sack sliding across his skin. "You're not thinking clearly. Obviously, you're still grieving. You need more time."
"Don't patronize me." Her gaze narrowed. "I don't need more time. I'll contact a real estate agent and see about an appraisal. In the meantime, I'll take the money from the equity. I'm sure Ren can make that happen."
He scrambled for a reason to keep her here so he'd have time to convince her not to sell. "It's Homecoming week. The Marietta Grizzlies have been on a winning streak. We have a really good chance of winning the big game against Livingston on Friday. This would be a good opportunity for you to see your friends in person. I know Andie McGregor was sad you didn't make it home for her wedding in August."
Indecision warred in her eyes. Her bottom teeth tugged on her lip. The zing of desire rippled through his system, catching him off-guard. His pulse skittered. His mouth went dry.
Whoa! No. So inappropriate. This was Joelle. Clark's daughter. No way would Matt disrespect Clark's memory by being attracted to Joelle. He wasn't even sure he liked her.
His gaze lifted to meet her eyes. The arrested, questioning look on her face sent heat climbing up his neck. No way could she tell what he'd been thinking. Could she? "The alumni dinner is on Saturday."
She blew out a breath. "I'll give you until Monday to come up with an alternate plan. Otherwise, I'm filing the lawsuit."
"Does that mean you'll stick around?"
After a hair's breadth of hesitation, she nodded and then fled.
Matt dropped back into the chair. Great. Unless a miracle happened and he came into a windfall, he had five days to convince Joelle she was making a mistake by selling.
GIVEAWAY: 

An e-copy  of Home for Good + $5 Starbucks GC. 
To enter Giveaway: Please complete the Rafflecopter form and Post a comment to this Q:

We all had dreams at eighteen when we were young and viewed the world as our oyster. Have yours come true? Or how have your dreams changed?
Meet the Author: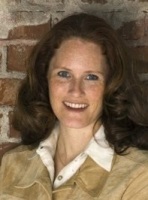 At an early age Terri Reed discovered the wonderful world of fiction and declared she would one day write a book. Now she is fulfilling that dream and enjoys writing for Harlequin's Love Inspired lines. She is an active member of both Romance Writers of America and American Christian Fiction Writers. She resides in the Pacific Northwest with her college-sweetheart husband, two wonderful children, and an array of critters. When not writing, she enjoys spending time with her family and friends, gardening and playing with her dogs.