Today it is my pleasure to spotlight the release of 
HOTBLOODED

by Donna Grant!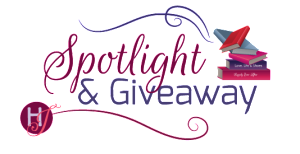 Laith was powerless not to respond.
Their eyes met again, held. He felt an uncontrollable, undeniable pull to this woman and he fought against it.  Hard. It was more than just lust. This…feeling…was on another plane all together…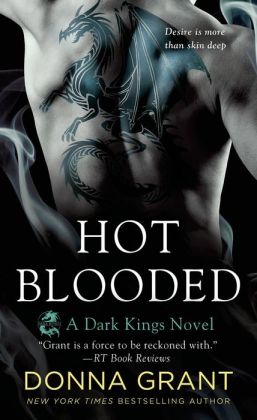 DARKNESS AND SECRETS SURROUND HIM
His name is Laith. To most, he's known as the owner of a local pub near Dreagan. But little do his patrons know that beneath his handsome, charming exterior Laith has the heart and soul of a Dragon King—one who wields control by keeping his friends close and his enemies closer. Until a beautiful, mysterious stranger enters the picture, and sets his whole world on fire…
SHE IS HIS SALVATION
To learn the truth about her dead father, Iona has returned to Scotland only to learn that she's part of an ancient pact with Dreagan—one that will threaten the fragile peace with the Dragon Kings. Gorgeous, sly Iona isn't like anyone Laith has ever met before…and she harbors a secret that others would kill to possess. Will she complete him—or destroy him? Passion always comes with a price…in Hot Blooded by Donna Grant.
Excerpt:
Laith set Keith's ale in front of him and caught a glimpse of someone out of the corner of his eye. He turned with a smile, ready to pour them a drink, and then stopped cold. Iona Campbell had walked into his pub.
He knew her by her picture, but the photo was nothing compared to the woman in the flesh. Her lips, wide and tempting, were quirked in a half-smile, giving her an air of mystery. Her shoulder-length, wavy blond hair was windblown, as if she had been walking among the heather.
She had an air of independence about her that was . . . enticing. She was tall and slender, her white shirt just tight enough to cling to her breasts. There was a smudge of dirt on her elbow as if she had been lying upon the ground recently.
His gaze returned to her face as she claimed a stool at the bar. She tucked her hair behind an ear, her coffee-colored eyes directed at him. Her skin held a golden glow, denoting that she was often in the sun.
Laith took a step closer, noting the sprinkle of freckles over her nose. "Welcome to The Fox and The Hound. What can I get you?"
"Your best ale," she said, her lips curving into a deeper smile.
Laith was powerless not to respond. He returned her smile and turned to get her ale. Surely it was a trick of the light or something to cause him to react as if she were the first female he'd seen in a millennia. Once he looked at her again, he would see she was like every other female who walked into his pub.
He finished filling the glass and hesitated for a moment. Laith twisted to the newcomer, and was hit once again by her earthy appeal. If someone asked him, he would call her a child of the forests.
Her smile fell a bit as he stared. Laith shook himself and set the ale in front of her. Their eyes met again, held. He felt an uncontrollable, undeniable pull to this woman and he fought against it. Hard. It was more than just lust. This . . . feeling . . . was on another plane altogether.
Nay.
He didn't want to feel anything for Iona. If he did, he might be tempted to be the one to show her the magic of Dreagan and what she guarded.
Bloody hell.
"Thank you," she said and reached for the ale.
Their fingers touched briefly, but that was all it took for a current of pure, utter desire to heat his blood. She jerked her hand away, proving she felt it as well. Her eyes darted to the left before skating back to him.
Laith wasn't sure if he wanted to scream in fury for fate calling his bluff, or jump over the bar and claim Iona's mouth in a kiss hot enough to set the pub aflame.
Whether or not he played a role in Iona's future, he had a part to play right then. "I have no' seen you in here before. Are you a tourist taking a stop in our beautiful village?"
She took a sip of the ale when he released the glass. "I was born here, though I've been away a few years."
"You must be Iona Campbell. My condolences about your father. I liked John a lot."
"It seems everyone did," she murmured with a hint of confusion.
Laith wanted to walk away and cut whatever ties might begin, and yet he found himself asking, "Do you intend to remain in town long?"
"Actually, no. Once everything is taken care of, I'll be back to work."
"And where is that?" Laith couldn't begin to understand why he kept asking questions. He told himself it was information for everyone at Dreagan, but in reality, he was more than curious about her.
Damn, damn, damn.
She laughed softly, the sound shooting straight to his cock. He glanced around and noted that he wasn't the only one who couldn't take their eyes from her. The rest of the patrons were staring with interest.
"I'm a photojournalist. I travel the world taking photos of people and events."
"I'm impressed." And he truly was. It couldn't be an easy life, but she obviously loved what she did. "The arts run in your family."
It was the wrong thing to say because a small frown formed on her brow and the smile disappeared. She ran her fingers along the condensation of the glass. "I guess it does."
Laith gave a nod and reluctantly returned to his other customers. Several times he caught her staring at him through the mirrors behind the bar. No matter how much he tried not to look her way, he found himself doing it again and again.
A little later he saw her with a camera as she scrolled through photos. Somehow he managed to keep his distance until her ale was almost finished.
"Would you like another?" he asked.
She glanced up and grinned. "Please."
He poured her another ale and placed it before her. Just as he turned to leave, she caught his eye. "Aye?"
"How well did you know my father?"
Laith shrugged and leaned his hands on the bar. "Pretty well. He came in three times a week every week. There was a small group of men he was with, though occasionally he would be by himself."
"I'm having a bit of trouble reconciling who I thought my father was with who he really was."
Laith couldn't imagine being in her shoes. By the pain she couldn't quite hide in her dark eyes, he found himself wanting to give her comfort. The kind of comfort he'd seen Kellan give Denae.
No' good news at all. I'm getting in over my head.
Why then didn't he leave?
If only he could answer his own question.
"Your father spoke of you often."
A slight blush stained her cheeks. "You mean you knew I was a photographer?"
"Aye. Everyone does. John showed us your work often. You're verra good."
She took another long swallow of the dark ale. "You seem to know a lot about me, and yet I don't even know your name."
"It's Laith."
"Laith," she repeated, letting it fall slowly from her lips, almost like a caress.
He was instantly, painfully hard.
It's your last chance. Run. Run now.
"An unusual name," she said.
"It's a family name."
Her brows rose. "Do you have family around here?"
"No' for a long time."
"I'm sorry." She turned her glass around. "Can I ask you something?"
He gave a nod. "Of course."
"This pub borders Dreagan. What do you know of them?"
Laith was completely taken aback by her question. He thought she might ask something about her father, but not about Dreagan this soon. Could she already know? Could John have told her?
"They distill the best whisky around, and they're good to the people."
"And my father knew them?"
"He did. John knew everyone."
She worried her bottom lip with her teeth. "It's odd, isn't it? To think you know someone, only to learn everything you believed was wrong. Scotland isn't my home. Hasn't been for twenty years, but I don't want to stay here."
"You doona find it beautiful?"
Iona smiled. "I took plenty of pictures today to prove that I do, but I don't have time to take care of land."
"You inherited your father's land," he said, putting enough inflection in his tone so that she might believe he just guessed it.
"I did. I want to sell it, but it appears that I can't."
The door to the pub opened and Sammi walked in, her powder blue eyes crinkled from her smile and her sandy-colored hair pulled back in a ponytail. "Hey, Laith."
"Hey, Sammi," he called.
She came around the bar and put her purse beneath it, and then flashed a smile to Iona. "Hello there. You must be who everyone is talking about."
"That's me," Iona said ruefully with a lift of the ale.
Sammi stuck out her hand. "I'm Sammi. I work with Laith."
"Nice to meet you," Iona said as they shook hands.
"Same to you. We should have a dr—" Sammi began, but was cut off when the door opened again. "Hang on," Sammi said and rushed around the bar to Tristan, who grabbed her against him for a quick kiss.
Iona watched the scene before she turned her head to Laith. "Who is that?"
"That's Sammi's husband, Tristan, who just happens to be a part of Dreagan." It was the perfect opportunity for him to push Iona onto someone else, but as soon as the words were out of his mouth, he wanted to take them back.
Iona watched the pair carefully. "They seem to really care for each other."
"They genuinely do," he said, unable to keep from frowning at her choice of words.
She turned back to him. "I'm usually on my own. I sometimes forget that I say things out loud that I should keep to myself."
"Doona worry about that here." He spotted Sammi bringing over Ryder and Tristan so nodded in their direction. "You're about to meet more people."
Iona sat up straight and swiveled on the stool to face the three.
"Iona," Sammi said. "This is my husband, Tristan, and our friend Ryder."
Iona wore a friendly smile as she greeted them. "Hello."
Tristan bowed his head, but Ryder took her hand and gave her a charming smile. Laith didn't like the way she blushed in return. He took a step back. He should be grateful, relieved even that another King had taken an interest in her. That meant Laith was off the hook. He didn't want to look after Iona.
Did he?
"I was just telling Iona that she and I needed to get a drink sometime." Sammi turned back to Iona. "I used to be on my own, and then I met Tristan. Now, I can't seem to have enough friends."
"You got me, love. Is that no' enough?" Tristan asked Sammi with a wink.
Sammi pulled on his long brown hair. "You know it is."
Tristan yanked her against him. "When do you get off work?"
"No' until closing," Laith said with a chuckle. "You'll have to wait to have some alone time with your wife."
Ryder sat on the stool next to Iona. "Have you been to Dreagan yet?"
"No," she said and glanced at Laith. "I did meet Constantine however."
Laith tossed aside his towel. "At the funeral."
"We wanted to speak to you," Ryder said. "But Con asked us no' to overwhelm you."
Iona frowned. "I'm sorry. There were so many people there that I don't remember many of them."
"No one blames you," Sammie said. She put a comforting hand on Iona's arm. "It's probably better that only Con approached you instead of a slew of men from Dreagan."
Laith watched Iona fidget under her embarrassment before she asked, "What do each of you do at Dreagan?"
"Many things," Tristan answered.
Ryder raised a blond brow. "We doona just make whisky, lass. We run thousands of sheep and cattle."
"I had no idea," Iona said, a hint of awe on her voice.
"Most of the land Dreagan uses for conservation," Tristan added. "The forests, the mountains, and such are all protected natural habitats."
Her eyes widened a fraction. "Really? That's nice to hear. I've run into plenty of people who could care less about conserving nature."
"No' everyone is a bad person," Laith said. Though there were more of them out there than she could guess.
Her coffee-colored eyes softened as they shifted to him. "No, they aren't."
Thanks for blogging at HJ!
Giveaway:

2 Print copies of HOTBLOODED
To enter Giveaway: Please complete the Rafflecopter form and Post a comment to this Q: 

Please leave a comment for author Donna Grant with your thoughts on HOTBLOODED!
Meet the Author: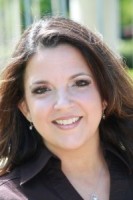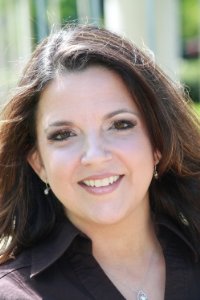 New York Times and USA Today bestselling author Donna Grant has been praised for her "totally addictive" and "unique and sensual" stories. She's the author of more than twenty novels spanning multiple genres of romance. Her latest acclaimed series, Dark Warriors, features a thrilling combination of Druids, primeval gods, and immortal Highlanders who are dark, dangerous, and irresistible. She lives with her husband, two children, a dog, and three cats in Texas.
Visit Donna at www.DonnaGrant.com
Follow her on Twitter @donna_grant
And on Facebook at https://www.facebook.com/AuthorDonnaGrant
Contact Donna at donna@donnagrant.com