Today it is my pleasure to welcome back Harlequin romance author

Louisa George

to HJ!
Hi Sara! Thanks so much for having me back here again!
Greetings to you from cold and wintry New Zealand!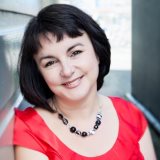 When my editor asked me to write book 2 of a duet with one of my best writing pals and fellow kiwi author, Sue Mackay, I couldn't wait to get started! The Infamous Maitland Brothers Duet was the result of a lot of long-distance phone-calls, some late night in-conference brainstorming and a good few laughs. How To Resist A Heartbreaker follows on from The Gift Of A Child, by Sue Mackay.
How to Resist A Heartbreaker
Summary: Nurse Gabby Radley knows exactly who sexy Mr Max Maitland is- hot-shot surgeon with no strings attached. So attempting to balance a fling, working together and Gabby's runaway past equals a relationship with a seriously complicated health warning! Giving in to their sizzling chemistry is one thing, but trusting him with her heart is a different story…
BUY LINKS: Amazon | Harlequin |
My top 5 favourite scenes:
1. I always love the first meet between two people desperate NOT to fall in love. Sassy Gabby is trying hard not to be taken in by Max's charm.
She rolled her eyes. 'Next time I need some advice from the fun police I'll know who to call.'
'And I'll make sure I'm right there in my superhero outfit.'
'I so did not need an image of you with your undies over your trousers.' She shrugged, stifling a laugh, trying hard not to look at the way those jeans hugged his long legs. His perfect backside. Fascinating.
'It's the twenty first century, we don't do outfits like that anymore. I'll let you into a secret-' He finished his beer. 'We transform.'
She mustered indifference, holding the laugh back. 'I'm only interested if you can transform me another mojito.'
2. The first kiss is always special too… but when Gabby and Max meet she rates him on not just his chat-up line…
Eventually he pulled away, his breathing ragged. 'Okay, Gabby.' Still keen to play games with her. Good. She wanted to play. 'You want to rate me now?'
She pretended to think for a moment, pressed her lips together- relishing the unfamiliar stinging sensation from his kiss. 'Nine.'
'Nine?'
She bit her bottom lip and leaned closer to his ear. Breathed in the scent that had started to drive her wild. 'Okay, nine-point-five.'
'Really? And I lost half a point for what exactly?'
'It didn't last anywhere near long enough.'
3. When Gabby realizes she's losing her heart to the one person who wouldn't treasure it…
As she got dressed to the tune of his laughter bubbling through from the lounge a hot sting burnt at the back of her eyes. A love life was something she hadn't allowed herself to think of for ten years. Ten years. Paying a penance for a mistake she would never repeat. And never truly recover from. So this was so not the time to discover she wanted the whole damned package and more. And with Mr I'm Sexy, who wouldn't know commitment if it walloped him in that too damned pretty face. Not a chance.
He was still talking as she disappeared once again from his apartment when he wasn't looking. Hitting the city street she hauled fresh air into her lungs.
And renewed her determination to never again lose control of her life and her heart.
4.
I love a strong hero- and Max is just that when Gabby is taken ill… (This is a medical romance after all)
Picking her up he stalked over the sand and across the road to his parked car. Edged her gently on to the back seat, and made sure to keep her legs raised to stimulate oxygen flow back to her brain.
That was when he noticed the blood.
God. No. What the hell…?
In all his years as a surgeon he'd never felt panic. Even when working on his nephew he'd had faith in his own capabilities. But right now as adrenalin surged through him his heart-rate rocketed and he wanted her fixed. Immediately.
Thrusting the car into heavy traffic he cursed loudly. Then he put his foot down.
Running the length of the hospital carpark barefoot, fuelled by a feral need to save her, he finally got her to the emergency department. Faster than an ambulance could have made it. And he'd managed to keep some kind of observation going through the rear view mirror. Resps: too fast. Pain: severe. She'd flicked in and out of consciousness.
He tried to keep his heart out of it. But man, he couldn't. Couldn't reconcile the vivacious woman he knew to the damaged body in his arms. He would never leave her side again. Never.
5. And what's better than the big black moment?
He felt the sudden stab in his heart too. Truth was, it all hurt much more than he cared to admit.
She stopped short in front of him, huge furious eyes boring in to his soul. 'We didn't have a relationship, Max. To be honest we don't know how. We're both too damned scared.'
Although he was tempted to fling everything he had at her he would never tell her how much he had grown to like her. To love her. And how much her story mingled with his hurt and made everything sour.
She shook her head, her eyes glistening with unshed tears. Damn near broke his heart. But he couldn't touch her now, not after this.
'I don't know if I'd ever have told you. I wanted to, I didn't know how. Seems I was right, just look at your reaction.'
'Did you ever trust me?'
She blinked, then turned away. 'I don't know that either.'
'Did you even try?'
'I don't-'
'You don't know. You don't know. Yeah, I get it.' He huffed out an angry breath. 'Seems to me you don't know a great deal, Gabby. Except, of course, about hiding the truth.'
Giveaway:

A signed copy of How To Resist A Heartbreaker 
To enter Giveaway: Please complete the Rafflecopter form and post a comment to this Q:
When we first meet Gabby she's drinking mojito cocktails- which I first tried last year at the Romance Writers of America conference in sunny Anaheim. When I think of those lovely drinks I immediately think of summer and good times. What drink reminds you of summer and why?