Today, HJ is pleased to share with you Christy English new release:

How to Wed a Warrior

Christy's Favorite Scene from HOW TO WED A WARRIOR: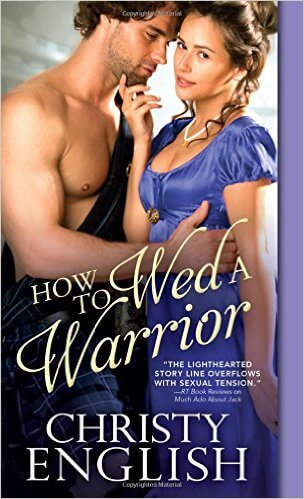 In my Broadswords and Ballrooms series, Alexander and Robert Waters bring their wild sister Mary Elizabeth down to London to marry her off, because she has frightened away all the eligible men in Edinburgh.

In order to help with this endeavor, in HOW TO WED A WARRIOR, Robbie Waters hires a lady to teach Mary Elizabeth how to fit in with the demure English social scene. Needless to say, this plan does not quite come off, but it is fun to watch it fall apart.

One of my favorite scenes is when Robbie and Pru meet, just after Mary Elizabeth has drawn a sword on Lord Grathton in the middle of Hyde Park. Pru saves Mary from herself, and barely gives Robbie a second glance. She does not blink an eye at the fact that Robbie is a tall, hot and an auburn-haired Scot. Instead of flirting with him as all other women do, Pru orders him around and he loves it. These moments begin Robbie's fascination for Prudence Whittaker, and he has the entire book to wear her down, and make her fall in love with him.

This scene also shows us Robbie's close and humorous relationship with his little sister, Mary Elizabeth, and exactly how little Mary cares for what the English ton thinks of her.
Why on God's blessed green earth Robert Waters had chosen to listen to a single word the slip of a woman said, he did not know. But not only that, he found himself obeying her as she ordered him around as if he were her bootblack. Perhaps it was the blue of her eyes that did it, an indigo that was a sea for a man to drown in.
No, not that. Robbie didn't care a fig for a woman's eyes.
Perhaps it was her neat, curved figure, currently swathed in an abundance of hideous gray worsted wool and pale cream lace. He never noticed a woman's clothes, but these were just ugly enough to repulse him, had they not contained the soft breasts and rounded behind of a woman of quality. How he knew she was quality, he could not say. Perhaps it was the snap in her eyes that had joined the snap in her voice when she spoke to him.
Whatever the reason, he'd found himself standing back and allowing her to rescue his sister from herself in the middle of Hyde Park, in the middle of the fashionable hour.
When he found his tongue again, Robert did not ask the name of the lady who now sat so primly beside him, for he was not at all sure that she would relinquish it. Instead, he used his reclaimed voice to browbeat his sister.
"Mary Elizabeth, for the love of God, the English are going to burn us out! You benighted fool, how could you draw a blade on an Englishman in the middle of a London park in broad daylight? And not just an Englishman, but one of their lairds? Christ wept, Mary, you'll get us all run out on a rail."
"Don't be dramatic," Mary Elizabeth answered, resting herself, as relaxed as you pleased, against the soft cushions of the fancy carriage seat. "The English won't burn us out. We're staying with the Duchess of Northumberland and they won't touch the house of one of their own."
"They might kill us in the street the next time we chance to get your ices at Gunter's," he groused.
"You might lower your voice a trifle, sir," the lady said. "You seem to be attracting more unwanted attention."
Robert did not give a tinker's dam for what the English thought of him, but he caught himself before he shouted again. He could smell the bossy, curvy woman beside him, and her perfume was making him even more irritable. She smelled of hyacinths and heather. He would swear, if he had not known better, that she smelled of home.
He cursed himself for a fool and focused his mind where it belonged. Not on some spinster virgin who was trying to hide her beauty for some mad reason, but on his sister, who was certain to drive him to drown himself before the week was through.
"What will Alex say when he hears you've drawn a sword in public?" Robert asked.
Mary Elizabeth shrugged one shoulder, looking out over the traffic and the houses as they passed them. People had stopped nodding to them ever since Mary Elizabeth had shown them her steel, but simply stared as though they were apparitions or demons risen up from hell. Robert swore, out loud this time, and the bossy woman spoke.
"I would thank you to keep a civil tongue in your head, if you please, sir. Pull over here," she said, for all the world as if she paid him five pounds per annum as a servant boy.
Robert looked at her, his eyebrow rising, but did as he was told. His mother had drummed into him the simple stricture: never hold a lady against her will. His gaze wandered along the front of the woman's hideous gown, sussing out the sweet curve of her breasts beneath. Now, if she were a widow woman, or a woman of ill repute, there might be some negotiating to be done.
Robert loved the company of women almost as much as he loved leaving them behind once they began to become tedious. But this one was tempting him to forget his good reason, and why he had come to London at all. No woman had ever tossed his bad manners back in his face before. He found that he liked it.
Excerpt. ©Christy English. Posted by arrangement with the publisher. All rights reserved.
Giveaway:

Print copy of How to Wed a Warrior (Broadswords and Ballrooms)
To enter Giveaway: Please complete the Rafflecopter form and post a comment to this Q:

Do you enjoy watching a strong woman in a romance order her man around?
Book Info: 
He's the scourge of the Season…
Reasons to quit London:
1. It's not the Highlands.
2. It will never be the Highlands.
3. It's full of the bloody English.
When his wild spitfire of a sister makes a scene by drawing a claymore in Hyde Park, Highlander Robert Waters knows something must be done. To forestall the inevitable scandal, he hires widowed Prudence Whittaker to teach his sister how to be a lady—never expecting to find unbridled passion beneath the clever Englishwoman's prim exterior.
Mrs. Whittaker is a fraud. Born Lady Prudence Farthington, daughter of the ruined earl of Lynwood, she's never even been married. In order to make her way in the world, she has to rely on her wits and a web of lies…lies a sexy Highlander is all too close to unraveling.
He swears he will possess her; she vows he will do nothing of the sort. Yet as passions heat, Prudence comes to realize the illicit pleasure that can be had in going toe-to-toe with a Scot.
Buy the Book
Amazon: http://amzn.to/1IBYI7W
Barnes & Noble: http://bit.ly/1kqQp3g
Apple: http://apple.co/1UfuR60
BAM: http://bit.ly/1ToamUz
!ndigo: http://bit.ly/1NUwUso
Indie Bound: http://bit.ly/1SlgfmX


Meet the Author: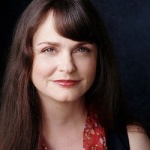 After years of acting in Shakespeare's plays, Christy English is excited to bring the Bard to Regency England. When she isn't acting, roller skating, or chasing the Muse, Christy writes historical novels from her home in North Carolina.
Connect with Christy English
Website: http://www.christyenglish.com/
Facebook: https://www.facebook.com/BroadswordsandBallrooms/
Twitter: https://twitter.com/ChristyEnglish
Goodreads: http://www.goodreads.com/author/show/2994919.Christy_English