Today it is my pleasure to spotlight the release of

I Saw Her Standing There

by New York Times bestselling author

Marie Force



There's a budding romance on Butler Mountain, but in the hornets' nest known as the Abbott family, keeping a secret is no easy feat…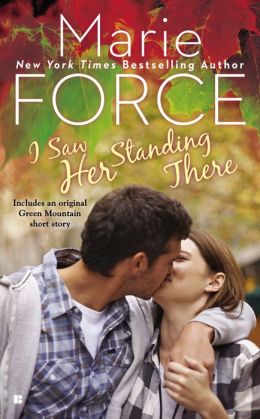 Colton Abbott and Lucy Mulvaney have a secret. Colton's nosy siblings have begun to put the pieces together, but it's not like Lucy to keep things from those closest to her—especially her best friend, Cameron, who recently moved to Vermont to live with her true love, Will. But Lucy isn't about to tell Cam she's having a fling…with Will's brother.
Flitting between New York and Vermont is exhausting, so Lucy is looking forward to a long weekend with Colton at the Abbott family lake house in Burlington. Too bad Will and Cameron have the same idea, and once Colton and Lucy are caught red-handed (and red-faced), will their clandestine romance lose its appeal or will their secret beginnings be the start of something lasting?
Excerpt:
Colton attends a sex-toy trade show in New York to look into a product line his dad is interested in offering at the Green Mountain Country Store…..
The first indication of what was to come was the security guard checking IDs to ensure attendees were over eighteen. Inside the bag Colton was given at registration were samples of things he'd enjoy looking at later with Lucy.
He proceeded into a massive exhibition hall that was packed to the gills with people. Other than the time he'd gone to a Rolling Stones concert in Boston, he'd never been in a room with so many people. Or penises. The penis seemed to be everywhere he looked, in a dazzling array of colors and textures and materials. And they were all big. Really, really big.
Choking back the need to laugh, he wished he had the nerve to whip out his phone and take some pictures. He and his brothers would have a field day with those photos. But the people around him were engaged in serious conversations—and demonstrations, so he reined in his inner fifteen-year-old and proceeded into the hall, determined to do what he'd been sent here to do and then get the hell out of there as quickly as he could.
A woman wearing a bustier with thigh-high stockings and spike heels approached him with a tray of cookies. Only these cookies were little penises wearing cock rings and breasts with clamps affixed to the nipples. Hiding his amusement from the server, he took one of each, wrapped them in a napkin, and stashed them carefully in his bag to share with Lucy later.
"Thank you."
"You're welcome."
He continued down the aisle and happened upon an ongoing demonstration about the different types of lube. Fascinating. He'd had no idea there were types—or flavors for that matter. He hoped they'd included some of that strawberry stuff in his goodie bag.
Don't think about what you might do with that. Not here and not now. Although in this room, another hard penis would be right at home. Lucy was right. He was a fifteen-year-old boy pretending to be twenty-six. In fact, he was probably the worst possible person his father could've sent on this mission. No, Landon and Lucas would've been worse. And Max. They would've been totally ridiculous here—especially together.
Colton was the picture of maturity compared to the three of them. And then he tried to picture Hunter here and nearly lost his shit laughing. He sent a text to Lucy. I'm traumatized.
She wrote right back. Is it crazy?
Pretending to text, he took a photo of a woman in an adjacent booth demonstrating the proper application of nipple clamps—on her own nipples—and sent it to Lucy.
OUCH! Bring me something—not that though.
I've got a whole goody bag to share with you.
I like goodies. Don't look at strange boobies. You'll go blind.
For the first time in my life, I actually wish I were blind right now.
Hahahahaha. Wish I'd gone with you. Sounds like more fun than writing html.
Going to do what I came here for, and then I am out of here.
Stay strong, little scout. See you when you're done.
I'm going to need you to hold me.
Any time. Xoxo
Giveaway: 

3 Signed copies of I Saw Her Standing There by Marie Force 
To enter Giveaway: Please complete the Rafflecopter form and Post a comment to this Q: 

How do you feel about a hero who makes you laugh all throughout the book? Because Colton made ME laugh as I was writing the book. Hope he does the same for readers.
Meet the Author: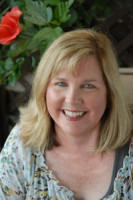 Marie Force is the New York Times, USA Today and Wall Street Journal bestselling, award-winning author of more than thirty contemporary romances, including the Green Mountain series, the McCarthys of Gansett Island series, the Fatal series, the Treading Water series and numerous stand-alone books. While her husband was in the U.S. Navy, Marie lived in Spain, Maryland and Florida, and she is now settled in her home state of Rhode Island. She is the mother of two teenagers and two feisty dogs, Brandy and Louie.