Today it is my pleasure to Welcome New York Times, best-selling author 
Lynn Cahoon
to HJ!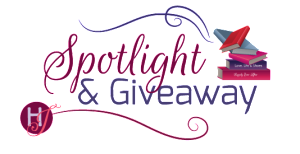 Hi Lynn and welcome to HJ! We're so excited to chat with you about your new release, If the Shoe Kills!
Please summarize the book for the readers here: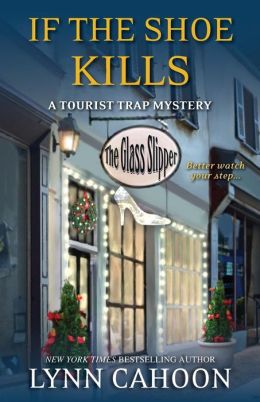 If the Shoe Kills
The tourist town of South Cove, California, is a lovely place to spend the holidays. But this year, shop owner Jill Gardner discovers there's no place like home for homicide. . .
As owner of Coffee, Books, and More, Jill Gardner looks forward to the hustle and bustle of holiday shoppers. But when the mayor ropes her into being liaison for a new work program, 'tis the season to be wary. Local businesses are afraid the interns will be delinquents, punks, or worse. For Jill, nothing's worse than Ted Hendricks–the jerk who runs the program. After a few run-ins, Jill's ready to kill the guy. That, however, turns out to be unnecessary when she finds Ted in his car–dead as a doornail. Officer Greg assumes it's a suicide. Jill thinks it's murder. And if the holidays weren't stressful enough, a spoiled blonde wants to sue the city for breaking her heel. Jill has to act fast to solve this mess–before the other shoe drops. . .
Please share a few Random facts about this book…
The town of South Cove is fictional, based on several tourist towns I visited both on the California coast and other places around the country. So don't go looking for Diamond Lille's somewhere off Highway One. You could find a place with the same name in Idaho City, Idaho, but instead of it being a greasy spoon diner, you'd find a very nice dive bar. Or you would have fifteen years ago.
The house Jill lives in and remodels is based off a house I found for sale in a little California tourist town. I pulled my Blazer over and snapped a picture almost twenty years ago now. Something about the run down house screamed makeover to me. At the time, I wasn't sure if the feeling had to do with my own life or that of the house. I kept that picture for years, posted above my computer, no idea why. Then I started writing GUIDEBOOK TO MURDER and the reason why became clear.
Please tell us a little about the characters in your book. 
Jill Gardner's the owner of South Cove's only coffee shop-slash-bookstore. She loves the life she built here on the central California coast where a busy day could include reading the latest spy novel or a popular women's fiction book to decide to put it on the weekly We Recommend list. Much better than when she practiced family law in the city. She's surrounded by several characters who meander through the stories, just like they do in town. Her Aunt Jackie helps her run the shop, her best friend is South Cove's city planner and the mayor's secretary. And Jill's dating Greg King, the sexy in boots and jeans police detective for the town. A fortune telling police dispatcher, a supersized antique dealer, and a pie making mother turned small business owner round out the cast of characters. And of course, there's the part time deputy, part time barista playboy, Toby.
They're fun to write as I never quite know where they're taking me.
As you wrote your protagonist was there anything about them that surprised you?
Jill always surprises me. Most of the time it's with her willingness to try something new. She's a strong defender of the underdog and loves proving her theory correct. Mostly, I adore the way she lives life on her own terms. I think that's a lesson I could learn from at times.
The First kiss…
Greg and Jill have been a couple for a while now, and since this is a cozy, their first kiss was off screen. But I think they're a great couple.
Did any scene have you crying or laughing (or blushing) while writing it?
I love this section where emotions are running hot and yet, Jill and Greg manage to calm the situation with a little light jab, aimed directly at themselves. It showcases how much both of them care about the people in South Cove, even the ones they don't know well.
"Sounds like you didn't like him very much." I watched as Becky stomped down the road to Main Street. I wondered if she truly was staying with friends or if she had made friends with the homeless who liked to hang out at the public beach.
"No one liked Ted. At least no one who knew the creep. I'm glad he's dead. He can't ruin another girl's life this way." Matt leaned back in his chair and his face froze. I turned to see Greg standing there, his beer in one hand and my wineglass in the other.
"Being glad someone's dead doesn't mean you killed them." Darla sat in the chair next to Matt. She shook a finger at Greg. "And don't you be trying to blame Matt for being honest about how he felt about the guy."
Greg's lips curved. "If I arrested people for saying they were glad someone died, my jail would be filled constantly." He smiled at me. "And this one would be a repeat customer."
"You're always trying to get me behind bars, Detective. I think you may have a fetish or something."
Darla put her hands over her ears. "La la la, TMI. You two should be more careful about what you say in public."
If your book was optioned for a movie, what scene would you use for the audition of the main characters? 
I'd have to go with the Business-to-Business meeting. Jill has to be strong enough to herd the local owners to finish the meeting. And most everyone in town is there anyway. Throwing people into the chaos would allow the directors to see how the personalities mesh. Kind of like a big family Sunday dinner, you either hold your own, or the food is gone before you even sit down at the table.
If you could have given your characters one piece of advice before the opening pages of the book, what would it be and why?
Chill out and don't try to do everything. The holidays are always stressful for me, I'd love to tell Jill that even though she's hosting Thanksgiving, it doesn't have to be perfect. Perfect is boring. As long as the turkey doesn't burn the house down in the deep fryer, you're successful.
What are you currently working on? What other releases so you have planned for 2015?
Currently I'm editing Dressed to Kill, book four of The Tourist Trap Mysteries. Once that's off my plate, I'm back to writing the fifth book in the series which brings us back to the historic wall in Jill's back yard. If the Shoe Kills will be my last release in 2014 with Dressed to Kill releasing in 2015 and two additional books following close behind.
Thanks for blogging at HJ!
Giveaway:

Digital copy of IF THE SHOE KILLS by Lynn Cahoon (Winner's choice of e-book retailer)
To enter Giveaway: Please complete the Rafflecopter form and Post a comment to this Q:

Let's talk about the holidays. What stress relievers are your favorite while trying to plan for the celebrations and parties? What have you given up?
Excerpt
The holidays were supposed to be a time of goodwill, celebration, and community. You couldn't tell it from the glares going around the table as Mayor Baylor talked. Earlier, the leader of our little town had the group eating out of his hand. Then all hell broke loose. Focusing on the uproar going on at the Business-to-Business monthly meeting, I wondered if the shop owners gathered around the mismatched tables had even seen the calendar. As South Cove's council liaison, I volunteered my shop each month for the meeting. I'm Jill Gardner, owner of Coffee, Books, and More, and president of the I-Hate-Mayor-Baylor Club. A red-faced Bill Simmons, chair of the business council and owner of South Cove Bed-and-Breakfast, stood at the front of the table, trying to get the group to quiet down.
Aunt Jackie issued a shrill, earsplitting whistle, two-finger variety. My aunt could make me smile even in the worst situations. She'd been a rock the last year during all the craziness that had been my life. Now I didn't know what I'd do without her help with Coffee, Books, and More. Or without seeing her on a daily basis.
The room finally quieted. I'd been the city council liaison with the business community in our little coastal California tourist town for the last five years. I'd never heard this kind of uproar over a mayor's mandate before. Maybe the Honorable Mayor Baylor was losing a bit of his power over the group.
"Look, I know it's a bad time for many of us to take on a charity project, but think of it this way, you'll have an extra pair of hands for the season." Bill pulled out what he'd thought would be his trump card.
"I don't understand what you're all so upset about. I got you free help for the busiest season of the year." Mayor Baylor glared at me, like their reaction was my fault. "These people want to work. We need to be charitable in our attitude." This time, his scowl was full-on directed at me.
I put on my sweetest smile, the one I saved for the few customers I truly didn't like. "I've already signed up the coffee shop to participate. How about the rest of you?"
"Not all of us have South Cove's finest working part-time in our shops." Darla Taylor, owner of the winery and editor of the local news for the South Cove Examiner, sniffed. "I heard he couldn't place these losers anywhere else so Ted paid the mayor to take on these stragglers."
"That is totally unfounded speculation," Mayor Baylor blustered, his face turning a bright shade of scarlet. He turned his stare from me to Darla. "I hope I won't see anything close to that being reported in the Examiner."
I turned my head so no one would see my smile widen. As one of the local media, Darla's nose for rumors was spot-on. Ted Hendricks, program director for Bakerstown's welfare-to-work program, had come to our tourist town of South Cove with an offer. Ten participants would work for eight weeks with a local business in an intern capacity. South Cove was their last chance.
The mayor's gaze shifted down the table, landing on Josh Thomas, a strong Mayor Baylor supporter. Except even I could see that His Honor wasn't winning any points with his friend today.
"Delinquents. You want me to let a delinquent run wild in my store. Talk to my customers and probably scope out my merchandise so they can rob me blind when I turn my back?" Josh owned Antiques by Thomas, the most recent business to open its doors on Main Street. Today, he pounded a chubby finger on the table.
"Of course, you'd have a problem with this. You don't even know that they are kids, or if they had trouble with the law. Just because someone is down on their luck doesn't mean they are a bad person," Sadie Michaels shot back. Sadie, owner of Pies on the Fly, was my main supplier of desserts for the coffee shop. And a strong advocate for the underdog in any fight.
We'd gone down this path before. Josh and Sadie rarely saw eye to eye on any discussion. For my part, I liked the way she called him on his prejudice and narrow-mindedness. Bill tried again to short-circuit the argument he saw developing. "We don't have time for a political discussion on the topic. This is a done deal. They're coming today for the initial meet-and-greet with a walk through town."
Book Info:
The tourist town of South Cove, California, is a lovely place to spend the holidays. But this year, shop owner Jill Gardner discovers there's no place like home for homicide. . .
As owner of Coffee, Books, and More, Jill Gardner looks forward to the hustle and bustle of holiday shoppers. But when the mayor ropes her into being liasion for a new work program, 'tis the season to be wary. Local businesses are afraid the interns will be delinquents, punks, or worse. For Jill, nothing's worse than Ted Hendricks–the jerk who runs the program. After a few run-ins, Jill's ready to kill the guy. That, however, turns out to be unnecessary when she finds Ted in his car–dead as a doornail. Officer Greg assumes it's a suicide. Jill thinks it's murder. And if the holidays weren't stressful enough, a spoiled blonde wants to sue the city for breaking her heel. Jill has to act fast to solve this mess–before the other shoe drops. . .
Book Links:
Meet the Author: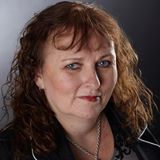 USA Today and New York Times, best-selling author, Lynn Cahoon is an Idaho native. If you'd visit the town where she grew up, you'd understand why her mysteries and romance novels focus around the depth and experience of small town life. Currently, she's living in a small historic town on the banks of the Mississippi river where her imagination tends to wander. She lives with her husband and four fur babies.
I have a website – www.lynncahoon.com
Or they can find me on Goodreads -http://www.goodreads.com/author/show/5857424.Lynn_Cahoon
Twitter https://twitter.com/LynnCahoon
Facebook -https://www.facebook.com/LynnCahoonAuthor