Today it is my pleasure to Welcome author
M.A. Stacie
to HJ!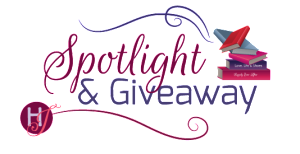 Hi M.A. Stacie and welcome to HJ! We're so excited to chat with you about your new release, Igniting Ash

!
Please summarize the book for the readers here: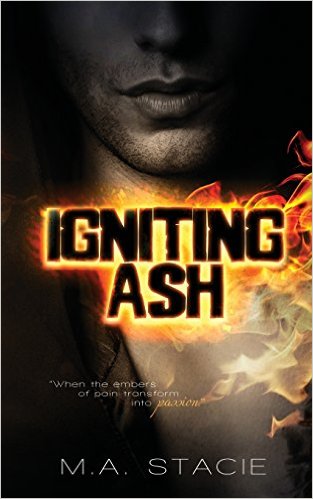 It's a story about a lonely bookstore owner with a past he finds hard to resolve. It's about dealing with the shit life throws at you, and learning to accept you're worthy of love.

Please share the opening lines of this book:
"The wind whipped around him, the rain like icicles lancing across his face. The thin coat he wore did nothing to stop the chill as it seeped bone deep. He pulled it tight across his torso anyway."
Please share a few Random facts about this book…
Many of the early scenes were initially written over two years ago. I started to write the story, but then got struck my inspiration for my Reluctance series. Igniting Ash got shelved into I'd finished those three books.
I wrote a lot of the book with just two songs playing on a loop. James Bay – Let It Go & Ani DiFranco – Falling Is Like This.
I think I fell in love with the models lips on the cover for Igniting Ash. Every time I look at it I melt. Come on, they are very sexy! Who can blame me?
And, just like my other novels, most of it is originally written by hand, in a journal. In pink pen. It's a habit that started many years ago that still works for me.
Please tell us a little about the characters in your book. As you wrote your protagonist was there anything about them that surprised you?
Asher Harris is complex. A sad character who has only ever been able to rely on one person. His childhood scared him, in more ways than one. He closes himself off from the world outside of his shop, thinking that's what is best for him.
Emma Carnes remembers Asher from their days at high school. She felt sorry for him then, but feels something very different now. She works with abused and homeless teenagers and uses her skills to get Asher to slowly open up to her. Her gentle persuasion is just what Asher needs.
Gabe Dearing is a teenager who is a need of help. However, he needs more than Emma, and Emma soon realizes that Asher could be the one to do it.
As you wrote your protagonist was there anything about them that surprised you?
I had intended Asher to rather reserved and quiet, however within a couple of chapters Asher had a rather cheeky side. He makes rather a lot of sassy comments to Emma very early on which had me grinning. I went with it, liking Asher's much more rounded personality.

The First kiss…
The first kiss is a sweet, chaste one on a cheek. It's a shock. Asher isn't willing to accept anything more meaningful. He's reluctant to allow Emma into his life so the hand of friendship, along with a short kiss on the cheek is a gentle step forward.

Did any scene have you crying or laughing (or blushing) while writing it?
The scene that was hardest to write was one where Asher tells Emma about his childhood. I'd obviously had it planned from the start of the book, but writing it all down once I'd become so invested in the characters was tough.
"The night you saw me in town and loaned me the cash was the night my life was turned upside down. I didn't know it at the time. I just had to get away from that fucking house."
Emma felt sick, the knotting in her guts increasing. "It was your mum who hurt you? The scars on your stomach?"
"What? Hurt?" He paused. "Oh, no. No, it wasn't her. Mum used words instead of hands. And the scars are burns from cigarettes. She didn't smoke."
She flinched; the cold tone he used hitting her hard. Asher had been through so much. More than any child should.
If your book was optioned for a movie, what scene would you use for the audition of the main characters?
I'd love it to be the part where Asher drops his barriers for the first time. The part where he finally lets Emma see what she means to him. It's such a huge step for Asher and really shows his acceptance of their growing relationship.
Emma went to him.
The blanket hit the floor as she walked forward, and even knowing it was possible he would shrug her off, she wrapped her arms around his waist.
"I don't want to want you, Em."
"I know."
They stood together in silence; the tension tangible. She couldn't think straight when he was so close, couldn't work out what to do next.
"Fuck it!" He twisted around to face her. "Just fuck it all."
She squealed when he grasped her waist and picked her up. His actions came as a shock, his strength too. Her protest hovered on the tip of her tongue, though she never actually said anything. His serious expression and determined strides were enough to keep her mouth closed.
Until he crushed his lips to hers. At that point she knew where it was heading, understood what he meant when he'd shouted. He was sick of holding back. Asher was taking what he wanted and ignoring any possible consequences.
Emma clung to him, their kisses growing deeper and more forceful as he carried her to his bedroom. She kept hold of him as he sat on the edge of his bed, moving her so that she straddled his lap. They'd been here before, only this time the air was electrified, sparks bursting from their touches. He wasn't going to deny them this time. She could sense from his heated kisses and desperate touches that he was all in.
If you could have given your characters one piece of advice before the opening pages of the book, what would it be and why?
The dedication would be for Asher.
Dedication
For anyone who has ever been hurt
by those who should love you the most.
Your happy ever after is waiting.
You just have to trust. I promise.
What are you currently working on? What other releases do you have planned for 2015?
I'm not the speediest of writers. I released the last book in my Reluctance series, Beyond the Seduction, earlier this year, as well as Igniting Ash. I'm just adding the finishing chapter for the first book in a series about a tattoo store. I'm hoping this will be an early 2016 release.

Thanks for blogging at HJ!
Giveaway:

Three Ebook Copies "Gifted" from Amazon or Amazon UK
To enter Giveaway: Please complete the Rafflecopter form and Post a comment to this Q:

I usually write in American English. However, Igniting Ash is written in UK, English, so in my head my characters have my English accent. I'd like to know you favorite accent and why?
Excerpt from Igniting Ash:
He swiped away a tear with his thumb. "I'm not good for you. This is what happens when you're around me. You're better—"
"Better than what?" Anger surged within her, lacing her blood with its hot intensity. "Better than you? Asher that's ridiculous given that William Dearing had nothing to do with you. He came into my life because of my job, not you."
"He hurt you." His fingers flexed on her face.
"And you're hurting me by blaming yourself. Shutting yourself away from me isn't helping."
Asher touched the bruising around her eye, as well as the cuts that had been stitched near her eyebrow. "You'll have scars."
"Then we'll match. Unless that idea disgusts you."
"Why the hell would it disgust me? I have my own. What I mean is, that animal has left his mark on you forever."
"And you should know that scars only show the path we've walked. It doesn't show anyone the journey I'm taking."
Asher fell silent as he appeared the mull over what she'd said. So many questions bubbled inside her, though she couldn't bring herself to ask them just yet. This tiny moment of calm, with his hands on her was exactly what she'd longed for. "Asher? Why did you stay away?"
Dropping his hands, he put some space between them and sat on the coffee table facing her. Only their knees touched. "Since I've met you I've had issues with emotions."
"I would argue that you've had them long before we saw each other again."
Asher nodded and carried on speaking. "I've had so few things in my life that mean as much as you do. Other than Ike and my father I've never loved anyone, and look what happened to each of those." He gulped. "When I saw you on the floor, covered in blood I lost my senses, and Gabe seems to think I lost my mind for a while too. I was driven to protect you, and to get vengeance for the damage he'd already caused."
Emma was stuck on Asher's first sentence. She replayed it over in her head as hope began to smoulder. "If you care then why would you turn your back?"
"Because my feelings for you make me volatile. I won't be like those men my mother hooked up with. I've fought too hard to be different."
"And you'll keep fighting. But you're not like them."
Excerpts. © Reprinted by permission. All rights reserved.

Book Info:
After a terrible start in life, Asher Harris picks himself up and manages to carve out a fairly decent future. Content with living alone in his bookshop, he shies away from relationships and keeps trust to a minimum.
Emma Carnes hasn't seen Asher in years, though she's never forgotten him. Their one interaction as teenagers became pivotal to them both. It gave her a career.
It saved his life.
Emma saw things about Asher that nobody else did. When she urged him to escape a perilous situation, it turned her toward her purpose in life…and saved Asher. Intrigued by the strong man he's become, she gently persuades him to open up, but finds his emotional walls hard to climb. She also hopes for his help with a troubled teen, Gabe Dearing, who reminds her very much of Asher himself.
Their relationship and ties to Gabe threaten to reveal things someone wants to keep hidden…
Someone is watching Emma, trying to figure out what she knows, and she soon senses something isn't right. When the bookshop is vandalized and Gabe disappears, only to return bloody, broken, and refusing to say what happened, Asher and Emma search for the truth as their passion intensifies.
The danger mounts, and Emma and Ash struggle to keep what they've fought so hard to gain.
But can he save Emma as she saved him so long ago?
Or will a dark and violent history repeat itself and destroy them all?
Meet the Author:
M.A. Stacie is never without a book or her eReader. A voracious reader, with a love of sexy, yet angst ridden novels, she adores getting lost in new worlds. Her need to write did not grip her until after her second son was born, when her previous rambles became fully fledged stories. She describes herself as one huge contradiction, and though not the most conventional of hobbies, she counts getting new tattoos as one of hers. Running keeps her sane, along with knitting and listening to loud music.
M. A. Stacie lives in the UK with her husband and three sons.
Author Links: Website | Facebook | Twitter | Goodreads