Today, HJ is pleased to share with you Cecy Robson's new release: 

Inseverable

Neither expected to fall in love. And no one could have predicted how inseverable they'd become.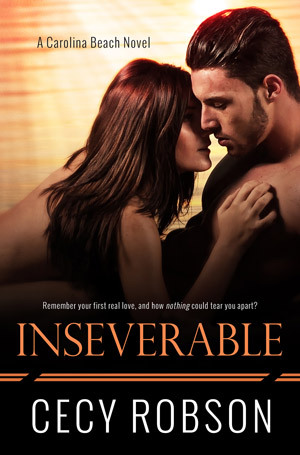 Like millions of people, I watched the multi-Oscar nominated movie, American Sniper. I fell in love with Chris Kyle, his wife, but most of all his story. My heart broke in the end, not just because of what happened to him, and everyone he left behind, but because this wonderful man never received the happily ever after he deserved.

My husband and I were quiet on the drive home from the movie, both of us lost in our thoughts and the emotions the movie stirred. In the silence, I started to think that what if the events of the movie were reversed, and instead of finding love before he was deployed oversees, a soldier found it upon his return? This is how Callahan, my hero in INSEVERABLE was conceived.

Callahan never had a sense of "home". He grew up in an unstable environment, encouraged to join the Army straight out of high school so his life would have direction. After serving eight tours, this small-town Texan settles in South Carolina's Kiawah Island, seeking peace from the memories of war that continue to haunt him.

Callahan, like Chris, was a sniper with a long list of kills on his record. Yet despite his training as an Army Ranger, he couldn't always kill without regret. Callahan has many regrets, but it's what occurred days before he left Iraq that have fired his inner turmoil and left him a broken man, unwilling to connect with anyone. Surrounded in darkness, there is no light in his future. Until he meets Trinity.

Trinity is a ray of sunshine, a total ball-buster who anyone and everyone seeks out for quick grin and an even better laugh. She's that young woman with the heart of gold who just wants to make the world better for everyone. Her cuteness, unfortunately, works against her. In her words, most men see her and think "little sis" not "little minx", very unlike her best friend Becca who can stir erections with a single glance. Although she's only recently recovered from finding one of her closest friends in bed with the guy she planned to marry, the world goes abruptly still when she finds Callahan tending bar at her favorite local hangout.

Callahan is dark, broody, and not exactly one giant hug. So he needed an obnoxious, glaring light, capable of flying tackle hugs and spilling with bad jokes. He needs Trinity, despite how his need for self-preservation has him literally running away from Trinity instead of to her. He didn't want any of this: eccentric locals, friends, and especially Trinity. But sometimes with life, everything you don't want, is exactly what you need.
I start to laugh, but it doesn't last, because the way Callahan is looking at me is very different from the way he was looking at me seconds before. This expression is the perfect blend of sweetness and ardor, just as it was when he sang to me.
He doesn't know that the song he chose is among my all-time favorites. Nor does he realize how his deep soothing voice and the gesture affected me. I want to tell him, but I'm not sure how to express something that touched me so deeply simply with words, especially now that the sadness he stows deep inside of him, finds its way to the surface.
I take a risk, and ask him what I've wanted to know since I first saw him. "Are you okay?"
When he doesn't answer, I'm not sure he will. Yet when he does, I feel it like a pull, drawing me closer.
"Not always," he admits quietly.
I purse my lips, struggling to stay strong for him. "Do you hurt?" I ask.
His stare travels down as I inch to his side, close enough that the leaves from my flowers sweep against his chest. "Sometimes," he answers.
I tilt my chin and meet his face. "Are you lonely?"
He lifts his head slowly, pitching me with such an intense stare, it holds me in place. "Not when I'm with you," he whispers.
I hope readers fall in love with Callahan and Trinity's story, and that those who can relate to Callahan find the HEA they rightfully deserve.

Many thanks to Harlequin Junkie for hosting me today. It's always a pleasure to visit her blog!


Giveaway:

2 Ebook copies of LET ME by Cecy Robson (Gifted via Amazon)
To enter Giveaway: Please complete the Rafflecopter form and post a comment to this Q:

What did you think of the excerpt spotlighted here? Leave a comment with your thoughts on the book…
Read an exclusive excerpt from Inseverable: 
Prologue
Callahan

Three days.
That's all I have left until this shit ends.
Three days shouldn't feel like forever, not compared to the eight years I've bled to the Army. Thing is, good men have been killed in less time. In as quick as a blink, a squeeze of a trigger, or a small breath right before a grenade blows is all the time it takes to shove someone right out of life and well into death.
That's what makes three days as long as it is. Three days is plenty of time to die.
My eyes tear when the wind picks up and shoots grime through the small hole of my lookout point. This blown out piece of cinderblock is only big enough to allow me a view of the street below, but not so small I don't get smacked in the face with more filth. The tarp flaps above me as I spit out another layer of the dirt-sand mix spackling my teeth. Christ Almighty, I need a swig of the water resting near my elbow. But my thirst, like everything else has to wait.
I have a job to do.
I adjust my hips against the cracked cement of my bed, bathroom, and home all rolled into one, thankful that the agonizing ache stretching over the lower half of my body has settled into a now familiar numbness.
Out of all the points I'd scouted, and all the accumulated years spent in this position, I should be used to it. And in a strange way, it should almost be home. Yet nothing ever has been home.
But in three days, maybe something finally will be . . .
I shove my thoughts away and breathe as my fellow Rangers stalk along the street. It's then I see them, a mother and daughter walking straight toward my team. Less than one city block separates them from the men counting on me to keep them alive.
The hell? How did they get past the other sniper unreported? Rogers is new on watch. But the quick paces these two are taking should have clued him in that something's up. I train my scope on their faces; their expressions are blank, unreadable. 'Cept that's not what keeps my attention.
The little girl can't be more than five. So why the fuck isn't her mother holding her hand? I lift my radio and bark a warning, dropping it beside me as I lock my scope dead center on the woman's head.
The radio crackles and Modreski chimes in, yelling at his team to hold their positions. He asks me what my plan is, knowing if something's caused the short-hairs on my neck to rise, he and the boys damn well need to listen. But I don't hear him, with a breath and a squeeze of the trigger, I leave a kid without a mother.
Just beneath the sleeve of her abayah―the dress completely covering her body―I see it, a detonator that would trigger the explosives likely strapped to her chest. A few Rangers I know―Simons and Boreman, rush forward. I start to mutter a curse, pissed at her for making me shoot her in front of her kid. But the curse lodges in my throat when I see the kid isn't looking at her mother lying next to her dead.
She's watching my advancing team as she lifts the detonator clasped tight in her hand.
Excerpt. ©Cecy Robson. Posted by arrangement with the publisher. All rights reserved.

Book Info: 
How can you imagine forever with someone who's leaving everything behind?
Callahan, a former army sniper, wants to make an escape from his past and everything he experienced at war, but most of all, just not feel. Feeling leads to pain and he's suffered enough. When he inherits a house on South Carolina's Kiawah Island, he packs his bags, lured by the peace and seclusion he thinks it will bring. But, Callahan never counted on meeting anyone like Trinity . . .
Trinity has always been the cute, and funny one, who most guys overlook in pursuit of her "hot" friends. She became used to being everyone's pal, until the day the young man she was attracted to, was drawn to her in return. He became her first great love, and first crushing heartbreak when she found him in bed with one of her closest friends.
To move forward, and to carry out her commitment to helping those in need, Trinity enlists in the Peace Corps, but not before returning to Kiawah for one last memorable summer. She just never imagined it would be so unforgettable.
Callahan doesn't want to get close to anyone—let alone Trinity. He finds her perkiness insufferable and her attempts to entice a smile distracting. After all, he's in Kiawah to leave all feelings behind. But when it comes to Trinity, who feels everything, it's hard not to feel something.
Neither expected to fall in love. And no one could have predicted how inseverable they'd become.
Buy Links:      Amazon | B & N | iTunes | Kobo


Meet the Author: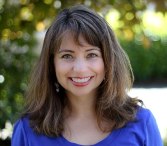 Cecy Robson is a new adult and contemporary author of the Shattered Past series, the O'Brien Family novels and upcoming Carolina Beach novels, as well as the award-winning author of the Weird Girls urban fantasy romance series. A 2016 double nominated RITA®finalist for Once Pure and Once Kissed, Cecy is a recovering Jersey girl living in the South who enjoys carbs way too much, and exercise way too little. Gifted and cursed with an overactive imagination, you can typically find her on her laptop silencing the yappy characters in her head by telling their stories.
Author Links: Website | Facebook | Twitter | Goodreads