Today it is my pleasure to Welcome author
Shelly Alexander
to HJ!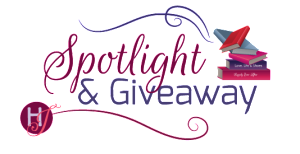 She has a secret. He has a scandal. And they both have an attraction they can't deny.
Please summarize the book for the readers here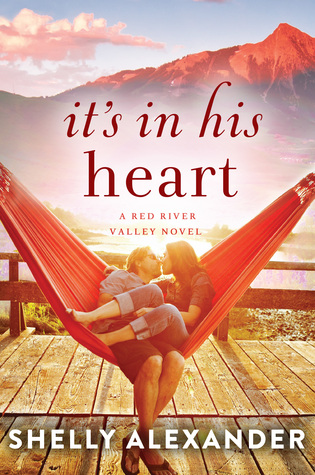 Ella Dennings is furious. Soaking wet, muddy, and furious. All she wants is to enjoy a quiet summer retreat in her Red River Valley cabin. Maybe she can finish healing after the death of her husband, Bradley. Maybe she can even finish writing that third book in her anonymously written bestselling series. But when she arrives at the cabin in a raging rainstorm, who does she find holed up there but Cooper Wells, Bradley's sexy best friend—a man capable of seducing women within seconds—and a man Ella has never liked.
Coop's got his own baggage. He's engulfed in a nasty legal battle, and after selling his home to cover his legal fees, he's got nowhere to go but the cabin. He and Ella will just have to coexist under one roof…but is their heated animosity boiling over into attraction? And when Ella's racy new book rocks the sleepy town, will her secret identity spell scandal for both of them?
Please share the opening lines of this book:
Ella Dennings had a bone to pick with the Albuquerque Enquirer's Most Eligible Chiropractor two years running. She snorted. Jeez, she cracked herself up.
Using just 5 words, how would you describe hero and heroine's love affair?
Sexy, fun chemistry. Opposites attract.
Please share a few Fun facts about this book…
In public Ella is a straight-laced high school history teacher that grew up in the Bible Belt. In private, she writes sexy romance novels that literally steam off the page.
Both Ella and Coop have male dogs that fall madly in love with each other at first sight and see more action in the first five minutes of their relationship than Ella has seen in the past two years.
What first attracts your Hero to the Heroine and vice versa?
I think Coop is initially attracted to Ella because it's human nature to want what we can't have. He's also drawn to her strength, even if it is the very thing that also rubs him the wrong way. She shows up at the cabin looking good just when he's sworn off all women. Instead of cowering after he nearly attacks her with a baseball bat because he mistakes her for an intruder, she gives it right back to him with a hefty dose of pepper spray, which she delivers from a sparkly pink bottle that's dangling from her keychain.
Ella is initially attracted to his…ahem…package. After she temporarily blinds him with pepper spray, he tumbles back into a recliner wearing nothing but a formfitting pair of boxer briefs. She gets him a wet rag to help the searing pain caused by the pepper spray, and while his eyes are covered with the rag, she can't help but take in an eye full.
The First Kiss…
Without giving too much of the story away, there's a secret kiss in their past that they both spend years regretting until it happens again in the present. That new kiss makes them realize their journey together is only just beginning and neither knows where it will lead.
If your book was optioned for a movie, what scene would be absolutely crucial to include?
The river rafting scene would be a MUST! That scene has it all – action, adventure, and it touches on a wide range of emotions. It's a huge turning point in the hero and heroine's relationship.
What are you currently working on? What other releases do you have planned for 2015?
My next release is set for early November of 2015 and is Book Two in the Red River Valley Series titled It's In His Touch. Angelique Barbetta is sent to Red River to win a case that will put most of the town's hardworking proprietors out of business, including Dr. Blake Holloway, who is dubbed Dr. Tall, Dark and Hot-some by Angelique and her best friend. It involves a hostile legal battle, an outrageous bucket list, and a weenie dog that keeps stealing Angelique's panties and delivering them to Dr. Tall, Dark and Hot-some himself.
I'm currently working on another installment in the Red River series that features Miranda Cruz and famous 'green' architect, Talmadge Oaks. Talmadge comes home to Red River to settle his grandmother's estate and hits a snag that keeps him there longer than expected. Talmadge's inheritance (which oddly included a tiny teacup poodle named Lloyd – as in Frank Lloyd Wright) is inconveniently entangled with Miranda Cruz and the old Victorian inn that used to belong to his grandmother. Miranda, ferociously protective of her reputation in the community where gossip flows like the river, is appalled when she and Talmadge become the focus of a Tumblr blog titled The Red River Rag. Caught on camera by the anonymous owner of the blog who keeps posting compromising and misleading photos of Talmadge and Miranda, Talmadge comes up with a plan to 'Give Them Something To Talk About.'

Thanks for blogging at HJ!
Giveaway:

3 digital copies of It's In His Heart (A Red River Valley Novel)
To enter Giveaway: Please complete the Rafflecopter form and

Leave a comment for the author with your thoughts on the book…
Book Info:
Title: It's In His Heart
Author: Shelly Alexander
Publisher: Montlake Romance
Genre: Contemporary Romance
Goodreads Link: https://www.goodreads.com/book/show/24417769-it-s-in-his-heart
Buy Link: http://www.amazon.com/Its-Heart-River-Valley-Novel-ebook/dp/B00R1XJ8R0/


Meet the Author: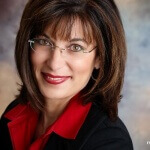 A 2014 Golden Heart finalist, Shelly Alexander grew up traveling the world, earned a bachelor's degree in marketing, and worked in the business world for twenty-five years. With four older brothers, she watched every Star Trek episode ever made, joined the softball team instead of ballet class, and played with G.I. Joes while the Barbie Corvette stayed tucked in the closet. When she had three sons of her own, she decided to escape her male-dominated world by reading romance novels and has been hooked ever since. Now, she spends her days writing steamy contemporary romances while tending to an obstinate English bulldog named Lola.
Social Networking Links
Website: http://shellyalexander.net/
Facebook: https://www.facebook.com/ShellyAlexanderAuthor
Twitter: https://twitter.com/ShellyCAlexande
Goodreads: https://www.goodreads.com/author/show/12166814.Shelly_Alexander