Spotlight & Giveaway: New

JULY

releases from

Crimson Romance
Crimson Romance: We're the place to find heartwarming, smart romances in your favorite genres – including contemporary, historical, paranormal, romantic suspense, and spicy! You'll find fresh takes on classic themes, new themes that will delight and excite you, heroes you'll fall in love with, and heroines you'd want to meet in real life. Explore our site to discover more about our new and forthcoming releases, and enjoy many features such as our Crimson Romance blog, author interviews, sample chapters, contest opportunities, and more!
Thanks to Crimson Romance I have 4 prize packs to giveaway today!
Georgie's Heart by Kathryn Brocato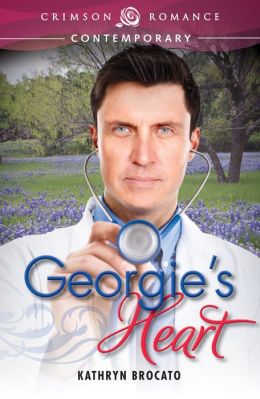 Georgeanne Hartfield, author of the explosive, bestselling nonfiction book, Faking It, wrote her book about faking sexual pleasure as a means of coming to terms with her own failed marriage. She never counted on meeting a man like Zane Bryant, who makes her feel like a woman for the first time in her life. But if Zane ever discovers she is the person behind the pen name Fritzi Field, how can he possibly believe that her response to him is the real thing?
Sensuality Level: Sensual
Excerpt – Chapter 1:
Georgeanne Hartfield stayed at her desk and kept on working. She had hoped skipping lunch with her coworkers would buy her some peace, but she feared she was about to be proven wrong. Worse, her stomach grumbled and complained because she hadn't expected to miss her lunch today, so she hadn't brought along a sandwich.

She bent over her work as she heard the back door to the Gant Medical Clinic open. If she was lucky, they had discovered some new topic to discuss.

"Listen to this." Nurse Denise Devereaux appeared and laid the hardback book she held down flat on Georgeanne's desk with the air of one about to reveal a secret of the universe.

Georgeanne grimaced at the sight of the book her friend held so reverently. "I have work to do, Denise. I'm not getting paid to hear Fritzi Field's sexual advice."

"You aren't getting paid to miss your lunch, either," Denise returned. "Now pay attention, Georgie."

"That's telling her, Denise." Redheaded Angela Porter joined Denise in leaning over the counter in front of Georgeanne. "The rest of us would love being paid for listening to hints on improving our sex lives."

"Quiet, y'all." Sandra Whitney, a tiny blonde pixie in her starched nurse's uniform, joined the group and leaned over Denise's shoulder to study the book. "I want to hear this. Simply everyone is talking about that book."

Georgeanne gave up. She smiled upon the other three women and propped her chin on one long, shapely hand. "Go ahead, Denise. I can see I won't be able to get a thing done until you're through."
Breaking the Rules by Melinda Dozier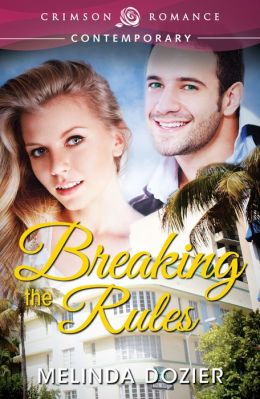 A forbidden love affair in the past has led Hope Robinson, a middle school principal, to Harbor Bay, Florida, where she commits herself to play by the rules. This can be difficult for a perpetual klutz, who—even strapped in a cast—has to uphold a competent attitude at all times.
Luckily, she has Dr. Colin Calaway on her side, a widower and father of a student, who is ready to give love another try. When Colin convinces Hope they should explore the connection between them, a steamy romance develops, though it could destroy them both. They must decide if their jobs—and their hearts—are worth the risk.
Sensuality Level: Sensual
Excerpt – Chapter 1:
The minute Colin stepped foot into the middle school office, the sinking feeling dropped deep into the pit of his stomach. Why would the principal summon him to meet her immediately? It'd been a while since the school called him and the secretary's tone indicated this impromptu meeting would be a delicate situation.

He approached the counter and looked down at Mrs. Snyder, the same secretary from when he attended Harbor Bay Prep, her hair cut into a bob with a pencil sticking out behind her ear.

She gaped at him. "Dr. Calaway. So nice to see you."

"Good afternoon, Mrs. Snyder." He looked down at her worried face. "You called
about my meeting the principal."

"Oh, yes." She fumbled with a piece of paper. "She'll be with you in one minute."
He had a list of responsibilities that demanded his attention. Mondays were always busy at the office. His physician assistant had taken over his last two examining rooms, and patients filled the regular waiting area at his clinic, expecting him to diagnose their problems. Now, he had to wait for the principal? He glanced at his watch and asked, "Can you tell me what this is about?"

"The principal will be with you in one minute. Have a seat." Mrs. Snyder pointed to the tiny chairs against the wall.

Colin walked to the window facing a hallway. He hoped to see his eleven-year-old son, Jason, among the padding feet next to the lockers. No sight of him. What the hell did Jason do?

His son almost never got into trouble. Last year Jason's teacher had called Colin
about a small disagreement with a boy in his class, but that was it—he'd never been called to the office. The only other reasons he ever came to school were for the parent-teacher meetings or swim meets on the weekends. Never for something serious enough to meet with the old school marm.

He took a deep breath, looked back at the little seats and unbuttoned his sports coat. He perched himself with a squeak at the edge of the hard plastic seat.
Crashing the Congressman's Wedding by Elley Arden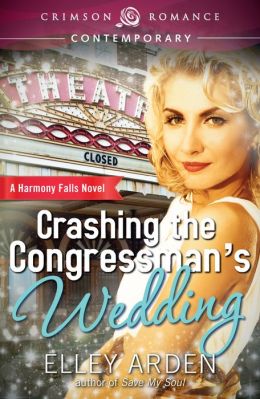 Alice Cramer is tired of being pitied for her family's transgressions, so she resolves to break out of the gutter and into the spotlight. As long as her local congressman can forget about their checkered past and help her secure a federal grant to open Harmony Falls Little Theatre, she'll be the brightest star in town. But when Alice stands up in church and stops the congressman's wedding, she dives headfirst into fresh scandal.
Why is Harmony Fall's golden boy, Justin Mitchell, speeding down the interstate sans a new wife but with the local drama queen he's been trying his whole life to avoid? Alice Cramer may have saved him the hassle of an arranged marriage to a woman he didn't love, but she's also put a business transaction big enough to save an entire town in jeopardy—not to mention his reputation.
Soon Alice and Justin are dredging up and indulging in an attraction that threatens all their dreams and aspirations. But what if life together is the dream that matters most?
Sensuality Level: Sensual

Excerpt – Chapter 1:
Alice shoved her feet into rhinestone-studded pumps, checked her teeth for smudges of red lipstick and dashed out the door onto the porch. She had exactly twenty minutes to get to church. Digging into her late mother's beaded clutch, Alice cursed her missing keys and walked as she rummaged, wishing a chat with the mail lady hadn't put her behind schedule.

Ruff. Mouse ran a zigzag pattern across the front yard, brushing filthy fur against her toile skirt.

"Stop it. You're dirty." Alice waved the dog away, but he brushed by again, causing her to stumble and step in a pile of…

"Crap!" She threw her handbag to the ground and stared at the clump of brown on the tip of her shoe. "Are you serious?" She tossed her head back and roared at the cloudless sky. "You've got to be kidding me."

Stomping her way back to the porch, she kicked off the shoe and scraped the toe in the too-tall grass. Dog doo smashed between the rhinestones. Alice growled, dropped the shoe to the ground and limped into the house, heading straight for her only other pair of remotely matching heels…character shoes. Wearing beige stage shoes wasn't the fashion statement she hoped to be making today, but she didn't have a choice. She was already late, and the only place to buy shoes in Harmony Falls was the thrift store, which was closed for the congressman's wedding.
Seductively by Debra Kayn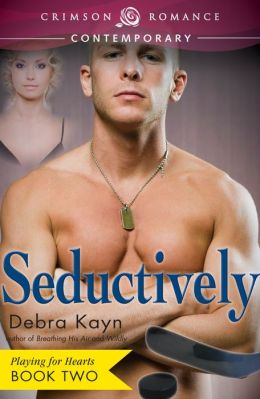 Independent and goal orientated, Diana Spenner has set her sights on buying the old Ferriday House and running her own Bed and Breakfast by the end of the year. Nothing will sway her from her plans, especially the famous hockey player Dominic Chekovsky, who can't take no for an answer. But, when Dominic strolls into Cottage Grove and begs her in his thick Russian accent to keep his adoring female fans away from him, she's not going to turn him down—because the job pays half a million dollars.
Dominic Chekovsky life is out of control. American women go crazy around him. They invade his personal space, leave their husbands for him, and make his life hell. Except, Diana. She's the one woman who always turns him down, no matter how many times he asks her out on a date. Now he's desperate. He needs Diana's help to figure out why she's the only female immune to his charm, so he can continue to play hockey in the United States. Maybe when Diana finally allows herself to say yes to having sex with him, he'll be over his wild fascination with the one woman who always tells him no.
Warning: Sexy Russian accent, big ego, and thick, hard thighs on ice. Go Sharks!
Sensuality Level: Sensual

Excerpt – Chapter 1:
If Stan Dogger raised his voice any louder, Diana Spenner was going to scream. It was bad enough he decided to call her out on her last hour of working before her two weeks of vacation started, but she had no desire to tell the hotel owner the real reason she wanted to continue working and skip her down time.

Except she had a little thing called a temper, and Mr. Dogger had used his quota of bossiness for the day. She clamped her lips. Let it go, let it go…

"You're going to die of a heart attack if you keep working every day without a break."

Mr. Dogger fisted his hands on his waist.

Oh, now he was just being ridiculous. "I'm twenty-four. I'm not going to keel over because I like working a forty-hour week. Besides, I already promised I'd take a couple of weeks off in the spring, before tourist season starts." She smiled extra wide, hoping against the odds he'd change his mind.

"That's six months away," he said
The Bargain by Christine S. Feldman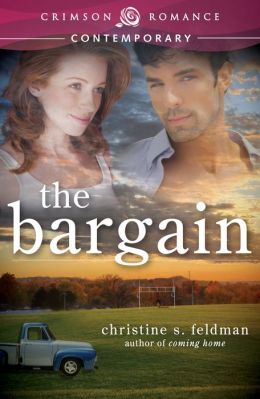 Tomboy Shannon Mahoney has always been a lot more comfortable with power tools than high heels or lipstick, and she wishes she could reinvent herself and finally tell her perfect boss, Drew Kingston, she has had a crush on him since high school. But she is just as tongue-tied and awkward around him now as she ever was, and long-familiar patterns are hard things from which to break free…
Ladies' man Michael is a former bad boy looking for redemption. He is desperate to atone for past mistakes that he made with his family, but younger brother Drew has cut him out of his life and refuses to even speak to him. Which means Michael needs help getting to Drew.
And so he approaches Shannon with a proposition: If she will get Drew to agree to hear him out, Michael will mentor Shannon in how to win his brother's heart. Suspicious of Michael's motives, Shannon initially enters into the bargain just to make sure Michael isn't actually in town to cause trouble for Drew, but the two unlikely allies are surprised to discover they enjoy each other's company far more than either expected.
Shannon starts to realize that maybe love isn't about reinventing yourself after all. It's about finding your perfect match.
Sensuality Level: Behind Closed Doors
Excerpt – Chapter 1:

It was like living in the story of Beauty and the Beast, Shannon decided, something many women probably would think had great potential for romance and happy-ever-after love. Too bad she was cast in the role of the beast.

Sitting cross-legged on the faded floral quilt her grandmother made many years ago, Shannon turned another well-worn page in her high school yearbook and took a cautious sip of her morning coffee, wincing at the heat of it and then blowing on the rest in an effort to spare her mouth from third-degree burns. Somewhere downstairs in her living room was an invitation for her ten-year high school reunion that had recently come in the mail. Its arrival brought a lot of memories to mind, most of which she would rather forget, but there were a few highlights that had driven her to dig out her old yearbooks. The one on her lap was from her senior year.
Heart Trouble by Tommie Conrad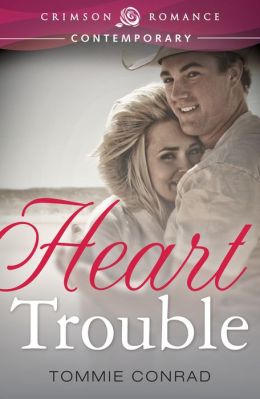 Brandt Conner is living the good life. Sure, work on his family's ranch is hard and keeps him busy from sunup to sundown, but at least he's got his best friend to help. There are only two sore spots in his life: lack of a loving, romantic relationship and a brittle connection with his father.
Marissa Sloan has no relationship with her father; she doesn't even remember the man. But her dreams and plans haven't worked out, and she finds herself working at a feed store to make ends meet. When Marissa meets Brandt, sparks fly and they are forced to grow up in a hurry.
Brandt isn't rich but he wants for nothing in the material sense, and Marissa must ignore the negative view some have of Brandt's ways, his romantic past and his free-wheeling reputation. In Marissa, Brandt finds his other half—but if Marissa pursues her dreams of higher education, she'll have to leave after just one summer together.
Will Brandt let her go? Or can he become the man he was meant to be?
Sensuality Level: Sensual
Excerpt – Chapter 1:

That damned rooster was crowing again.

Brandt Conner pulled the pillow over his head and tried, in vain, to catch another five minutes' worth of winks. When the rooster sang again, he cursed, slid the pillow aside, and glanced at the clock. Day was breaking outside, and his father would already be at the kitchen table poring over the newspaper and sipping his morning coffee. Brandt struggled from the warm blankets and, naked save for his underwear, plodded toward the closet. He pulled on the first pair of jeans he found—they were neatly folded so he figured they were clean—and quickly buttoned a flannel shirt across his chest. Socks and Western work boots completed the ensemble. In the bathroom, he did his business, finger-combed his hair, and yawned all the way down the stairs.
Collared for a Night by Susan Arden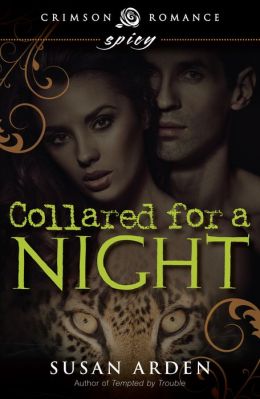 All it takes is one mistake to be marked. One bite, she crosses a line…into forever.
Diana Hambre's body is blazing. For days this leopardess shifter has spun through a body-searing heat cycle. Alone. Her senses reel when Shawn Barclay, her boss, walks into her reserved room at the Downtown Den, a stud club for shifters. He gives Diana a choice: spend the evening with him, give into his every desire, and she'll find out what it means to quench her heat-crazed thirst—or try her luck with a stranger, one of the club bangers.
Shawn hates when his back is against the wall. One sip of Diana's sex-laced scent is enough to force his alpha hand. Now, it's Diana's back he wants up against a wall, or any other surface for that matter.
As the moon rises toward midnight, Shawn and Diana come to understand the difference between joining and mating. For a night, neither of them resist instinct, blindly giving into their leopard natures even though their human forms know they must reconsider their options come morning.
Sensuality Level: Hot
Excerpt – Chapter 1:

The immense grounds of the Downtown Den lay just beyond the trees. A private club for shifters located in the hip LoDo section of Denver just east of the river. The Den catered to all sorts of shifter appetites. From gourmet meals, a jazz club, and then upstairs to the individual rooms reserved for more private, sensual affairs.

Diana arrived at the Den shortly before nine for her appointment. Rolling up to the front of the guard tower, she was surprised at the change since her last visit. During the day, when she'd met with an intake counselor, she'd been ushered into the club by a side entrance and had seen virtually no one other than a few staff moving about the interior, tidying and getting ready for the evening events. The private club was gaining popularity due to its ability to cater to the exclusive, decadent proclivities of members and a few select guests as well as provide services for first timers in need of heat cycle sex. The Den maintained a highly-regarded reputation of anonymity for clients, assisted by a guardhouse stationed on the perimeter, admitting private members and permitted guests on the nightly admit list. The counselor assured Diana that tonight her name would appear on that list.

Two guards with holstered weapons stepped up to the driver's window. "Your name?" the one with a buzz cut asked, briefly flashing a pair of amber irises in her direction.

"Diana Hambre." She'd opted to use her own name. Either she trusted the Den completely to keep her safe or not.

Hell, she'd better be able to trust the Den, considering she was about to let an alpha male sexually service her out-of-control needs for the evening. The thought sent a shiver rocketing up her spine. A few more hours, and this yearning to grind her hips against something hard would lessen. She prayed it would, twisting the hem of her dress between her fingers.
Giveaways:
PK1: Georgie's Heart by Kathryn Brocato + Breaking the Rules by Melinda Dozier
PK2: Crashing the Congressman's Wedding by Elley Arden + Seductively by Debra Kayn
Pk3: The Bargain by Christine S. Feldman + Heart Trouble by Tommie Conrad
PK4: Collared for a Night by Susan Arden
To enter giveaway: Please complete the Rafflecopter form below and post a comment Telling me
which of these books caught your attention and why? 🙂
Good Luck
~Sara