Today it is my pleasure to Welcome author
Rebecca Rogers Maher
to HJ!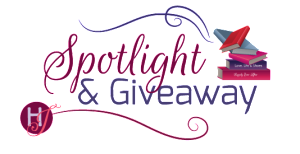 Rebecca Rogers Maher follows up Rolling in the Deep with a sexy and deeply emotional short novel in which unexpected desire leads to surprise beginnings.
Please summarize the book for the readers here: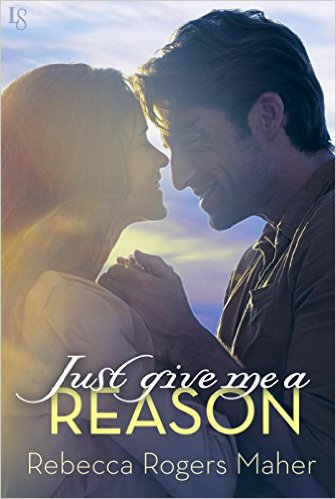 Just Give Me a Reason is about a free-spirited, straight-talking (and pregnant) heroine who is single by choice, and a divorced dad trying to get his life back on track. When Beth and Tony meet, they're shaken by how attracted they are to each other, but neither wants a serious commitment in their lives. They jump into a short-term affair, but then can't stop themselves from falling. So what should they do? (They have a lot of sex while trying to figure that out.)

Please share the opening lines of this book:
As soon as the car is parked, the girls unbuckle their seatbelts and run squealing into the house. All the way up from the city, they've been hatching a detailed plan involving fairies, knights, and the dusty old attic of their aunt Holly's new house. I believe Holly's puppy is featured, too, in some sort of dragon capacity.
Please share a few Fun facts about this book…
Beth and Tony were supporting characters in Rolling in the Deep and I loved them so much, I had to write a story about them.
This entire book was written in a tiny, rented pop-up camper at a campground in the White Mountains.
The store where Beth works is loosely based on an actual shop in New Paltz, New York, called Handmade and More.
If your book was optioned for a movie, what scene would you use for the audition of the main characters and why?
It would have to be the moment when Beth and Tony first meet. I'd want to see if the actors could pull off the immediate spark of disturbance that the characters experience in that first contact. In teaching, we call this cognitive dissonance – that upsetting moment when what you think you know about the world is challenged by new information. It's great for students to experience this because it's the starting point for real learning.
One of the reasons I love the romance genre is that we get to show how love slams us with these moments of cognitive dissonance. It shakes us, and forces us to learn something new about ourselves and the world. Here's a snippet of the scene where that starts to happen to Tony:
She goes on, but I can't hear her, because Beth stands and shakes my hand, and everything goes dark for a minute. There's a buzzing in my ears, and the heat that's been racing along my skin since I saw her in the driveway goes deeper. Into my blood. Into my brain. Into my groin, so that breathing becomes something I have to think about. It takes several seconds before I remember to do that.
Her hand is strong, and hot, and up close I can see that her eyes are several shades of brown at once, like light shifting through fall leaves. Those eyes narrow a bit when she touches me, like she's felt something, too. Except that while I struggle not to step back—from the shock of that touch—she leans in. "Hi, Tony."
What do you want people to take away from reading this book?
I feel a great deal of affection and admiration for this heroine and hero. Beth is an emotional and sexual powerhouse. Of all my heroines, she's the person I most want to be like. And Tony, to me, is very much the ideal man. His sexiness comes from deep sensitivity and emotional intelligence. They're both unconventional romance characters, and I hope readers will walk away from this book respecting them as much as I do.
What are you currently working on? What other releases do you have planned for 2016?
I'm currently working on being a decent human being, and in 2016, I plan to release my need to control everything.
Ha ha!
The truth is I'm taking a break from writing and just living my actual life, which is a pretty great thing to do once in a while. In June, I'll be releasing a survival story/semi-post-apocalyptic romance with the wonderful Brain Mill Press.

Thanks for blogging at HJ!
Giveaway:

Ebook: JUST GIVE ME A REASON by Rebecca Rogers Maher (Via Amazon)
To enter Giveaway: Please complete the Rafflecopter form and Post a comment to this Q:

Who is a romance novel heroine that you admire/wish you were more like and why?
Book Info:
Tony Lopez is losing it. Burdened by a broken marriage and a failing business, the divorced father of two young daughters isn't on his A game when he meets Beth. She's clearly pregnant and defiantly single: a beautiful, graceful vision that lights a fire somewhere deep beneath Tony's layers of self-doubt. They connect at his brother's upstate New York home during a weekend among friends. Except friends don't feel this kind of chemistry—or want each other so bad it hurts.
Beth Cody has no use for ties that bind. She's witnessed that kind of wrecking ball. The father of her child isn't in the picture, and she couldn't be happier. So when Tony sends her already raging hormones off the chart with his rugged good looks and pent-up sexuality, Beth is thrilled to indulge in a short-term affair, with no strings attached. But one taste isn't enough. And now that she's out of her comfort zone, Beth either needs to let go or take a chance on a man who might just be worthy of her love.

Purchase Just Give Me a Reason at all major e-retailers, including Amazon, Barnes & Noble, and iTunes.


Meet the Author: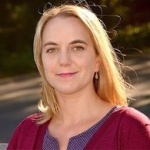 Rebecca Rogers Maher writes gritty, realistic stories that push the boundaries of typical contemporary romance — uniting the genre's explicit sex scenes and happy endings with the crisp, layered prose of literary fiction.
Publishers Weekly describes Rebecca's writing as "gripping and touching," Library Journal calls it "gut-wrenching," and USA TODAY declares it "very well-done romance…so satisfying."
For news, updates, and general chattiness, follow Rebecca at www.RebeccaRogersMaher.com. You can find Rebecca on Facebook and Twitter.