Today it is my pleasure to Welcome romance author
Susan Mallery
to HJ!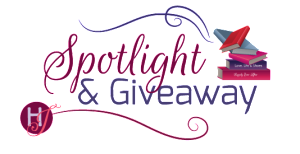 New York Times bestselling author Susan Mallery creates the small-town destination for romance in charming Fool's Gold, California—where a loner cowboy finds the one woman who can capture his heart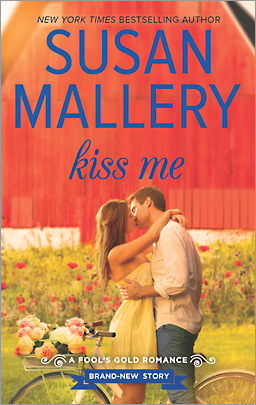 After Phoebe Kitzke's kind heart gets her suspended from her job in LA, she swears off doing favors—until her best friend begs for help on the family ranch in Fool's Gold. Unfortunately, sexy cowboy Zane Nicholson isn't exactly thrilled by the city girl's arrival.

Thanks to his brother's latest scheme, Zane has been roped into taking tourists on a cattle drive. What Phoebe knows about ranching wouldn't fill his hat, but her laughter is so captivating that even his animals fall for her. One slip of his legendary control leads to a passionate kiss that convinces him she's exactly the kind of woman a single-minded loner needs to avoid.

In his arms, Phoebe discovers she's a country girl at heart. Yet no matter how much the small town feels like home, she can't stay unless Zane loves her, too…but is this cowboy interested in forever?

5 Fun Facts about KISS ME by Susan Mallery, plus Sneak Peek

1. Kiss Me is a fish-out-of-water romance, with city girl Phoebe stepping foot for the first time on an honest-to-goodness cattle ranch. Rancher Zane is bemused when the gorgeous newcomer opens her heart to every animal on the spread—including Manny, his prize steer.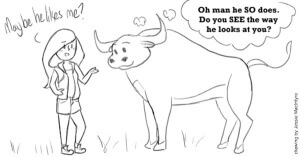 2. At Fool's Gold High School, Zane Nicholson was voted the guy girls most wanted to be with four years in a row… including the year after he graduated!

3. Zane's teenage brother Chase is a genius—at wreaking havoc. To fund his robotics project, Chase sold tickets for an imaginary cattle drive. He fully planned to refund the money long before tourists began showing up at Nicholson Ranch. Ummm… errr…. oops.
(By the way, for longtime Fool's Gold fans, you'll be delighted to learn that Eddie and Gladys will be joining the cattle drive.)

4. Chase isn't the only troublemaker on the cattle drive. There are also a couple of kleptomaniac raccoons.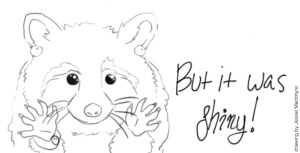 5. Their first time is in a tent. 'Cause you know… cattle drive.


Thanks for blogging at HJ!
Giveaway:

Winner's choice of Fool's Gold backlist title (2010-2014).
To enter Giveaway: Please complete the Rafflecopter form and Post a comment to this Q:

KISS ME is all about the magic of the first kiss. Tell me about your first kiss! A random commenter will win the Fool's Gold backlist title of her choice (2010-2014).
A sneak peek at Kiss Me by Susan Mallery:
What would it be like on the ranch? Phoebe had never been on one before, hadn't even seen one except on TV or in the movies.

"So are there lots of cows?" she asked before she could stop herself. "On the ranch, I mean."

Zane didn't spare her a glance. "Some."

"Like twenty?"

He glanced at her then, before turning his attention back to the road. "We run several thousand head of steers. Those are the ones that end up on your barbeque. I have another few hundred head of cows for breeding purposes."

"No bulls?" she asked, unable to keep from grinning.

He sighed the sigh of the long suffering. "A dozen or so."

"A dozen bulls for a few hundred cows?"

Mr. Hunk-in-a-hat, who had put his hat on the seat between them when he'd climbed into the cab of the pickup, chuckled. "Yup."

"Yet another example of our patriarchal society ignoring the rights of cows."

"You worried about cows' rights?" He sounded both incredulous and amused. "You a lawyer?"

"No. And I'm not concerned about cows' rights. Of course I want them treated humanely, as any civilized person would, but I'm not crazy."

"What are you then?"

"What?"

He glanced at her. "If you're not a lawyer, what are you?"

"Oh." For a second she thought he'd been referring to her mental state. "I work in real estate."

Fortunately Zane didn't ask any questions about her career. She didn't think that telling him she'd been suspended for litigation would improve his opinion of her. At least he was talking. She tried to think of more cattle-related questions.

"How long have you been in the ranching business?"

"All my life."

Silence. Zane Nicholson wasn't exactly chatty. Was it her or was it his personality?

"Do you ever sell the cattle for something other than food?"

Zane shifted in his seat. Had he been anyone else, she would have assumed the question made him uncomfortable. But he was too in-charge—too self-assured. Besides, what about it was embarrassing?

"Sometimes I'll sell off a few cows if we have too many."

"That makes sense. What about the bulls? Ever have too many of those?"

"Most of them become steers."

She didn't want to think about that. "So steers are boy cows?"

"That's right."

"What makes you decide who gets to have a really good life and who gets to be a burger?"

"Various factors. I've been working on genetically improving the herd."

"So a new bull with favorable characteristics would get to stay a bull."

He nodded.

"Sounds interesting," she said, because it really was. Who knew that ranchers worried about genetics?

"You're probably not going for things like eye color," she said without thinking.

Zane didn't even roll his eyes. "Not really."

"I didn't think so."

"I work with several universities. We have breeding experiments. I also sell to other ranchers."

"Your bulls?"

There was that seat squirm again. "No."

Not bulls? "Cows?"

"Sperm."

Phoebe blinked. "From the bulls?"

He nodded.

"You sell bull sperm?"

He nodded again.

Wow. There really were infinite ways to make a living. So how exactly did one get the sperm from the bull? She shook her head. Not something she wanted to know, she decided. Although she was intrigued by the question of what sort of marketing campaign would be most effective. Still, some subjects were better left unexplored, and this was definitely one of them.

She tried to think of something else to say. Anything, really. But how did one top bull sperm as a conversational gambit?

Maybe it was better if one didn't try.
Meet the Author: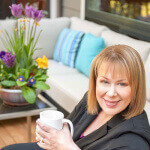 Susan Mallery is the New York Times bestselling author of more than 150 novels, including the uber-popular Fool's Gold romances. Her latest book, Thrill Me, introduces the five fabulously sexy Mitchell brothers. Del Mitchell, the eldest, has just returned to his California hometown after making a fortune designing a sky surfboard that cemented his status as an extreme sports superstar. Visit Susan online at www.SusanMallery.com.