Today it is my pleasure to Welcome author
Cecy Robson
to HJ!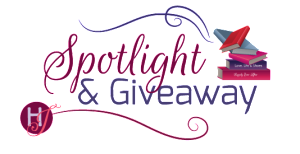 Hi Cecy and welcome to HJ! We're so excited to chat with you about your new release, Let Me!

Thank you so much for having me. I VERY excited to be here and equally excited for the release of LET ME!

Please summarize the book for the readers here: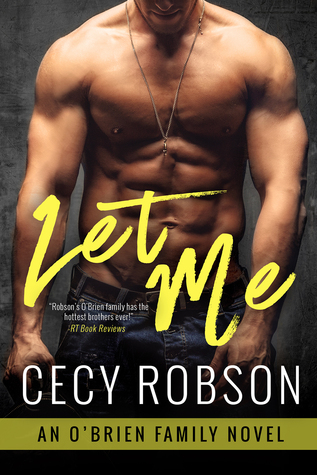 As fierce fighter, Finn O'Brien is the type of man few would dare cross. But he wasn't always big and strong, and as a child, someone took advantage of his innocence. The demons of his past return to haunt him just as he's on his way to earning a title shot for the Lightweight Championship. Sol Marieles is that sweet young woman Finn has known forever, but never had the chance to know as much as he would like. When they see each other, Sol is immediately drawn to the man who came to her rescue so many years ago and whose smile is too hard to forget. But like Finn, happiness has always seemed out of Sol's reach due to her mother's declining mental health.

Please share the opening lines of this book:
I see the strike coming at me a split second before it connects with my skull. My head snaps back from the force, the crowds' hollers resonating like a muffled cry in the distance. It was a good punch― lightning quick with enough impact to knock most guys on their asses.
Please share a few Fun facts about this book…
Wow. Where can I begin? LET ME is the story of Finn O'Brien, an MMA contender for the Lightweight champion—a tough guy with heartbreaking vulnerability whose past comes back to haunt him at the worst possible time. A combination of sweet and sexy, this is a story that will break your heart, make you laugh out loud, and have you cheering at the end—one where the characters stay with you long after you finish.

Please tell us about the characters in your book:
I am so in love with Finn, who is as gentle as he is fierce. He's a Philly boy with a mouth to match who would do anything for those he cares for. Sol is one of those women who offers "free" hugs and bright smiles, even though she's all but crying on the inside. She's not in a good place emotionally, and she knows Finn isn't either. But how can she resist a many as sexy as Finn—the same guy she promised a kiss he'd like to cash in on?

As you wrote your protagonist was there anything about them that surprised you?
I first introduced Finn in Once Pure the third novel in my Shattered Past series. Back then he was nineteen, high-strung, and a total ball-buster. What shocked me was exactly how much he'd matured since I last left him, all the while keeping his playful nature and his heart.

First Kiss…

My eyes close as Finn's mouth captures mine. I don't expect him to have soft lips, not given how tough I know he is. Yet he does. They brush against mine, sweeping, teasing, playing. But as the heat between us surges, and before the kiss can really begin, it ends.
He pulls away, his eyes searching mine. He's not smiling. He's not joking. He simply stares at me like he's not sure what just happened. "That's still not the kiss you owe me," he says, cementing me in place.
"It's not?" I ask, kicking myself for not coming up with something better. In my defense, those are some damn fine lips.
Did any scene have you crying or laughing while writing it? 
All of the above. ☺ Without giving too much away, I'll share one of the lighter scenes:
I push my empty plate aside, crossing my arms in front of me and leaning in close. "What do you want to know?"
She gives it some thought. "What do you think your best feature is?"
"Besides these muscles you can't stop looking at?" I ask, stretching. When that blush finds its way back into that face, and it looks like it's taking all she has to keep her eyes off my body, I'll admit it's my turn to smirk. I wasn't positive she was attracted to me. Not like I am to her. Now that I know she is, I want to play and tease her a little more. But I hold back, though it takes some effort. "I have to say my jaw," I answer.
"Your jaw?" Again it's like she's fighting to keep from looking elsewhere.
"Yup. I can take a hit, and it's never been broken."
"Well, thank God for that," she says cringing. She scans my face. "What about your nose?"
"That's been busted three times."
Her mouth pops open. "Seriously?"
"Hell, yeah," I tell her. "Want to feel?" I ask, leaning in.
I don't think she's going to touch me, but then she reaches out, grazing my skin so lightly, I barely feel it. When most women touch me, they really touch me, making it clear they want to do a lot more. With Sol, it's different, more like she's afraid to cause me pain. Weird, especially since she knows I bust people up for a living.
She finds the spot where my nose curves just slightly, her features revealing sadness I don't expect. "Wow," she says. "I'm sorry."
"It's all good. Part of the job, you know?"
She nods like she understands, but it doesn't erase that hint of sadness I catch. I watch her hand as she pulls it away and carefully places it on the table. Yeah. Sol's different. But I'm starting to think she's different in more ways than I originally thought. "What about you?" I ask.
"I can honestly say my nose has never been broken," she answers.
I chuckle, knowing that now she's the one trying to lure my grin. "You know what I mean. What's your best feature?"
"My brain," she says. She points to her skull when my stare lowers to her perky round breasts. "This one right here."
"Sorry," I offer, not really meaning it. "Didn't mean to get distracted by your . . ."
"Personality?" she teases, "Sparkling wit, dazzling sense of humor?"
All right, two can play it that way. I lift my arm, bending it enough to bulge the muscles along my bicep and pecs as I pass my hand through my hair.
Sol's gaze drags along my shoulder, chest, arm, all the way up to the broody stare I'm pegging her with before she catches herself. "Looks like we're even," I say when her lips part.
She covers her face with her hand and shakes her head. "You are seriously unbelievable."
"You forgot hot," I remind her.
If your book was optioned for a movie, what scene would you use for the audition of the main characters and why?
I'm going to go with the opening scene because I need the actor who plays Finn to not only have the ability to portray his rage, fierceness, and heart, but his inner turmoil, all the while being physically capable of portraying an MMA fighter.
I see the strike coming at me a split second before it connects with my skull. My head snaps back from the force, the crowds' hollers resonating like a muffled cry in the distance. It was a good punch― lightning quick with enough impact to knock most guys on their asses. But I'm not most guys.
You hit me, I'm only going to hit you harder.
My right hand shoots up, blocking and smacking away the kick gunning for my ribs. I pivot out of the way, again, and again, and again, avoiding Easton's arms and legs as they come at me. He's fast, strong, with a six inch reach advantage. But he's too eager to take me out and not pacing himself like he should. Already he's breathing hard and it's just the start of the second round.
I take my time to figure him out, planning each move, searching for that opening I need. Do I take a few bashes because of it? Sure. It's part of the job. But believe it or not, it's part of the job I look forward to.
Those punches and kicks remind me that I still feel, that I'm still human. And that for now, I'm still alive.
"Oh!" some drunk behind me yells when my uppercut finds Easton's chin.
He staggers back, swiping the blood oozing from his lip, yet he keeps his grin. He's trying to make like it was a lucky shot. That it won't happen again.
Like me, Easton needs to win this match. And if he does, he'll move up to the top ten, making him a contender for the UFC Lightweight title.
Talent aside, the guy's a raging asshole, and so are the idiots in his training camp. They've been trash-talking since the moment I agreed to this match. I didn't really care and laughed most of it off until they got personal and took it a step too far.
Again he nails me in the head. It's not as hard as it was last time which tells me he's getting tired. Does it hurt? I guess.
But let's say I'm a guy who's used to pain.
Easton grins. He thinks I'm afraid of him. He thinks he has me where he wants me. But fear is an emotion I don't allow myself to entertain. Fear gets you hurt and rips you apart till you think there's nothing left.
I dodge out of reach. He scowls and takes another swing. This one gets close enough to my jaw to create a breeze that whips across my skin.
"Finn," my brother Killian barks from the side. "Take him out now."
He's worried about me. So is my family. But now's not the time to think about them. I keep my hands up as I edge away, letting Easton think I'm backing down, that I'm tired and need to catch my breath.
I sidestep when he lunges forward, avoiding his next swing and use the momentum to drop my head and nail him in the temple with a roundhouse kick.
Like I said, Easton's fast.
Too bad for him I'm a little bit faster.
The kick is my signature move, as natural for me as the next breath. He goes down like I planned. But in the Octagon you don't stop just because your opponent collapses like timber. You charge forward. You show him what you're made of. And you prove just how tough you really are.
That muffled screaming, isn't so muffled anymore. The crowd loses their shit as I pounce, my blows nailing Easton in the face until the ref's arms hook beneath mine as he hauls me off. I back away, my fists up because I already know I won.
I should do a back flip or some crazy shit to incite the crowd. This is it. My time has come to own it. But the good things aren't as great as they can be. Not with the memories that haunt me. And not with the anger they stir.
If you could have given your characters one piece of advice before the opening pages of the book, what would it be and why?
That it's going to be okay. That they're stronger than they believe, and the happiness that has been so far out of reach is now within their grasp. They need to know that because they endure a great deal throughout this novel.
What are you currently working on? What other releases do you have planned for 2016?
I just turned in edits for INSEVERABLE the first book in my Carolina Beach novels debuting this June.

Thanks for blogging at HJ!
Giveaway:

Ebook: Shattered Past Boxed Set (bks 1-3) – Gifted via Amazon.
To enter Giveaway: Please complete the Rafflecopter form and Post a comment to this Q:

Was there ever anyone in your life you had wanted to kiss, but never did?
Book Info:
A mixed martial arts star on the rise, Finn O'Brien dismantles his opponents with brutal precision. And yet beneath his fierce persona, Finn is raw from a trauma he's buried for years . . . until the day his deep-rooted rage erupts and lands him in court-mandated therapy. Finn's not one to bare his soul, but if talking it out means meeting beautiful women like Sol Marieles, he'll give it a shot.
Sol is working toward her master's degree in psychology, and already she feels like she's in over her head. With an important internship on the line and a scary family situation demanding her attention, the last thing Sol needs is Finn around to distract her. The man is ripped and seriously sexy yet it's his troubled side that warns her to keep her distance. But their attraction is intense, and he clearly has the heat to see how far and fast their passion takes them.
Alone, Finn and Sol have been fighting to find happiness in their lives. Together, there's no stopping them as they face their greatest challenges—not in the ring, but in their hearts.
Buy Links:   Amazon | B & N | iTunes | Kobo


Meet the Author: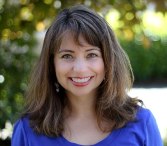 CECY ROBSON is the New Adult and Contemporary author of the Shattered Past series, the O'Brien Family novels, and the award winning author of the Weird Girls Urban Fantasy Romance series. A self-proclaimed professional napper, Cecy counts among her talents a jaw-dropping knowledge of useless trivia, the ability to make her hair big, and a knack for breaking into song, despi4e her family's vehement protests. A full-time writer, registered nurse, wife, and mother living in the South, Cecy enjoys spending time with her family and silencing the yappy characters in her head by telling their stories.