PLAY LisaLand an online progressive board game for a chance to win fabulous prizes!

Over the course of more than 30 historical romance novels, Lisa Kleypas has created a vibrant world for her characters–one filled with beautiful estates, infamous gaming hells, even a department store!

Learn a little more about her world in the progressive online board game "LisaLand," inspired by DEVIL IN SPRING heroine–and board game creator–Pandora Ravenel, and her real-life counterpart Lizzie Magie.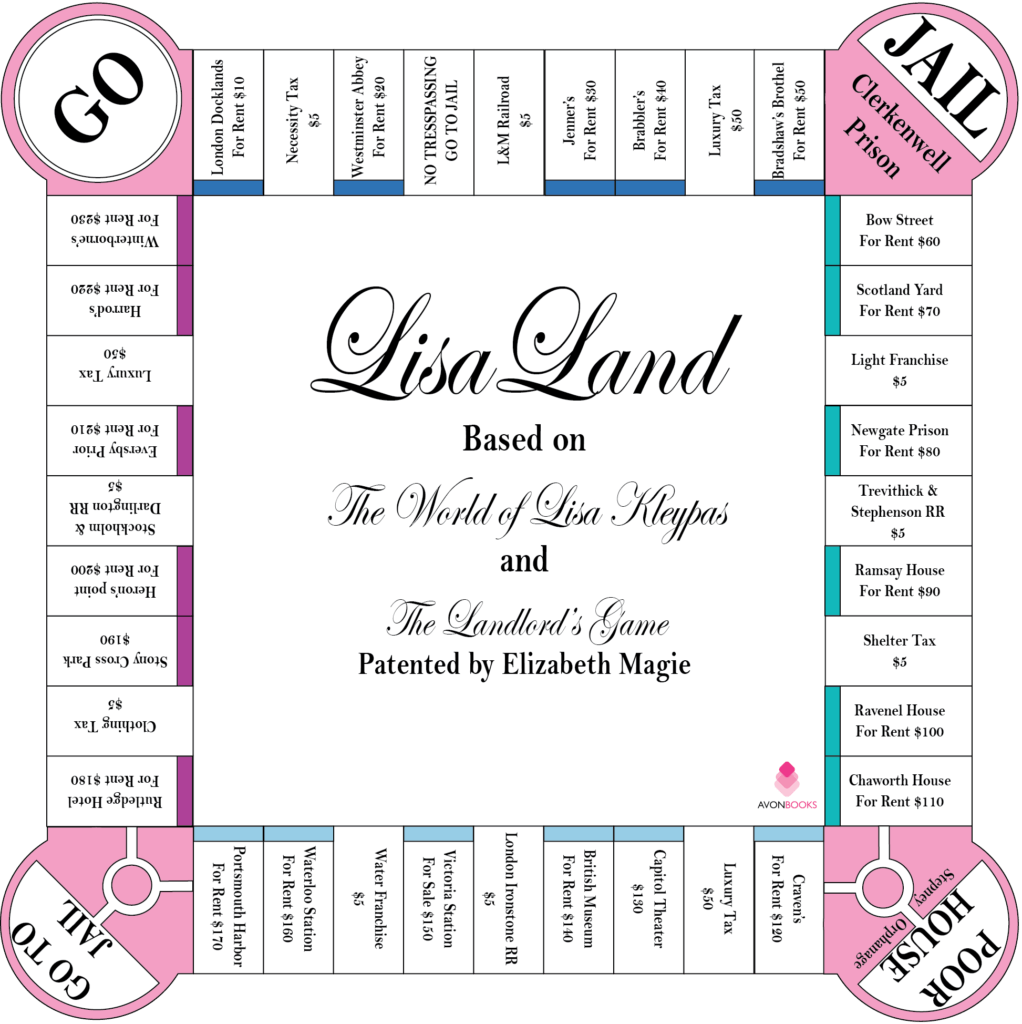 Let's get the dice rolling.
The roll of the dice will take you to one of four Blogs.
At these blogs you will find Lisa Kleypas "flip cards," which hold the answers to a Kleypas quiz!
If you are lucky the roll of a dice could also take you to one of two prize pages, where you can enter to win either a $50 ebook retailer gift card) or the entire Ravenel series + DEVIL IN WINTER! Good Luck!

Head to avonromance.com/lisaland to roll the dice and enter another part of Lisa Kleypas's world!


Head back to avonromance.com/lisaland to roll the dice again and enter another part of Lisa Kleypas's world!

Lisa Kleypas dishes on Devil in Spring with this fun little challenge using the title of the book: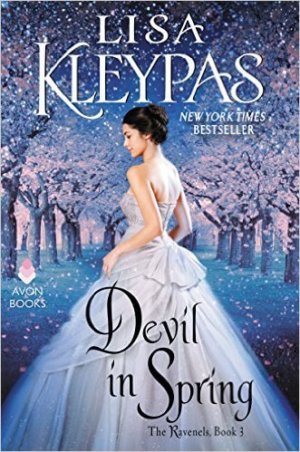 D is for Devil
E is for encounter (in a summerhouse)
V is for vegetable (there's one in particular that Gabriel absolutely hates)
I is for imagination (Pandora has a vivid one)
L is for legal rights (of which Victorian Women had very few)
I is for Isle of Wight (English island just off the coast of Hampshire
N for nausea (which happens to Pandora whenever she waltzes)
S is for stuck (Pandora's unfortunate encounter with a settee)
P is for passion
R is for runcible spoons (one of Pandora's favorite things)
I is for inventor
N is for notebook
G is for Gabriel, Lord St. Vincent.
For more on Lisa's latest novel, DEVIL IN SPRING, visit http://avonromance.com/book/9780062371904/devil-in-spring-3/.

To find out more about the amazing Lizzie Magie, visit https://www.nytimes.com/2015/02/15/business/behind-monopoly-an-inventor-who-didnt-pass-go.html

We have a special giveaway here at HJ! To enter to win just tell us about your favorite Lisa Kleypas book and character.
Giveaway: 

A copy of COLD-HEARTED RAKE and MARRYING WINTERBORNE by Lisa Kleypas (US)
To enter Giveaway: Please complete the Rafflecopter form and Post a comment to this Q: Tell us about your favorite Lisa Kleypas book and character…
Meet the Author: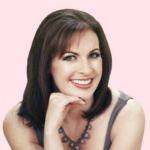 Lisa Kleypas is a New York Times bestselling author of both historical and contemporary romance. Her thirty-nine novels and four novellas have been published in twenty-four languages and are bestsellers around the world. After graduating from Wellesley College with a political science degree, Lisa sold her first book and made a full-time career of writing the kinds of romances she has always loved to read. Lisa is living her own happily-ever-after in Washington State with her husband Greg and their two children.
Website | Facebook | Twitter |