Today it is my pleasure to Welcome author
Susan Sands
to HJ!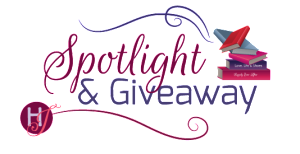 Hi Susan and welcome to HJ! We're so excited to chat with you about your new release, Love, Alabama!

Hello, everyone! So happy to be here.

Tell us about the book with this fun little challenge using the title of the book: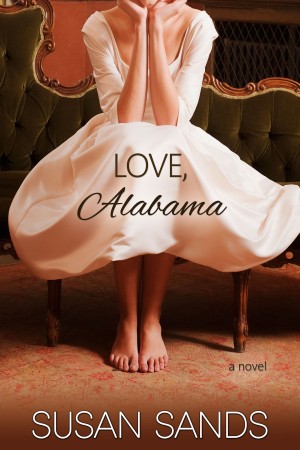 L is for Love.
O is for overcoming the past.
V is for vying for a crown.
E is for Emma. She's our feisty fallen beauty queen who finds her courage to stand up and fight for a new beginning with the help of Matthew and her big, loving (nosy) family.
A is for Alabama.
L is for the Laroux family.
A is for Auburn, the football rival of Alabama.
B is for Baggage–the emotional kind.
A is for Again, Alabama, the book that came first.
M is for Matthew.
A is for Al, Emma's Golden Retriever mix.
What's your favorite line(s) from the book?:
He was naked. Oh, Lord, was he naked. The most delicious naked she'd ever seen. And now she couldn't stop staring at his naked. And apparently his naked knew it now. Because it was staring straight up at her, too.
Please tell us a little about the characters in your book. What first attracts your Hero to the Heroine and vice versa?
He is stunned by her beauty, then by her wit and independence. Soon after, he recognizes her from the past.
She "gets" him almost immediately. Of course, he's hot too. This connection hasn't happened with a man for Emma in a very long time.
When you sat down to start this book, what was the biggest challenge you faced? What were you most excited about?
It was a challenge to recreate the authentic experience of the town of Ministry and the Laroux family so that readers felt as immersed in the setting as with AGAIN, ALABAMA, my first book. They are both stand alone novels with connected stories.
I was excited to share Emma's story in LOVE, ALABAMA after hinting at her tragic past people barely whispered about. Emma is a sexy, sassy pageant coach whose past is barely whispered about in a small town.
What, in your mind, makes this book stand out?
It's fun, it's Southern, and it's a mix of a woman's journey and a romance and the culture of a small town with all that is good and bad about it. It's about family and place as a character. While the heroine is a pageant coach, the story has a wide appeal.
The First Kiss…
Their first kiss is in her bedroom closet, and it's pretty intense. No sex, but it's definitely a promise of more to come between them, even though she tells him it's not.
Matthew wasn't the sort to back down from such a delicious challenge.
He kissed her, softly at first, to see what she had in mind, but Emma didn't seem to want softness at the moment. This first kiss rapidly developed into a hungry, needful meeting of lips.
Were her legs really wrapped around his waist? Holy God. And look, her bed was right there.
If your book was optioned for a movie, what scene would you use for the audition of the main characters and why?
There's a diner scene that I love. Matthew has a lot of self-control. He orders egg white omelets. Emma eats donuts and does Pilates to offset it.
After the convenience store stop, he swung by the local diner for coffee and a quick breakfast. "Well, aren't you a fancy pants? What can I get you, baby?" The hundred-year-old waitperson, Thelma, if her nametag was to be believed, asked with a cackle. Great. This morning was beginning with a bang.
"I'll just have black coffee, two scrambled egg whites on a whole wheat English muffin and well-done turkey bacon." Thelma's near-toothless smile slipped.
Her smoker's mouth puckered into a million wrinkles as if sucking on a dill pickle while smelling something vile.
"We call that a 'stick up your ass' breakfast," Thelma informed him.
"Do you serve those here?" Matthew raised a brow and asked, mildly amused by her judgment of his dining choices.
She continued to eyeball him with disdain. "We do, but we don't like it." She spun on her old, scuffed orthopedic shoe and shuffled toward the pick-up window.
"Oh, Thelma—" He called after her.
She turned and cut him off, "Yeah, yeah, you're in a big ole hurry, too, aren't you, slick? The 'stick up your ass' comes with a rush. Nobody who orders it takes the time to sit and enjoy their food. Goes with the territory. It's a 'type,' you know?"
Before he could respond to her rudeness, the bell on the door jingled, distracting him.
Emma Laroux appeared, fresh as spring rain on a daisy. Her long, blonde hair was pulled up in some sort of floppy bun construction with wisps trailing on either side of her face, a contrast to her startlingly clear hazel eyes and inky, arched eyebrows. She was wearing well-fitting jeans and a white cotton sweater with an equally flattering neckline, which made him swallow his very hot coffee a little too quickly. That made him cough and sputter. She quite literally took his breath away.
He was halfway hidden behind his newspaper, but she spotted him immediately, perhaps due to the noises he was making. Judging from the small furrowing of her brows and pout on those lovely wide lips, she still held a grudge from yesterday.
As she approached, old Thelma brought his breakfast to the table, dropping it from about a foot above the surface. It clattered deafeningly. "One stick-up-your-ass, hold the butter, hold the jelly, and hold all the possibility of the joys of living."
"Hi, Miss Thelma." Emma giggled.
Thelma turned at Emma's approach. "Oh, hey, baby. What can I get you? The usual?"
"That would be great. Thanks." Emma grinned at the old bag, who pinched her cheek and crowed, showing
all five of her teeth.
Emma turned and looked down toward him, eyeing his rather dry breakfast. "I see you're making friends
with the locals."
He lifted a brow, a little surprised she hadn't slung the nearest mug at his head. He took a chance and
motioned with a hand for her to join him across the booth.

She wouldn't have considered joining him after yesterday's dramatic exit, if not for the need to keep peace for Cammie's sake. So, against her instincts, she sat.
The moment she did, Thelma swooped back in. "Emma, dear, do you know this young man?" Nothing like everyone in town looking out for you.
"It's fine, Thelma. Mr. Pope is the producer working on Cammie's show. We have some things to discuss." This answer seemed to satisfy the older woman enough so that she shuffled away after giving them both a speculative glance.
"Is she your grandmother or something? Why the security measures?" Matthew asked.
"It's a small town." She shrugged, as if that was all he needed as explanation.
He reached toward the inside of the booth and snagged a container of sugar-free fruit spread. Emma cringed
as she watched him smear it on the dry English muffin.
He noticed her reaction. "You have something against bread?"
Before she could answer, Thelma approached with two, large blueberry cake donuts and a steaming cup of
hot chocolate piled high with whipped cream. Emma smiled her thanks.
"No, I love bread. I just hate cardboard with no sugar." She sank her teeth into the heavenly indulgence.
Thank God for her fast metabolism and good genetics. Plus, she was in constant motion, running her own business—not to mention the yoga and Pilates workouts. For a small town, Ministry had a kick-butt workout studio.
She licked her finger, eyes closed. This was the only way to start the day. When she opened her eyes, Matthew was staring at her with an odd expression.
He cleared his throat. "Well, some of us have a care for our health."
If your hero had a sexy-times play list, what song(s) would have to be on it?
Since this is small town Southern, I adore:
Brett Eldridge–"Mean to Me"
Thomas Rhett–"Die a Happy Man"
Sam Hunt–"Take Your Time"
What do you want people to take away from reading this book?
Learning from our past and moving beyond the bad to find the lessons it teaches us to create a better future is a really great exercise for all of us.
There's a review on Goodreads that states it so perfectly:
"This is a story about how unresolved events in our past direct and temper our future. It is well written with an understanding hand that tenderly weaves a story of lives that need to be unstuck from the past so love can have a chance to blossom and grow."–Goodreads reviewer
What are you currently working on? What other releases do you have planned for 2016?
I'm working on my third Alabama story that follows Love, Alabama. I've also just finished a new single title novel set in Louisiana. No release information yet!

Thanks for blogging at HJ!
Giveaway:

I'm giving away a $20 Amazon gift card. Please comment to be included in the drawing!
To enter Giveaway: Please complete the Rafflecopter form and Post a comment to this Q:

Small towns–love 'em? Hate 'em? Why?
Excerpt from Love, Alabama:
"Can someone get this hairy mutt off the set?" The director sneezed again and cast an irritated glance toward the large Golden Retriever. He didn't bother to make eye contact with Emma.
Emma stiffened at the unflattering reference to Big Al, who currently hugged her side in an effort to gain refuge from the angry vibes cast his way. Big Al's fur was cut close, so he hardly shed at all. Besides nabbing a poorly placed donut from the edge of the snack table, he'd been a perfect gentleman thus far today.
As soon as the filming segment ended, Emma couldn't help asking, "Are you sure you're allergic to the dog? Lots of folks react strongly to the flora around here when they come down from up North." The word north might've slid off her tongue just a little distastefully, as Emma smiled sweetly at Mr. Matthew Pope from Manhattan. Not that she had anything against the North. Just some products of it—like rude, impatient men and very cold weather.
"I can't do my job if there's hair and dander flying around and I'm sneezing my head off. Animals have no business on the set of a cooking show, anyway. Get rid of it." He made an offhanded, sweeping motion from his elevated position in the director's chair, as if he manned the bridge of a star ship on Star Trek. Make it so…
He'd referred to her baby as "it." Emma would keep her mouth shut, as this wasn't her gig, but why the network had sent someone down from New York with such an obviously pissy attitude to produce her sister, Cammie's, new smash cooking show baffled Emma.
She couldn't argue that he was slickly handsome and extremely male, despite his rafter-rattling sneezes, if one liked that sort of thing. Emma could appreciate those pleasing attributes from a detached and cerebral place. No emotional stuff for her, and no physical stuff either. She was different like that—had been for almost a decade.
Matthew Pope was simply a gorgeous pain in the ass, to her thinking. He sneezed again. Somebody oughta get him a pack of Claritin and call it a day.
As Emma led Big Al into the next room, her sister, Cammie, caught up with her after Mr. Producer/Director yelled cut again. "Hey, everything okay?"
"Yeah. Mr. Hotshot doesn't want Big Al on set," Emma said.
Cammie nodded and rolled her eyes. "I heard him complaining."
"Why would they send such a stinkpot? I don't think he's cracked a smile since he got here." Emma
gathered the honey-blonde hair that had fallen forward and smoothed it back so it hung between her shoulder blades. She should have put it up, but hadn't taken the time before she left home this morning.
"I haven't seen one if he has, but I guess we're stuck with him until he goes into anaphylactic shock or gets fed up and quits."
Emma shrugged. For now, she was helping her sister out on the set. This wasn't her real job, so he wasn't going to be her problem going forward anyway.
Just then, the call rang out for Cammie to get back on set. "Gotta go. Thanks for all your help today."
"Sure. No problem. I'm teaching all afternoon, but I can come back in the morning, if you need me." Cammie gave her a quick hug. "That would be a lifesaver, if you don't mind. I still can't seem to find
anyone to do makeup and hair that doesn't make me look like Jessica Green's love child." Cammie grimaced as she said the words.
"Girl, we can't have that." Jessica Green was Cammie's former boss, and how she'd gotten her start in the television cooking world. But things had gone badly between them due to Jessica's jealousy of Cammie's rapid rise in viewer popularity. Jessica was Southern as sweet tea and wore all the makeup that Bobbi Brown put out—pretty much at the same time.
"Okay. See you tomorrow," Cammie said, just as Matthew Pope bellowed, but was cut short by a sneeze.
That made Emma smile. Kind of hard to be effective as a star ship commander with seasonal allergies kicking your ass.
"Bless you!" She singsonged toward the overbearing jerk, and then whispered under her breath, "And bless your heart." She thought she might have heard mumbled thanks through his tissue.
Just as she and Big Al were about to exit the barn where Grey had recreated the large farmhouse kitchen inside, Emma pulled a doggie treat from her pocket. "Who's a good boy? Who's a good boy?" She crooned.
In answer, he launched himself toward the treat, taking her right off her stilettos and dumping her in a pile with her appreciative pup. She managed to sit up just as Big Al licked her right on the mouth.
She couldn't help it; she laughed, "I was rewarding you for being such a fine gentleman this morning and you go and do this." Recognizing her unladylike position, Emma hoped nobody had just witnessed her takedown.
No luck.
"Do you know what dogs eat besides their food whenever possible?"
The deep voice lacked humor. She hadn't heard him approach, or never in a million years would she have
allowed this man to catch her roughhousing with Big Al in the middle of the floor. Commissioning as much dignity as possible, Emma Jean rose from her position, temporarily ignoring her best retriever buddy.
She wished she could sic Big Al to knock Matthew Pope on his ass and give him a big ole sloppy kiss. But a Southern lady hid her crazy with fine manners—always.
Instead of using her manicure as a deadly weapon, Emma said, "Well, I'd rather eat my dog's shit thirdhand than spend another minute being insulted."
She nailed him with her best beauty pageant, dazzler smile and made a slow, deliberate runway pivot, whistled to Big Al, and exited the room; head high, her five-inch heels clicking across the tiles.
Emma would love to have gotten a photo of his comical expression at her response to his rudeness, but a leave-taking like that prevented looking back to enjoy the moment. It was an epic exit.
Holy mother of God. The realization smacked him upside the head. The corn-fed, six-foot-tall blonde who'd just sashayed out the door with a Southern queen's bearing—her infectious mutt in tow—was none other than former Miss Alabama, Emma Laroux. He shook his head to clear it. Then, he smiled. Emma Laroux. Well, shit.
Their time together hadn't been romantic. It had been brief, chaotic, and quite frankly, more intensely confusing than either of them had been prepared to cope with on a college football Iron Bowl weekend.
For Emma, he realized that weekend must have had serious implications not of his doing. He'd tried once to contact her—after. But he hadn't heard a word. So, against his better judgment, he'd let it go. It hadn't been the last time he'd thought of her though. He hadn't even been certain what all had happened, only that Emma, who'd been Miss Alabama up until that time, had stepped down and became former Miss Alabama after that weekend.
Today, he'd not recognized her at first. Maybe because he was in the throes of a wretched allergy attack, or because now she was less a fresh young beauty queen and more an incredibly sexy woman, fully grown. Not mature in any sort of matronly way either. No, more a vibrant, fit, and completely overwhelming sexy female kind of way. Back then, she was young, model-thin, platinum blonde—gorgeous, yes, but without the depth of experience life and years tended to layer on. To Matthew, all the things that made women the most interesting and appealing.
If you'd asked him ten years ago, he'd have sworn Emma Laroux was perfect, with no room for improvement, especially after he'd seen the woman behind the perfection. She'd been vulnerable at that time, made so by circumstances that likely had shaped her into the woman who'd just marched cleanly away and left him dazed.
Ten years ago, he'd been a heavy-set football player, not the lean, fit man he was today. No wonder she hadn't a clue who he was. He'd even changed his name—not that she'd even known his name back then. But she'd also been out of it the evening they'd met. Her memory was more than likely fuzzy from whatever had gone down—whether it had been of her making, or not.
When Matthew had later reflected on that night, he realized someone had surely drugged her earlier in the evening, and that must have been why she was wandering, in her underwear, around the fraternity house where

he'd been a visitor. The thought had brought up such intensely angry emotions within him later, but it was after the fact, and it was truly none of his business. Plus, she'd not returned his call when he'd tried to contact her.
The local news reported she'd given up her crown and stepped down from the Miss Alabama title for "personal reasons." He hadn't seen any sensational news reports aside from that. He never really knew exactly what had caused the shit storm, but he knew she'd been in trouble that weekend, because he'd done his best to help her out of it.
Maybe she was married with kids. No one had mentioned anything about her current personal situation within his hearing, but he hesitated to approach her again after today's rather disastrous encounter. She obviously hadn't recognized him. He'd like to think those changes were for the better. It was sort of a relief she didn't know who he was now. That would have been truly awkward because of how they'd met again.
Since he'd gotten back here—here being Alabama—things hadn't gone well. The idea of a downward move, career-wise, made him want to roar in frustration. The squirrelly network executive responsible had been threatened by Matthew's presence at the New York office. Or maybe by the fact that Dave had found out about Matthew's past dating relationship with his current girlfriend, Brandi.
Dave was pretty short, or maybe it was because of his receding hairline. Perhaps both contributed to his insecurity. The exec made far more money than Matthew, and Brandi had seemed far more impressed by the size of a paycheck than the man. So, surely sending Matthew down here was overkill. And it was an asshole thing to do.
Not that this was a bad assignment; Cammie Laroux at Home was a hot, new show for the network in a sweet primetime slot. It just happened to shoot in Ministry, Alabama. Might as well call it Mayberry, RFD.
But things just got a bit more interesting in Mayberry. He was well aware that he'd been an insufferable grouch—angry and frustrated with his situation thus far. Time to address these allergies, and maybe a tall blonde.
Excerpts. © Reprinted by permission. All rights reserved.
Book Info:
Emma Laroux's a fallen Southern beauty queen whose past is barely whispered about in her small town. But the secrets and lies surrounding the scandal from long ago still haunt her, and something about Matthew Pope holds the answers. If only she could put her finger on it.
Matthew Pope wonders what awful karmic thing he'd done to land him in Podunk, Alabama. But when he sees Emma again after all this time, he knows he's still the only one that holds the key to unlock the truth of her past…
Will a shared moment in time ten years ago threaten what might be the best thing that's ever happen to either of them—each other?
Book Links:

Meet the Author: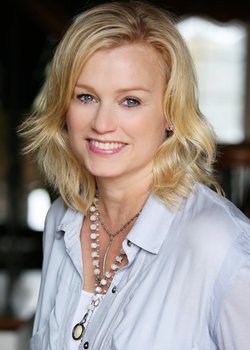 Susan Sands grew up in a small Northwest Louisiana town, where the seeds for future stories were inspired. Her lifelong love of reading motivated her to begin writing as her midlife crisis at age forty—better than a boyfriend or red sports car, according to her husband. Her debut novel, Again, Alabama, was released in June 2015 from the Tule Publishing Group. The connected story, Love, Alabama, follows in April 2016.
Susan lives with her dentist husband and three nearly grown children in Johns Creek, GA.
Website | Facebook | Twitter |