Today, HJ is pleased to share with you Jaci Burton's new release: 

Love Me Again

In the latest novel from the New York Times bestselling author Jaci Burton, it's never too late for a second chance at first love…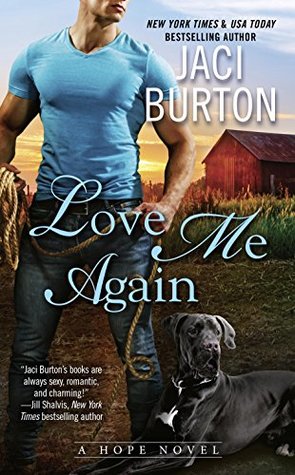 When Loretta Simmons returns to Hope, Oklahoma, after a disastrous marriage, she's determined to remain independent for the sake of her daughter. The only thing standing in her way is Deacon Fox—the man she loved and walked away from years ago.

Since Loretta owns the bookstore right next to his current renovation project, Deacon can't escape the woman who broke his heart. Throw in her adorable little girl and one ridiculously oversized dog, and they're almost a family. Only he can't be that guy—what they had was once in a lifetime.

But love has a funny way of reopening a door you thought was firmly closed…

Read an exclusive excerpt from Love Me Again: 
"Let's eat," Loretta said. "Otis, out."
Deacon was impressed that Otis listened to Loretta's command. The dog made his way into the living room, circled a few times, then lay down.
Deacon looked over at Loretta. "Been practicing that one?"
"Repeatedly."
"Seems to be working."
"Only sometimes. I think he only did it tonight because he wanted to impress you."
Deacon laughed. "I don't think he's trying to impress me. I think he's trying to impress you."
"Uh-huh. We'll see. He could stop eating my shoes. That would impress me."
Hazel filled her plate with salad, then looked over at Deacon. "He chewed the heel off of one of Mama's bestest fancy shoes. The Loo-boo-tuns."
Deacon had no idea what those were, but from the grimace on Loretta's face, he wasn't about to ask. Instead, he concentrated on the food in front of him, which looked fantastic. In addition to the chicken and the salad, they also had green beans and a fruit salad. Altogether it looked like a feast.
"Sorry I didn't make any potatoes," Loretta said.
"I actually prefer more fruits and vegetables with my protein."
"That's what Mama says, too," Hazel said. "Though I do like French fries. And tater tots."
"Well, who doesn't? But they're better for you in small doses."
"Now you sound just like Mama. Anyways, I like broccoli. And salad. And I really like fruit."
"Me, too." Deacon spooned some fruit salad into his bowl. "What's your favorite fruit?"
"Watermelon. What's yours?"
"Blueberries. So don't eat them all."
Hazel giggled.
Deacon looked over at Loretta, who was smiling at him. His stomach tightened, and he focused instead on his food.
"This is really good, Loretta."
"Thank you. The chicken is great. Thanks for grilling it."
"You're welcome."
After dinner, he helped her clean up, then hung out with Hazel and Otis until Hazel yawned and stretched out on the sofa. He watched TV with her for a few seconds, then stood.
"I need to go. I'll see you soon, Hazel."
She yawned again. "Okay. See ya, Deacon."
Deacon went into the kitchen. Loretta was at the table working on some papers.
"I'm heading out."
She stood. "Okay. I'll walk you out."
As they made their way outside, Deacon noticed that Hazel was already asleep on the sofa and Otis was lying on the floor at her feet.
"That was fast," he said. "I just said good night to her."
Loretta nodded. "She plays hard all day, and she crashes fast."
He opened his truck door. "Thanks for dinner—again."
"Thanks for fixing my kitchen plumbing. The new faucet is great. I really appreciate it."
"Like I mentioned earlier, I'll come out this weekend to fix Hazel's window and work on the barn if that's okay."
"Hey, it's not my timetable, it's yours, so whatever works for you."
"Okay, I'll text you and we'll work something out."
"Sounds good."
He lingered, though he didn't know why.
"Deacon?"
"Yeah."
"Do you think at some point we should talk?"
He frowned. "About?"
"You know . . . the past. What happened between us."
And things between them had been going so well. "I don't think dredging that up is a good idea, Loretta."
He had his truck door between them. She stepped around it so she was standing right in front of him. "I disagree. You're working next door to me, and now you're fixing things around here and helping Hazel with her dog. It might be time for us to have a talk about what happened. What I did and why I did it."
He really did not want to talk about this. "I know why you did it. Because you fell in love with someone else."
She looked down at the ground, then raised her gaze to his. "That's not exactly what happened."
He frowned. "What exactly did happen, then?"
She looked toward the open front door. "How about we talk about it this weekend when you're here? I don't want to get into it with Hazel just inside."
Oh great. Now she'd opened up the past and then shut it down just as fast. "Sure. Whatever you want."
She laid her hand on his arm. "I don't want to hurt you by dredging it up. I just think it would be good for both of us to clear the air."
"You mean good for you. You feel the need to get some guilt off your chest by explaining things that can't be explained."
He saw the hurt in her eyes, and he wasn't going to take responsibility for that, because he hadn't put it there.
"I deserved that. Maybe that's why we need to talk it out. Because I know I hurt you. And maybe I can't explain it in a way that you'll find forgivable. But I'd like to try."
Well, shit. "Okay. We'll talk."
Her hand still lingered on his forearm. She gave it a squeeze. "Thank you. So I'll see you this weekend."
"Sure. See you, Loretta."
He climbed into his truck and wished like hell she'd go into the house. Instead, she stood outside, the wind blowing strands of her hair across her face. He wanted to sit there and stare at her, because she was still so goddamn beautiful she made him forget to breathe.
Instead, he backed his truck down the driveway and got the hell out of there.
Excerpt. ©Jaci Burton. Posted by arrangement with the publisher. All rights reserved.
Giveaway:

Print copy of Love Me Again (A Hope Novel) by Jaci Burton
To enter Giveaway: Please complete the Rafflecopter form and post a comment to this Q:

What did you think of the excerpt spotlighted here? Leave a comment with your thoughts on the book…
Meet the Author: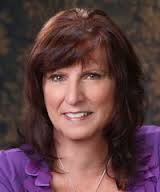 Jaci Burton is the New York Times and USA Today bestselling, award-winning author of over seventy books, including the Play-by-Play series and the Hope series. She was awarded the RT Book Reviews Career Achievement Award in 2012. Jaci lives in Oklahoma with her husband and dogs. Visit her at jaciburton.com.