Today it is my pleasure to host award winning author of sexy contemporary romances,

Samanthe Beck

at HJ!
Top Three Reasons I Love Hot Cops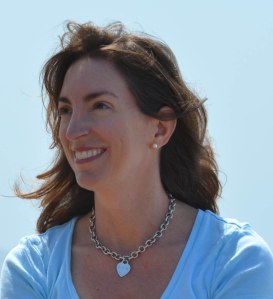 Thanks Sara, for having me back at Harlequin Junkies to talk about Lover Undercover, my new release from Entangled's smexy Brazen line. I hope people have as much fun reading Lover Undercover as I had writing it. One of the reasons I got such a kick out of writing Lover Undercover was the chance to get all up-close-and-personal with my hero, LAPD homicide detective Trevor McCade.
My first novel, Private Practice, featured Tyler Longfoot, a local bad boy. And I can't deny the appeal of a bad boy hero. He's exciting! He's unpredictable! He breaks rules! But when I dug into Trevor, I got in touch with the appeal of the guy at the opposite end of the spectrum…the good guy. Those military men, cops and firemen…why do we love 'em? Here are the top 5 reasons I came up with:
1) They're protective. Trevor's protective instinct is right there in the LAPD slogan… "To Protect and Serve." My heroine, Kylie, senses this about Trevor almost immediately. She's afraid to get too close to him, because she's got secrets to keep and, consequently, finds herself a little bit on the wrong side of the law, but Trevor's got a murder to solve and he's determined to keep her safe in the process. When he goes all Alpha protective on her, he's kind of hard to resist, don't ya think?
"Don't take too much comfort from staying off our suspect list, because, if I'm right, you're in an even more precarious situation. You've caught a killer's eye. So far he's going after your poorly behaved clients, but I can't help wondering what happens if he decides you're the one behaving poorly."
Huge, blue eyes looked up at him, but she didn't crack. Instead, she dropped her gaze to her watch. "I've answered your questions as best I can. Am I free to go?"
"What's your hurry? Somebody extremely dangerous is watching you closely, if my theory is correct. Maybe you'd like to consider the implications for a moment?"
She didn't respond, but her expression conveyed such apprehension, uncertainty, and plain old misery, he couldn't stop himself from trying again.
"Hey," he softened his voice. "You're in a risky situation. I need your help to get you out."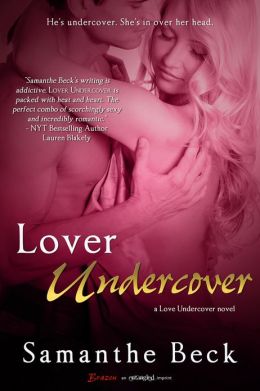 2) They uphold the rules. Compelling Trevor to break his precious rules became an obsession for me, but I was determined, so I put the poor man undercover in a strip club and made Kylie dance for him while posing as her twin sister Stacy. He never stood a chance!
Her uncensored, uninhibited movements sure as hell didn't look like an act. Didn't feel like an act. Worse, he didn't want this to be an act. The last thought shocked him into action. Abruptly, he widened his legs. The move forced her thighs further apart. "Stacy, we have to stop—"
Too late. Head back and teeth clenched, her entire body tightened against his. Her free hand clenched his shirtfront while the busy hand between her legs stilled. She sucked in a quick breath—as if she'd just walked into the biggest surprise of her life—and then came with a long, shattering cry.
In that moment, Trevor knew that he was completely and utterly fucked.
3) They have authority, and they're not afraid to wield it! Does Trevor have to slap the cuffs on Kylie? You'll have to read Lover Undercover to find out, but I can tell you he gives her a pat down she'll never forget!
Getting tangled up with her bent all kind of rules, but when she turned and opened the door, all he thought was, Hell, no. Following instinct rather than reason, he reached over her head and slammed the door closed. She jumped, but stubbornly faced the door.
He leaned in, trapping her with his body. "You've taught me something about myself."
Into the swelling silence she released a pent-up breath. "What's that?"
"I like bad girls." He grazed his teeth along her neck, provoking a little moan from her. "One in particular, I can't resist. I may have to take you into protective custody."
He braced her palms on the door, nudged her feet apart with one of his, and then sent his hands under the hem of her t-shirt, up the silken ladder of her ribs. She moaned again when he cupped her breasts. Her hips shifted restlessly against him when he squeezed.
"Oh, God. Are you frisking me? Helpfully, she stepped out of her flip-flops. "I'm unarmed. I promise."
"You were born with weapons, and you know it."
Giveaway: e-copy of 
Lover Undercover by Samanthe Beck
To enter Giveaway: Please complete the Rafflecopter form and post a comment to this Q:
Kylie doesn't stand a chance! What about you? Ever find yourself succumbing to the allure of a hot cop, does your heart belong to a bad boy?
Samanthe's newest Brazen, Lover Undercover is available now!
He's undercover. She's in over her head.
Yoga instructor Kylie Roberts is the good twin. Or she was—until an accident prevents her sister from dancing at a posh Hollywood "men's club," and Kylie has to step into her twin's sexy stilettos to make rent. But nothing could've prepared Kylie for the dead body in the club's parking lot, a killer who only targets her clients, or the ridiculously hot detective assigned to the case. Too bad he thinks she's her sister, because Kylie's willing to volunteer for an intimate, full-body strip search.
Detective Trevor McCade needs Kylie's help. His plan is to pose as a regular customer and draw out the killer. It means long nights undercover, and long dances where Kylie's body tempts him with sensual promises. Dances that leave them both wantingmore. But despite Kylie's hidden identity and the danger lurking in the shadows, it's only a matter of time before Kylie and Trevor take this undercover operation under the covers…
LOVER UNDERCOVER
Publisher: Entangled Publishing
Imprint: Brazen
Genre: Contemporary Romance
ISBN:  978-1-62266-977-6