Today it is my pleasure to Welcome author
Emma Hart
to HJ!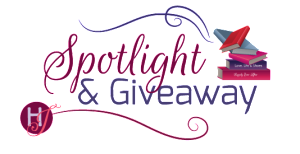 New York Times bestselling author, Emma Hart, brings together two polar-opposite single parents in the second book in the sinfully sexy Vegas Nights series.
Please summarize the book for the readers here: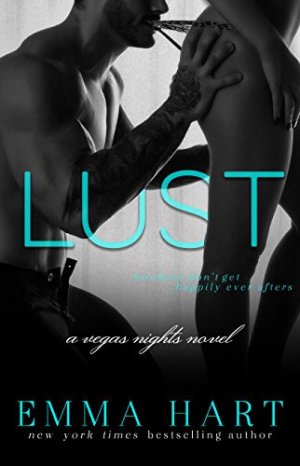 LUST is the story of Perrie Fox and Adrian Potter. Perrie is Damien's sister (from SIN) so readers of that book will know that she is estranged from her family after falling pregnant young and a prostitute. Adrian Potter is a Detective with the LVPD and head of a task force aimed at eliminating prostitution in some of Vegas' hotspots. He arrests her one night, but a single parent himself, lets her go. There's a catch, as Perrie finds out—if she wants to stay out of jail, she has to work as a consultant for his team. So begins a red-hot push and pull as they toe the line between their attraction and what's right and wrong…And the fact their kids have already bonded.

Please share the opening lines of this book:
Sometimes, a girl just didn't need a finger up her asshole.
Today was that day.
Unfortunately, whether I needed it or not hadn't mattered to the selfish, married guy lying on the bed in the next room. He wanted his finger in my ass, so I had to deal with his finger in my ass.
Please share a few Fun facts about this book…
This book came from a random conversation at Apollycon with Angie McKeon of Angie & Jessica's Dreamy Reads. This book is actually dedicated to her, because without her, I don't think I'd ever have had the idea for a cop and a hooker.
Some of the stuff the kids—especially Lola—say or do are influenced by my own kids. She has a nightmare that my 3yo son recently had that, in hindsight, makes me laugh now, and when I wrote the scene noting Perrie's frustration at her constantly singing songs from the movie, SING, my daughter may or may not have been singing the soundtrack. 😉
Part of LUST intersects with the timeline in SIN. It was fun to see Damien and Dahlia from another perspective—as well as the ever-hilarious Fergus.
Please tell us a little about the characters in your book. As you wrote your protagonist was there anything about them that surprised you?
Yes, I was surprised by both characters. I always knew Adrian had a hero complex, but seeing it unfold and learning his story made it more understandable as to why he was so…obsessed, I guess, with helping Perrie.
As for Perrie, I went in thinking she was a lot more stubborn and hard-headed, but that wasn't the case. She was a lot softer, and there are a few things I learned about her that I didn't know before.
If your book was optioned for a movie, what scene would you use for the audition of the main characters and why?
Hmm, I think it would have to be a scene from the start, where they're just getting started on working together and Perrie is completely resistant to him. She's appreciative she's not in jail, but she's fuming about the ultimatum he gave her.
Adrian closed the few inches between us and leaned his head down as we walked into the air-conditioned lobby of the hotel. "Nobody here knows who we are," he whispered, his mouth almost touching my ear. "Swallow your annoyance for a damn hour and pretend, would you?"
"I don't want to."
"Tough shit." He held his arm closer to his side, trapping my hand against him. "You agreed to this, regardless of how you think I made you do it. The other option is always available to you."
"You're a bastard."
"Only when I'm dealing with a stubborn, insufferable woman."
"Thank you. I take great pleasure in knowing I'm pissing you off."
He laughed again. "Keep that pleasure for the next hour and people might believe that you're my girlfriend."
"Idiots," I muttered, glancing around as we entered the casino.
My eyes took a moment to adjust to the smoky, stale air that enveloped us only a few steps inside the vast area. I coughed as the thickness jolted me for a moment. Adrian rested his hand over mine on his arm and guided us away from the worst area, over to where the bar was surrounded by clearer air.
"Worst part of this job—going home smelling like an ashtray," he said under his breath.
I wasn't going to argue it. But if that was the worst part of his job… "I'd say getting a load full of semen on your face beats that."
He froze.
I froze.
Whoops.
I didn't mean to say that.
He blinked his bright eyes at me for a moment before he smirked. He let my arm go, only to wrap his around my back and grip the edge of the bar, trapping me right against him. "Think about this on the bright side," he said into my ear. "The worst part of your job tonight is that you'll go home smelling like an ashtray."
What do you want people to take away from reading this book?
Much like with SIN, the underlying theme of LUST is moving on from the past and accepting that there are things you can't change. There's also a strong theme of forgiveness—a lot of the ending focuses on Perrie's relationship with Damien, so that's about forgiving the people who matter when they've hurt you.
What are you currently working on? What other releases do you have planned for 2017?
I'm actually about to start a new book today – MISS FIX-IT, a romantic comedy standalone that's coming on 10/31. I'm super excited to get back to "light fluff." Set in a small, fictional town, Miss Fix-It is about handywoman Kali Hancock who battles the preconception that only men should be builders. Self-proclaimed as "ready for anything," that changes when Brantley Cooper, hot, single dad of 4-year-old twins moves to town and hires her. It promises to be fabulously fun and completely awkward in the vein of my previous romcoms. (Being Brooke and Catching Carly.) So, I expect that fans of those books will love Miss Fix-It.
The cover reveal is on 9/22, but subscribers to my newsletter will see it early, exclusively, on the 21st, plus read an excerpt! You can sign up here: http://bit.ly/EmmaAlerts
After that, Miss Mechanic is coming in December. Another fun flip on the gender norm, I'll be sharing more details soon!

Thanks for blogging at HJ!
Giveaway:

Signed Paperback copy of SIN (Vegas Nights) by Emma Hart
To enter Giveaway: Please complete the Rafflecopter form and Post a comment to this Q:

I love writing kids in books and have done so a few times now. (Intercepted, Stripped Down, Dirty Secret, and now Lust.)
Do you like seeing kids in books? If you do, why? Do you think they add realism, comedic value, etc? I'd love to hear your thoughts!
Excerpt from Lust:
"What the hell was that?" She snatched her hand out of my grip, her dark eyes alight with anger.
"That was you drawing too much attention to us."
"Oh, yeah, because grabbing my hand and hauling me away like a caveman was the way to avoid a little extra."
I stared at her flatly for a moment. Then, I took a step toward her. She wavered as if she wanted to step back, and for a second, I thought she would.
She didn't. She planted her feet, straightened her spine, and looked me dead in the eye. "What the hell is your problem with me tonight?"
"I just made it perfectly clear," I said in a low voice, one much lower than hers. "You're unfocused. Your head isn't where it needs to be. You keep disappearing for bathroom breaks. I've never seen so much bullshit in my life."
"You have no idea what I'm dealing with right now."
"Your personal life has no place where we are right this second."
"Excuse me for being unable to just flip the emotional switch and pretend like I don't care."
"Don't care about what? Have you considered I might be more understanding if you tried talking to me?"
She averted her eyes before bringing them back, but the original fire was diminished. Her cheeks were flushed pink, and her chest shuddered with her exhale. "I don't want to tell you another damn thing about me, Adrian Potter. You already know too much."
But that was the thing, wasn't it?
I didn't know nearly enough about her.
"Then my point still stands. Get yourself together. You're not being paid to fuck off, Perrie. You're being paid to locate hookers."
Now, she took that step back.
Stepped back.
Hooked her purse strap over her arm.
Held her hands out, palms up, wrists together.
Expression flat and unfeeling, eyes cold and detached, she said in the most unemotional voice I'd ever heard, "Stop looking. You already found your hooker for the night."
I looked at her hands. Pink nails dug into her palms where she'd balled them into fists. Teeny, tiny scars dotted the inside of her left wrist, but her right one was unblemished, completely perfect in comparison.
Slowly, I reached and took her hands in mine. I pulled her arms apart and lowered her hands to her sides, then released her.
"I'm not arresting you. If I wanted you in jail, you'd already be there," I said quietly.
"Save yourself the hard work."
"I'm not arresting you, Perrie. End of."
She lifted her hands once more, fists ready, wrists already turning upward.
I grabbed them.
I pulled her into me.
And I kissed her.
I pressed my rough lips against her soft ones, hearing and feeling her sharp intake of air. She froze against me, but she didn't move. She didn't move and she didn't fight.
She kissed me back.
Releasing her wrists, I cupped the sides of her face as her hands fisted the sides of my shirt. Sweetness battled with the faint taste of mint as she parted her lips and our tongues met. She leaned into me a little more, grasping at more of my shirt at the same time my fingers snaked around her neck and teased her hair.
My thumbs brushed her jaw as our tongues battled. Heat thumped through my body ferociously, desire and need forming an almost undeniable urge as blood rushed right down to my cock.
This was wrong, and I knew it. Just minutes ago, I'd been telling myself this was the line I wouldn't cross, but here I was, crossing it and doing nothing to stop myself.
Truth was, I couldn't stop myself. I couldn't stop kissing her. She tasted of more than sweetness and mint. She tasted of obsession and she smelled like addiction.
She felt like danger.
Not a danger to anyone else, but to me. I'd kissed her but once and thought about it a thousand times, yet now, with my lips on hers, it felt as though I'd just found my Achilles Heel.
Her name was Perrie Fox. She had blond hair and dark eyes and a killer body and a soul just waiting for someone brave enough to understand her.
Perrie broke the kiss with a tiny gasp, but she didn't release my shirt. I rested my forehead against hers and squeezed my eyes shut tightly. That was so fucking wrong—a huge ass mistake, yet I didn't regret it.
How could I? My heart was pumping faster than it had in years, and never, ever had I so badly wanted to push a woman against a wall and fuck her where anyone could find us at any second.
Excerpt. © Reprinted by permission. All rights reserved.

Book Info:
Detective Adrian Potter had a lot to answer for. I didn't care that he was tasked with shutting down the city's most prolific hookers.
I cared that he was stopping me from providing for my daughter.
He didn't care.
Not at all.
Until I broke down in the backseat of his car… And he let me go.
Adrian was a single parent, too. He knew how hard I had it. At least, he thought he did.
He had a job. He had people who cared. He didn't know just how lucky he was.
My name is Perrie Fox.
I was a whore of the highest value.
Until Detective Adrian Potter.
Until the tattooed, redemption-seeking detective entered my life, looking for his fairytale.
The cop and the hooker.
Happily ever fucking never.
Book Links:

Meet the Author: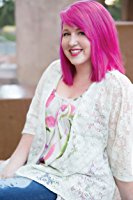 By day, New York Times and USA Today bestselling New Adult author Emma Hart dons a cape and calls herself Super Mum to two beautiful little monsters. By night, she drops the cape, pours a glass of whatever she fancies—usually wine—and writes books.
Emma is working on Top Secret projects she will share with her followers and fans at every available opportunity. Naturally, all Top Secret projects involve a dashingly hot guy who likes to forget to wear a shirt, a sprinkling (or several) of hold-onto-your-panties hot scenes, and a whole lotta love.
She likes to be busy—unless busy involves doing the dishes, but that seems to be when all the ideas come to life.
Website | Facebook | Twitter | Instagram |