Today it is my pleasure to spotlight the release of 

MAD, BAD, AND DANGEROUS IN PLAID

 by Suzanne Enoch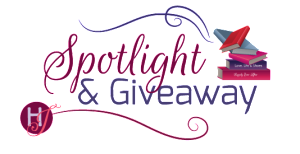 She used to be mad about him.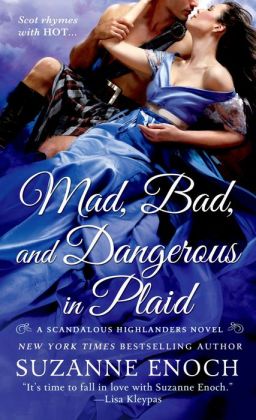 In Mad, Bad, and Dangerous in Plaid by New York Times bestselling author Suzanne Enoch, high-spirited Rowena MacLawry has come to the Highlands after a spectacularly successful debut Season in London, and has made it painfully clear that she's outgrown her girlhood obsession with Lachlan MacTier. That's just fine with him, as he never had any intention of marrying the lass anyway! Yet how can he ignore the fact that the once rough and tumble Winnie has become a very fashionable–and incredibly desirable–young woman…

And now he's got it bad…

Brawny, rugged Lachlan is nothing like the aristocratic English gentlemen who pursued Winnie–with a passion–in London. Three months away was more than enough to show her a world infinitely more glamorous than the untamed Scottish Highlands–and her beloved childhood crush. But now that she's decided to find a prospective husband with a bit more polish, could Lachlan finally appreciate her?charms? And is it remotely possible to ignore the wild attraction she feels for him??


Exclusive Excerpt from Mad, Bad, and Dangerous in Plaid:
Prologue

"What do ye think, Lachlan?"
Her heart pounding, Lady Rowena MacLawry pirouetted in the middle of the Glengask House morning room. All the way from Paris, this gown was. It practically floated on the air, mauve and a deep gray she knew precisely matched her eyes, because she'd spent hours holding up swatches of material to her mirrored reflection until she'd found the perfect charcoal hue.
"What do I think about what?" Lachlan MacTier, Viscount Gray, returned from the corner of the room.
"My gown," she added, trying not to sound plaintive.
He looked up from the game of cards he was playing against her older brother Munro. "Oh. It's fancy. Are ye having a costume ball fer yer birthday, then?"
Rowena frowned, dropping the folds of the skirt she'd held to show off the lace hems. "This isnae a costume. It's my new dress. Ranulf willnae tell me if he's bought me a gown, so I had this one made. I cannae be withoot a new dress fer me eighteenth birthday."
Munro chuckled. "Gads, Winnie, ye know ye could torch half yer wardrobe and still nae wear the same gown twice in a month."
"Oh, be quiet, Bear," she countered, using her brother's rather appropriate nickname. "A lady must have gowns."
"'A Lady,'" Lachlan repeated with a snort. Pushing to his feet, he walked over to tug on her long, midnight-black ponytail. "I dunnae think a lady has burrs in her hair."
She tried to ignore the responding tingle running down her scalp. " I dunnae have burrs in my hair."
He tugged again. "Nae today."
"I'm going to put it up fer the party, anyway. Ranulf said we could have four waltzes. Four!"
"Aye?"Lachlan sat again, a strand of his dark brown hair falling across one light green eye as he looked at her. "Best of luck in finding four lads willing to brave the Marquis of Glengask glaring at them like the devil himself."
Three. She only needed to find three lads, because he would be the fourth. That was how she'd imagined it for months and months. Rowena kept her expression carefully amused. "Ranulf's my brother; nae my jailer. And he likes ye, Lach. We could waltz."
"Aye, he likes me. I'm a MacLawry clan chieftan, and I agree with where he's guiding the clan. And we cannae forget that I bring all the MacTiers to clan MacLawry, and he's the MacLawry."
Yes, and Ranulf had become both the chief of clan MacLawry and the Marquis of Glengask at age fifteen, back when Rowena had only been two. The clan was as it had been since her first conscious memory of it. And Lachlan was… Lachlan, eight years her senior and her brother Bear's closest friend. Handsome as sin and destined to marry her. Except that lately she'd begun to wonder if he realized that last bit.
"It's more than that, and ye know it." Rowena gave an exaggerated sigh. "I've a mind to go fer a walk through the glen. Would ye are to join me?"
"Nae while Bear owes me five quid," he returned picking up another card and then setting it down faceup.
"Where's Arran?"
"In the library, Id' wager," Bear put in. He'll go with ye."
But she didn't want to go walking with Arran; yes, he had a better grasp of fashion and proper, gentlemanly behavior than either Munro or Lachlan, but in the end he was her brother, set midway between Ranulf and Munro. The ladies down in An Soadh and Mahldoen whispered that Arran was devilish handsome–though they said that about all three of her brothers–but the simple fact was that he wasn't Lachlan. "I'll go on my own," she announced, and turned on her heel.
Oh, it was so aggravating! There she was, a week shy of her eighteenth birthday, a young lady of both wealth and good education, and fairly bonny if she did say so herself. And the man she meant to marry found playing a full game of cards more interesting than taking a walk with her. She could likely say she was going to the kitchen pantry to escape through the Jacobite tunnels below Glengask, and Lachlan would only tell her to take a lantern with her. He was supposed to be chivalrous and attentive, not… not interested.
"Ye shouldnae chase him so hard." A low brogue came from the library doorway as she stomped past it, and Arran emerged to join her march down the hallway. Or she was marching, rather; with his tall frame and long gait it was merely a leisurely stroll for him.
"I'm nae chasing anyone. I'm off fer a walk, and I asked if Lachlan would care to join me." She scowled. "And shy shouldnae he want to? I'm a charming lass, am I nae?"
"Aye, ye are," her older brother returned. "Ye're also… familiar"
"I am nae familiar!" she protested. "I've nae even kissed him."
"If ye had, he'd likely be dead, ye being nae but seventeen." The glance he sent her was both assessing and serious. "I dunnae mean to say ye've behaved inappropriately. I mean he's known ye since ye were born, and ye've been pestering him since ye learned to talk."
"It's nae pestering. It's flirting."
"That's a fine line, piuthar."
"I'm nae a fool, bràthair," she retorted. That was just ridiculous. Of course she knew the difference between flirting and pestering. But Arran was the cleverest of them. He'd even spent time in the English army and had seen Prince Georgie. Ignoring what he said would be unwise. "Ye mean to say he's accustomed to me. That I'm nae but a… piece of furniture he's learned to walk around."
"Aye, I sup–"
"Then I have yet another reason to go to London fer my Season. So Lach will see me as a lady. So I'll learn how to be more than just a Highlands lass."
"Dunnae pin yer hopes on that, Winnie," her brother returned, stopping in the foyer to pull on a coat and hadn her a heavy wrap. "Ye ken that Ranulf willnae allow it."
She pulled the cloak and tied her bonnet beneath her chin. She'd only begun wearing a proper lady's hat over the past few weeks, and the ribbons still scratched at her. "I've asked him to give me a Season as my birthday gift," she said, nodding at Cooper as the butler pulled open the front door. "And ye know he'd nae deny me a thing if it's fer my eighteenth birthday."
"I know that, and I know Ranulf," Arran commented, offering his arm to her.
A glance up the hallway told her that both Lachlan and Bear seemed perfectly content to let her go walking alone. Either that, or they'd heard Arran join her. Whatever she would have preferred to think of their ungentlemanly ways, the latter explannation made more sense. Everyone knew she was never to go outside without an escort. Not with Campbells and Dailys and Gerdenses lurking on the borders.
What Arran had said–everything he'd said–made sense, as well. Lachlan MacTier was accustomed to her, and he clearly still saw her as the wee lass who tagged along with the lads to catch frogs and hunt rabbits. To alter that, she needed a Season in London.
Their own mother had had a London Season, but of course she'd been English. The odds of Ranulf agreeing that his only sister should follow in their unfortunate mother's footsteps were abysmal. They barely even spoke Eleanor Wilkie-MacLawry's name, and they hadn't since she'd swallowed poison rather than remain widowed in the Highlands with four rambunctious children.
But none of that altered the fact that Rowena wanted–needed–to go to London and that Ranulf would likely forbid it. Well, she supposed she had a week to make her plans. And to convince herself that the consequences would be worth the trouble likely to come her way as a result.
And if Lachlan didn't appreciate the young lady she meant to become, surely she could find a handsome, titled Englishman who would.
Giveaway:

10 Print copy of MAD, BAD, AND DANGEROUS IN PLAID (Scandalous Highlanders Series #3)
To enter Giveaway: Please complete the Rafflecopter form and Post a comment to this Q: 

What did you think of the excerpt spotlighted here? Did it hook you in…leave you craving more? 
Meet the Author: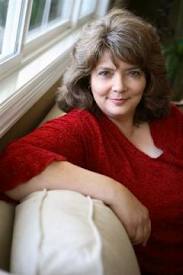 A lifelong lover of books, Suzanne Enoch has been writing them since she learned to read. She is the author of two well-received Avon Regencies, The Black Duke's Prize and Angel's Devil, and five Avon Romances: Lady Rogue, Stolen Kisses, By Love Undone, Taming Rafe and Reforming a Rake. Born and raised in Southern California, Suzanne lives a few scant miles from Disneyland with her collection of Star Wars action figures and a Cairn terrier named Katie (after the heroine of her first Regency). She's still looking for her own hero, and hopes he will be handsome, titled, and just a little wicked. Meanwhile, she's currently at work inventing him in her next historical romance.