Today it is my pleasure to Welcome author
Catherine Bybee
to HJ!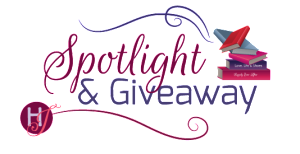 Hi Catherine and welcome to HJ! We're so excited to chat with you about your new release, Making it Right!

Hello, Sara! Hello, Junkies.

Please summarize the book for the readers here: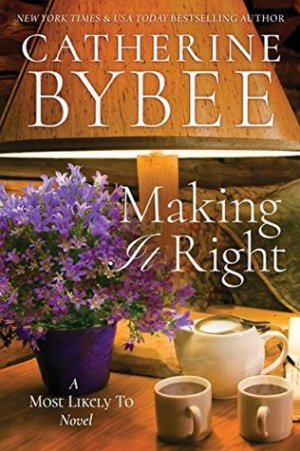 This is the third and final installment of my Most Likely To Series.
Growing up in a small town is hard enough, but when your single dad happens to be the sheriff, it's even harder. JoAnne Ward rebelled during her high school years, and was voted most likely to end up in jail by her classmates. Only it didn't quite turn out the way the town of River Bend thought it would. The unexpected death of her father turns Jo's life around. Now that she is River Bends sheriff, she plans on finding out exactly who killed her father.
Fast forward ten years, and Jo has only found questions instead of answers. A weeklong training program for law enforcement on the east coast starts as a distraction, one that includes a temporary man…only Gill has other ideas.
Built like a shit-brick house, tattoos and attitude, Gill is everything Jo loves in a man. He also happens to be an FBI agent who is determined to help Jo in her quest for the truth. As the secrets of her father's past start to peel away, she becomes the next target from her father's murderer. Only problem is, she doesn't know who is pointing the gun at her.

Please share the opening lines of this book:
The sun shot daggers into Jo's eyes as she opened the door of Zoe's home. It was already noon, but she and her best friends couldn't be bothered to wake up early on the day after their high school graduation. The bottle of tequila they'd managed to put a pretty good dent in twelve hours prior resided in her duffel bag for later use.
Please share a few Fun facts about this book…
This entire series is very close to my heart. Kari, Brandy and myself look a whole lot like, Mel, Zoe and Jo. I've known Kari and Brandy since first grade. We all had dysfunctional childhoods and managed to survive. Kari wasn't a cop's daughter, there was another friend in the neighborhood that filled that role, but Kari did end up with a badge as an adult. I call her Agent Scully now. What kills me is I used to be the one to beat up her boyfriends when they weren't treating her right. Okay, maybe I didn't 'beat him up' but I did punch him a couple of times. You see I was Zoe. And Brandy was Mel. We all have different traits from my fictional characters, and our stories mix up quite a bit.
And another fact about this book…thought not FUN, was that I was finishing it while my home was nearly destroyed in a fire last year. For weeks the ending of this book was: "And then a fire ripped through River Bend and everyone died… THE END."
Please tell us a little about the characters in your book. As you wrote your protagonist was there anything about them that surprised you?
I can't really go into what surprised me about this book without adding a spoiler alert to this post. The killer surprised me a little, cuz I didn't really know who that person was until I was writing the book. All of JoAnne's father's secrets shocked me. He was the pillar of the community, so how was it no one knew how low that halo over his head hung?
If your book was optioned for a movie, what scene would you use for the audition of the main characters and why?
I like a flustered man. It means his head isn't able to react faster than his hormones. It shows a lack of control over his emotions. In this scene, Gill is bringing Jo breakfast the morning after he suggested the slow things down.
Jo didn't want to slow anything down.
She jogged up the two flights of stairs and pulled her plastic key from her exercise bra as she walked down the hall.
When she looked up, she hesitated. And then she smiled. "What are you doing here?"
Gill lifted his hands, one held a bag, the other something that smelled suspiciously like coffee. "I've yet to meet a cop who didn't like coffee and donuts."
Her stomach grumbled, and her heart thumped an extra beat . . . almost like it was telling her to notice something.
She swiped the key and opened the door. Then she hesitated in the doorway.
"Since you took my money last night, I guess it's the least you could do."
He smiled and followed her inside.
What is he doing here? Turned me down last night just to jump in this morning?
She sipped the coffee before looking inside the bag.
Heaven . . . donuts were sugary gifts from above. She bit into a chocolate glazed and leaned against the dresser.
"Running and donuts?" Gill asked.
"I run to clear my head," she told him, taking another bite.
He smelled fresh, unlike her, and his clothes were professional but not stuffy. All the material on his body hid the ink underneath. It felt like a secret, one she knew but others didn't. The thought made her smile.
He took the bag from her and grabbed one of the remaining pastries inside. "That," he waved a maple bar in her direction, "is a wicked smile."
Jo stopped chewing, moved close enough to smell his aftershave. She leaned forward, took a bite out of the donut he was about to put in his mouth, and turned to walk into the bathroom.
What do you want people to take away from reading this book?
The thing I want people to take away is that friends can be your family when your family sucks are aren't there. This entire series is all about friends and their unconditional love and support. So often we hear about family being number one. And while I agree that is the way it 'should' be, it isn't always the way it is. So find your rocks that keep you grounded and safe, and be that for others.
What are you currently working on? What other releases do you have planned for 2017?
I'm working on my next Not Quite Book. Jason's story.
I'm releasing the first book in the spin off from the Brides series. Fool me Once, Book One of the First Wives Series, will be out in September.
This will be a four book series, starting with the divorce lawyer for Alliance.

Thanks for blogging at HJ!
Giveaway:

Three signed print copies of MAKING IT RIGHT by Catherine Bybee
To enter Giveaway: Please complete the Rafflecopter form and Post a comment to this Q:

What were you voted most likely to do with your life? How did that work out?
Excerpt from Making it Right:
They were supposed to have had a one night stand.

Gill managed to put his frame behind the wheel and turn over the engine before he uttered a word. "You left without saying good-bye."
No use pretending. "I didn't think I'd see you again."
He backed out of the parking spot. The training center sat on a military base of over five hundred acres. Driving to each location made more sense than walking. "Burton tells me you're here to better your tactical skills, investigative skills . . . survival skills."
Jo found her sunglasses in her backpack, felt relief when she knew Gill couldn't see her eyes. "That's right."
His head turned toward her briefly. "Lesson number one. Don't pick up strangers in bars."
Oh, the nerve. Anger in the form of heat shot up her spine. "Like you did?"
"I'm a man."
She couldn't help it. Jo laughed.
"You think I'm kidding."
"I think you're a hypocrite."
He made sure to look at her again, kept looking until she met his stare. "I could have snuffed you out, cut you into tiny pieces, and hidden your body in a place so remote they wouldn't discover it until it was an anthropological find."
"You've given this some thought."
His jaw tightened, his eyes darted back to the road in front of him before he turned in the direction of what Jo assumed was the training center. "You do that often?" Something in his voice changed.
Sarcasm was needed. "Every Saturday night. Living in a small town affords me all kinds of opportunities to pick up strangers. The seedy motel is a little hard, however. Is that a government approved hotel, or just your personal choice?"
He pulled the car to an abrupt stop, threw it in park. "I know what to expect in places like that."
"Armed criminals in the next room?"
"Sometimes."
"You left your weapon in the bathroom once we got there, didn't you?"
Gill whipped off his sunglasses and stared. "The fact you didn't know I was carrying one should tell you something."
Actually, she assumed he did . . . but didn't think he wanted to use it on her. He had other needs.
So did she.
"I'm not an invalid, Rocco."
His eyes narrowed with the use of the name that wasn't his.
"And I'm not an idiot. If you wanted to hurt me, I would have sensed it before we left the bar."
"You don't know that."
It was her time to look over the brim of her glasses. "Did you hurt me?"
"That's not the point."
She pushed her glasses higher, reached for the door of the car. "Yes it is."
Excerpt. © Reprinted by permission. All rights reserved.

Book Info:
In the final book in bestselling author Catherine Bybee's Most Likely To trilogy, River Bend's rebel follows in her father's footsteps to become sheriff. But it might be time to forge her own path…
Some kids inherit a family business; Jo Ward inherited a badge. Once voted Most Likely to End Up in Jail, the town wild child has become sheriff—hell-bent on uncovering the truth about her father's mysterious death. Life is quiet in rustic River Bend, but Jo longs for something beyond her small hometown and the painful memories it holds. All that keeps her sane is the support of her best friends, Melanie and Zoe.
But when Jo signs up for an expert law enforcement training seminar, she meets Gill Clausen, whose haunting eyes and dangerously sexy vibe just may challenge her single-minded focus. Commitment-phobic Jo can't deny her attraction to the arrogant federal agent, and when odd things start happening around River Bend and danger surrounds her, she realizes she'll need his help to discover who's out to remove her from River Bend…permanently.
As Jo and Gill work together, it's clear they make a great team. But can Jo loosen her grip on the past enough to let love in and reach for the future?
Book Links:

Meet the Author: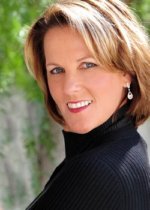 Catherine Bybee is a New York Times, Wall Street Journal, and USA Today bestselling author of twenty-five books that have collectively sold more than three million copies and have been translated into twelve languages. Raised in Washington State, Bybee moved to Southern California in hopes of becoming a movie star. After growing bored with waiting tables, she returned to school and became a registered nurse, spending most of her career in urban emergency rooms. She now writes full-time and has penned the Not Quite series, the Weekday Brides series, and the Most Likely To series.
Website | Facebook | Twitter | Instagram | GoodReads |