Spotlight & Giveaway: NEW Contemporary Releases from Crimson Romance
Crimson Romance: We're the place to find heartwarming, smart romances in your favorite genres – including contemporary, historical, paranormal, romantic suspense, and spicy! You'll find fresh takes on classic themes, new themes that will delight and excite you, heroes you'll fall in love with, and heroines you'd want to meet in real life. Explore our site to discover more about our new and forthcoming releases, and enjoy many features such as our Crimson Romance blog, author interviews, sample chapters, contest opportunities, and more!
Giveaway: Thanks to Crimson Romance, I am giving away 5 prize pks to 5 lucky Winners
Save My Soul by Elley Arden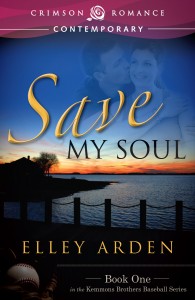 Psychotherapist Maggie Collins has always been a little off the proverbial wall, but now she's also knee deep in a delayed quarter-life crisis. With her meager paychecks devoured by student loan debt, a car payment and rent for office space, living at home with a flighty, folk-singing mother seemed like a good idea…at first. Now Maggie's not so sure. She wants space to sort things out and launch a life of her own, but she needs a cushion of cash to get there. When an unexpected phone call brings an offer Maggie can't refuse, she's one deal with the devil away from moving out of her mother's house.

The devil of contract negotiations, baseball agent Jordon Kemmons, has a problem the usual experts can't fix…his star pitcher is too depressed to throw strikes. Even worse, Jordon's post-divorce grudge against women is turning him into a raging mess. If desperate times call for desperate measures, then cynical Jordon has made the most desperate move of all. He's hoping sexy psychotherapist Maggie Collins is the answer to all his rusty prayers.

Soon Maggie and Jordon are fighting an attraction that threatens everything they've ever believed. If it's not just physical attraction…if it's something more, maybe two wrongs can make a right.

Sensuality Level: Sensual/Contemporary

Author Bio: Elley Arden is a proud Pennsylvania girl who drinks wine like it's water (a slight exaggeration), prefers a night at the ballpark to a night on the town, and believes almond English toffee is the key to happiness. Learn more about her at www.elleyarden.com and on Twitter @elleywrites.

ISBN-13: 978-1-4405-6604-2
Kirby by Samantha Anne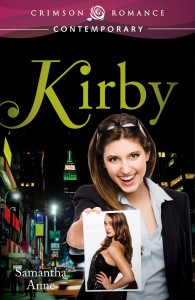 Rachel Shea is a twenty-seven year old native New Yorker with dreams of becoming an editor for Equinox Publishing, one of the top imprints in the city. And it seems she's finally gotten her foot in the door, until one wild morning turns her fast track into an uphill climb.

Unable to pay her bills, she takes an unlikely second job to make ends meet and finds herself struggling to maintain two lives – her own, and that of her alter ego. Kirby is a sassy, imaginative, and extroverted fireball whom Rachel had no idea was lying dormant inside of her.

Enter Joe, a larger-than-life, brutally hot writer with a heart of gold. Rachel can't seem to control herself around him, despite the fact that she's sworn off men until she can get her career back on track. Their backgrounds and interests very nearly run parallel, and the Universe seems to keep pulling the pair together – in every aspect of Rachel's life. What happens when two worlds collide, particularly where it concerns Joe? The ride of her life may just lead to love – or it could lead back to the drawing board.

Sensuality Level: Behind Closed Doors/Contemporary

Author Bio: Samantha Anne is a writer/musician living in The Bronx, NY. When she's not playing bass or baking a killer cheesecake, you can find her rooting for the Yankees or checking Ramones tribute bands. Learn more about her at www.readsamanthaanne.com
Twitter: @SamiAnneRT

ISBN-13: 978-1-4405-6606-6
Coming Home by Christine S. Feldman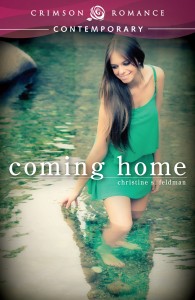 No woman ever really forgets her first love. Callie Sorenson is no exception. Hers was tall, tanned, and—as her older brother's best friend—completely off limits.

Danny McCutcheon.

It's a name that Callie hasn't spoken in years, even if the man to whom it belongs has never really been all that far from her thoughts. Or her heart. But now a twist of fate will bring her back to the childhood home she left behind years ago, and to the hometown boy for whom she secretly longed.

When her mother takes a bad fall and breaks her hip, Callie leaves the bright lights of New York City to fly back west and help with the rehabilitation. It's a tense homecoming due to a long time estrangement between mother and daughter, and it drives Callie to confront both a painful personal loss and her unanswered questions about the father who abandoned her when she was just a child.

It also brings her face to face with Danny again, and Callie quickly realizes that old feelings die hard.

But for Danny, it's new feelings that are a problem. Callie is not the young girl he remembers but a woman now, and a very desirable one. They both have reasons to fight the growing attraction between them, but the temptation may just prove to be too much to resist, despite some very real risk to their hearts. The past casts a long shadow over the future, though, and Callie will have to overcome it or else face losing the one man who means the most to her.

Sensuality Level: Behind Closed Doors/Contemporary

Author Bio: Christine S. Feldman writes both novels and feature-length screenplays, and she has placed in screenwriting competitions on both coasts. She lives in the Pacific Northwest with her ballroom-dancing husband and their beagle. Learn more about her at www.christinesfeldman.com.
Sense and Sensibility: The Wild and Wanton Edition by Lauren Lane and Jane Austen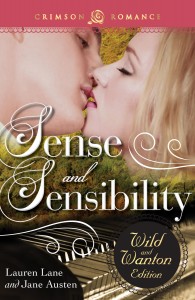 After the death of their father and the transfer of the family home to their half brother John and his horrid wife Fanny, Marianne and Elinor Dashwood, along with their mother and younger sister, must find someplace new to live. While they search for a new home, however, Fanny's brother Edward Ferrars comes to visit and forms an intense connection with Elinor—a connection that is severed when the Dashwood women move away.

While Elinor pines for the love she's lost, Marianne finds herself the object of affection of not one but two gentlemen in her new town—the reserved, thirty-five-year-old bachelor Colonel Brandon and the young, handsome John Willoughby.

In this new twist on a beloved classic, Lauren Lane throws propriety to the wind and seamlessly weaves in the other side of the story—the story of what happens when the Dashwood sisters get their men behind closed doors. This Sense and Sensibility is chock-full of sex, and will finally give modern readers of Austen answers to all their biggest—and most salacious—questions. How do Elinor and Mr. Ferrars really say goodbye to each other? What exactly happens between Marianne and Mr. Willoughby during their first meeting? Has Colonel Brandon's extended bachelorhood taught him a thing or two about how to please a woman?

And who says a wild and wanton fling can't lead to a happily ever after?

Sensuality Level: Hot/Wild and Wanton

Author Bio:
A lifelong fan of Jane Austen, Lauren Lane lives in New York City where she is hard at work on her next romance novel.

Jane Austen is the author of six of the world's most beloved romance novels, including Sense and Sensibility, Pride and Prejudice, and Emma.

ISBN-13: 978-1-4405-6355-3
Unattainable by Leslie P. Garcia
Unreachable. Dell Rosales gained her nickname, "inalcansable," or "unreachable,'" the old-fashioned way, earning it with every new rip in her heart.

Unwanted. Dell returns home to salvage her father's ranch by opening the place to a group of girls with problems and pain not unlike her own. With her outlook on love soured–perhaps beyond salvation–she clings to Becky, the tiny little girl whose own mother preferred a life of drugs and men to motherhood.

Unwinnable. Former DEA agent Jovani Treviño has seen that the war isn't winnable: people keep dying. Drugs keep killing them. But pleas for help from the DEA make him agree to one last battle for the good cause—checking out heiress Dell Rosales, whose ranch on the Rio Grande provides a perfect spot for traffickers to cross if she allows them to.

Unattainable. Suspicions, passion, and their respective pasts draw Dell and Jovi into a tumultuous relationship that both must to avoid. Love seems distant, foolish to seek–unattainable. When an epic flood threatens not only Dell's ranch but the surrounding area, will anything survive?

Sensuality Level: Behind Closed Doors/Contemporary

Author Bio:
Words empower. South Texas author/educator Leslie P. García believes that absolutely. Absolutely.

ISBN-13: 978-1-4405-6553-3
On the Fly by Katie Kenyhercz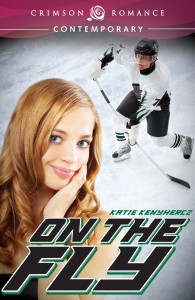 "A sweet and sexy read from cover to cover!"—Rachell Nichole, author of An Affair Across Times Square and Spicey with a Side of Cranberry Sauce

Jacey Vaughn has a newly minted MBA when her father dies unexpectedly and leaves her his NHL team. Well-versed in business but not so much in hockey, Jacey navigates this new world with a few stumbles. She definitely doesn't plan on falling for the team captain. At the first hint of scandal, a local Las Vegas reporter latches on, and Jacey finds herself in the newspaper with headlines that hurt instead of help. Jacey's determined to keep her father's legacy alive and make the team successful, but while she has no problem denying her feelings to the media, she can't lie to herself.

Carter Phlynn has known nothing but hockey his entire life. Drafted into the NHL at age eighteen, winning the Stanley Cup is all he's ever wanted. Nothing has ever disrupted his focus. Not until he meets his new boss. Jacey gets under his skin like no one else, and while dating the team owner would be a disaster for his career and reputation, he can't get her out of his head. Carter has never had a relationship last more than a month, but the more he's around Jacey, the more he can't picture his future without her.

Sensuality Level: Sensual/Contemporary

Author Bio:
Katie lives in northeast Ohio, where she writes hockey romance and works toward her MFA in the Writing of Popular Fiction at Seton Hill University. Learn more about her at http://lovemewrite.blogspot.com/
Follow her on Twitter: @KatieKenyhercz
In Love and War by Tara Mills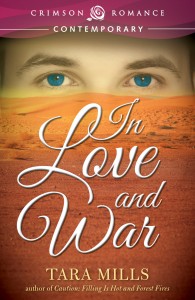 Author of Caution: Filling Is Hot and Forest Fires

Ariela Perrine watched how loving a self-sacrificing hero destroyed her mother and left her orphaned at a young age, so, yes, she does tend to go out with lackluster men (with predictable results). But she's safe. And bored, at least until an accident brings the interior decorator face to face with an unforgettable pair of blue eyes, a playful smile, and his overly affectionate dog.

Journalist Dylan Bond makes her sizzle, but dare she risk it? After all, he's just returned from Iraq – a war zone, for crying out loud. With his assurance that he's back to covering domestic stories, her fears are allayed and their relationship hits the tarmac at a dizzying speed.

But then an unexpected phone call lures Dylan into danger for one final, coveted assignment and he falls off everyone's radar outside the green zone. Sensing something's gone desperately wrong, Ariela's ready to make a deal with the devil to find him and get him back safe. As she searches for the man she loves, Ariela discovers that she's far more resilient than she realized. But will it be enough to preserve her as the days of fear and panic stretch on?

Sensuality Level: Sensual/Contemporary

Author Bio:
Tara Mills – Contemporary romance novelist, pampered wife, proud mom, lousy driver, and reluctant monitor of one disobedient dog with attitude.
Lost Treasure, Captive Princess by Katherine Bone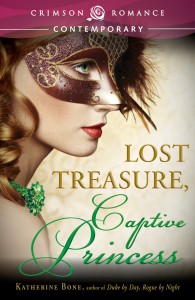 Author of Duke by Day, Rogue by Night

Gian-Paulo Montovanni, an Italian prince, must produce an heir. But before he can do that, he must locate his mother's emerald necklace, stolen twenty years earlier. In order to get the original, Gian-Paulo allies himself with an American jeweler who has reproduced the necklace in elaborate detail. Suspicious of her involvement, he lures her to Italy to finalize the deal. But the American puts on the necklace, forcing Gian-Paulo to pretend she's his chosen princess. Thrust into public chaos, he must participate in wicked deceptions if he's to achieve the one thing he wants most in the world: to ensure his mother's legacy lives on forever.

Abandoned by her mother as a child, Carolina Beugre wants to open a jewelry shop in downtown Atlanta but she must sell her greatest creation in order to fund the store. She accepts the first offer for Grace, the twenty carat emerald necklace recreated from one of her uncle's silent auction pieces. The exchange is scheduled on a tiny provincial island during a masque ball. But her actions set off a chain of events that lead to a fake betrothal to a man she doesn't know. While she's refashioned for the role, payment for the gems is held hostage. Now Carolina stands to lose everything, including her freedom.

Sensuality Level: Sensual/Contemporary

Author Bio:
Katherine Bone lives in the south where she dreams of the power, passion, and persuasion of Rogues, Rebels and Rakes, and the happily ever afters every Alpha male deserves.

You can find Katherine at:
www.katherinebone.com
@katherinelbone

ISBN-13: 978-1-4405-6059-0
Sutherland's Pride by Kathryn Brocato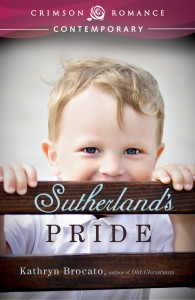 Author of Old Christmas

Pride Donovan returns to her old home in the small Texas Gulf Coast town of Anahuac when her father dies, and somehow she is not surprised when her former lover, Flynn Sutherland, does not recognize her little boy as her child and his, even after spending an afternoon on his sailboat with the child.

When Flynn tries to rekindle her feelings for him, she knows he is about to get the shock of his life, because Flynn firmly believes he is sterile. Instead, Pride finds herself in shock when Flynn accepts his son and researches her own "Single Mommy" newspaper column for hints on how to coax her into marrying him.

Pride thinks she has many good reasons why she shouldn't marry Flynn, including a childhood spent with a father who claimed she was not his child. She isn't about to allow such a thing to happen to her son, no matter how strongly Flynn declares he believes her.

Can Pride overcome her hurt and learn to trust Flynn again?

Sensuality Level: Behind Closed Doors/Contemporary

Author Bio:
Kathryn Brocato is a lifelong reader and writer of romance who lives with her husband, dogs, and chickens in Southeast Texas. Learn more about her at www.kathrynbrocato.com, and visit her Facebook page at http://www.facebook.com/pages/Kathryn-Brocato-Author/130436237088005.

ISBN-13: 978-1-4405-5822-1
Once an Heiress by Elizabeth Boyce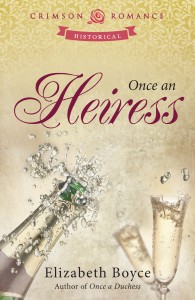 Author of Once a Duchess

Lily Bachman has the largest dowry the haut ton has seen in years. Her fortune is meant to secure her marriage to a titled gentleman, but instead it has sent every fortune hunter in London into a frenzy. Despite her father's insistence that she choose a husband, Lily swears she won't marry any of these "Leeches." Instead, she focuses on her dreams of opening a charity school. She has everything well in hand – until a devilishly handsome rake sweeps her into a scandalous waltz.

Ethan Helling, Viscount Thorburn, never claimed to be a good man. A well-known rogue, he's over his ears in gaming debts and is tempted by a friend's demanding mistress. To continue indulging his appetites, he needs to marry a fortune. The lovely Miss Bachman just so happens to have one, and Ethan vows to win her dowry for himself.

When the seducer becomes the seduced, Lily and Ethan are forced into a hasty marriage. Now, to gain her fortune, Ethan must find a way to make his unwilling bride happy. As he fights to win her affection, Ethan finds himself falling in love with his spirited wife – despite her determination to keep her money, and her heart, out of his hands. With her dreams in ruins and her illusions shattered, can Lily afford to gamble on love?

Sensuality Level: Sensual/Historical

Author Bio:
Elizabeth Boyce lives in South Carolina with one husband, three kids, and a Balinese cat. Her hobbies include reading, writing, and searching for the world's greatest gyro. To learn more about Elizabeth (or to suggest your favorite gyro place), visit her blog and other social media.

Blog: bluestockingball.blogspot.com
Twitter: @EBoyceRomance

ISBN-13: 978-1-4405-6194-8
 Giveaway:
Pk1: Save My Soul by Elley Arden and  Kirby by Samantha Anne (Ebooks)
Pk2: Coming Home by Christine S. Feldman and  Sense and Sensibility: The Wild and Wanton Edition by Lauren Lane and Jane Austen (Ebooks)
Pk3: Unattainable by Leslie P. Garcia and On the Fly by Katie Kenyhercz (Ebooks)
Pk4: In Love and War by Tara Mills and Lost Treasure, Captive Princess by Katherine Bone (Ebooks)
Pk5: Sutherland's Pride by Kathryn Brocato and Once an Heiress by Elizabeth Boyce (Ebooks)
To enter giveaway: Please complete the Rafflecopter form below and post a comment 
Telling me which of these books caught your attention and why? 🙂
Good Luck
~Sara