Today it is my pleasure to Welcome romance author
Amber Leigh Williams
to HJ!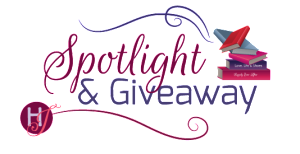 Hi Amber Leigh and welcome to HJ! We're so excited to chat with you about your new release, Married One Night!
Thanks for having me! I'm excited to be here….
Please summarize the book for the readers here: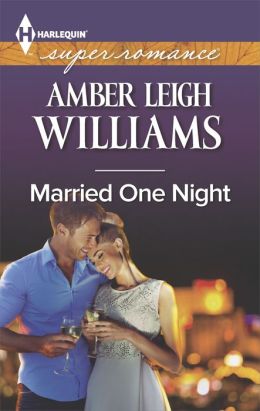 Olivia goes to Las Vegas to host a bachelorette party and winds up in bed with a stranger, remembering little of the wild night of partying that proceeds it the next morning. Though the stranger in question, Gerald, charms her and makes her want to stick around, her fear of relationships kicks in and she bolts. Weeks later, Gerald shows up at her small town bar in Fairhope, Alabama and tells her that while they were in Vegas, they got married. She wants the marriage annulled. He has other ideas and decides to stick around the charming bayside town for inspiration for his next novel and to convince Olivia that they could have something more. He's determined to win her heart one little bit at a time and she's determined to resist. Olivia doesn't count on her English groom on being quite so convincing….
Please share the opening line of this book:
"Olivia Lewis woke up in a Sin City penthouse amidst petal-strewn, silk sheets. She bolted upright in bed…and groaned, wavering as the world turned. And turned again."
Please share a few Random facts about this book…
1. The hero, Gerald, is a charming Englishman. Very Tom Hiddleston. (He's also a twenty-first century renegade earl.)
2. He's been known to show up in a kilt on occasion, thanks to his mother's Scottish heritage. (Hold fast, McLeod cousins!)
3. The heroine, Olivia, likes the single life. In fact, it's been her safety net for years. So Gerald showing up and trying to woo her is a problem.
4. Gerald has many surprising and quirky qualities. For example, he's a trained swordfighter and has the scars to prove it. Oh, and he can cook.
5. There's a playful, sexy scene toward the latter half of the book that still makes me LOL. I love writing about relationships and making them as realistic as possible. The fact that Gerald and Olivia can laugh together, even when they're in bed together being intimate, endears them that much more to me and hopefully for readers as well!
Please tell us a little about the characters in your book. As you wrote your protagonist was there anything about them that surprised you?
Yes. First of all, I have to say that I love these two characters. They were fun to write and both were a bit of a departure for me. I've never written a commitment phobic heroine. Heroes, sure, but never a heroine. So I was determined to make Olivia likeable and sympathetic for the reader despite that fact that she spends a great deal of her time holding this wonderful man at arm's length. I admire Olivia's strength of character and although her need for independence is frustrating at times in terms of the story, her emotional growth as her relationship with Gerald progresses brings out her vulnerability. As both a writer and a reader, it's nice to see strong characters being vulnerable. To me, it's kind of fascinating.
I enjoyed writing Gerald immensely. Maybe a little too much. I worried that perhaps he was a little too perfect. He does have flaws but, like Olivia's vulnerability, they don't bring out the worst in him. He recognizes them and owns them in a way that makes him even more charming and wonderful. Gerald is my favorite beta hero. I don't write many betas. There was once a common assumption that beta = boring. But Gerald really puts that to bed. He's the kind of guy you'd definitely want to bring home to your mother, but that doesn't stop him from throwing a mean left hook if someone deserves it or if there's a fight to break up in Olivia's tavern. And it doesn't make him any less sexy. He might be one of the sexiest heroes I've ever written so beta is definitely not boring as far as Gerald is concerned, LOL
What kind of research did you do for this book?
The best part of the research for this book was learning modern British slang. I still can't claim to be an expert, but I've had several comments from readers who said that some of their favorite parts of the book involve several turns of phrase from Gerald and the funny and sometimes embarrassing misunderstandings it leads to with Olivia.
A far less pleasant part of researching this book involved a scene in which Gerald is injured. I'm a bit squeamish when it comes to concussions and anything involving bones being bruised or broken. Thankfully, there wasn't much blood involved. Like I said, I'm squeamish….
The First kiss…
Oh, I loved this scene. Since Olivia and Gerald don't remember much of their quick courtship in Las Vegas, I wanted their first kiss outside Vegas to be really special. I won't give too much away, but it's in the rain and it's very, very tender and soft, something Olivia isn't used to. Gerald's a complete gentleman and this catches her off guard in a beautiful way during this particular scene.
Did any scene have you crying or laughing while writing it?
The scene toward the end when they're being sexy and playful comes to mind again. I smile whenever I think about it. There's a lot of humor in the book, but there's several heartbreaking moments as well. Here's a snippet of the humor, which goes back to some of that British slang I mentioned….
"Aren't you tired?"

"I should be zonked, but it's the adrenaline," Gerald admitted. "Hasn't quite worn off yet." Reaching to grip the back of his neck with one of his wide-palmed hands, he glanced at the jukebox. "This is a good song."

It was the Stones' "Wild Horses." "It's my favorite," Olivia murmured.

Gerald's brows lifted in surprise. "Well, blow me."

Her mouth dropped open and blood rushed to her face. "What?"

"I said, 'Blow me.'" When she only continued to stare, aghast, he cleared his throat. "You know? Blow me down. Knock me down with a feather. It's British. Slang, I mean."

"Oh!" Olivia said, loosening a laugh that sounded nervous even to her ears. "I thought you meant—" She caught his eye, felt her cheeks darken to fuchsia, and shook her head. "Nothing. No. Never mind."

By the look on his face, he had already caught on. He rocked back on his heels and pressed his lips together, glancing down at the floor. She thought his face might be a little red, too, but it could have been the dim lighting. She went back to sweeping and said, a little loudly, "Why does it 'blow you down'—that this is my favorite song?"

His eyes found hers again. "In addition to Queen, I'm a Stones fan, too. 'Wild Horses' has always been one of my favorites." After hesitating a brief space of a moment, he lifted his hand. "Shall we dance, then?"

Her broom stopped in midswipe as her face lifted to his. "Dance?"

"Dance with me, Liv," he repeated. "We've danced before."

Since when did he call her Liv? She really didn't think she could handle that kind of intimacy. Not with him. "I've got to finish cleaning."

Gerald tugged the broom away. "I think you're done, love." The words were whispered against the hair over her ear. The tingles she'd felt on her lips cascaded down her neck, back and torso until she couldn't help but shiver pleasantly.

Before she could think up a practical protest, he threaded his fingers through hers and placed her opposing hand on his shoulder. With the subtle urging of a warm hand on the small of her back, he pulled her close against him.
If your book was optioned for a movie, what scene would be absolutely crucial to include and why? 
All of them? We, as writers and readers, are so picky when it comes to film or television adaptations of our favorite stories. Am I right? But a definite priority for screenwriters would have to be the scene involving Gerald's injury because it forces Olivia to confront how deeply this man has come to mean to her. She's also never really cared for anyone before so as she's doing so it reveals quite a bit about her. It shows her that she's not just capable of caring for someone other than herself but that she has that drive and desire. It also forces Gerald and Olivia into close living quarters, which leads to all kinds of great chemistry moments and couple-ish behavior that surprises them both. They begin to see that they could gel well together if Olivia were to allow their relationship to further itself.
If you could have given your characters one piece of advice before the opening pages of the book, what would it be and why?
I would tell Gerald be patient with Olivia, which he is, and to not get too discouraged when she refuses him. At one point he compares wooing her to beating his head against a brick wall because she rarely gives him much room to see inside her. Olivia's cousin, Briar, gives him a good pep talk, though, midway through the book. In a way, this was me feeling sorry for him and wanting to pat him on the head and tell him not to give up.
At times, I wanted to tell Olivia to go easy on Gerald though I'm not sure I would. She had to learn in her own time that he was right for her and she learns a lot about herself along the way. All that's necessary and vital to the story so I don't think I could tell her that even if I wanted to….
What are you currently working on? What other releases so you have planned for 2014?
I recently finished the third book in my Fairhope series. Readers will know it as Adrian's book. Though there's humor involved in it, too, it was an emotional one and I'm happy with how it turned out. Thankfully, it's already been contracted by Harlequin and should hit bookstore shelves sometime next year. I'm contemplating the start of the fourth and final book in the series. I'd like to follow it up with a trilogy of western romances. I've written cowboys before and it's a lot of fun so I'm looking forward to going west once more with my muse!
Thanks for blogging at HJ!
Giveaway:

Today I'll be giving out a $10 Amazon Gift Card to one lucky reader! Good luck!
To enter Giveaway: Please complete the Rafflecopter form and Post a comment to this Q:

Do you have a favorite beta hero? Who is he and what about him endears him to you most?
Excerpt
"Olivia," Gerald said. He uttered her name again, reaching out to touch her shoulder and bring her back to him. "Are you all right?"

"Fine," she snapped, then checked herself and cleared her throat. "I'm fine." She took a deep breath and gripped the edge of the table in front of her. "So…what do we do about it?"

Gerald trained his gaze on some point over her shoulder. "Well, I've already spoken to my attorney. He's assured me that he will take care of it with little fuss if we decide to go the route of separation."

"Okay, good," Olivia said, relieved. But that relief dissolved little by little as she watched him take another long sip from the pint. "Wait. You said 'if.' Why is there an if?"

Gerald pressed his lips together, either savoring the Sam Adams or bracing himself. She had a very frightening suspicion it was the latter. He planted his elbows on the table again and leaned toward her, smile warming the lower half of his face. "I have a wee bit of a suggestion."

"If it's not related to annulment or divorce, you might not be walking out of here in one piece," Olivia pointed out, trying to smile. He couldn't be crazy enough to suggest that they actually remain married, for heaven's sake.

Could he?

Gerald made a thoughtful noise in his throat. "Well…"

Olivia's smile fled and she looked at him as if he were crazy. "Okay, now you're scaring me."

"Just hear me out," Gerald advised, lifting a hand in plea.

"No," she said and snorted out a mirthless laugh. "No," she said again just to get her point across. "I have no idea who you are. You don't know anything about me, despite what your publicist or whoever might have told you. The only thing we have in common is one drunk night in Las Vegas."

"How do you know that, love, when, as you say, we don't know each other yet?" Gerald challenged.

Olivia's mouth dropped open. "Because this is me," she told him, lifting her arms to encompass the tavern. "And you're…well, you're expensive shirts and tailored suits and spicy aftershave, which I have no doubt costs more than our sham wedding. We're clearly from different parts of the world as a whole. How could you possibly think there's anything there?"

Gerald's eyes locked on hers and sobered once more. "Because of what I felt, the morning after."

Olivia fell silent. "What you felt?"

"Yes," he acknowledged with a dip of his head. "I…" He sighed, shook his head and narrowed his eyes on the windows next to the table as if trying to see the squall beyond the weeping, wind-buffered panes. "Well, suffice it to say, I felt more in that one morning than I've ever felt during any one of the lengthy relationships I've had throughout my entire adult life. And I think that's worth something."

Olivia's mouth opened, then closed and opened again. "It was the drinks, like you said."

Gerald gave her a baleful stare. "We both know we were clean and sober the next morning, Olivia. Can you honestly tell me that night or what was shared between us the following morning meant nothing to you?"

She chose to ignore the fact that she'd been thinking of little else since her flight back to Alabama with the girls, and simply lifted her hands and shoulders in a helpless gesture. "It couldn't. There was nothing. It was nothing."

Gerald studied her carefully for what seemed like an eternity. Finally, a slow grin crept over the lower half of his face, warming his eyes. The smile was like a sucker punch to her resolve. And damned if he didn't know it, Olivia thought. He took another sip of beer, leaned back in his chair and hooked one loafer-clad ankle over the opposite knee. "I'd like you to prove that."

"What?"

"A wager, if you like," he told her. "Come now, Olivia. You're a small business owner. Small business is a gamble at one time or another. And you strike me as a woman who enjoys a challenge."

"So what if I am?" Olivia asked. "How would that change anything?"

He lifted his finger and pointed at her discerningly. "There's a lovely bed-and-breakfast next door to the tavern. If my publicist's sources are correct, it's your cousin who owns it. I'll stay on there for a three weeks, just long enough for you to prove to me that what we shared in Vegas was indeed nothing."

Olivia frowned at him. "If I were to agree, you realize you're betting on a losing hand, right?"

"Maybe," Gerald said with a considering nod. "But my gut is usually right. And it tells me that the place I need to be, at least for the time being, is right here in your charming little hometown."

She narrowed her eyes as she considered him. Damn it. She did love a good challenge. Especially one where all the odds were in her favor. "Hmm. What are the stakes?" When Gerald's brows arched, she added, "What's a wager without stakes?"

"Oh, right." He grinned, lifting a hand to scratch his chin in a pensive manner that made her stare a moment too long at his wide-palmed hand with its narrow, creative fingers. "If you win, I will humbly admit defeat and hand over the divorce papers. And I'll pay whatever legal costs filing them incurs."

"And if you win…?"

Gerald's eyes shined anew with the light of promise. "Then what do you say we give this a shot, aye? You and me. I have a feeling it'll be worth it. And on a hunch I'm rarely wrong."

Olivia weighed him and his challenge. When he extended a hand for her to shake in agreement, she sighed and lifted hers to take it. "What the hell? You've got yourself a deal, Mr. Leighton. I hope you're not a sore loser."

Gerald didn't shake her hand. He squeezed it warmly and leaned forward until his green eyes yawned before hers and that aftershave of his washed over her in a splendid wave she was sure never to forget. "I rarely make wagers, Mrs. Leighton. But when I do, I play to win. And I'll be damned if I don't win this one."
Book Info:
What happened in Vegas…followed her home!
Olivia Lewis is not the marrying type. So when a wild weekend in Vegas leaves her with a surprise husband, she's happy to sign anything to erase her mistake—even if that mistake is handsome, charming and comes with an English accent. Fortunately, her groom has other plans.
Bestselling author Gerald Leighton knows he can make his new bride fall in love with him—he just needs time. In exchange for a quickie divorce, Olivia grudgingly gives him a few weeks to attempt to woo her. And whether Olivia likes it or not, Gerald plans on using every second to win her heart!
Book Links:
Author Bio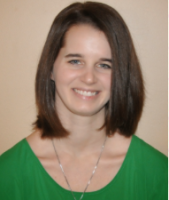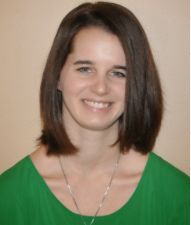 Amber Leigh Williams lives on the Gulf Coast. A southern girl at heart, she loves beach days, the smell of real books, relaxing at her family's lakehouse, and spending time with her husband, Jacob, and their sweet, blue-eyed boy. When she's not running after her young son and three, large dogs, she can usually be found reading a good romance or cooking up a new dish in her kitchen. She is represented by Joyce Holland of the D4EO Literary Agency. Visit her on the web at www.amberleighwilliams.com!
Website | Facebook | Twitter |