Today it is my pleasure to Welcome author
Jennifer Hayward
to HJ!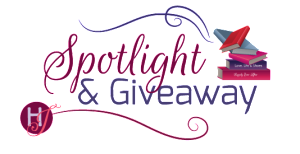 Hi Jennifer and welcome to HJ! We're so excited to chat with you about your new release, Marrying Her Royal Enemy!

Hi everyone – so nice to be here with you again!

Please summarize the book a la Twitter style for the readers here: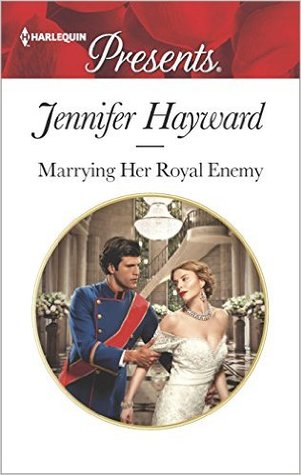 Princess Stella Constantinides will marry the man who broke her heart to save her country. But will she break her number one rule—and fall for her husband, the king?

Please share the opening lines of this book:
So this was what freedom tasted like.
Princess Styliani Constantinides, or Stella, as she had been known since birth, lifted an exotic, rum-based cocktail to her lips and took a sip, the contrasting bitter and sweet flavours of the spirits lingering on her tongue before blazing a fiery path down to her stomach where they imbued an intense feeling of well being.
The perfect combination for this particular moment as she sat in her friend Jessie's tiny, local bar on the West coast of Barbados, half-way around the world from her home in Akathinia, contemplating her future.
Sweet, given the burnout she'd been suffering from the hundred-plus public appearances she'd done last year in addition to her work chairing the board of two international youth agencies. Bitter because her brother Nik had accused her of running away from the issue at hand.
Please share a few Fun facts about this book…
Barbados where Kostas finally tracks down the elusive princess Stella is one of my favorite places to vacation!
Monaco was the inspiration for this trilogy and the kingdoms of Akathina and Carnelia, although they ended up being Greek islands of course ☺
I fell in love with the Kalamatiano and the Hasapiko writing this book – the Greek dances Stella & Kostas do at their wedding
Kostas' fighter pilot training was inspired by the United States Marine Top Gun school in Miramar, California which trains many of the world's best fighter pilots
To write Kostas authentically, I spoke to a retired US Navy pilot as research for the book. He told me some very fascinating stories about fighter pilot training, one of which I used in the book. 🙂
What first attracts your Hero to the Heroine and vice versa?
Stella has been in love with Kostas since they were six years old, climbing trees together. That attraction only grew as she aged and Kostas became a sexy, dangerous fighter jet pilot. But after an ill-advised, unannounced appearance in his bed at eighteen in which the crown prince harshly rejected her, she's vowed to hate him forever.
Kostas has always had feelings for Stella who is his match in every way, but a renowned womanizer, he's vowed to leave her alone. Not until he's forced to marry and Stella is the only woman he can imagine in that role, do his true feelings come to light. But he fights them every step of the way because love in his world has only meant disaster.

Using just 5 words, how would you describe Hero and Heroine's love affair?
Emotional, passionate, memory-laden, combative, destined.

The First Kiss…
Ooh, I loved writing this scene! Stella has agreed to become Kostas' wife and Queen and they are having an engagement party in his country of Carnelia. Both of them are on edge, Stella because the enormity of what she's agreed to do has finally sunk in. Kostas is guarding against assassination attempts as his country lies on the brink of chaos. But it's Carnelian tradition that the engaged couple kiss on the dance floor, a fact Stella doesn't know until they get there. And I think sparks do fly ☺
Without revealing too much, what is your favorite scene in the book?
Oh there are so many I loved writing. I would have to say the opening if I had to pick one. Stella has run away from home and ditched her bodyguards after having refused to marry Kostas to save her country from war. She's sitting in a tiny seaside restaurant in Barbados that's owned by her best friend, gloating over her escape, when the king shows up. Here's a snippet:
"Shouldn't you be home ruling over that band of ruffians you inherited or did your jet run out of fuel?"
A corner of his mouth lifted. "You know why I'm here."
She set her glass down with a jerky movement, liquid sloshing precariously close to the sides. "Well you can refuel and be on your way. I gave Nik my answer. I wouldn't marry you if you came with a dowry of a hundred-billion Euros."
"I think you have that the wrong way around."
"I think I don't. I'm the prize in this scenario, am I not? Or you wouldn't have flown half-way around the world to harass me."
"I wouldn't have had to if you'd given me the time I'd requested."
"I refused what was on offer."
His whisky-soaked gaze glittered. "How can you know what you don't want when you don't even know what's on offer?"
She pressed her fingers against her mouth. "Let's see… Hmm. A barbarian for a husband…living in the enemy's lair… a union with a man who didn't even have the guts to try and stop his father when he tried to take Akathinia? No thank you."
His jaw tightened. "Watch yourself, Stella. You don't have all the facts."
"It's a year-and-a-half too late. I no longer care." She pushed away from the bar and slid off the stool. "Go home, Kostas."
"Sit down." The words left his mouth with the fine edge of a scythe. "Do me the courtesy of hearing me out. The time for tantrums is long past."
If your book was optioned for a movie, what scene would be absolutely crucial to include?
Well I'd definitely say their wedding scene would have to be in there. It's so opulent and there's so much tension built up between Stella and Kostas as the country madly awaits their union. Here's a taste:
"Nervous about devoting your life to me?" he murmured in her ear.
"Hardly."
"Then why is your hand trembling?"
"It's a big day."
He pondered that as they turned to the priest, the guests sat and the service began. The joining of the hands, which they'd already accomplished, was followed by the service of betrothal in which they exchanged their rings and the procession of the crowns.
He spoke his vows to Stella in a clear, unwavering tone that spoke of his confidence in them. Her icy, cool demeanor slipped slightly, her eyes turning a deep violet blue as she spoke her vows to him, her elocution perfect in the cavernous chapel.
The priest completed the benediction of their union, declaring them man and wife. Kostas curved an arm around his bride's waist and drew her to him. His touch, as he cupped her jaw in his fingers, was light, but firm, staking his claim in that way that was irresistible to him, his kiss as he captured her satiny soft lips a demonstration of how very good this was going to be between them—in every way.
Readers should read this book …
…if they love a royalty story with a contemporary twist that's full of emotion, drama and intrigue
What are you currently working on? What other releases do you have planned for 2016?
I'm working on a very fun collaboration right now for Harlequin Presents I can tell you more about later ☺ I'm very excited about my next release, A Deal For The Di Sione Ring, coming to you in December, book seven of Harlequin Presents' The Billionaire's Legacy series. It's one of my favourite books I've ever written. My Sicilian heroine, Mina, is out to escape her very bad fiance but she might just have jumped from the frying pan into the fire with my playboy hero, Nate!
Thanks for blogging at HJ!
Giveaway:

2 signed copies of Marrying Her Royal Enemy, open internationally
To enter Giveaway: Please complete the Rafflecopter form and Post a comment to this Q:

Do you like royalty stories and why?
Excerpt from Marrying Her Royal Enemy:
Here's an exclusive excerpt from Stella & Kostas' wedding night, one of my favourite scenes I've ever written. 🙂
Why wasn't there air in this room?
Stella kicked her shoes off in the newly renovated master suite that had been transformed into a sumptuous, warm retreat by their genius of a designer, retaining the room's exposed stone walls and medieval ambience.
Plush, comfortable chairs formed a sitting area overlooking the tall windows, a mahogany canopy bed with intricately-crafted pillars draped in gold brocade overlooked it, a separate area at the far end of the room for dressing.
It was dreamy, gorgeous, but right now it seemed claustrophobic.
She walked to the French doors and threw them open. The cool, crisp air floating down off the mountains kissed her overheated skin. Drawing in a deep breath of it, she stood, looking out at the rugged, forbidding landscape, so harsh compared to Akathinia's sparkling, gilded beauty. It only underscored the different world she now lived in; how that world was shifting beneath her feet.
Her pulse ticked at an elevated rate she couldn't seem to regulate, a heat consumed her cheeks and her knees felt weak. Crazy, because she'd had sex before, she knew how this worked. But she was also aware it was going to be different, very different with Kostas. He touched an elemental part of her no one else ever had.
A skitter across her skin was the only notice she had before strong arms slid around her waist and pulled her back against a warm male body, one big enough to secure her compliance with anything he chose to do to her. But she knew Kostas would never have to resort to that with a woman. His strength would only be used for pleasure. Hers.
His lips found the sensitive skin below her ear. Her swift intake of breath was all too revealing.
"Why are you so nervous?"
Because the last time she'd put herself in this position he'd cruelly rejected her. A decade ago Stella. Time to get over it. And yet still it hurt.
She gave him a half-truth. "Sex is an intimate thing. It's hard for me to remain unaffected by it."
"Despite your determination to do so." He set his mouth to her shoulder, teeth scraping over her sensitive skin. "Is that what today was all about? Remaining unaffected by me?"
A shudder raked through her. "What do you mean?"
He sank his teeth into her skin, a tiny nip meant to punish. "I mean the return of the aloof, distant Stella I dislike. She disappears tonight, yineka mou. Those layers of ice you like to hide behind? Gone."
She struggled to regulate her pounding heart as his tongue laved the tiny bite he'd administered. "So I can take care of those needs you talked about?"
"No," he said throatily, "so I can take care of yours. You want this so badly you can taste it, moro mou, but you aren't sure how to engage."
Excerpts. © Reprinted by permission. All rights reserved.

Book Info:
The man she loves to hate…
Most women would kill to be draped in ivory lace and walking up the aisle toward King Kostas Laskos. Stella Constantinides isn't most women. But for peace in her kingdom, she's agreed to marry the man she once bared her heart to with disastrous effect.
The feisty princess refuses to be his pawn, yet one night in their marriage bed proves that Stella will never be immune to her husband's charms. Soon Stella begins to see a truth behind the sins of their past…and she finds herself doing what she swore she'd never do—fall for her husband!
Book Links:

Meet the Author: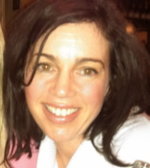 Award-winning author JENNIFER HAYWARD has been a fan of romance since filching her sister's novels to escape her teenaged angst.
Jennifer emerged on the publishing scene when she won Harlequin's So You Think You Can Write global writing competition in 2012. She is the Romantic Times Magazine Reviewer's Choice Best Harlequin Presents of 2014 winner for her book, The Magnate's Manifesto.
Jennifer's career in journalism and PR, including years of working alongside powerful, charismatic CEOs and traveling the world, has provided perfect fodder for the fast-paced, sexy stories she likes to write, always with a touch of humour.
A native of Canada's gorgeous East coast, Jennifer lives in Toronto with her Viking husband and young Viking-in-training.
Website | Facebook | Twitter |