Today it is my pleasure to Welcome author
Nicole McLaughlin
to HJ!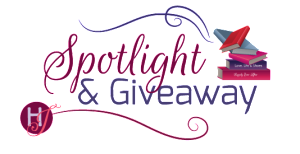 Hi Nicole and welcome to HJ! We're so excited to chat with you about your new release, Maybe I Do!
Please summarize the book for the readers here: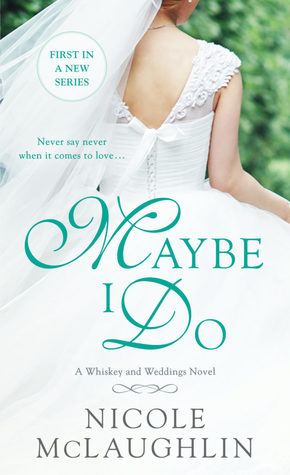 MAYBE I DO is about Dean and Charlotte. Two people who are reluctant vendors in the wedding business. They work together frequently and have developed a flirtation, and although Charlotte has a bit of an endgame goal, Dean is hesitant for many reasons. When Dean asks Charlotte to help him plan his sister's wedding (she's deployed overseas) they can't really fight the attraction anymore.

Please share the opening lines of this book:
Weddings were a touchy subject for Charlotte Linley. Not that any of her photography clients would know that, since she prided herself on making her couples feel important on their wedding day. She encouraged them to live in the moment, have fun, not to stress.
Please share a few Fun facts about this book…
One, is that like my heroine, I'm a photographer and have shot many weddings. Some as the lead shooter, and a lot as the second. So, it was a lot of fun to write about that. Two, the dynamic between Charlotte and Dean is loosely inspired by me and my husband. He was older than me, we worked together (not when I was a photog), and we kind of tip-toed around our feelings for a while. Obviously, it wasn't exactly the same, but I certainly drew from that experience. Three, Charlotte takes zoomed in photos of Dean from across the room and then saves them. I've sort of done that at weddings. Haha! I mean, a massive camera in your face is a great way to covertly get a closer look, and the truth is, most photographers love people watching and capturing that social interaction. And honestly, wedding receptions can drag on and on with the same people on the dance floor. Occasionally you must entertain yourself.

Please tell us a little about the characters in your book. As you wrote your protagonist was there anything about them that surprised you?
Charlotte and Dean are both insecure from their last relationship. However, Charlotte knows that she does want Dean. Maybe not to marry, as she isn't a fan of marriage, but she isn't shy about flirting with him. Dean, however, feels like if he can't offer her all that she wants, he's better not giving anything. Obviously, she has some feelings on that.
A few things always surprise me as I write, which is part of the fun of writing a novel. Things pop up out of nowhere. I love that. I don't want to give away too much here, but when I first started thinking about this book I wasn't sure how "the wedding" they were planning would pan out. But when I realized how it would go, I was a little stunned, but immediately was like "oh yeah, that happens".

If your book was optioned for a movie, what scene would you use for the audition of the main characters and why?
Definitely the scene where she photographs Dean on the Harley. In addition to photographing weddings, Charlotte shoots hot guys for book covers, so convincing him to do a shoot is like her fantasy coming true. He, of course, is nervous as hell. He doesn't feel sexy, thinks he's too old, but she pulls it out of him. I enjoyed writing that scene. 😊 This is just before the magic happens…
Jen had been completely right. Dean's body was wonderful. He wasn't an overly beefy gym rat, but his stomach muscles were taut and well defined, his hips indented, and his chest just the right size.
"You owe me for this one, babe. And you better take advantage and get a million photos because I'm never shaving my chest again." He pointed to a couple of red spots, one very close to his nipple. "I cut myself. Three times."
What do you want people to take away from reading this book?
Oh gosh, nothing ground breaking. I just want them to enjoy the story of Dean and Charlotte falling in love. Okay, maybe one thing I'd like women to take away is that we need to be better about reaching out to one another for support. Don't keep things bottled inside for fear of being a burden. There is a very good chance a woman close to you understands your pain.

What are you currently working on? What other releases do you have planned for 2017?
MAYBE THIS TIME is book 2 in the Whiskey and Weddings series releases in February. It's the story of TJ and Jen which we meet in MAYBE I DO. Let me just say, I love them! I'm also writing the MAN ENOUGH series which is a little bit sexier, about 4 National Guardsmen. ALL I ASK and ALONG CAME US are out now, with two more to follow in 2018.

Thanks for blogging at HJ!
Giveaway:

3 Print copies of Maybe I Do (Whiskey and Weddings) by Nicole McLaughlin
To enter Giveaway: Please complete the Rafflecopter form and Post a comment to this Q:

If you could have a job in the wedding industry, what would it be? Florist, photographer, cake decorator, planner, DJ, caterer, dress designer. The list goes on and on.
Excerpt from Maybe I Do:
"Do we like them?" he whispered when they were alone again. She loved when he referred to the as we, just like she did in her dreams.
"The couple is fantastic. Wedding party is crossing over into drunk territory, so yeah. They're fun."
"How late are you here?" Dean asked as some of the guys dragged in their cooler and some of the various bags the girls had left behind. At least they weren't too intoxicated to be gentleman.
"We're here until midnight."
His lips turned down a bit. "That's a really long day for you."
"You're not kidding. They booked an unlimited day. Started at ten o'clock this morning." Charlotte made a face. "Don't ask me why I offer that option. I'm mad at myself every time someone chooses it."
"Well, I guess I shouldn't complain. I like you in my building. Means I get to stare at you longer."
It was Charlotte's turn to blush. Dean always flirted back with her, but his style was normally much subtler than hers, so when he said something bold, it sent tingles through her entire body. It didn't hurt that his looks were enough to melt the panties off any female in the vicinity. The proof came when some of the bridesmaids caught sight of him as they exited the restroom. Their eyes went wide with shock and admiration, and these girls were young. More evidence that his age did not discriminate. In fact, she believed it worked in his favor.
It wasn't that he looked that much older. His hair wasn't grey…except for the tiniest pieces at his temples. And his face wasn't wrinkled…well, except for the slight lines that appeared at his eyes when he smiled. Although she knew he was older than Jake and TJ, she'd never gotten the courage to ask anyone his exact age. She really didn't care. It almost made it a little hotter, this air of maturity about him. Not in a stuffy way, more just…powerful. Knowing. Stoic, maybe. When she compared him with guys her own age, he was just…more.
Excerpt. © Reprinted by permission. All rights reserved.

Book Info:
that will bring them together—and give true love a shot?
Wedding photographer Charlotte Linley loves her work—even though she hates weddings. Sure, she still holds a grudge after being left at the altar by her high-school sweetheart. But today Charlotte is just happy to have complete control over her career, which is flourishing. Especially since she joined forces with one of the three gorgeous owners of The Stag, a boutique distillery that has become Kansas City's hottest wedding venue.
Dean Troyer, bitter after the end of his own marriage, knows that Charlotte is the real deal—beautiful, talented, and successful. He may flirt with her every time she comes to The Stag but Dean is determined to keep his professional distance. . .particularly now that she's helping him with his own sister's wedding. The only problem? The more time Dean spends with Charlotte, the deeper their connection grows. Is this a rom-com cliché or could it be that these two jaded souls in the wedding business have finally found their real-life happily ever after?
Book Links:

Meet the Author: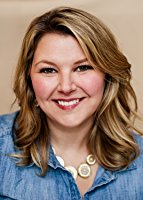 Nicole wrote her first full length book (6 pages) about the birth of her baby sister, when she was eight years old. She only finished it because her mother bribed her with a Rick Astley cassette tape. Sad, but true. Now her characters are what keep her writing and her subject matter has gotten a little bit deeper and a lot more romantic. She resides in a small town outside of Kansas City with her husband and three sons. When she isn't writing, she's a wedding and portrait photographer, loves to cook, and watch historical dramas or documentaries.
Website | Facebook | Twitter | Instagram |