Today it is my pleasure to welcome romance author
Elle Kennedy
to HJ!

Thanks for having me!
Five things on your bucket list: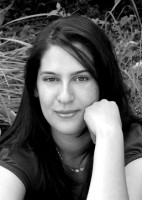 1) Take a train trip across Europe
2) Buy a house with lots of land so I can have a dozen dogs running around!
3) Meet one of my favorite authors- preferably Danielle Steel!!
4) Live in a place where winter doesn't exist
5) Win the lottery
Would you rather… have a beautiful house and an ugly car or an ugly house and a beautiful car? Why?
Beautiful house and ugly car, though really, I don't care if the house is ugly too. As long as there's lots of space for my dog to run in, I don't care what my surroundings look like. Peeling paint and uneven floors only add charm 🙂
Let's talk about your newest release: Midnight Pursuits
If you had to summarize the book for the readers here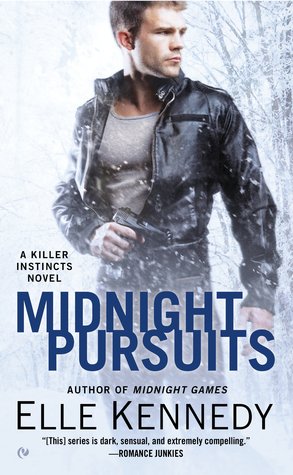 I would call it a sexy, opposites-attract adventure. Contract killer Juliet and mercenary Ethan team up in Eastern Europe to save lives and stop a very determined villain, so you can expect a lot of action. And sexual tension–there's lots of that, too 🙂
Please tell us about the characters in your book?
Juliet is impulsive and outspoken, while Ethan is a gentleman to the core. When the two of them are together, the bickering never stops…which of course leads to quite a lot of sexy times! I actually love that Ethan is the boy next door–he's the rookie of Jim Morgan's mercenary team, but he's perfectly capable of taking charge and being an alpha male. Juliet, however, HATES taking orders. Needless to say, she drives Ethan absolutely crazy.
As you wrote your protagonist was there anything about them that surprised you?
I was very surprised by how alpha Ethan actually is. He's come off as the polite, good guy in previous books, but once I got deeper into his character, he revealed his demanding, protective side. And I loved it!
What scene did you most enjoy writing? Why?
I had a total BLAST writing the scene where Juliet realizes Ethan isn't all Mr. Sweet and Polite like she'd thought. She's spent so much time goading him about being the boy next door, and the last thing she expects is for him to snap, and burst that little bubble…
"I know what you see when you look at me. The boy next door, nice and sweet and harmless." Ethan's voice lowered to a deadly pitch. "You see me and you think I'm the guy who'll make love to you in a room full of flowers and candlelight. You picture sweet, sweet kisses and oh so tender caresses—isn't that right, Juliet?"

Her heart began to pound, a sharp staccato that pulsed in her blood and drowned out her thoughts. The look on Ethan's face was terrifying. Thrilling. His hazel eyes gleamed with raw heat. Unadulterated danger.
What scene was the hardest to write? Why?
You know, this is one of the rare books where every scene just came smoothly and without any difficulty. I had the easiest time with it, and I think it's because I got to write a lot of fun scenes, and lines like this:
The grin he shot her melted her insides. "I subscribe to baseball rules, of course. First, second, third, and then I screw your brains out."
Who would you cast in the role of your characters if your book was optioned for a movie?
Oh gosh, such a hard question. I don't know a lot of current actors, so…a sassy brunette for Juliet, and a hot guy for Ethan. You guys can do the casting for me 🙂
If you could have given your characters one piece of advice before the opening pages of the book, what would it be and why?
Ethan: Stop being so polite and just go for it!
Juliet: Don't judge a book by its cover
What are you currently working on? What other releases so you have planned for 2014?
Right now I'm editing Midnight Action, the fifth book in the Killer Instincts series. I'm also working on a three-book series of sexy novellas, the first book in a new erotic romance series, the first book in the Out of Uniform spinoff series, and the second book in the DreamMakers series, a brand new collaboration with the wickedly talented Vivian Arend.
Needless to say, I am very, very busy!!!
Midnight Action and All Fired Up (DreamMakers book 1) will both release this year. The others don't have definite release dates, but I'm hoping for a nice and busy release schedule for 2014.
Readers can sign up for my newsletter for release/book updates:
http://ellekennedy.us3.list-manage.com/subscribe?u=b67ee3ca48adf3693d5f2605f&id=70dd9e66e9
Thanks for blogging at HJ!
Giveaway:

I'll be giving away 5 copies of Midnight Games

, the third book in the Killer Instincts series, which precedes Midnight Pursuits. These are print copies, giveaway open to residents of US and Canada.
To enter Giveaway: Please complete the Rafflecopter form and Post a comment to this Q:

Do you like sweet good guy heroes, or are you like me, and are a sucker for alpha warriors? Why? 🙂
Excerpt
Midnight Pursuits Excerpt

Juliet opened her eyes to find a very familiar man sleeping in the chair across the room. She squinted, blinked, tried to orient herself. Tried to make sense of why Jim Morgan's man was in her hotel suite.

Where the hell was Isabel? Now that the fog was slowly lifting from her brain, she remembered the SOS call she'd made to her colleague, but she couldn't recall whether she'd actually spoken to the blond chameleon. No. No, she hadn't. She'd spoken to . . . Ethan Hayes.

Goddamn it.

Why had he come?

And why was he pointing a gun at her?

Okay, it wasn't pointed at her. The sleek gray weapon was resting on his thigh, with his right hand casually draped over it. But he was armed nonetheless, which kind of irked her.

She swallowed repeatedly, hoping to bring moisture to her arid mouth, then allowed her gaze to settle on Ethan's face. He was too damn good-looking, an observation she'd first made back in Monte Carlo when she'd joined forces with him and his team to track down his missing boss.

Ethan had those classically handsome features that rubbed her the wrong way—straight nose, defined cheekbones, perfectly shaped mouth. His hair was light brown and cut short, and though his eyes were closed at the moment, she knew they were hazel and deeply intelligent.

Men as handsome as him tended to be manipulative scoundrels, at least in her experience. And just because she hadn't gotten a slimebag vibe from him last year didn't mean he wasn't one.

Although it pained her to admit it, she remembered a lot about this man. Like the fact that he was young—twenty-five, if she recalled correctly. He was also a rookie on Morgan's mercenary team, a former Marine, and way too polite for his own good.
Well, not always polite. He'd definitely gotten snippy with her more than once when they'd last met. Granted, her needling him about his age had probably contributed to that. It sure had been fun teasing him, though.

But finding him here? Now?

Not fun. Not in the slightest.

She shifted on the mattress, noticing that the blood-stained sheets had been replaced with crisp, clean white ones. And her side wasn't throbbing anymore. How long had she been out?

The second she slid into a sitting position, Ethan's eyes snapped open and homed in on her. "Good. You're awake." His voice was deeper than she remembered. Huskier.

Sexier.

She ignored the inane thought and met his concerned gaze. "What are you doing here?"

"Saving your ass." He rose from the chair in one fluid motion and, still holding his gun, strode toward her.
Book Info:
Her job is to stay hidden.
Too bad he can't take his eyes off her.
Soldier-for-hire Ethan Hayes is the youngest member of an elite mercenary team. While he may be affectionately nicknamed the rookie, the skills Ethan honed as a Marine make him seriously dangerous. But when a sudden distress call puts him in close quarters with a rival, he finds more than his field skills being put to the test.
Juliet Mason stands out as the master thief in a covert group of assassins and spies. Her latest mission is personal—and it's gone horribly wrong. Juliet may prefer to work alone, but when the rookie comes to her aid in snowy Eastern Europe, she can't deny they make a good team. But even up against a powerful enemy, their most challenging task yet may be fighting the passion between them….
Book Links:
Author Bio
A RITA-award nominated author, Elle Kennedy grew up in the suburbs of Toronto, Ontario, and holds a B.A. in English from York University. From an early age, she knew she wanted to be a writer, and actively began pursuing that dream when she was a teenager.
Elle currently publishes with Signet Eclipse, Harlequin Romantic Suspense, and Samhain Publishing. She loves strong heroines and sexy alpha heroes, and just enough heat and danger to keep things interesting!
Website | Facebook | Twitter |