Today it is my pleasure to Welcome author
Erika Kelly
to HJ!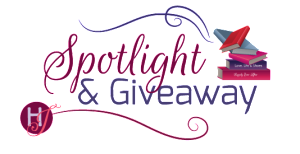 Hi Erika and welcome to HJ! We're so excited to chat with you about your new release, Mine for Now!

Thank you so much for having me today!

Please summarize the book for the readers here: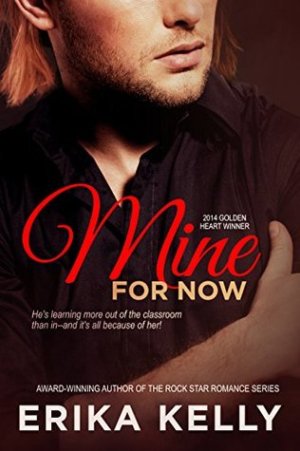 Two people who feel so alone in the world find each other and give each other the love and connection they've desperately lacked. Dylan's mother raised him to feel solely responsible for her welfare, and that resulted in him being an outcast in his small town. He's taking his shot by attending the top university in the country, but he's worried his mom won't be able to handle him being so far away. Nicole comes into his life, this beacon of light and heat and dazzling energy, and gives him hope. It's his passionate love for her that forces him to change his wrong-headed thinking and find his way to the truth.

What's your favorite line(s) from the book?:
"Hope rose in him, a force so strong he couldn't ignore it."

Dylan accepts the full responsibility of his mom's well-being. Having been ostracized in his hometown because of her behavior, he has no higher expectations than living the life he's always known. So meeting Nicole–this vibrant, passionate, force of nature, gives him a glimpse of hope he's never experienced. And I love that moment for him, when he first realizes that there's something more for him–and that something more is magnificent.
When you sat down to start this book, what was the biggest challenge you faced? What were you most excited about?
Writing Dylan's mother–being true to her character and not having her grow and change–was extremely hard. I love Dylan. I would have loved to give him a good mom. That's all he ever wanted–was for her to be normal. But while I couldn't give that to him, I did give him a kick ass girlfriend!
Please tell us a little about the characters in your book. As you wrote your protagonist was there anything about them that surprised you?
Dylan's such a good guy, and he's trying so hard to do what he thinks is the right thing. And Nicole, she's a little quirky, a little nerdy, but she's fiery and passionate and smart and has so much love to give to the right person.
The depth of Dylan's love and passion for Nicole surprised me. Of course it's a romance; I knew he'd fall for her. But he loves her so completely he's willing to completely change for her.
What have you learned about your own writing process/you as an author while writing this book?
That what absolutely compels me about writing stories is the passionate connection between the hero and heroine.

The First kiss…
Blood roared in his ears, and need crashed over him. He cupped her chin. Those warm eyes gazed up at him, those beautiful lips parted. When her tongue flicked out to dampen them, he couldn't take it anymore. He touched his mouth to hers. So sweet. So incredibly sweet.
He tried to hold back. Tried to get a handle on this thoughts—remind himself why this was wrong—but she opened her mouth—just a little—just enough for him to feel the rush of her breath on his lips. And then she leaned into him—so gently, so easily. Christ, like they belonged together.
Holy hell. This was bad. This was so bad. He should stop, walk away while he still had possession of his balls. But he needed this taste. This one little taste to make the want go away.
He pressed his mouth to hers—lightly—just to keep a hint of her to savor for later—but she opened to him, tilting her head to let him in. She got up on her toes, a gentle hand wrapping around his neck—and God help him—but he leaned into her, gave into her. He fell into that luscious mouth, stroking inside with his tongue. And it was so hot, it just cut him wide open, letting all that need come gushing out.
Did any scene have you crying or laughing (or blushing) while writing it?
There's a scene where her dad drives five hours to see her at school, and it's really touching because she's never really felt he was there for her. It turns out he just didn't know HOW to be there for her.
"You were helpless back then. This time…this time, sweet pea, you're a woman. You can take care of yourself. Now, I know he broke your heart, but you're not helpless."
Her chest tightened so hard it ached. His words connected right with her heart.
"What I'm saying is, you can handle this one. You'll hurt, but you can take care of yourself. And you should. You can't fight someone's demons. No one knows that better than us."
Us. Tears burned in her eyes. Why did hearing him say us touch her so deeply?
She sucked in a cold, shaky breath. Because she wasn't alone. He was here for her. He understood her.
Her dad's big hand clamped down on her knee. "But you also can't let those demons take you down. You love with all your heart, and that's a good thing. Don't stop doing that because it didn't work out with Dylan. Don't let someone else's failings shut down your beautiful heart. You carry on, and you try again."
She didn't think she'd ever loved her dad more than at this moment. She nodded but couldn't speak through the painful knot in her throat.
If your book was optioned for a movie, what scene would you use for the audition of the main characters?
Nicole and Dylan want each other desperately, but she's not willing to take the five percent of himself he's willing to give, and he's unwilling to expose her to the ugliness of his life. They are constantly having to fight their feelings for each other.
Desire tore through her, and for a few moments, she didn't pull away. Because, God, she wanted him so badly.
But then she remembered she wasn't doing drama. She wasn't going to pine for a guy she couldn't have. And Dylan had made it clear she couldn't have him. His life was not his own, he'd said, and he wasn't open to seeing things any differently.
How many years had she hoped for Jonathan to change? People don't change. Her mom hadn't, Jonathan hadn't. And if she wanted to be sane, she had to make the choices that were right for her.
She couldn't help Dylan any more than she could help her mom or Jonathan. She started to get up, but he clamped a hand down, holding her in place. His breathing changed, and his gaze drifted to her mouth.
"Nicole." His hand went around the back of her neck and brought her down to meet him in a hard kiss. It grew urgent immediately, his tongue brushing hers, sending sparks along her nerves. His hands reached around her back and pressed her tightly against him.
No one had ever kissed her like this—with so much urgency and need. Like he had to have her.
But then she remembered the two girls he'd brought home tonight.
She pulled away from him and got off his lap. "I'm not one of your party favors."
He looked confused, eyes still glazed, mouth still wet. "My what?"
She motioned to the archway, where his girls had flanked him. "The girls you bring home with you. If you want to be my friend, I guess that's fine." They lived and worked together, so it was unavoidable. "But anything else…" She shook her head. "Keep your hands off me."
His mouth shut, jaw muscle working. He stood, crowding her in the small space, forcing her to step back. "What the hell do you think I've been trying to do?"
Readers should read this book….
I wouldn't give Dylan advice because he wouldn't listen. Literally the only thing that makes him change is his powerful, all-consuming love for Nicole.

What are you currently working on? Do you have any are up-coming releases?
Mine for the Week, the second book in the Wild Love series, comes out soon. I'm also working on a new series–check my Facebook page to learn more about it!
Thanks for blogging at HJ!
Giveaway:

Two digital copies of Mine For Now
To enter Giveaway: Please complete the Rafflecopter form and Post a comment to this Q:

How old were you when you fell in love the first time?
Excerpt from Mine for Now:
He blocked her way but didn't budge. Wet hair hung around her face, trickles of water sliding down her shoulders and disappearing into the towel. She looked so pretty, so sweet.
Caught in that magnetic force that always bound them together, neither one made a move. His hands fisted to keep from touching her. He wanted…what did it matter what he wanted?
And then she smiled, breaking the tension. She reached around him for her doorknob.
His heart pounded, his nerves vibrated. He wanted to say something to keep her, but he couldn't keep her. He couldn't have her at all.
Her door opened, and she stepped inside. She'd shut him out in one second, and he'd be stuck with Brittany, Todd, Joe, and Kevin for the night. For all the nights of his college life. And then he'd go home to his Colorado friends and sink back into the sameness, the ugliness of that life.
And this girl? She was like a portal to a whole different world. Fresh, clean, pure.
He could feel her warm body curving along his under the covers, smell her subtle, sweet scent, see the look in her eyes in the darkness just before they fell asleep—the soundest sleep he'd ever had in his life—and he wanted that. Wanted it so badly his body throbbed with it.
Excerpts. © Reprinted by permission. All rights reserved.

Book Info:
From the award-winning author of the Rock Star Romance books comes a sizzling new series about the O'Donnell siblings. The pull of wild love is irresistible.
She's had enough drama in her life.
Nicole O'Donnell is more than ready for the fresh start college offers. After a lifetime of trying to help her alcoholic mom and ex-boyfriend get sober, she's finally learned her lesson: people don't change. They certainly don't change for her.
He can never leave his drama behind.
Thanks to his mom's substance abuse issues, Dylan McCaffrey's persona non grata in his hometown of Gun Powder, Colorado. So when he scores a free ride to the top university in the country, he's determined to make something of this fresh start. But his mom has always relied on him, and she's not handling his absence well at all. If he can just keep up his grades, pay her bills, and come home every break, he might be able to pull off this opportunity.
True love won't be denied.
No matter how determined they are to steer clear of each other, their combustible connection explodes, especially when Nicole offers Dylan the one thing he can't bear—hope. Once he has a taste of it—and the irresistible force of her—there's no going back.
But when he falls too deeply, when he loses sight of his priorities, he might just lose it all.
Meet the Author: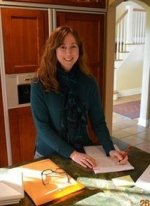 Award-winning author of the red-hot Rocker Romance series, Erika Kelly has been spinning romantic tales all her life–she just didn't know it. Raised on the classics, she didn't discover romantic fiction until later in life. From that moment on, she's been devouring the genre and finding her true voice as an author. Over three decades she's written poems, screenplays, plays, short stories, and all kinds of women's fiction novels. Married to the love of her life and raising four children, she's lived in two countries and seven states, but give her pen and paper, a stack of good books, and a steaming mug of vanilla chai latte, and she can make her home anywhere.
Website | Facebook | Twitter |